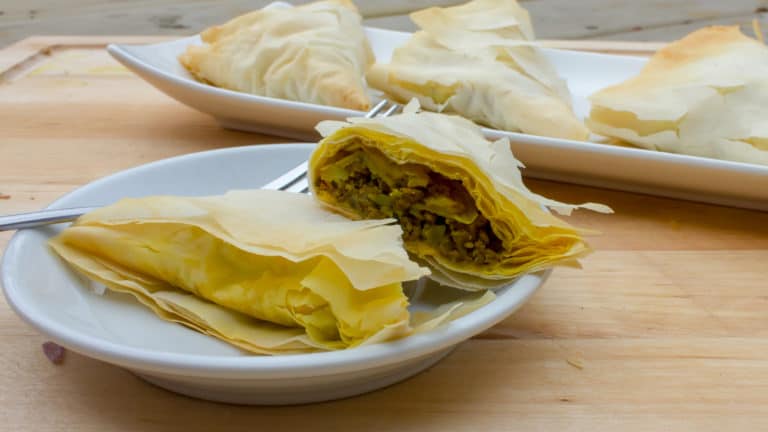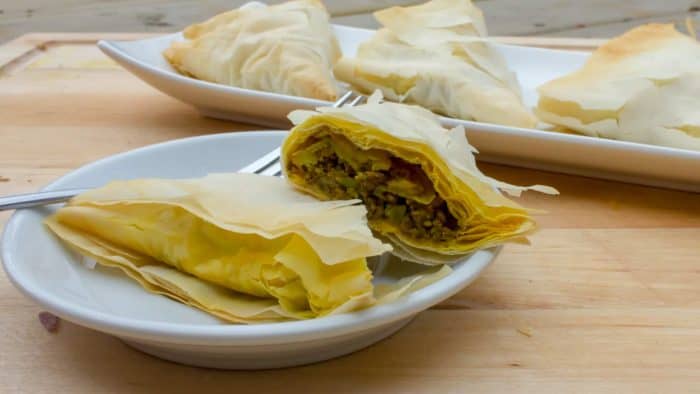 Appetizers are a wonderful thing. I love it when we host a party, whether it be Super Bowl or some other event, and I get to make a bunch of bite size goodies. There are times when Janna and I go out to eat and we each order a couple sampler platters of appetizers. One large plate filled with chicken wings, jalapeno poppers, nachos, potato skins and more!! I am drooling right now as I type this.
Today's post is a curry phyllo triangle. Phyllo paper is perfect for making appetizers. If you have never bought or used them, they are available at most grocery stores and are in the freezer section usually next to puff pastry and pie pastry. Phyllo pastry can be used in either a sweet dessert (baklava anyone??) or savory snacks like these. The filling can also have a wide range of possibilities, including cheese, shrimp, crawfish, spinach, mushrooms, or these little beef curry bites. Curry flavours are wonderful and they work perfectly in this phyllo triangle.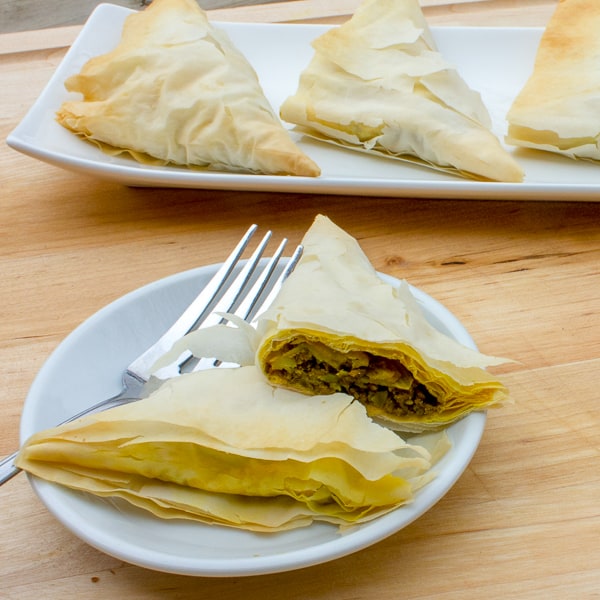 Keep the phyllo pastry in the freezer until ready to use and thaw it by leaving it in the fridge overnight. Phyllo pastry is easy to use but sometimes the edges can dry out and it can be quite brittle. Make sure you handle the paper thin sheets delicately and with great care.
Check out yesterday's post if you missed th Jalapeno Poppers and Mushroom Caps. Remember to follow along with all 12 Days of Super Bowl Snacks.
How to fold a phyllo triangle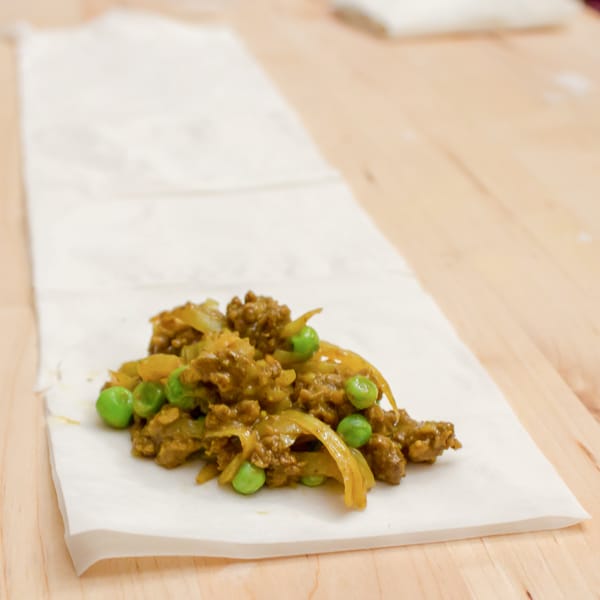 Lay two sheets of phyllo paper on the work service on top of each other. Cut them into three, three inch strips. Scoop a heaping tablespoon of filling on one end of the paper strip.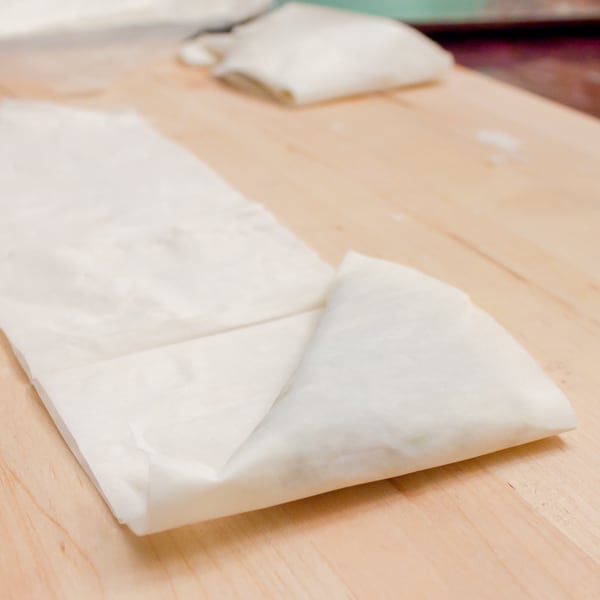 Take one corner and fold it across to the other side, making a triangle. Keep folding to the opposite side until you reach the end of the strip.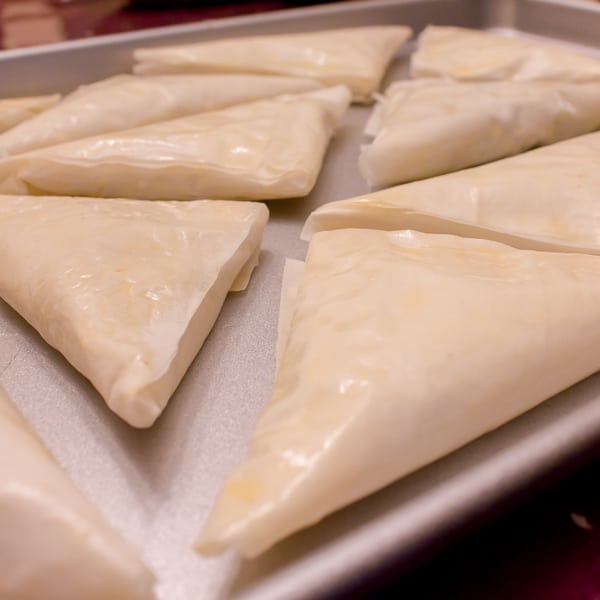 Brush both sides of the triangle with melted butter and place on a baking sheet.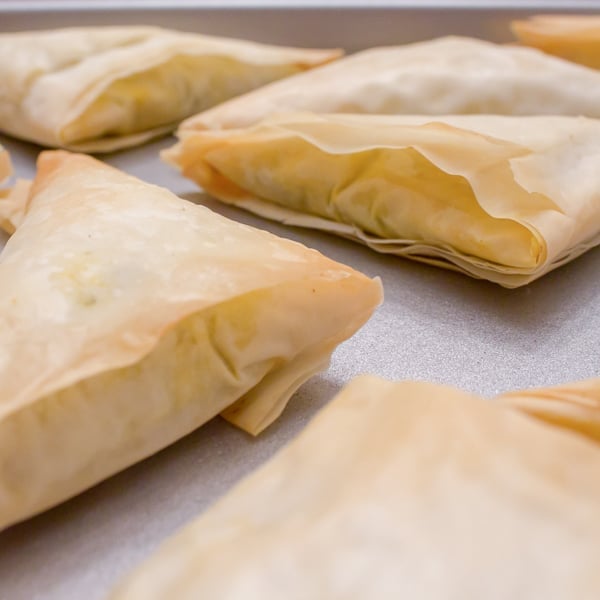 Bake at 350F for 15-20 minutes or until the triangles just begin to brown.
Curry Beef Phyllo Pocket Triangles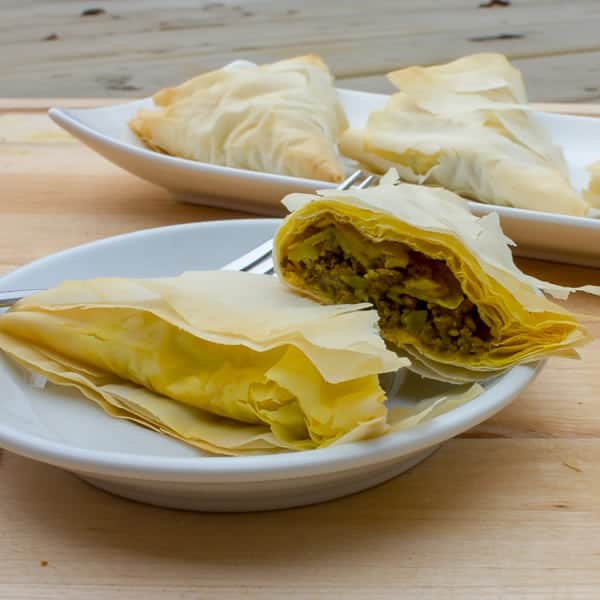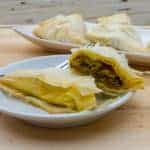 Print
These bite size appetizers are the perfect party food. The curry beef recipe is packed with flavour and the phyllo pastry is flaky and light. On top of that, they are a snap to make!
Servings: 15 triangles
Ingredients
10 sheets phyllo pastry
1 pound ground beef
1 potato , grated
1/2 onion , minced
2 cloves garlic , minced
2 tbsp grated fresh ginger
2 tsp cumin
1 tsp ground coriander
1 tsp turmeric
1/2 tsp garam masala
1/2 tsp cayenne pepper
1/2 cup water
1/2 cup frozen peas
2 tbsp tomato paste
1/4 cup melted butter
Instructions
Brown the ground beef in a frying pan and drain the grease. Add the potato, onion, garlic, ginger, other spices and water to the beef and cook for 5-10 minutes. Stir often to ensure that nothing sticks to the bottom of the pan. If all the water evaporates you may need to add a little more.

Once the onions are mostly cooked and tender, stir in the tomato paste and peas. Cook for a few more minutes. Remove from heat and cool.

Fold the triangles with the filling. Look at the pictures and instructions above for directions on how to fold up the triangles. Make sure the phyllo pastry is fully thawed before using. Brushthe triangles with melted butter and place on a baking sheet

Bake in a 350F oven for 15-20 minutes or until they begin to brown.

Serve hot.