An easy recipe for how to make mango chutney at home. A mild curry spice and is great as a side or condiment to Indian meal of curry and rice.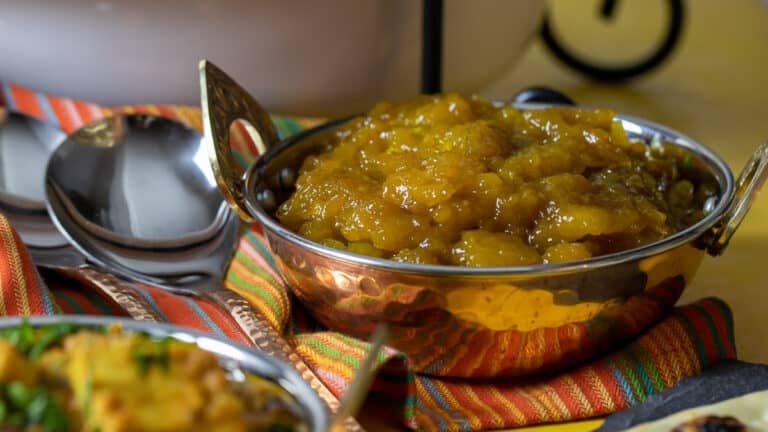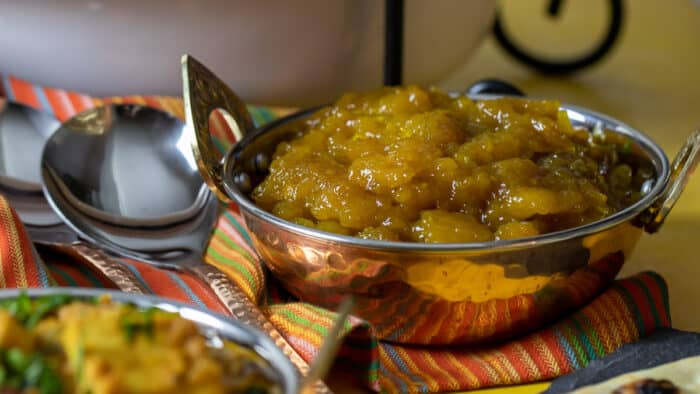 Mango is my absolute favourite fruit in the world! I love them fresh. They are great added into a smoothie. Mangoes are a wonderful addition to salads and even stir fries – Thai Chicken Mango stir fry anyone?? YUM!! But one of my absolute favourite ways to eat mango is in this Indian style mango chutney. If you have never had this, let me tell you how great it is.
The fist time I had mango chutney was when I had a store bought version. It was the Sherwood brand and it tasted amazing. It has the perfect combination of sweet and spice. The vinegar gives it the needed acidic element to counterbalance the sweetness. The problem was that it was so freaking expensive and one jar is gobbled up super fast. I vowed to learn how to make my own so that I would never buy it again. Homemade always tastes better anyways right?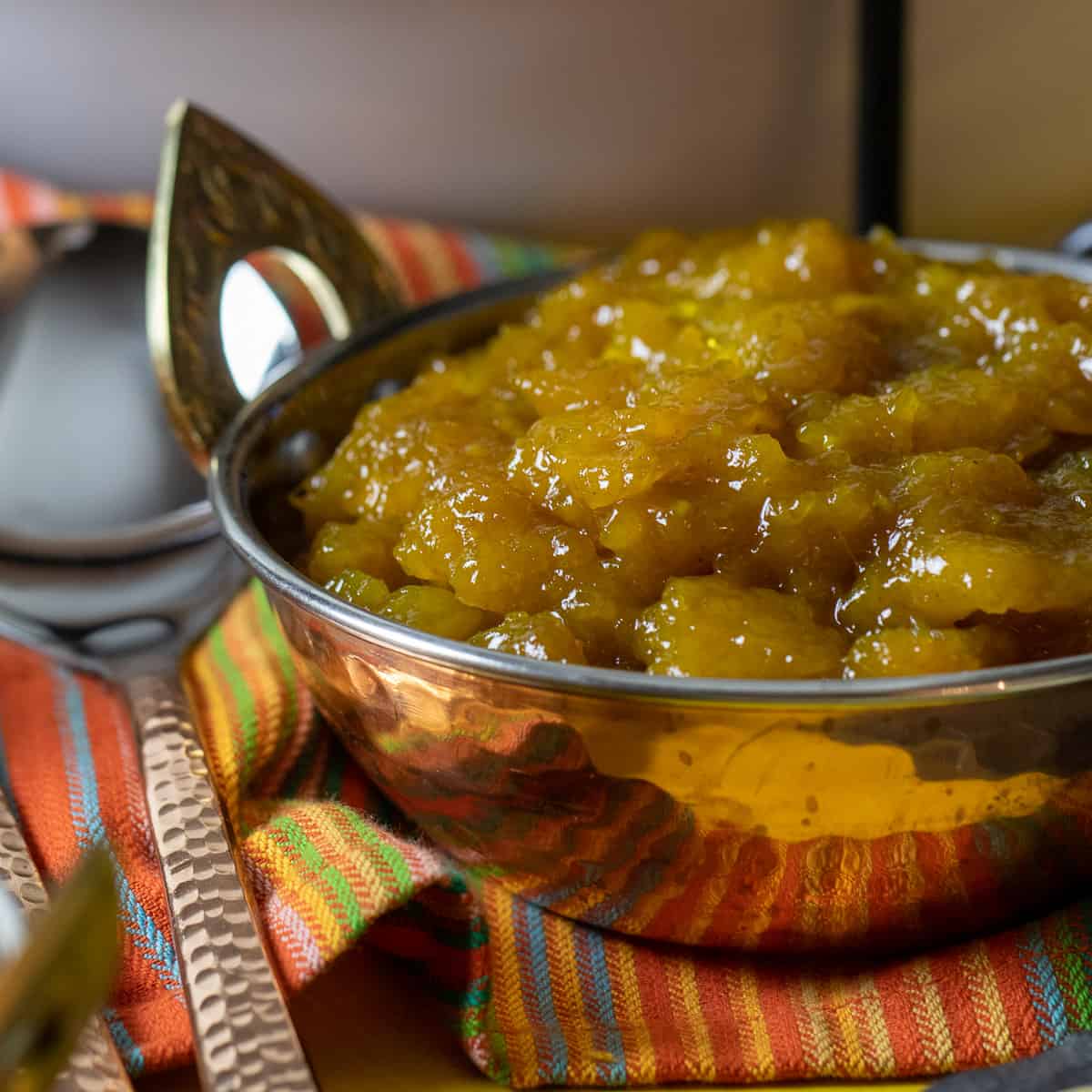 Mango chutney is great as a side or a starter to an Indian meal. It goes excellent as a dip for naan bread or papadums (oh wow – I have SUCH a weakness for papadums, especially the kind with cumin seeds in them – MMMMM).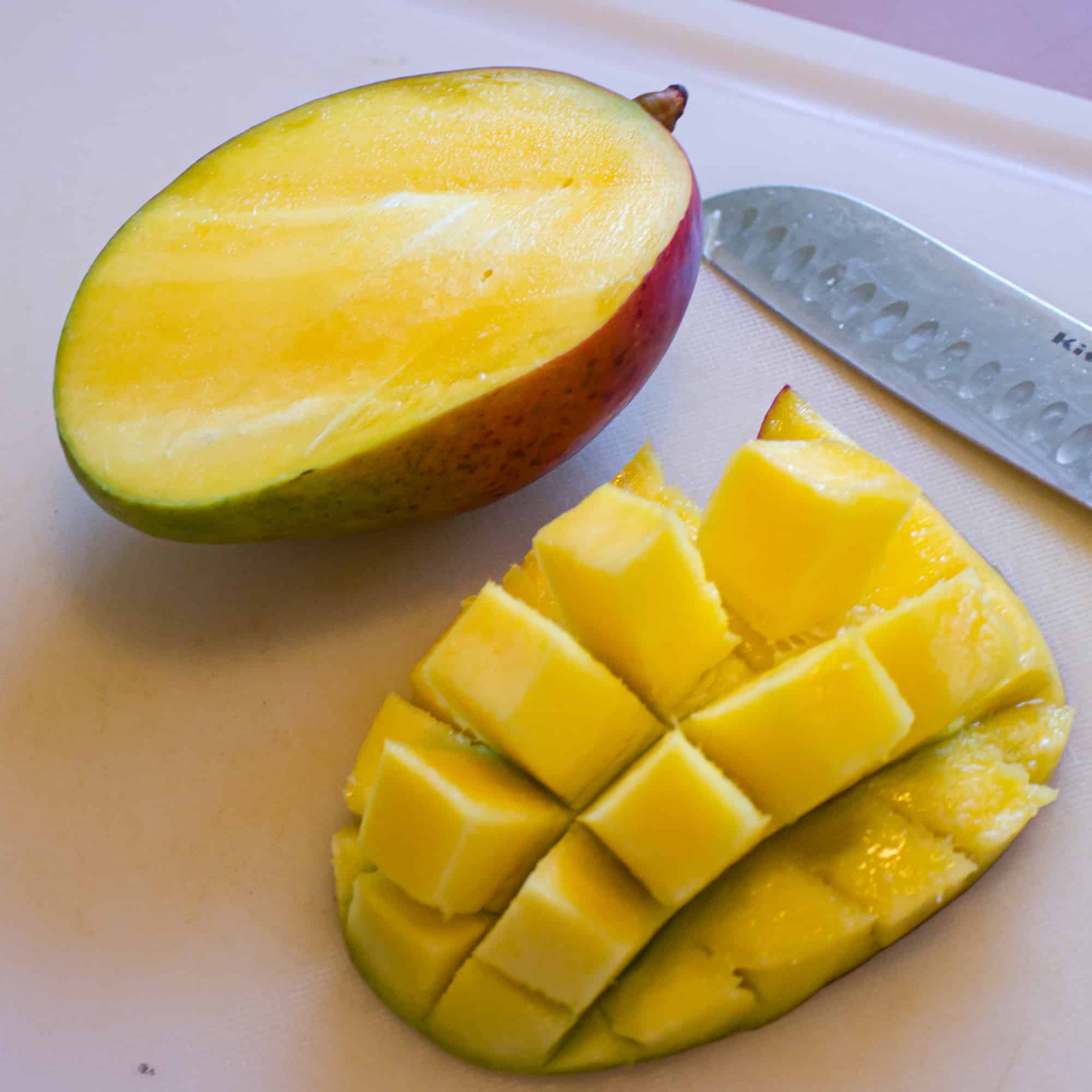 How to cut a mango
The best way to cut a mango is to place it on a cutting board with the narrow side of the mango on the cutting board. Mango pits are large and fairly flat. With a knife, cut from the top down. Try to cut as close to the edge of the pit as possible.
It takes a bit of practise but after a while you will get to the point where you do not lose much of the fruit at all. I also like to cut cubes into the mango (see pic above) which allows the meat of the mango to be removed easily.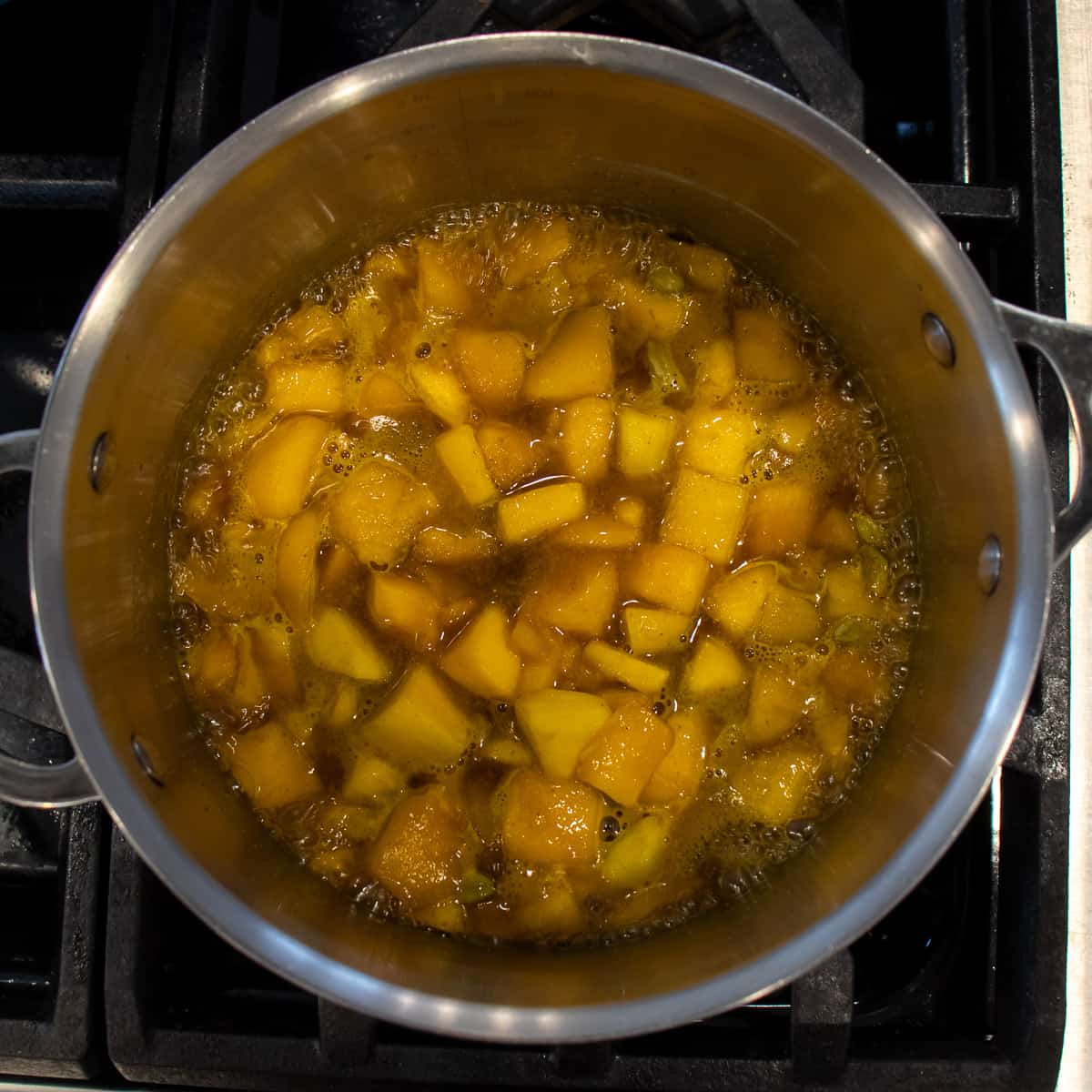 Can you use frozen mangoes?
It is also possible to use a bag of frozen mango chunks. It works great and way quicker. The equivalent to 3 mangoes is somewhere around 4 1/2 to 5 cups of frozen mango chunks. Just add them to the saucepan with the rest of the ingredients and follow the directions as normal.
The chutney needs to simmer for a while for the mangos to soften and for the sauce to thicken. The flavours blend together to make something rich, sweet and spicy.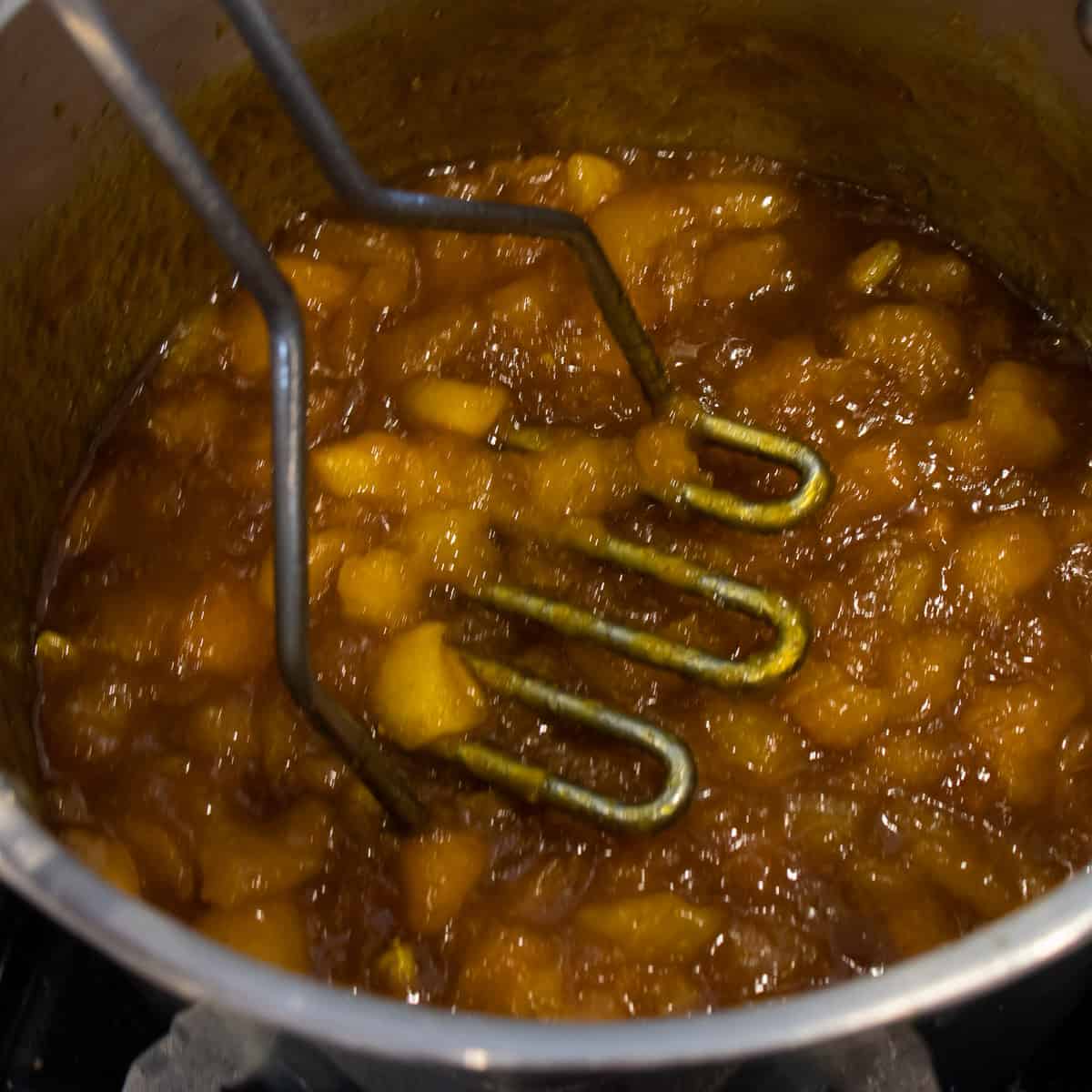 After the chutney has simmered for 1 to 2 hours, the sauce will have thickened. Remove from the heat and use a potato masher to crush the larger chunks of mango.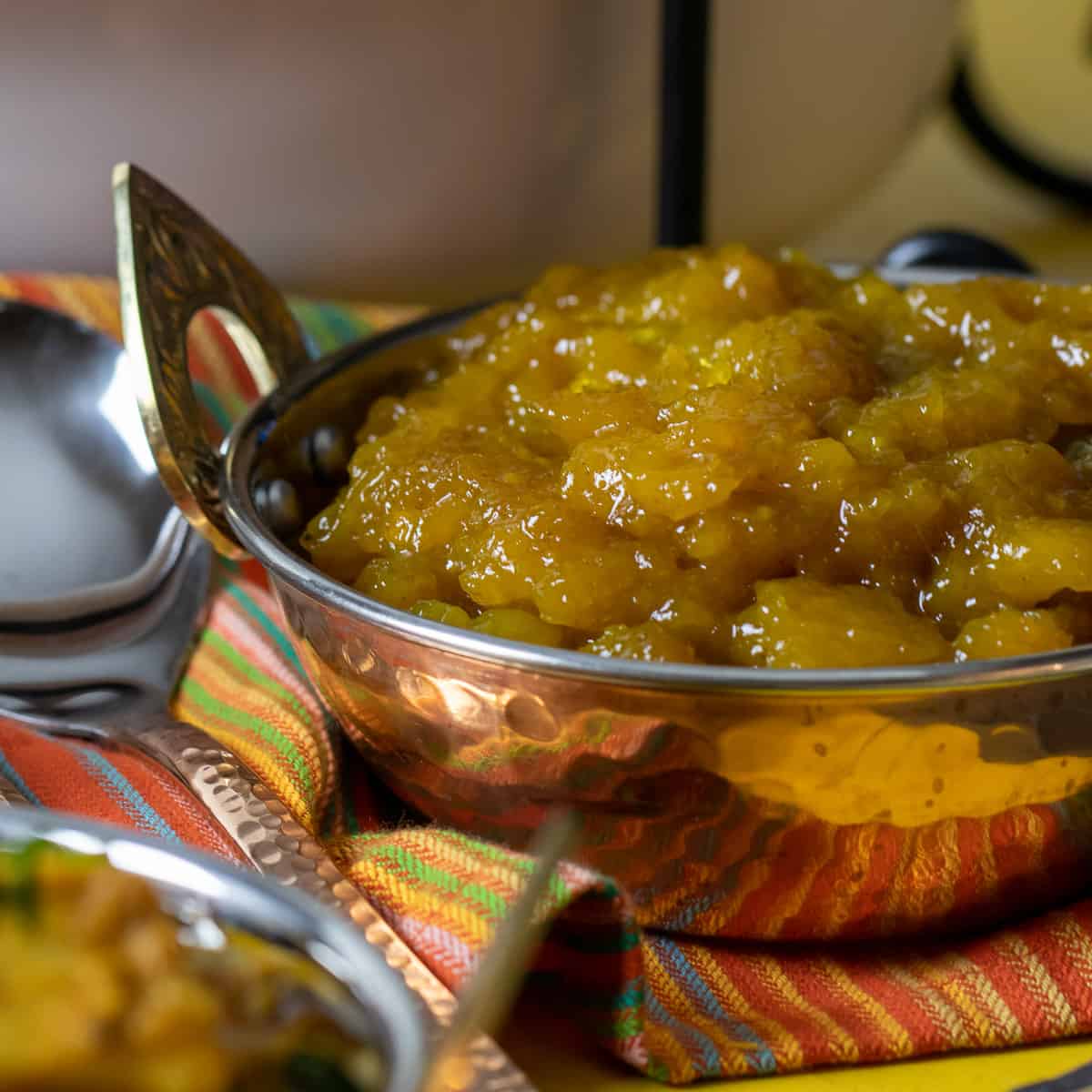 Other Indian dishes
This Indian mango chutney is a delicious condiment to go alongside a full Indian feast. Everything from biryani, curries, dal and so much more are perfect with this chutney. Here are a few other great recipes for an Indian dinner.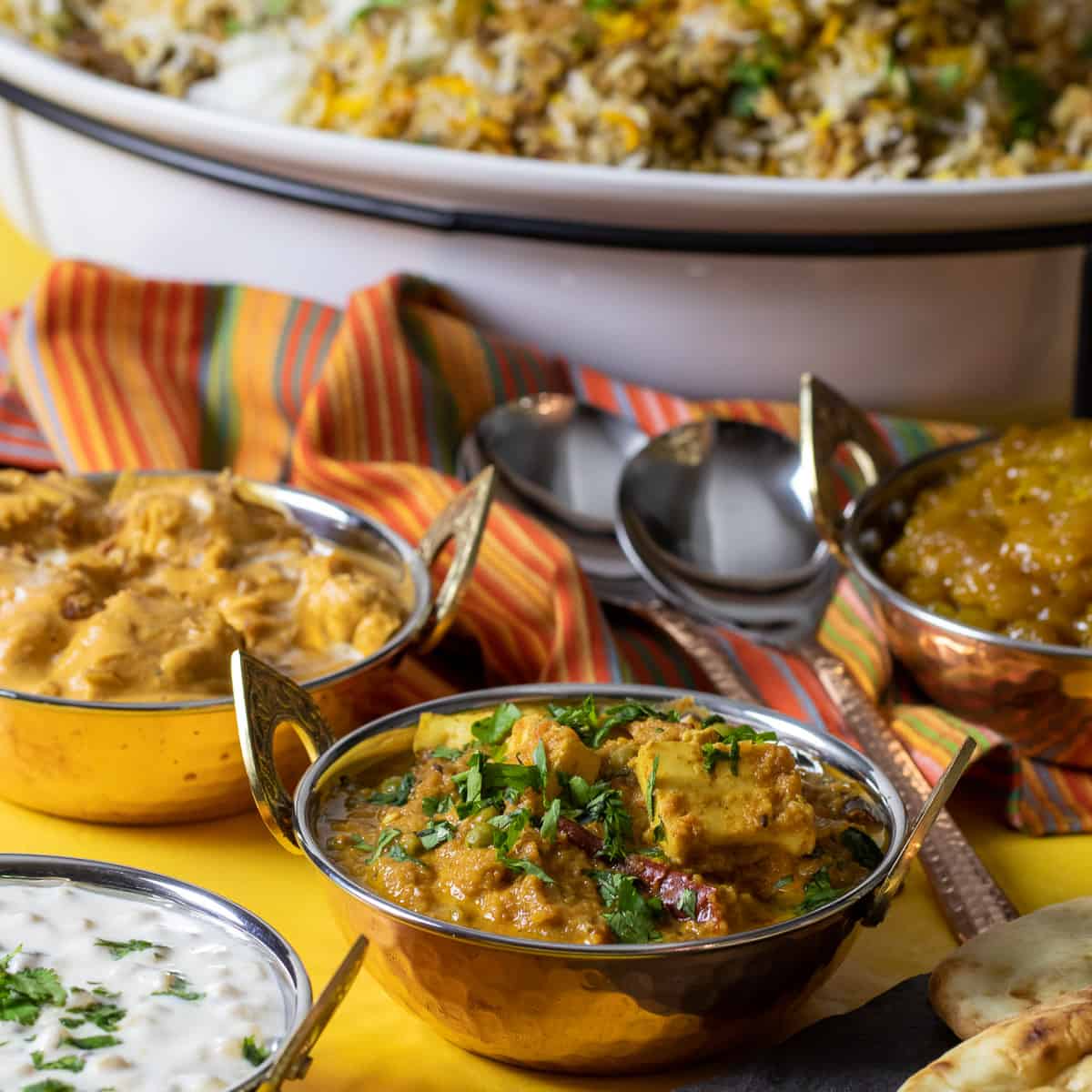 Indian Mango Chutney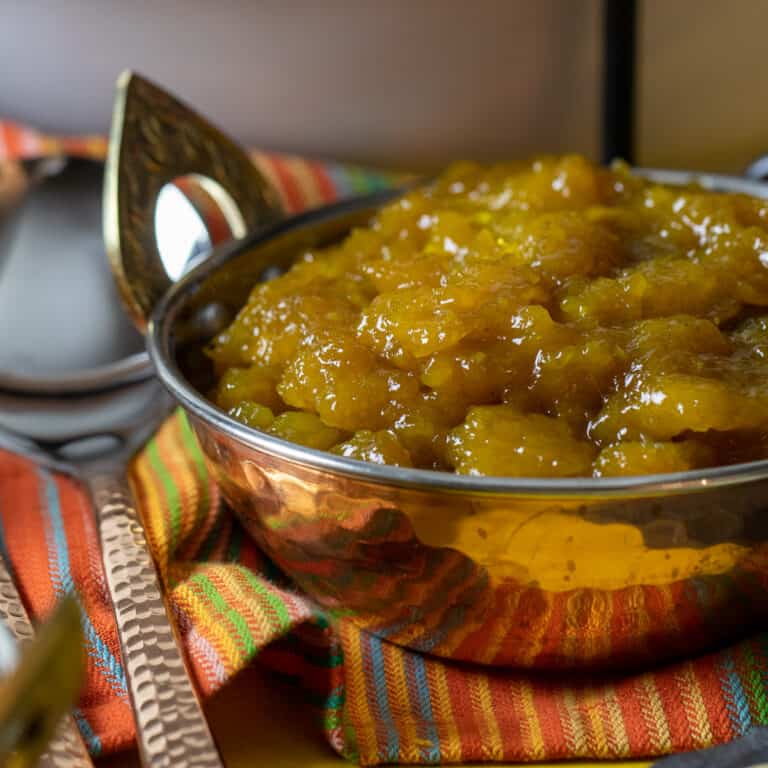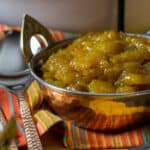 Print
Mango chutney has a mild curry spice and is great as a side or starter to any Indian meal. It is excellent as a dip for naan bread or papadums.
Servings: 8
Ingredients
1 tsp coriander
1 tsp cumin
1/2 tsp cayenne pepper
1/2 tsp turmeric
1/4 tsp cardamom
1 cup vinegar
1 cup brown sugar
3 cloves garlic , minced
1 1/2 tsp ginger , minced
3 mangoes , peeled, pitted, and diced
Instructions
In a large saucepan, stir the five spices under a medium/high heat to release the flavour for a couple of minutes.

Add vinegar, brown sugar, garlic and ginger and stir until it comes to a boil.

Add mangoes and let it return to a boil.

Lower to a simmer and stir occasionally.

Cook for 1-2 hours or until it is a thick consistency.

Cool and serve with papadums, naan bread, crackers or main dish.
Notes
Use Frozen Mangoes It is possible to use frozen mangoes for this chutney and it works very well. Use 4 1/2 to 5 cups of frozen diced mango.
Nutrition
Per serving:
Calories: 161kcalCarbohydrates: 39gProtein: 1gFat: 1gSaturated Fat: 1gSodium: 10mgFiber: 1gSugar: 37g