Seafood Curry – Indian Style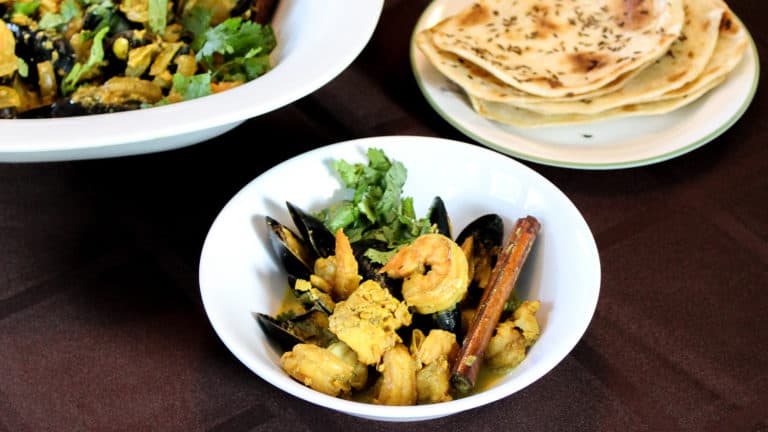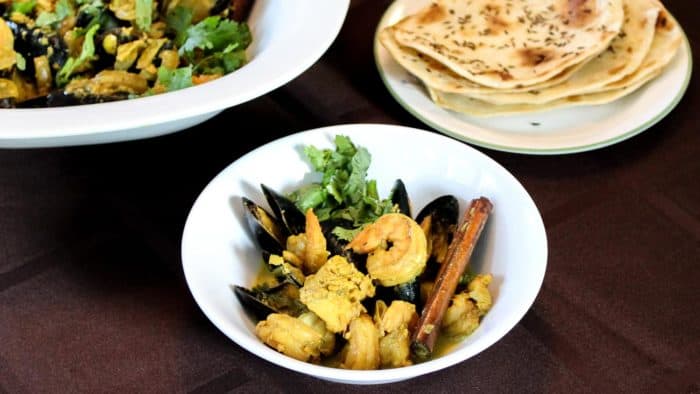 This past weekend we visited my brother and his family. They used to live in Saskatchewan but have recently moved to Ontario and we love the opportunity to connect more readily. We both have kids of similar ages, and they love to get together and play. I love seeing the cousins playing and having a blast!
Throughout the weekend, with the Olympics taking place, the TV was always on and we often switched between CTV, TSN or NBC cheering for team Canada. I find it funny how there are many sports I do not watch for four whole years but, during the Olympics, I am glued to the TV and so excited about these events.
Events like:
weightlifting
synchronized diving
judo
cycling (there is some seriously bizarre cycling events!)
rowing
and more!
Besides watching the Summer Olympics, it seemed that we were always eating. Please do not think I am complaining, I am not, because the food was always awesome. My brother and his wife are both outstanding cooks and we had some stellar Mexican food, grilled food and desserts.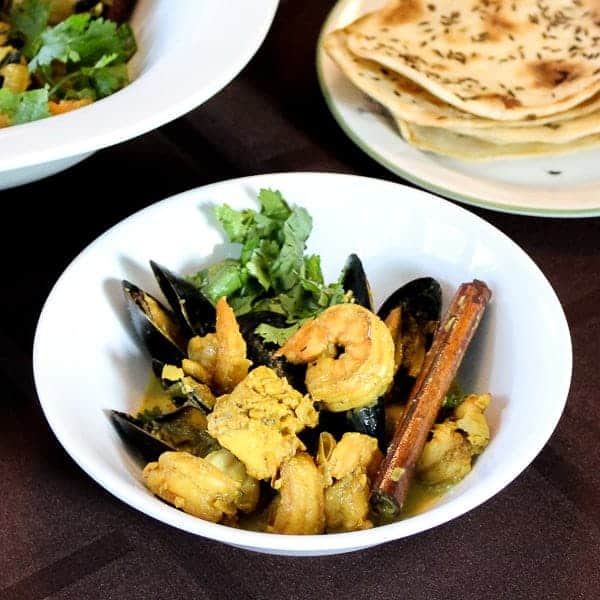 The theme for the desserts was clearly peanut butter and my sister-in-law made this one dessert she called drumstick cake. Oh yes, think of an ice cream drumstick, in a cake/pan form. It was a cracker of a dessert. I feel I may need to get her to do a guest post on The Black Peppercorn to share this recipe with all of us!
I didn't want them to spend forever in the kitchen, so I offered to cook dinner one night. Knowing that they love Indian food, I made Chicken Tikka Masala, Chana Masala, Indian flatbread and seafood curry.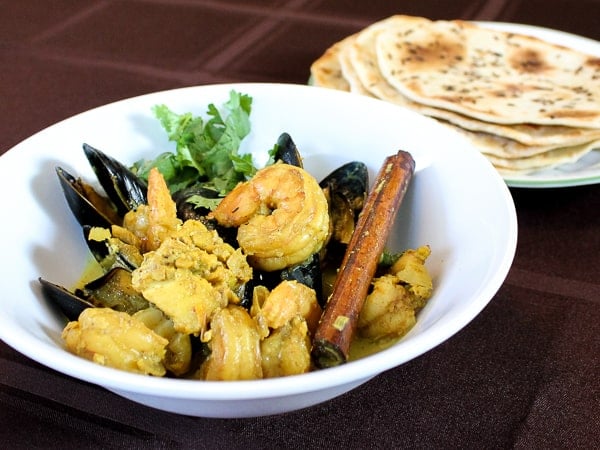 This seafood curry is actually quite easy to make and has very authentic flavours. The sauce, which is always the most important part of any curry, is packed with wonderful curry notes.
The depth of flavour comes from the cumin, coriander, cinnamon and cloves. There is also fruity tartness that comes from the tamarind. The curry has a bit of heat from the cayenne, although if you like really spicy food, you could always add more!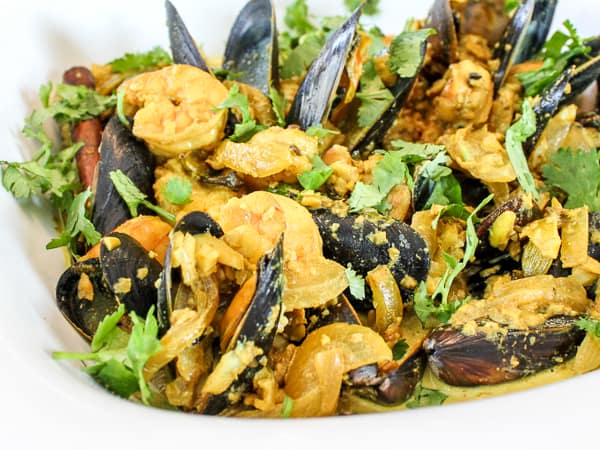 This seafood curry is made with cod fish, mussels and shrimp. I went to the fish market and picked these three, but there are so many possibilities. You could substitute most any seafood from crab to scallops and more.
Indian Seafood Curry Recipe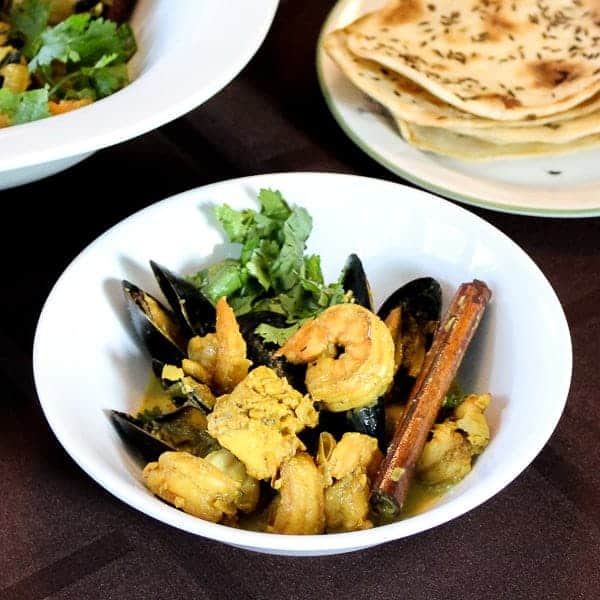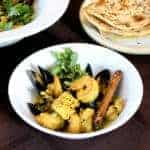 Print
An Indian seafood curry with cod fish, mussels and shrimp. The curry sauce is made with tamarind pulp, ginger, fenugreek, garlic, fennel seeds, cloves, cumin, coriander and more.
Servings: 6 servings
Ingredients
1 pound fish (cod, halibut, etc.)
1 pound fresh mussels in shell
1 pound shrimp
3 cinnamon sticks
8 whole cloves
1 tbsp fennel seeds
1 tsp fenugreek
3 tbsp oil
2 onions , diced
5 garlic cloves , minced
3 tbsp fresh grated/ground ginger
1 tbsp ground cumin
1 tbsp ground coriander
1 tbsp turmeric
1 tsp cayenne pepper
2 tsp salt
2 cup warm water
1/4 cup tamarind
1 tbsp sugar
3/4 cup heavy cream
1/2 cup fresh cilantro chopped
Instructions
Place tamarind and warm water in a bowl and let it soak for at least 20-30 minutes.

Wash the mussels thoroughly under cold water and pull any of the beards off.

Wash and peel the shrimp.

Wash and cut the fish into large chunks.

In a large saucepan, toast the cinnamon sticks, whole cloves, fennel seeds and fenugreek for a few minutes on medium/high heat.

Add the oil, onions, garlic and ginger and continue to cook, stirring often for 5 minutes.

Stir in the cumin, coriander, turmeric, cayenne and salt and cook for a few minutes to allow the spices to bloom.

As the tamarind soaks in the warm water it will start to dissolve and the pulp will separate itself from the pits. Squeeze it to help it continue to dissolve. Pour the water and tamarind through a fine strainer/sieve into another bowl. Press the pulp against the strainer/sieve to get as much tamarind pulp and juice through.

Pour the water/tamarind juice and sugar into the saucepan and bring to a boil. Let the sauce cook at a low rolling boil for about 15 minutes to draw all the flavours out.

Add the fish and cover the lid.

After the fish has been cooking for about 5 minutes, add the mussels and shrimp. Cover with the lid and cook until the mussels open and shrimp are pink, about 5-7 minutes.

Stir in the cream and garnish with the fresh cilantro.

Serve with flatbread or rice.