Vietnamese Shrimp Spring Rolls
Step by step instructions for how to make delicious Vietnamese spring rolls with shrimp, mango and so much more. These bright flavoured cold rolls are the ultimate appetizer and sure to wow everyone!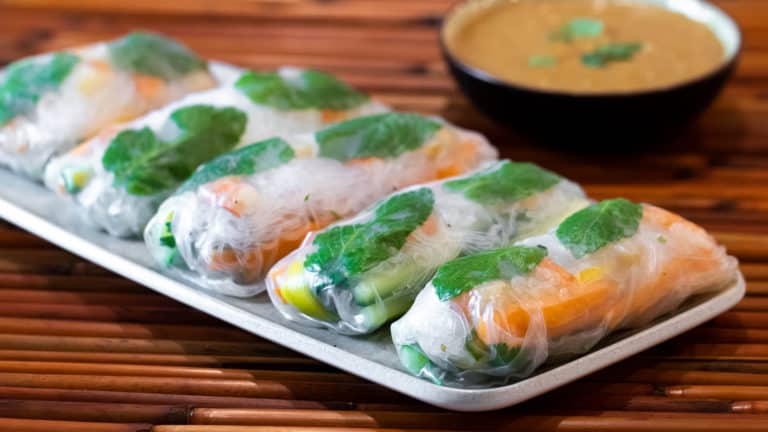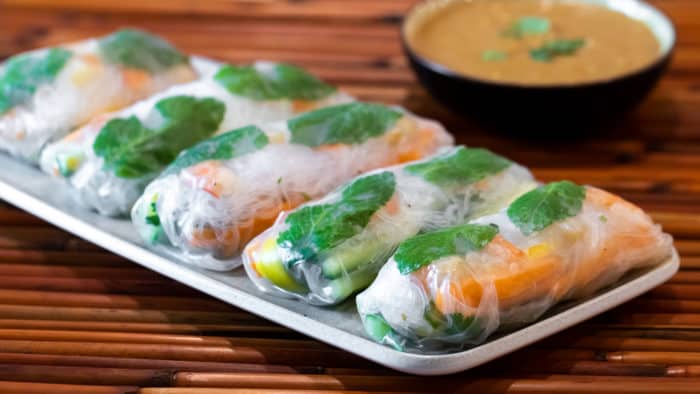 My wife and I usually have date night on Friday, and there are two common restaurants where we tend to go. One is a great little Vietnamese spot and the other is a local Thai restaurant. Both are amazing and have great items on their menus. We enjoy trying different dishes, but every time we go to both of these spots, we start our meal with Vietnamese spring rolls.
Also known as cold spring rolls or salad rolls, these appetizers are healthy, fresh and packed with bright flavours. There are many different types of fresh spring rolls, using different meats, vegetables and other ingredients as part of the filling. This recipe is my favourite type of Vietnamese spring rolls. This roll has shrimp and mango, along with the many more standard ingredients, like carrots, cucumber, vermicelli and cilantro. I absolutely love the fruity flavour that comes from the mango and it is complimented very well with the shrimp.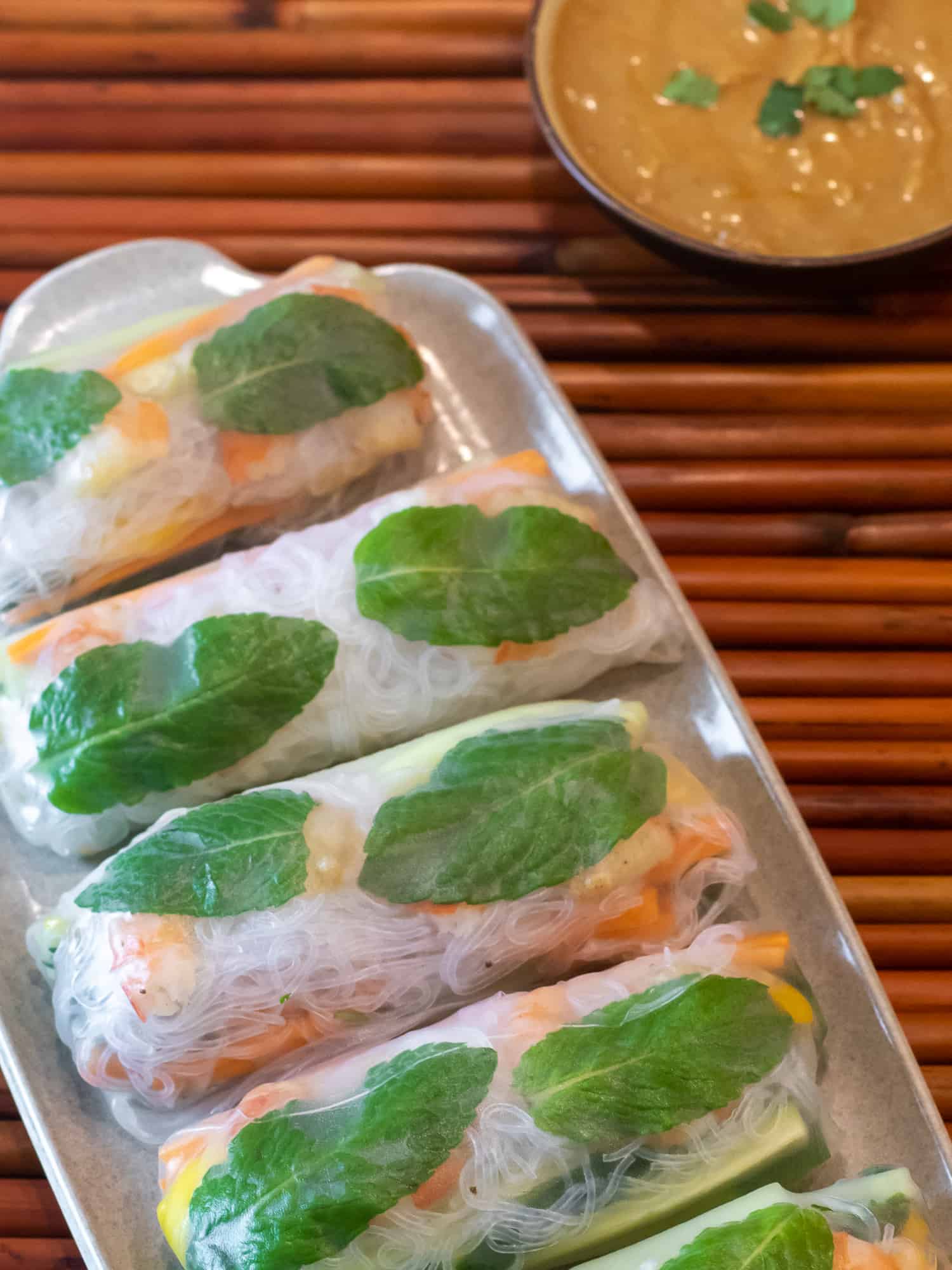 These Vietnamese spring rolls are a great appetizer, perfect for a party, and also an excellent way to start both a Vietnamese or Thai dinner. Here are some other great recipes that work very well alongside these cold rolls.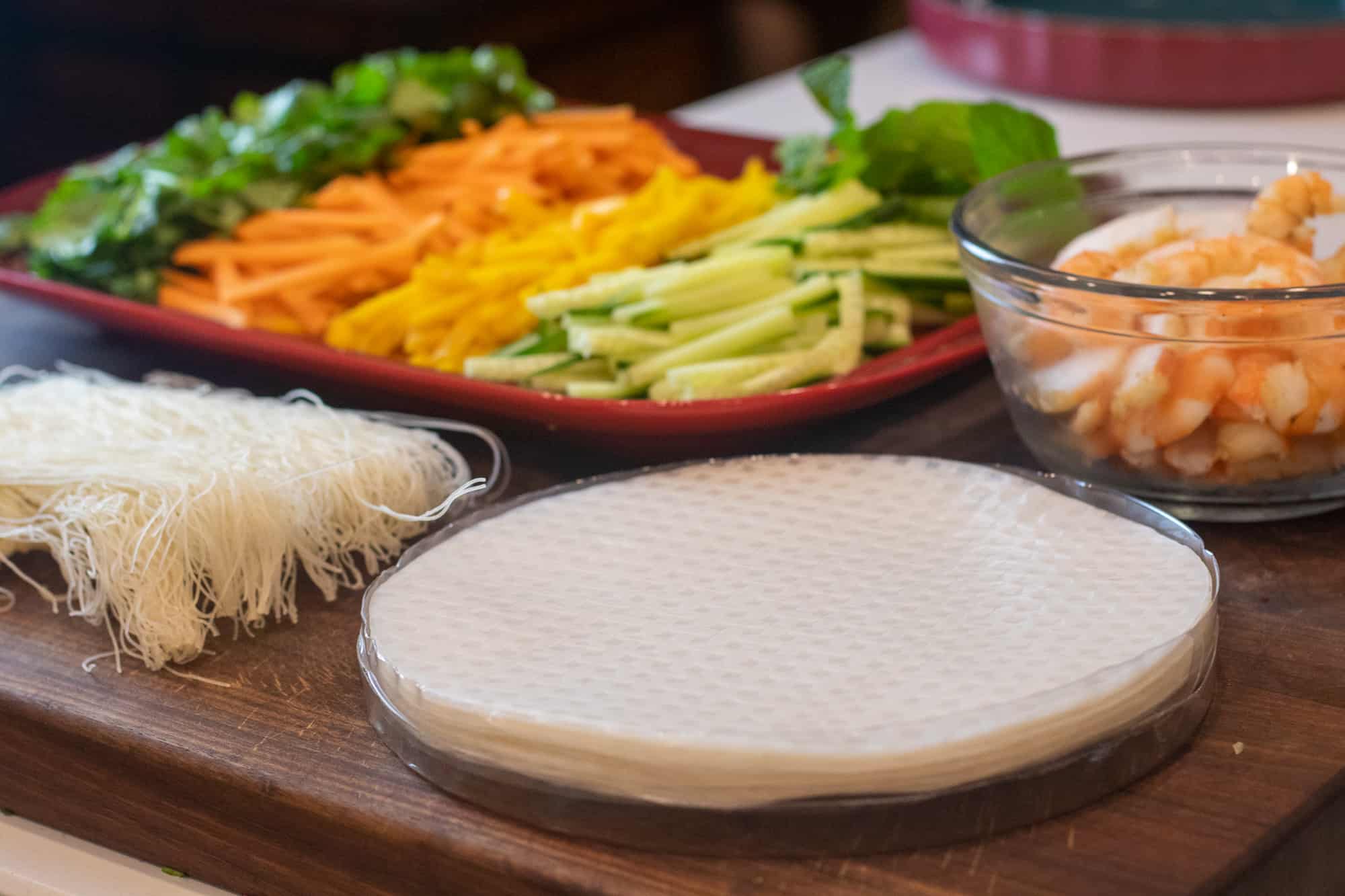 Tips to make the best cold spring rolls
Prepare all the ingredients first by cutting the vegetables and mango into thin sticks that are 2 to 3 inches long.
Rinse the fresh herbs and shake off any excess water. It is not uncommon for a bunch of cilantro to have plenty of sand/dirt and require a good rinse.
Peel the shrimp and slice them in half. If you are using smaller shrimp, then halving them may not be necessary.
The vermicelli should be cooked/soaked ahead as well. Follow and cook these noodles according to the instructions on their package. Let them cool to room temperature.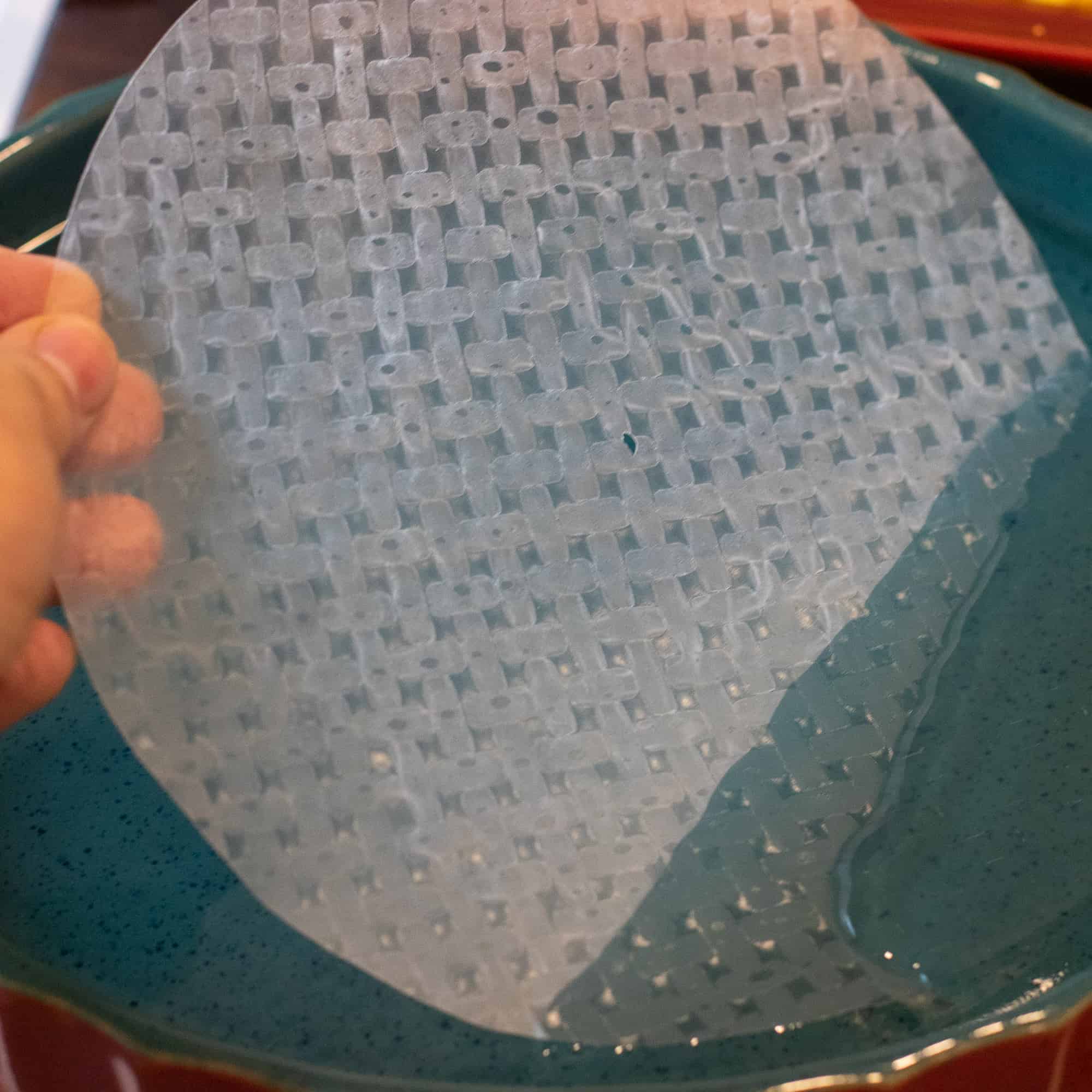 Softening the rice paper is easy!
These Vietnamese spring rolls are wrapped with rice paper. They are purchased as a hard round sheet, so they need to be softened with water before making the cold spring rolls. I like to use a deep flan dish which is large enough for the rice paper to fit in easily. You could also use a pie dish or something similar. Simply fill the dish with warm water and immerse one sheet of rice paper. Make sure it is fully under water.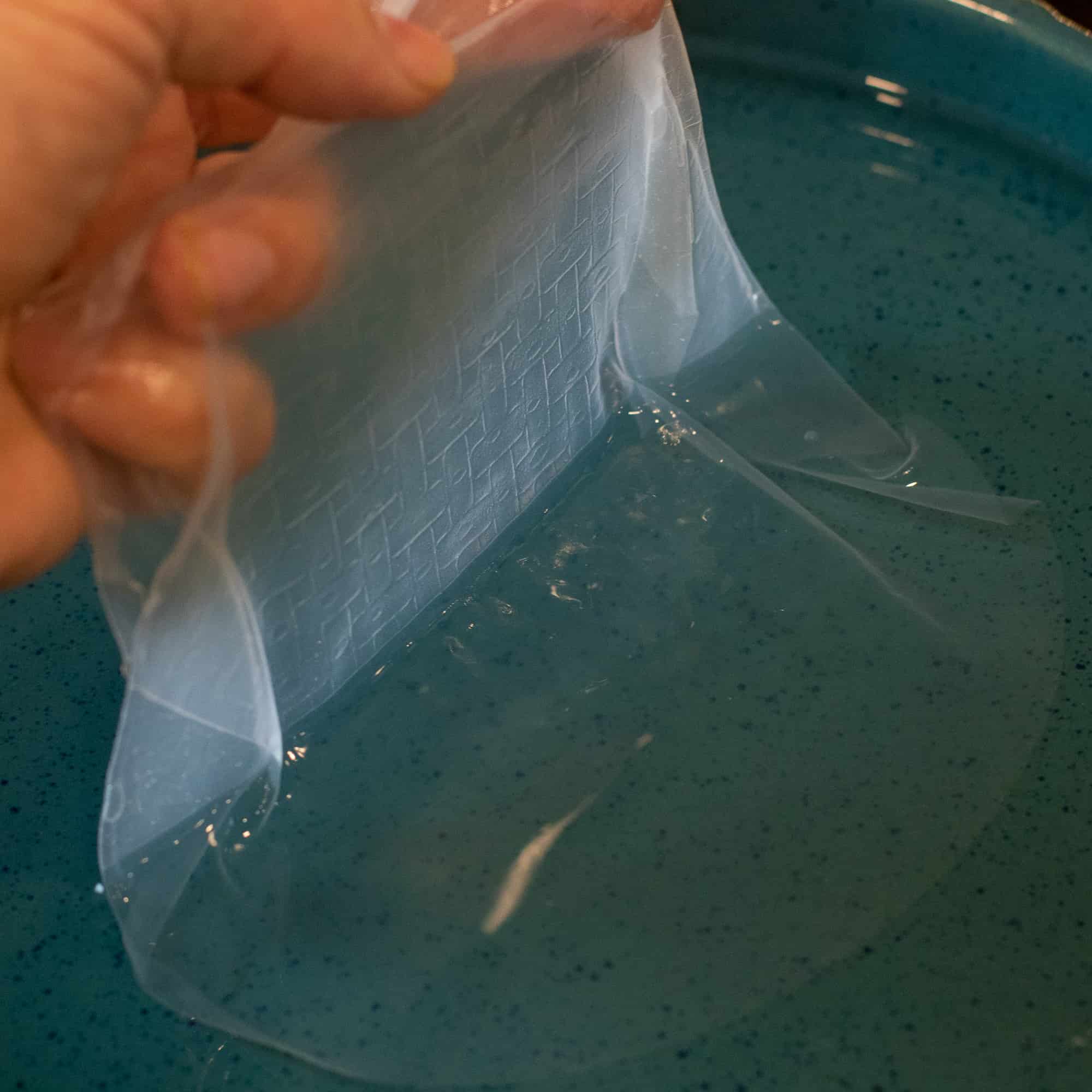 It does not take long for the rice paper to rehydrate. Typically around 30 seconds is enough time for the rice paper to be soft enough to make the Vietnamese spring rolls. Lift it out and the rice paper should feel very soft to the touch and extremely pliable. Let any excess water drip off and place on a work surface so you can add the fillings.
Rice paper tip!
Once you take the rice paper out of the water, immediately put in another one. This new rice paper can soften while you are making the cold roll and once you are finished rolling it, the second sheet of rice paper will likely be ready. Doing this allows you to not have to wait for the rice paper to soak.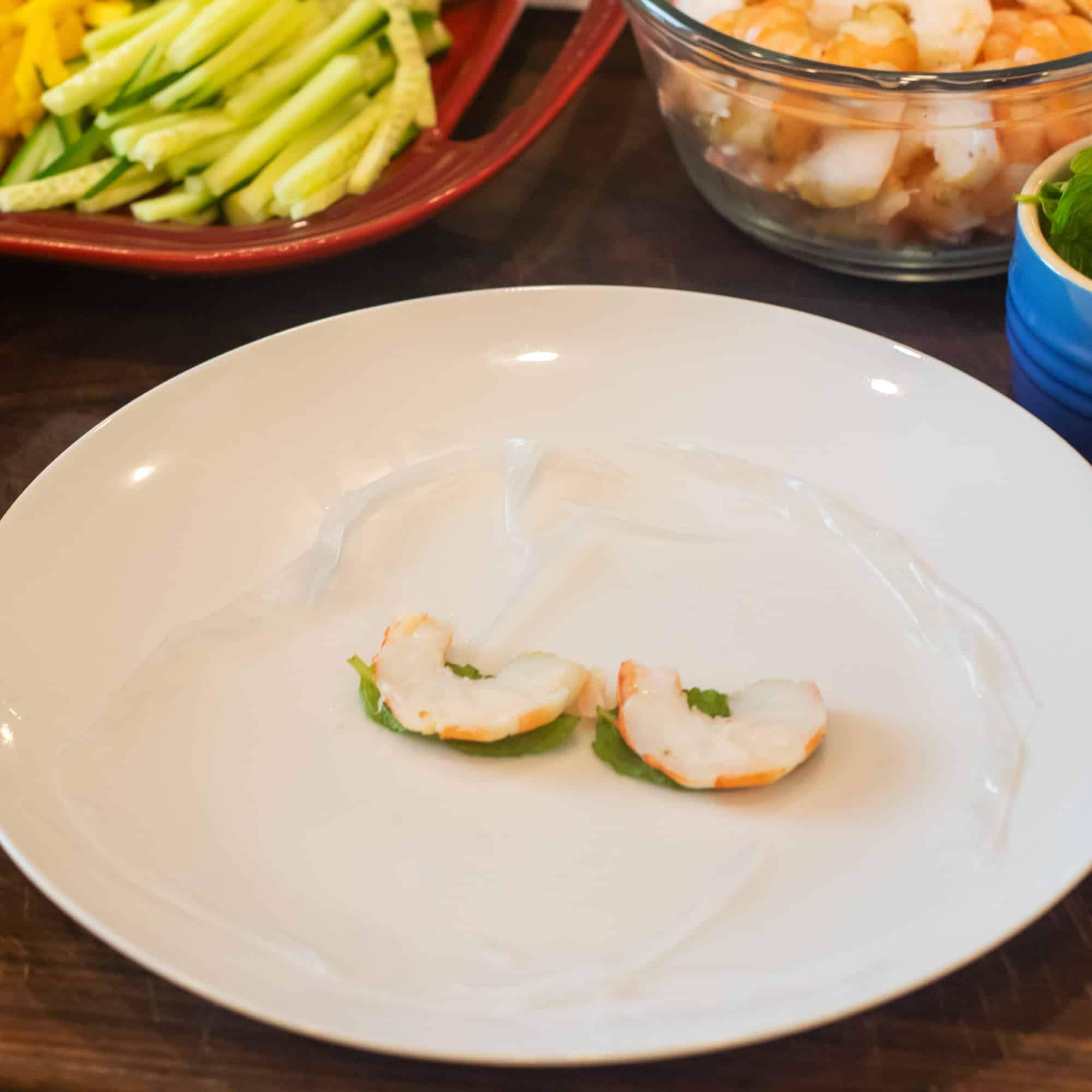 Assembling the Vietnamese spring roll is very easy. Once the rice paper is on a work surface, start placing some of the filling ingredients in the middle of the rice paper. I like to first put down a couple fresh mint or Thai basil leaves. Put the leaves, top side down, so that the finished spring roll will show off the nice fresh herb. Next place down a couple halves of the shrimp, cut side up.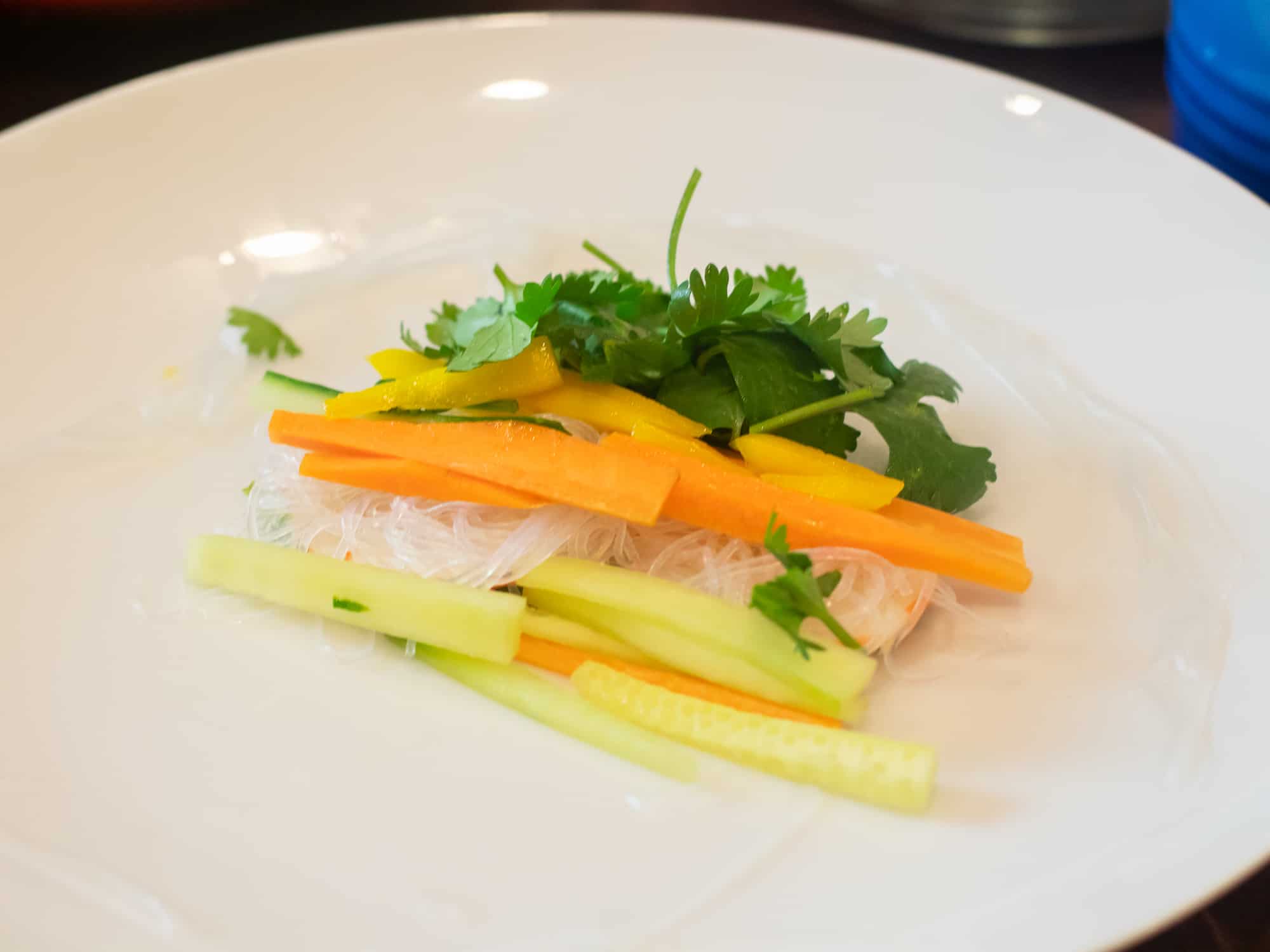 Place a small handful of the cooked vermicelli noodles on top of the shrimp and then add some sticks of cucumber, carrots and mango. Finish with some cilantro leaves.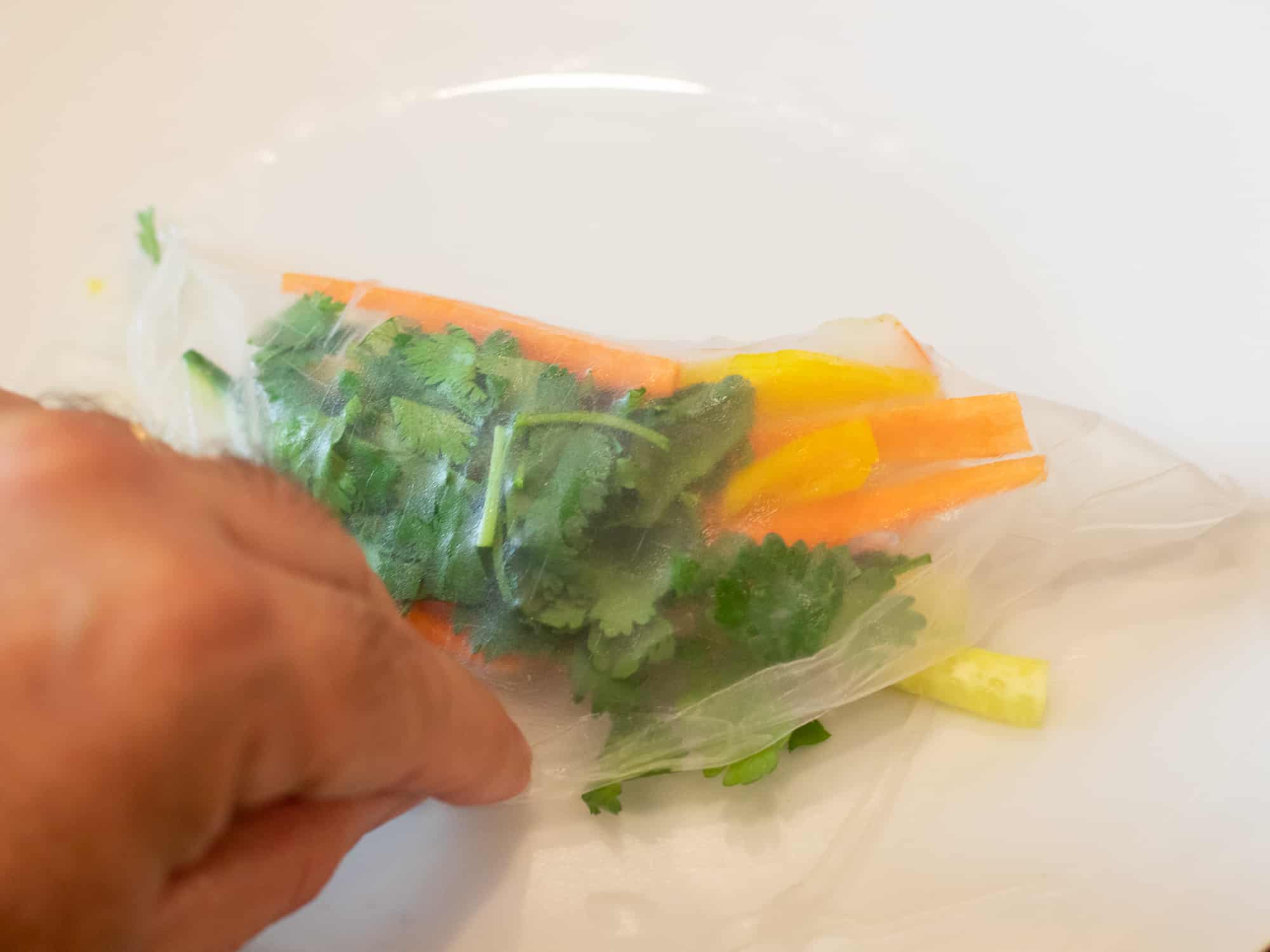 How to roll the Vietnamese Spring Roll
Rolling a cold salad roll is not difficult at all. The first step is to grab the far edge of the rice paper and pull it over all of the filling. The rice paper will stick to itself quite well, so when you pull it over, if the edge of the paper it able to touch some more rice paper on the other side of the filling, it will hold itself there.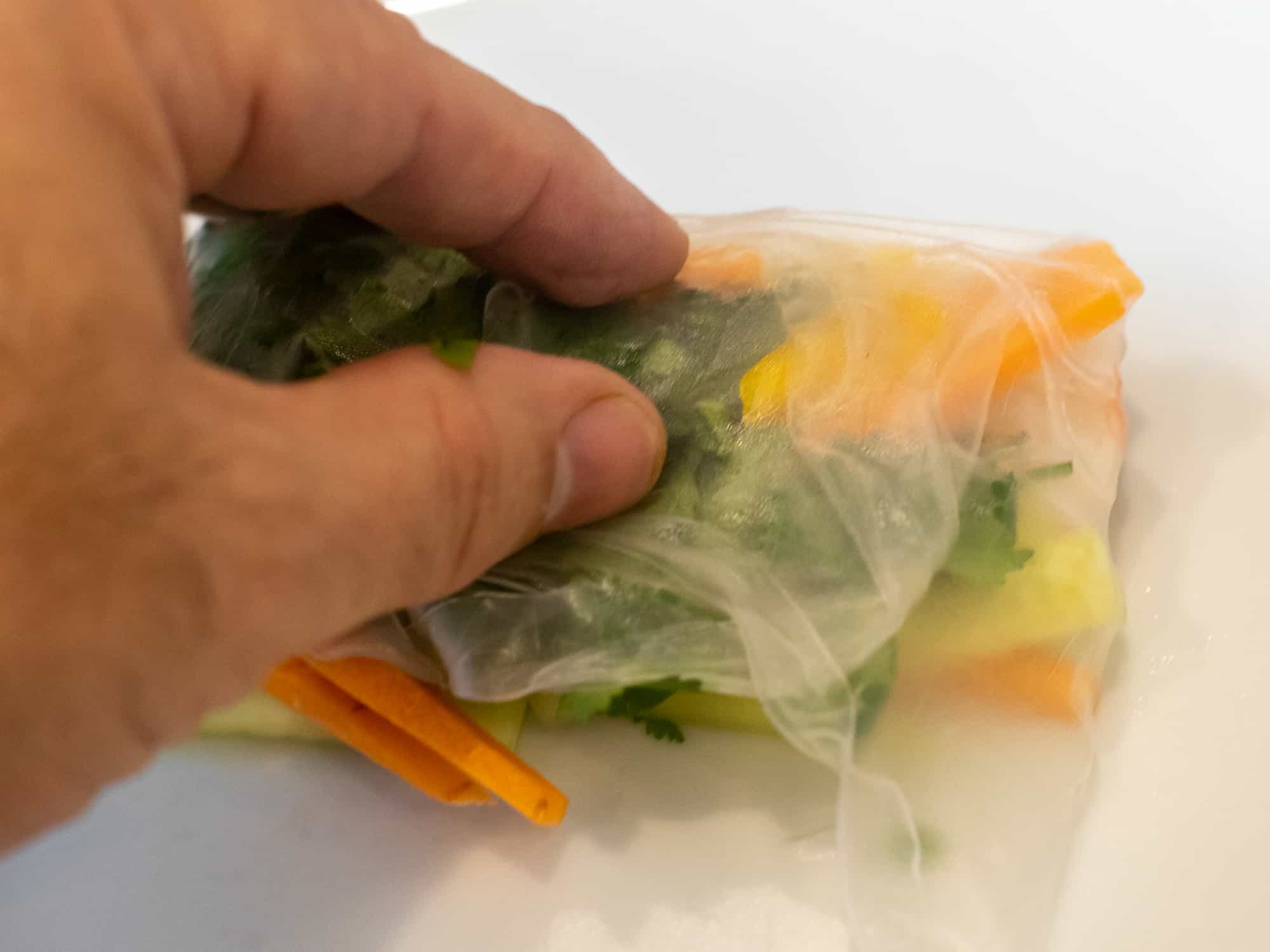 Grab the left side of the rice paper and fold it over the centre and press it down. Do the same for the right side of rice paper as well. Pat the paper down so they all stick.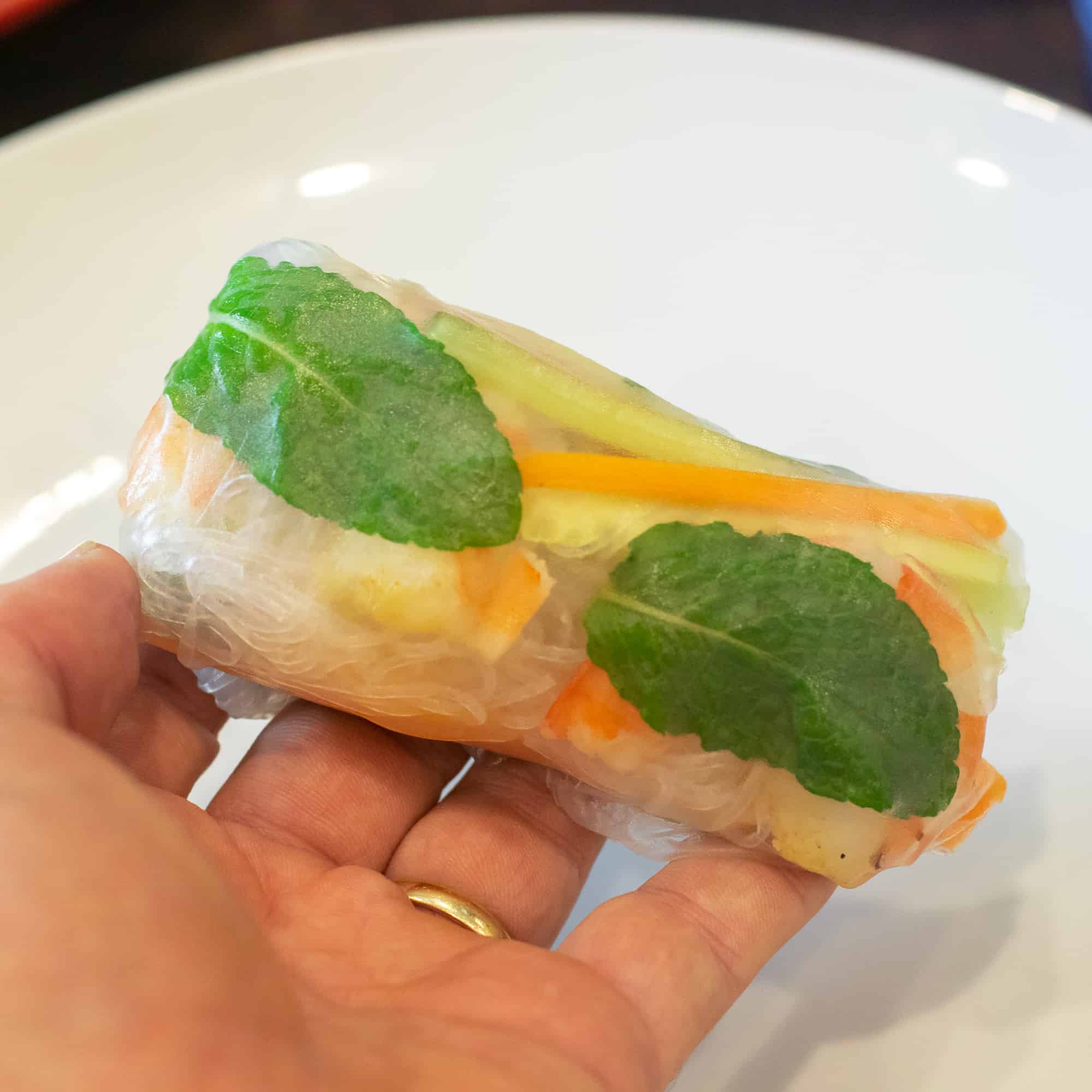 The final step of rolling up these spring rolls is to grab the edge of the rice paper close to you and pull it over the top and tuck it down on the far side. I like to try and pull it fairly tight so the spring rolls is nice and snug.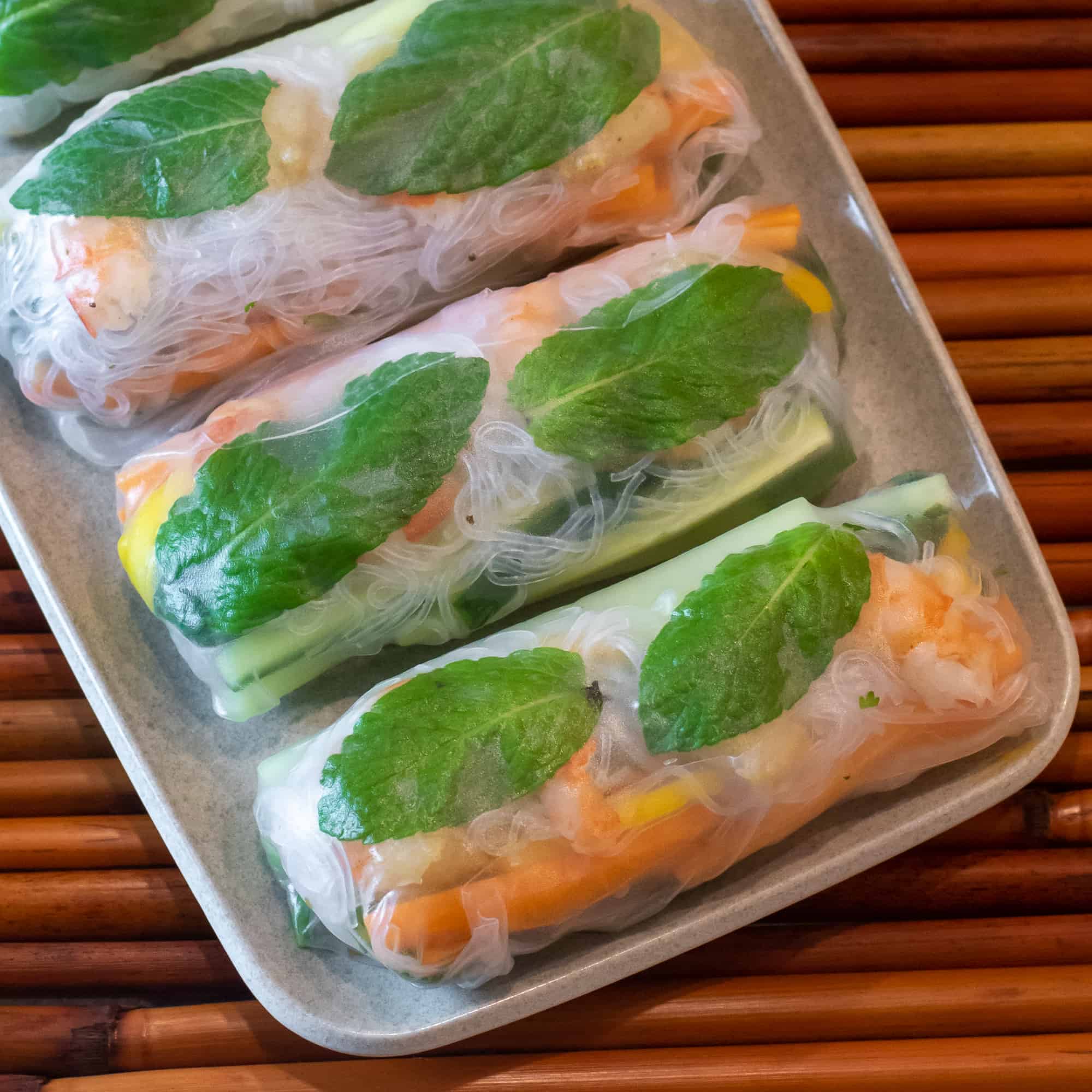 These cold rolls are best served right after they are made. The rice paper will start to dry up right away, so if you need to make them a little bit ahead, it is best to cover them with a damp paper towel, seal with plastic wrap and keep them in the fridge.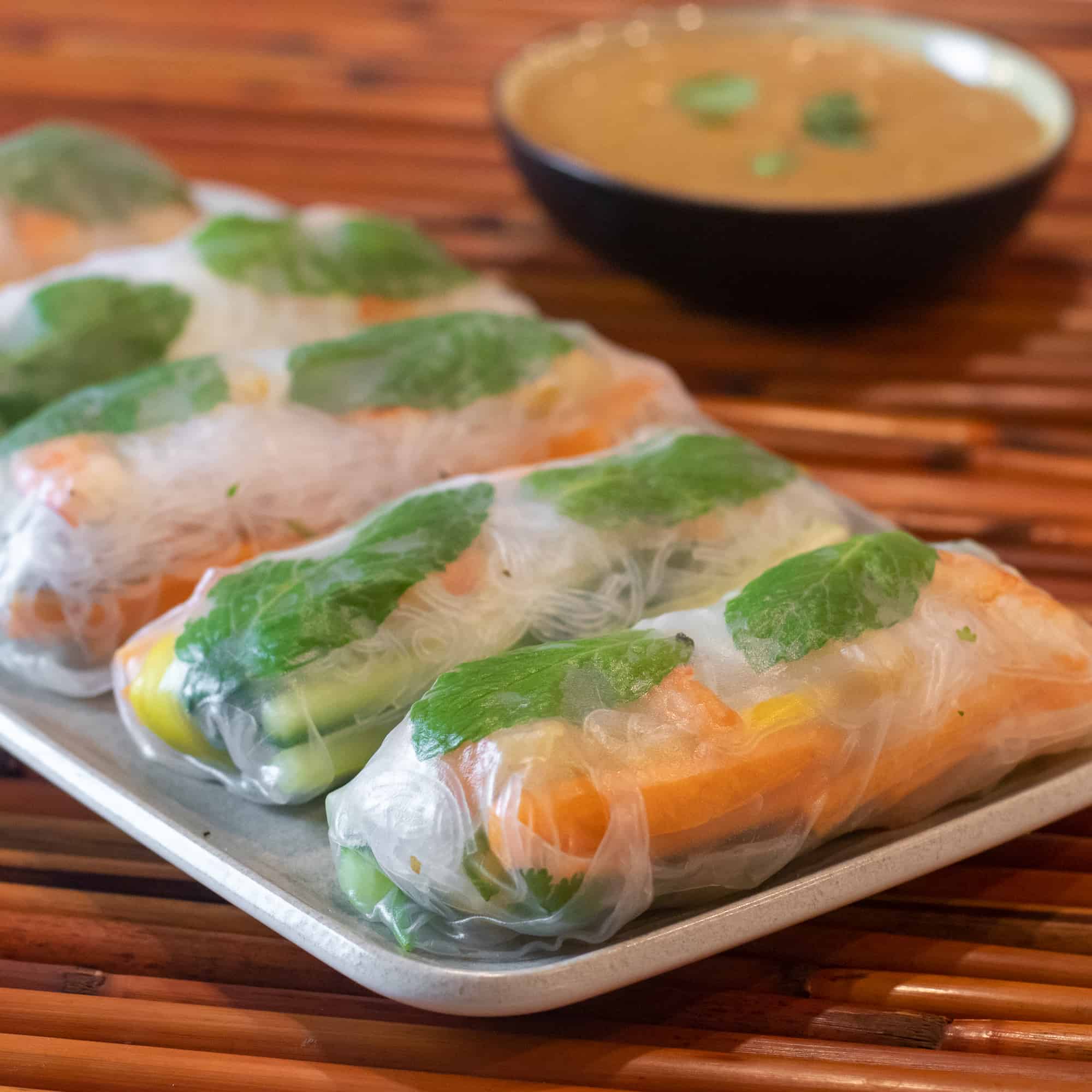 The right dipping sauce will really enhance Vietnamese spring rolls. Here are two dipping sauces that are both easy to make and are a great compliment to these cold rolls.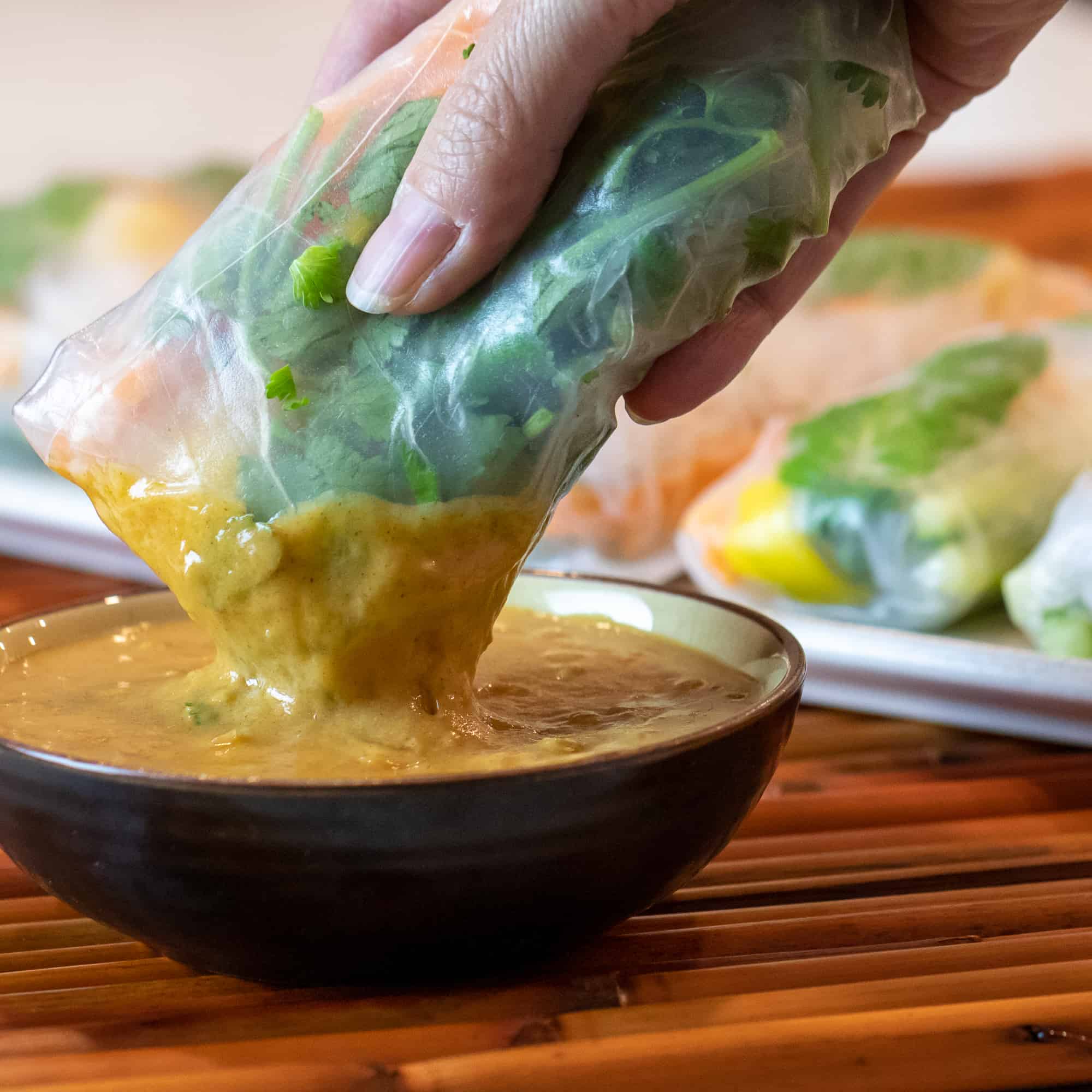 Vietnamese Shrimp Spring Rolls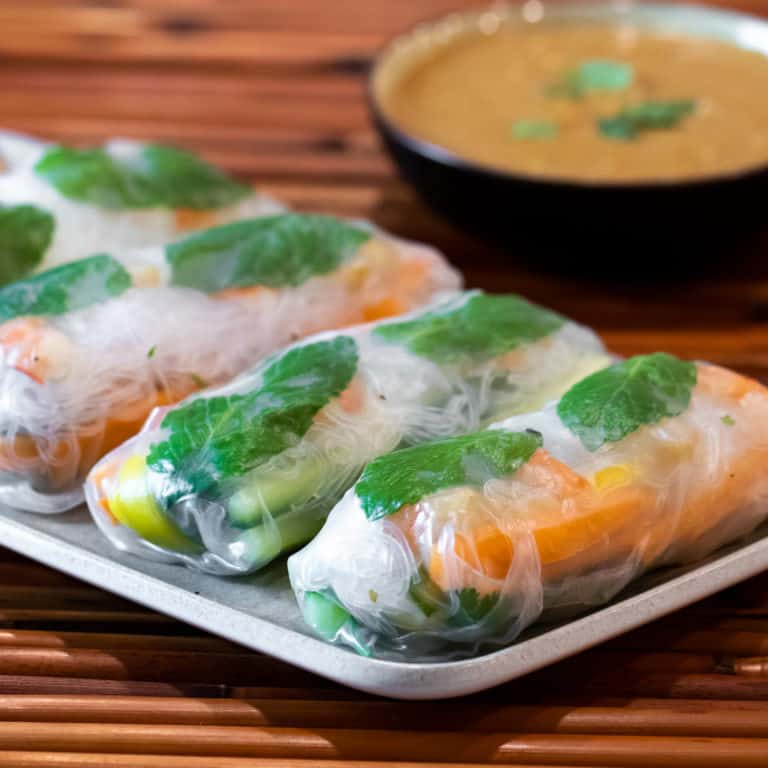 Print
Cold fresh spring roll recipe with instructions for how to make with ripe paper, shrimp, vermicelli, mint, carrots, cucumbers and mango.
Servings: 10 spring rolls
Ingredients
10 dried rice paper wrappers
1 cup dried rice or bean vermicelli , cooked according to package and cooled to room temperature.
10 medium cooked shrimp , peeled and halved
2 medium carrots , peeled and cut into short thin strips/sticks
1 english cucumber , cut into short thin strips/sticks
2 mangos , peeled, pitted and cut into short thing strips/sticks
20 fresh mint leaves or sweet Thai basil leaves , rinsed
1 cup fresh cilantro leaves , rinsed and roughly chopped
Instructions
To soften rice paper wrapper, soak in lukewarm water until soft. Lift out and place on a work surface.

Place 2 basil/mint leaves and 2 shrimp halves in the center of the wrapper.

Place a small handful of the vermicelli noodles on top of the shrimp. Add a few strips of carrot, cucumber and mango with a little bit of fresh cilantro.

Press the filling down to flatten it a little and then roll up the spring roll.

Lay seam-side down on a serving plate and sprinkle with a little water.

Serve with peanut sauce or Thai sweet chili sauce.
Nutrition
Per serving:
Calories: 180kcalCarbohydrates: 39gProtein: 5gFat: 1gSaturated Fat: 1gCholesterol: 17mgSodium: 207mgFiber: 2gSugar: 7g