Chocolate and Dulce de Leche Tassies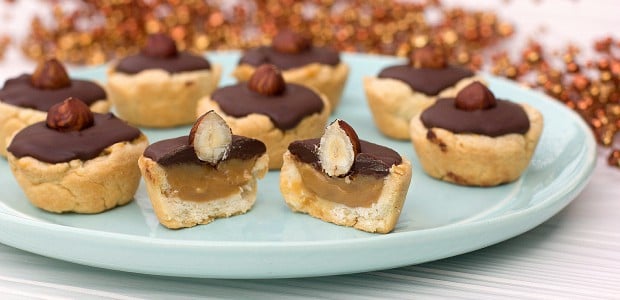 Of all the baking I do at Christmas, I think the type of sweet I enjoy making the most are tassies. Also known as tartlets, these little pastries are so easy to make and they are a great bite size treat. The pastry is a snap, using only three ingredients (butter, cream cheese and flour).
I have already posted three other tassie recipes on the blog and let me tell you that each one is totally delicious!
Thinking about what I was going to fill these little mini tarts with I quickly went to dulce de leche. I love caramel and dulce de leche is so delicious. I have written out instructions below for making dulce de leche out of a can of condensed milk with a slow cooker. It is so easy to make, so don`t worry if you cannot find a jar of dulce de leche at your supermarket.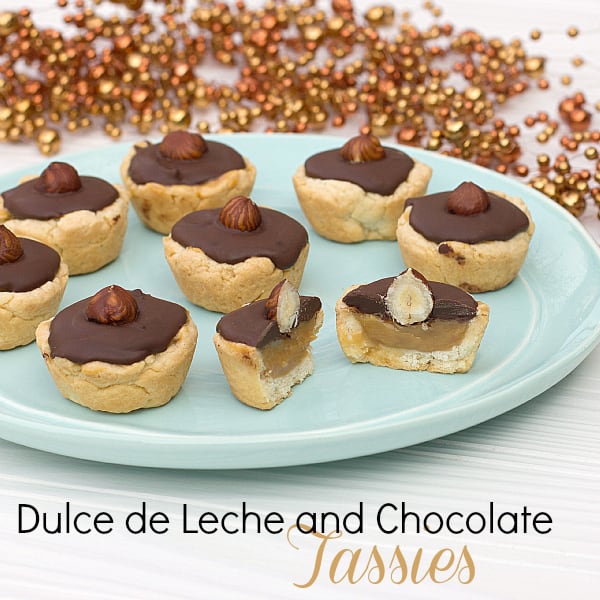 The tassies are filled with a layer of dulce de leche then a layer of melted chocolate and finally topped with a hazelnut. The taste of these tassies actually reminded me of a Twix candy bar (with the added bonus of the nut). These tassies are a perfect addition to the 24 Days of Christmas Baking.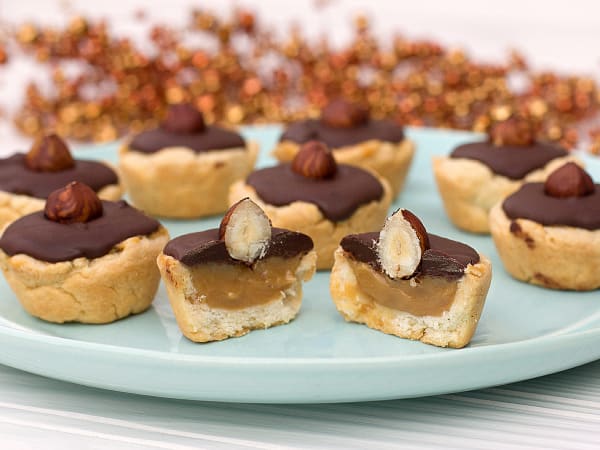 Chocolate and Dulce de Leche Tassies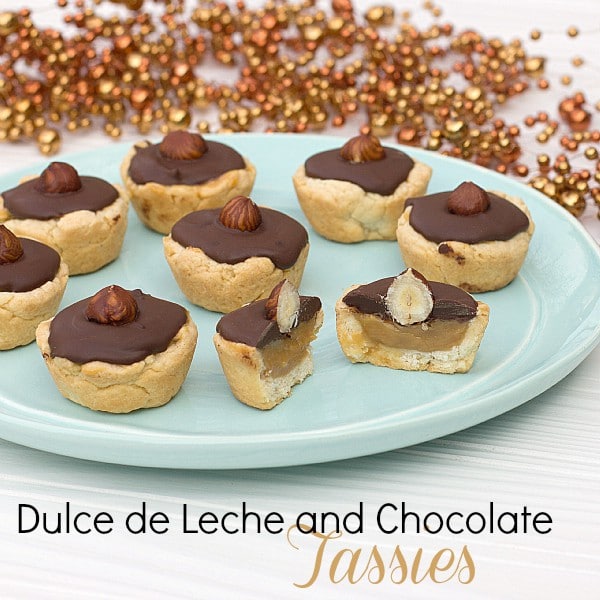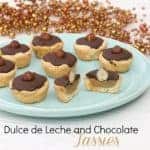 Print
Servings: 24
Ingredients
1 cup butter
6 oz cream cheese
2 cups flour
1/2 cup dulce de leche (instructions to make it below in the notes)
6 oz semi sweet bakers chocolate
1 tbsp butter
24 whole hazelnuts
Instructions
In a medium bowl, combine 1 cup butter and cream cheese. Beat with an electric mixer on medium speed until mixture is combined. Add flour. Beat on low speed just until combined. Cover and chill dough for one hour.

Shape dough into 24 balls. Press each ball evenly into the bottoms and up the sides of 24 ungreased 1-3/4-inch mini muffin cups.

Bake in a 325F oven for 15-20 minutes. The pastry should be starting to brown.

Remove from the oven and cool completely on a wire rack.

Melt the chocolate and the tablespoon of butter in a microwave on half power. Stir until smooth.

Spoon about a teaspoon of dulce de leche in each tassie. it should be about halfway (or just a little more) up the sides of each tassie.

Spoon some of the melted chocolate over top of the dulce de leche.

Top with a hazelnut.

Let the chocolate harden before storing. Store in an airtight container for up to a week or in the freezer for 2-3 months.
Notes
An easy way to make dulce de leche, is with condensed milk in a slow cooker. Remove the label off the can of condensed milk and place the unopened can in a slow cooker. Fill the slow cooker with water so that the water covers the can. Set the slow cooker to low and cook the condensed milk for 8 hours. Remove the can from the water and let it come to room temperature before opening. Open the can and there is some delicious dulce de leche!!