Dulce de Leche and Chocolate Thumbprint Cookies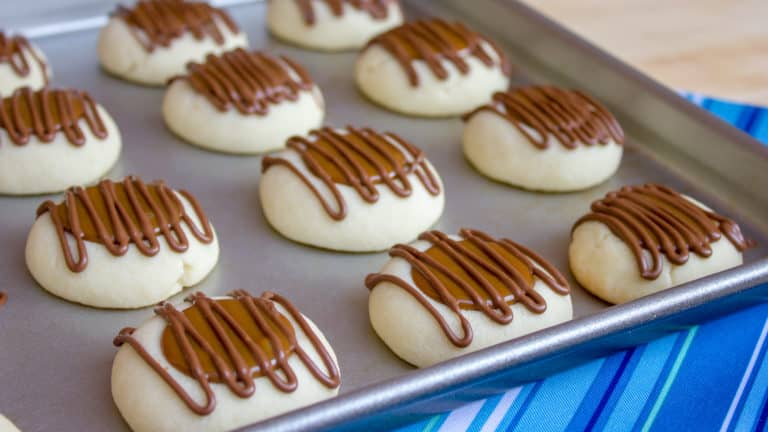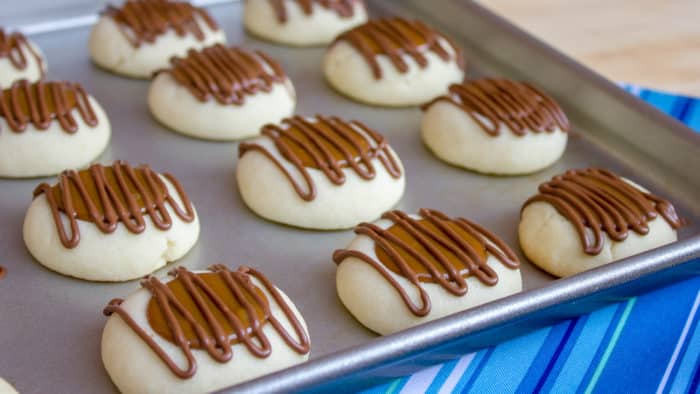 Dulce de leche is all the rage right now. I had never heard of it ten years ago and now it seems to be everywhere from a flavour in specialty coffee, cheesecake, ice cream and more. Originating in Southern America, dulce de leche literally means "candy of milk" or "milk jam". I love that name – Milk jam – YUM!
Essentially, dulce de leche is a type of caramel made from sweetened condensed milk. For people like me, dulce de leche is like crack! I can, and have, scooped spoonfuls of the stuff out of the jar and ate it. Delish I tell you! Drizzle some on your ice cream, spread it on a peanut butter sandwich, scone, or pancake. The possibilities are endless with dulce de leche.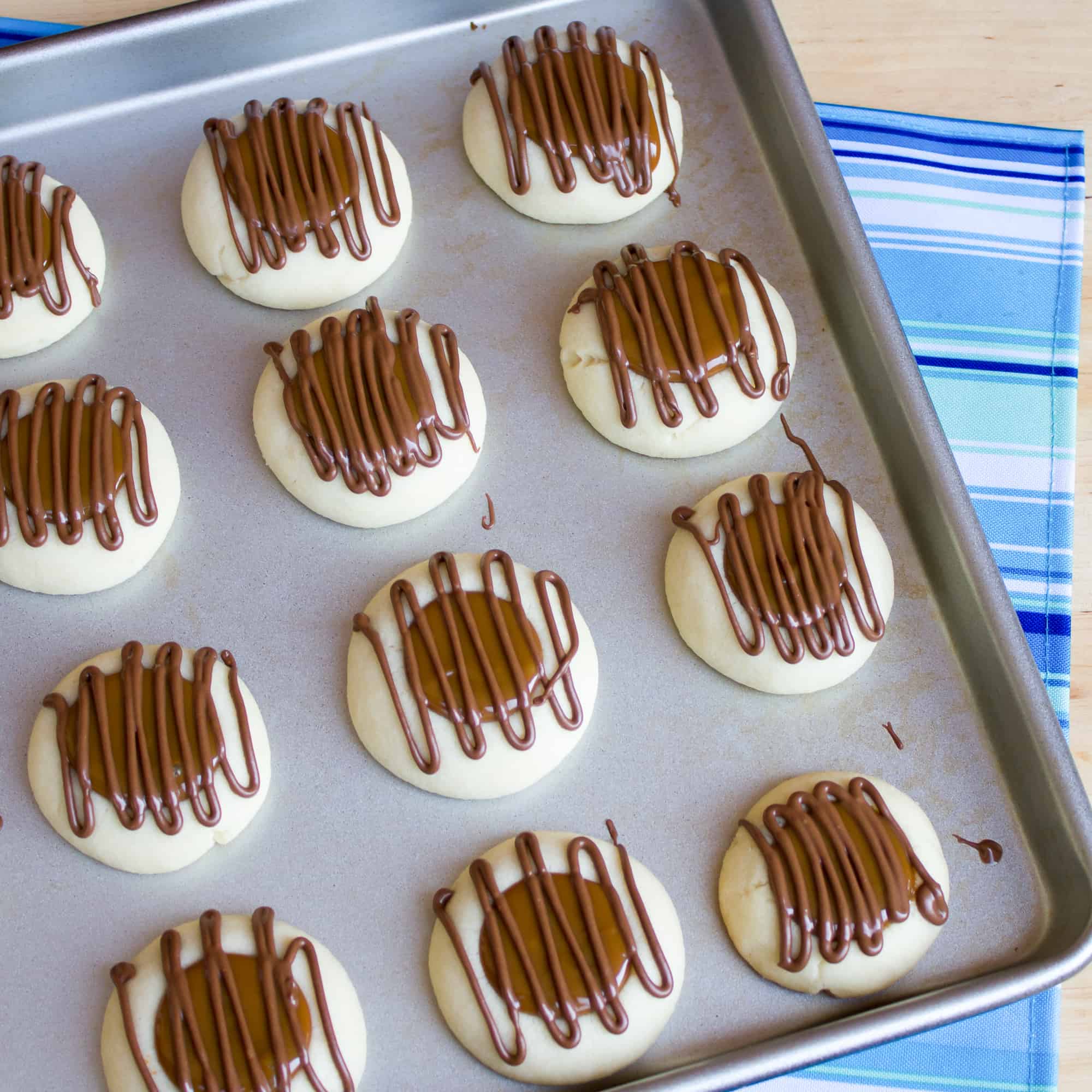 I love how accessible international foods are now. For those not wanting to make dulce de leche at home, there are plenty of brands available at most grocery stores. I keep a jar or two on my pantry shelf for any time that the caramel craving hits!
These thumbprint cookies I want to share with you taste totally amazing. They actually remind me of a Twix chocolate bar. The shortbread cookie with dulce de leche and chocolate drizzle on top make this the greatest thumbprint cookie I have ever had.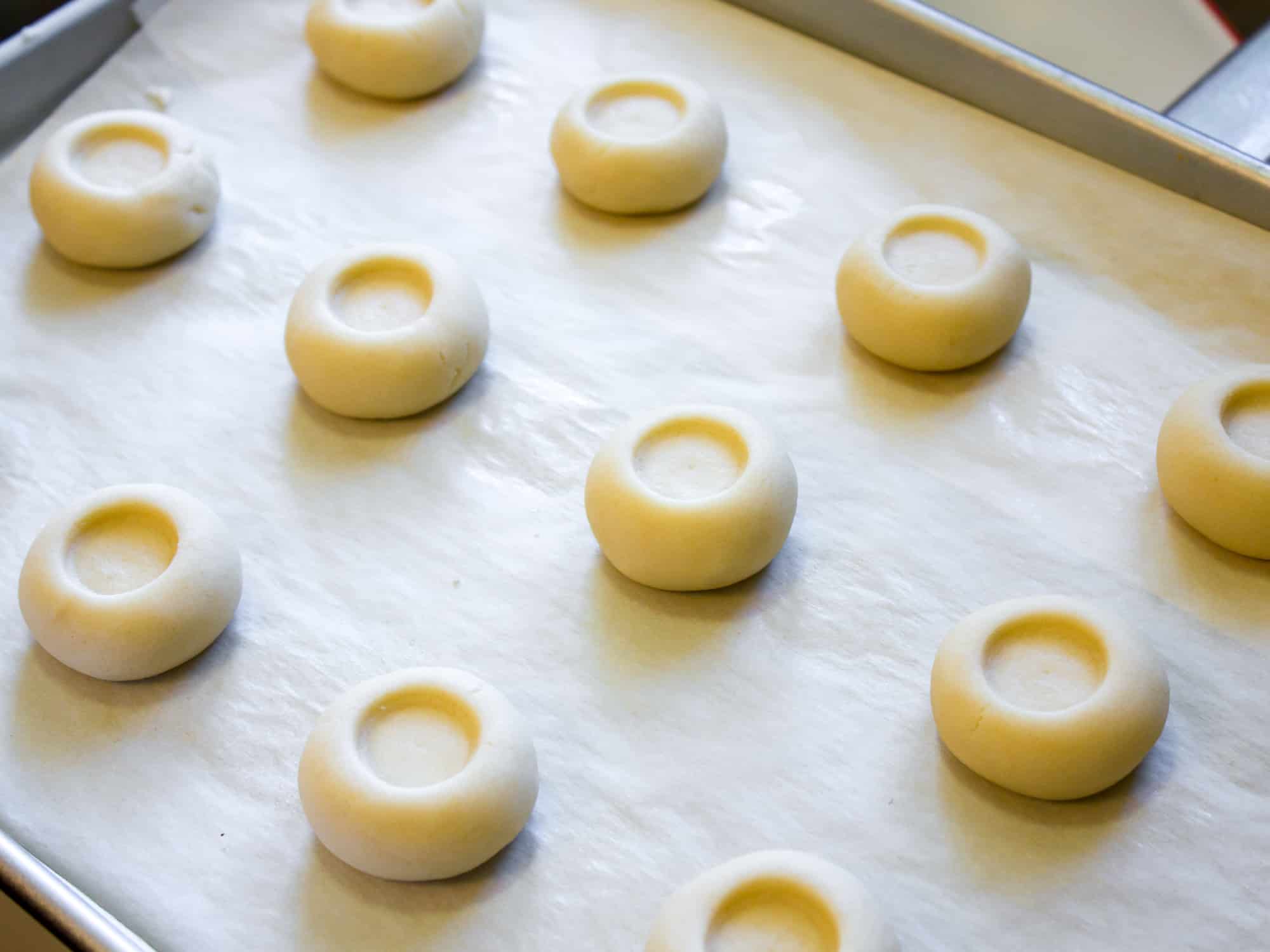 Roll the shortbread dough into a ball and make an indentation with your thumb or the cap of a chapstick. Place on a baking sheet lined with parchment paper.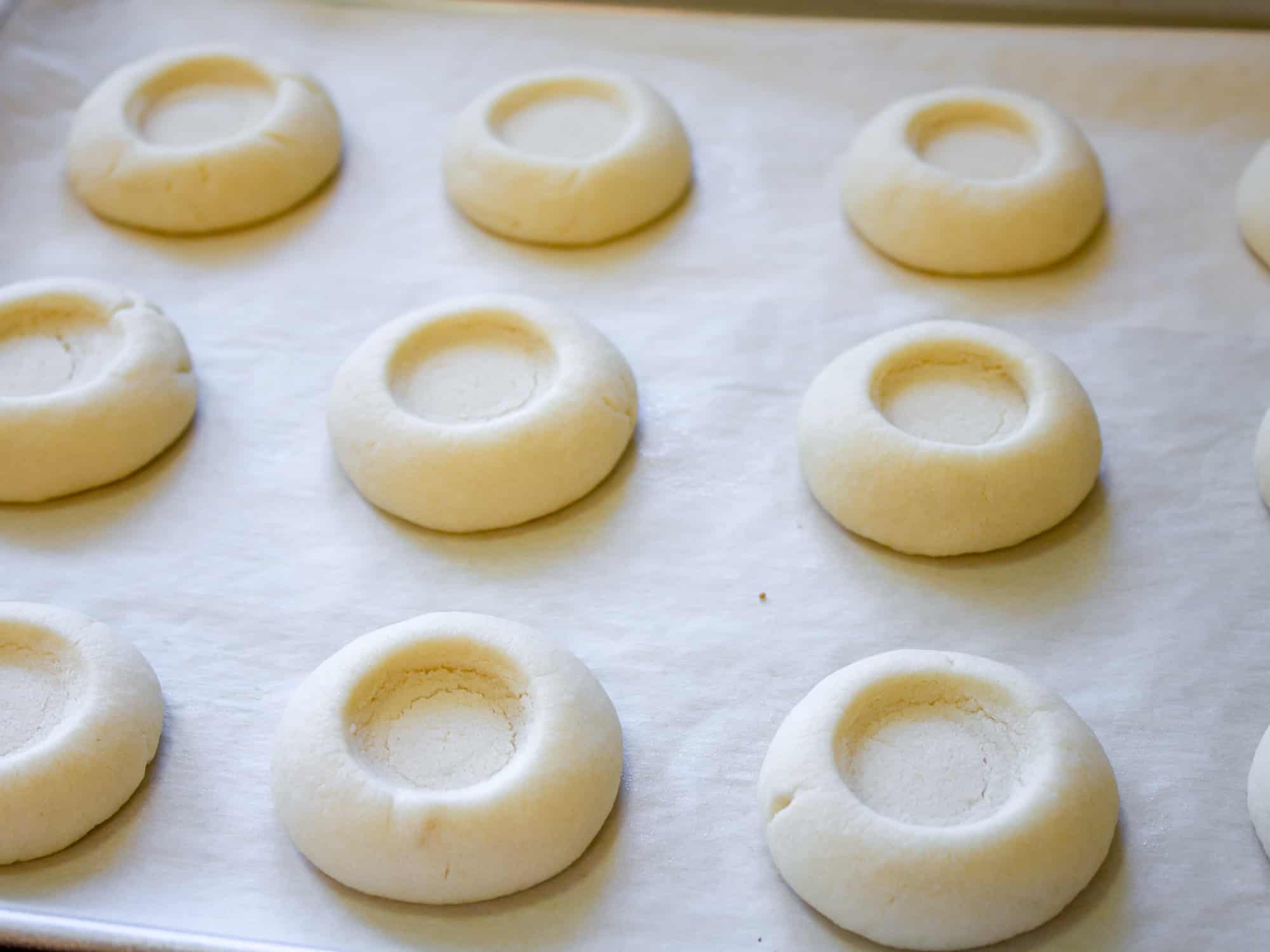 Bake at 325F for 20 minutes. As you can see, the cookies spread out a little during the baking. It may be necessary to repress the indentation after baking.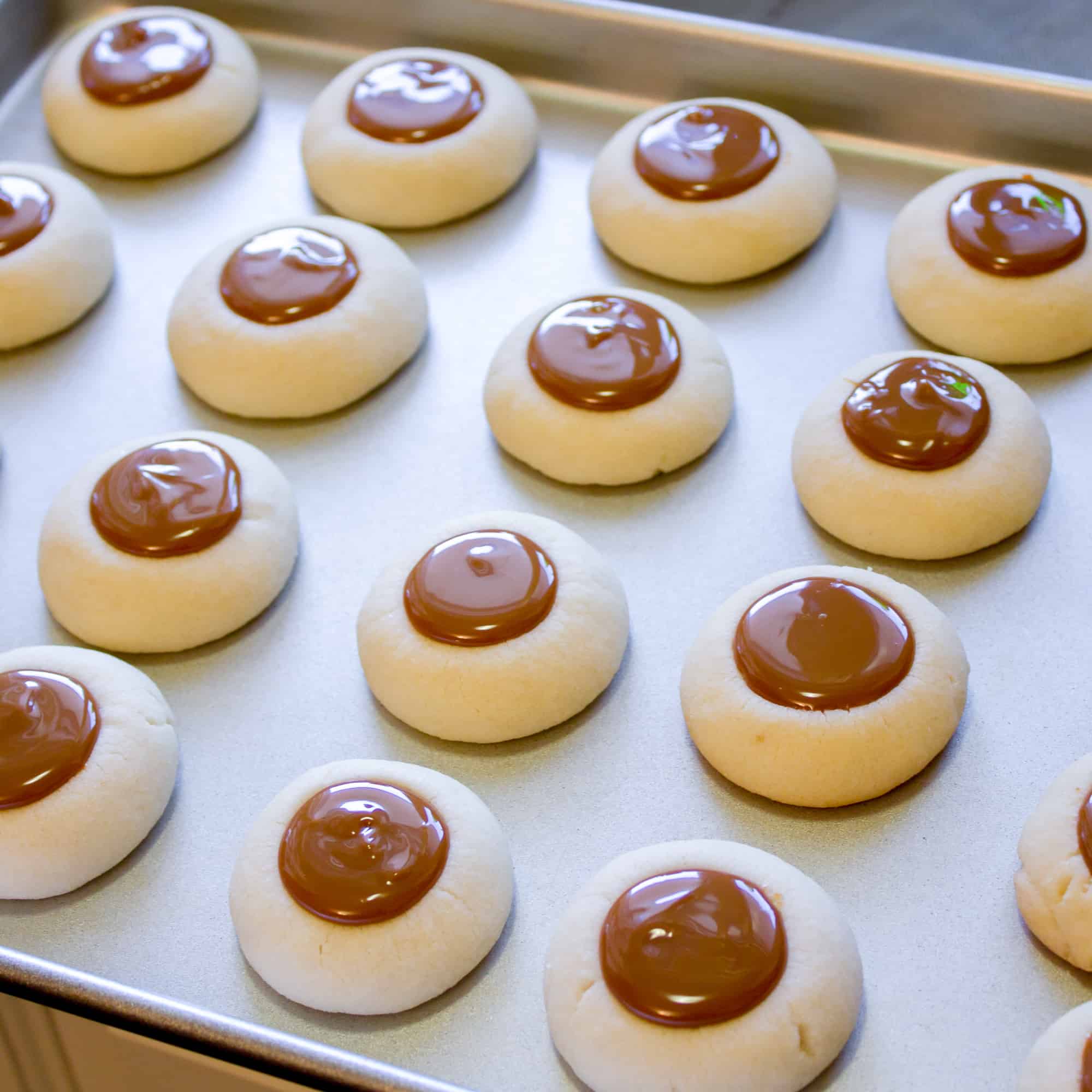 Once the cookies have cooled completely, spoon some dulce de leche in each thumbprint. Drizzle some melted chocolate on top.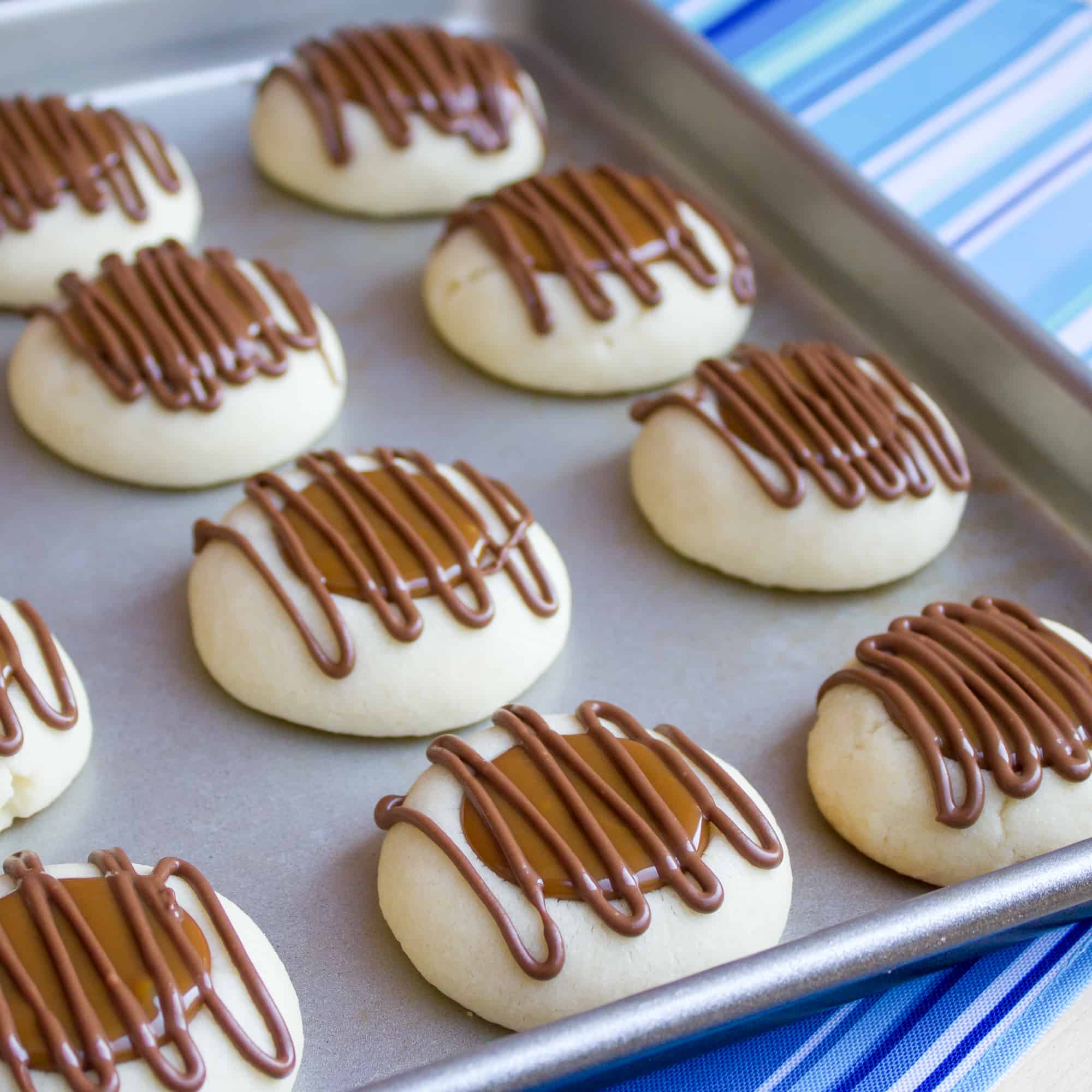 Just look at those cookies! I am glad I have some more on the counter. I think I will have a couple more once I am done this post!
Dulce de Leche and Chocolate Thumbprint Cookies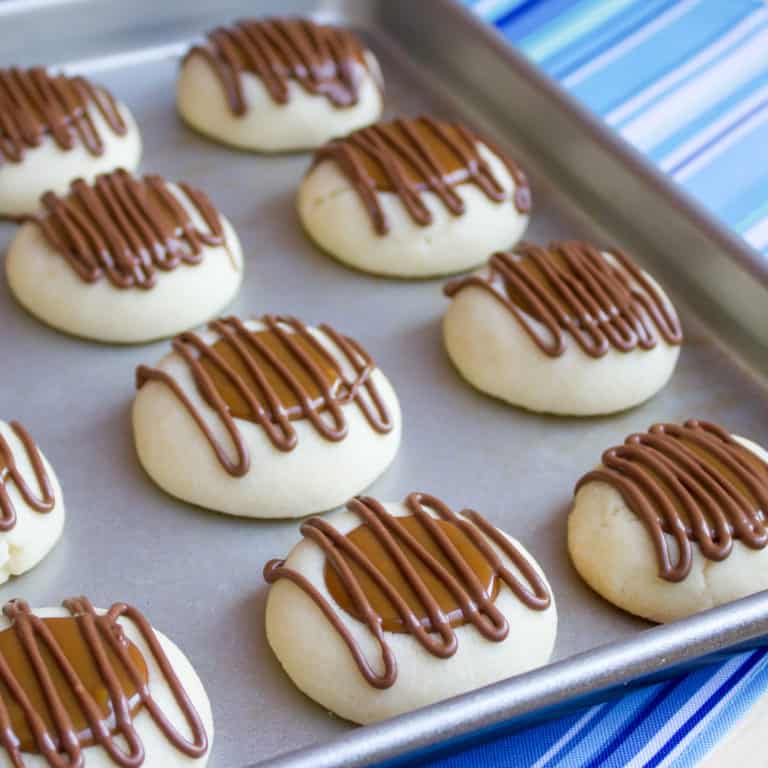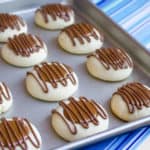 Print
A recipe for a shortbread thumbprint cookie filled with dulce de leche and drizzled with melted chocolate. Tastes similar to a Twix candy bar with the caramel and chocolate.
Servings: 24 cookies
Ingredients
1 cup unsalted butter
2/3 cup white sugar
1/4 tsp salt
2 1/4 cups all purpose flour
1 cup dulce de leche
1/2 cup chocolate chips
1 tbsp butter
Instructions
Preheat oven to 325F

Using an electric mixer, cream together the butter, sugar and salt until smooth. Slowly mix in the flour until the dough is an even consistency and comes away from the bowl.

Roll the cookies in 1 1/2 inch balls and place on a cookie sheet, lined with parchment paper, about 2 inches apart. Using your thumb, or the cap from a Chapstick tube, press down in the centre of each ball to create an indentation.

Bake for about 20 minutes. The cookies should just start to brown along the bottom edges. Remove from the oven. If desired, repress the indentations (they rise a bit during baking).

Cool completely on a wire rack.

Spoon some dulce de leche in each thumbprint.

Melt the chocolate chips in a microwave, using a double boiler, or a bowl resting on a pot of barely boiling water. Whisk in the butter until smooth. Using a knife or pastry bag, drizzle the chocolate on top of the cookies.