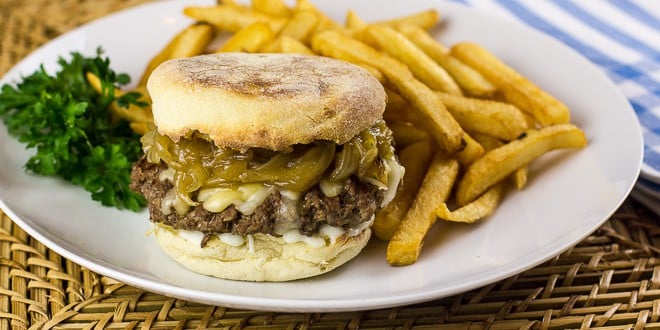 I love a good burger and recently I was asked to try this French Onion Soup Burger. It won the Judge's Choice Award at the 2013 Food Network New York City Wine & Food Festival's signature event, the Blue Moon Burger Bash. This burger was made by Chef Paul Denamiel and it is topped with caramelized onions (YUM!), bechamel sauce (double YUM!) and some Emmental cheese (triple YUM!). Instead of using a traditional burger bun, a Thomas English Muffin is used instead. I have never used an English muffin for a burger, so I was curious.
I followed the recipe (below) and wow, that was one good burger. You can see from my picture, that I made sure there was lots of toppings. I piled the caramelized onions high and spread on a lot of bechamel sauce. All the ingredients came together well and it was delicious. I also quite enjoyed using the English muffin.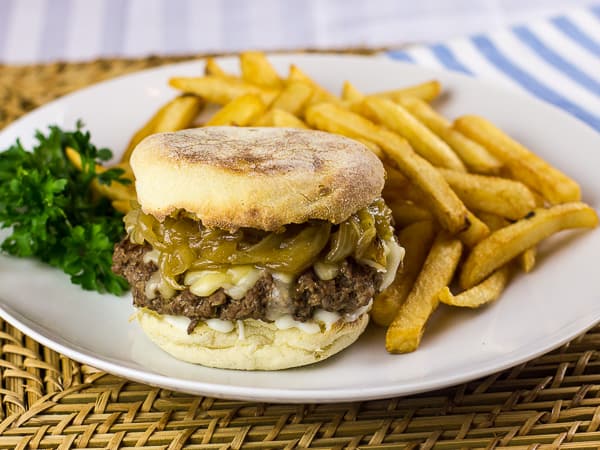 French Onion Soup Burger
Ingredients
6 -8 ounce burgers: blend of brisket, chuck and short rib
6 slices of Emmental cheese
6 large sandwich size Thomas' English Muffins, toasted
For the Onions
4 large Spanish Onions
1 cup beef or chicken stock
2 sprigs of fresh thyme
4 tablespoons of olive oil
salt and pepper to taste
For the Béchamel
2 tablespoons butter
2 tablespoons flour
1 1/4 cups milk, heated
salt and pepper to taste
Directions
For the Béchamel
In a heavy saucepan, melt the butter. Using a whisk, whisk in the flour and cook, stirring constantly, until the flour does not have the raw flavor, about 2 minutes. Let mixture bubble but do not let the mixture brown. Whisk in heated milk, mixing until there are no lumps and mixture is smooth. Continue to stir as the sauce thickens and bring to a boil. Add salt and pepper to taste, lower the heat, and cook, stirring for 2 to 3 minutes more. Remove from heat.
To cool for later use, cover with plastic wrap to prevent a skin from forming on top. Set aside.
For the Onions
Peel the onions and cut in half length-wise into thin half moon slices. In a medium sauce pot over medium heat, sauté the onion with the olive oil. Add thyme sprigs and keep on heat until they are soft and caramelized. Add the stock and continue cooking until most of the liquid is evaporated. This may take about 20 minutes total cooking time. Remove thyme sprigs. Set aside.
For the Burger
Heat a grill pan over high heat. Lightly brush the pan with olive oil. Generously salt and pepper both sides of each burger. Place burger on grill pan and cook 5-6 minutes on each side for medium burger. After burger is flipped, place cheese on top of burger, and cook until desired internal temperature is reached and cheese is melted.
For Assembly
Butter the toasted Thomas' English Muffins. Place a tablespoon of béchamel sauce on bottom side of muffin. Place the burger on top and then place a tablespoon of the sautéed onions on top of the burger. Place the other half of the muffin on top of the onions.