These classic sloppy joes taste just like the way your mom used to make them! They are a perfect weeknight meal and great for an after school snack or game day treat!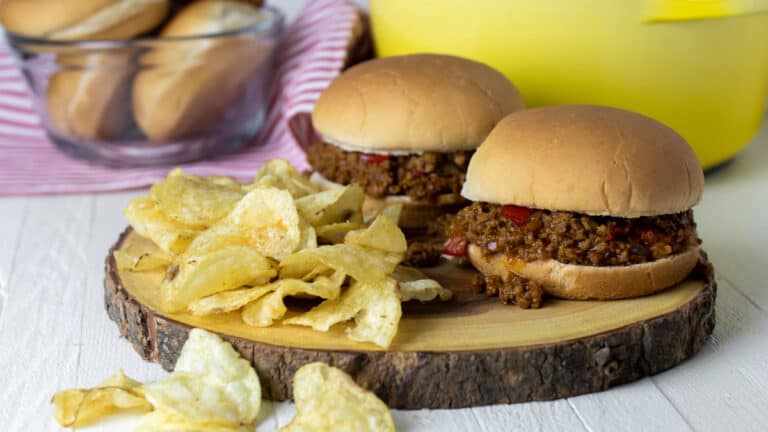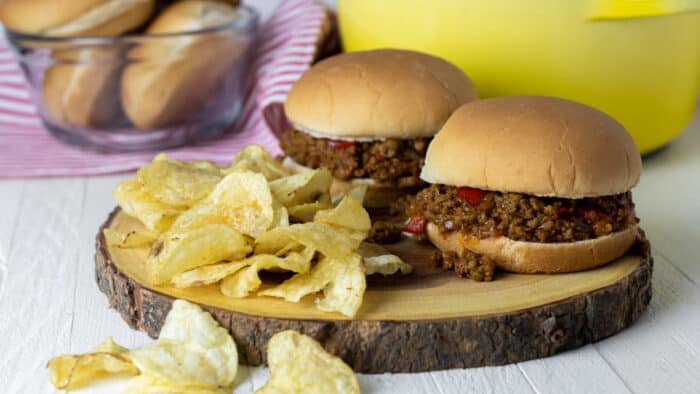 I remember eating sloppy joes as a kid. I always loved it. This is simple down home family goodness! In the same way that I have always loved sloppy joes, my kids go crazy whenever we have them for dinner.
This homemade sloppy Joe recipe is easy to make from scratch and uses ingredients you likely have in your kitchen!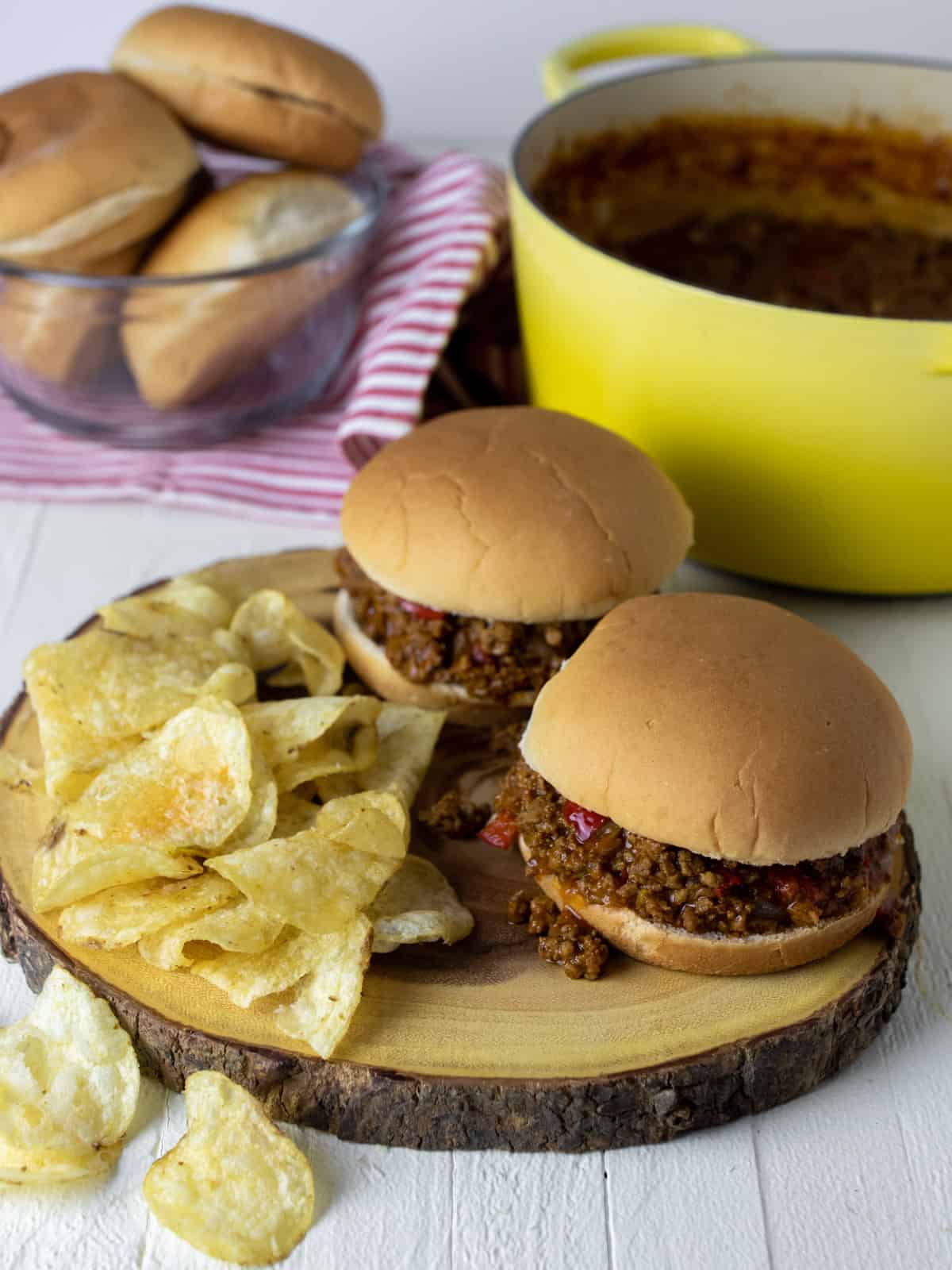 What Makes Sloppy Joe's So Good
The meat and sauce is so good in a burger bun. I often spoon a little extra meat off to the side of the bun, or just go for open face sloppy joe's just so I can have lots of meat! This recipe with bring back memories of childhood experiences eating sloppy joes. It sure does for me.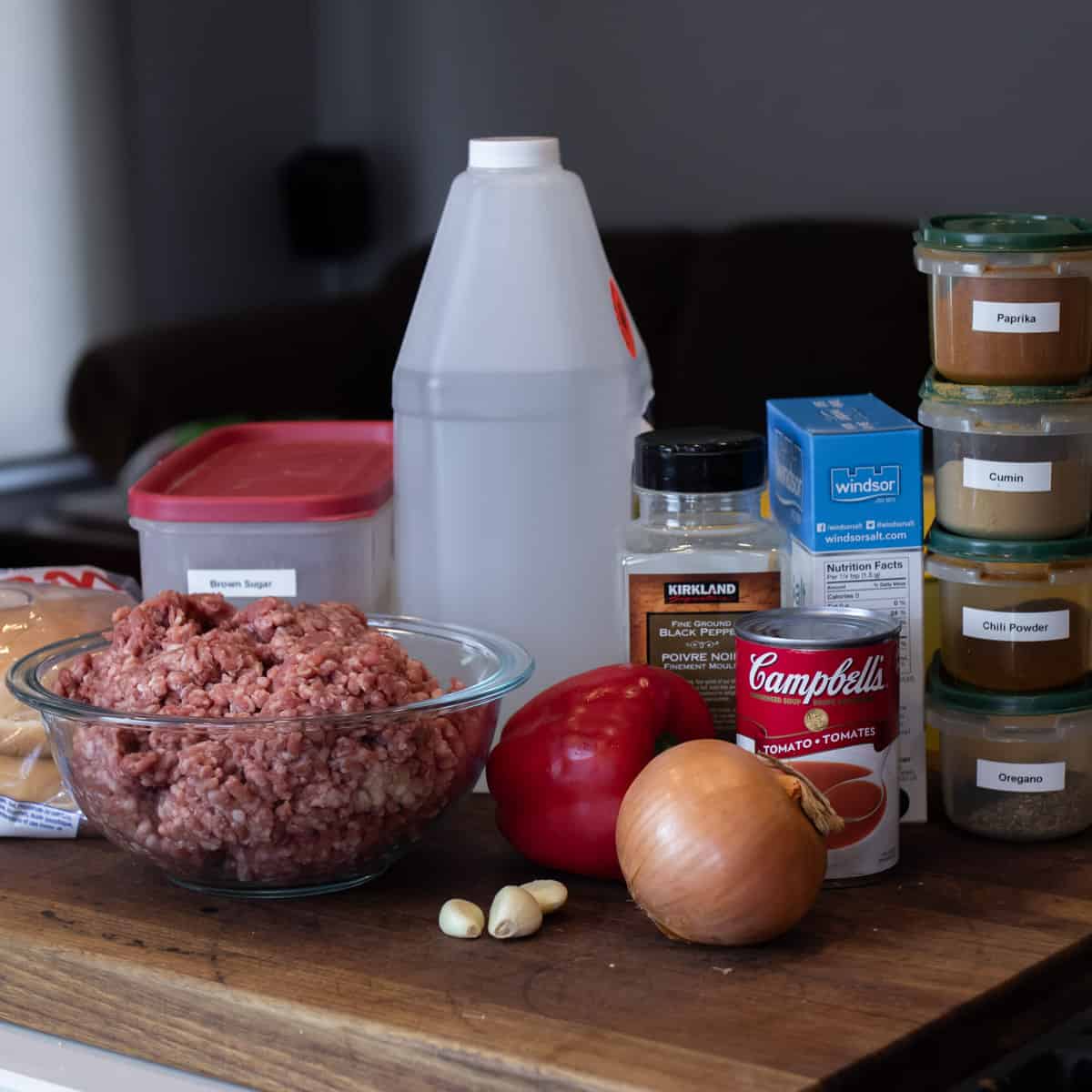 Ingredient Notes
Ground beef – I use lean ground beef and make sure to drain the grease after it has been browned.
Onion
Red bell pepper – any type of bell pepper works great. I have also used jalapeno peppers which gives a bit of heat.
Garlic cloves
Can of condensed tomato soup – this is the foundation of the sloppy joes sauce. It's so good!
Brown sugar – sloppy joes should have a bit of sweetness in the sauce.
Spices – the best sloppy joes have a nice balance seasoning and this recipe includes: chili powder, cumin, paprika, oregano, salt, pepper.
Vinegar – a tiny bit of vinegar gives the sloppy joes a bit of tang that goes so well with the sweetness.
Water
Burger buns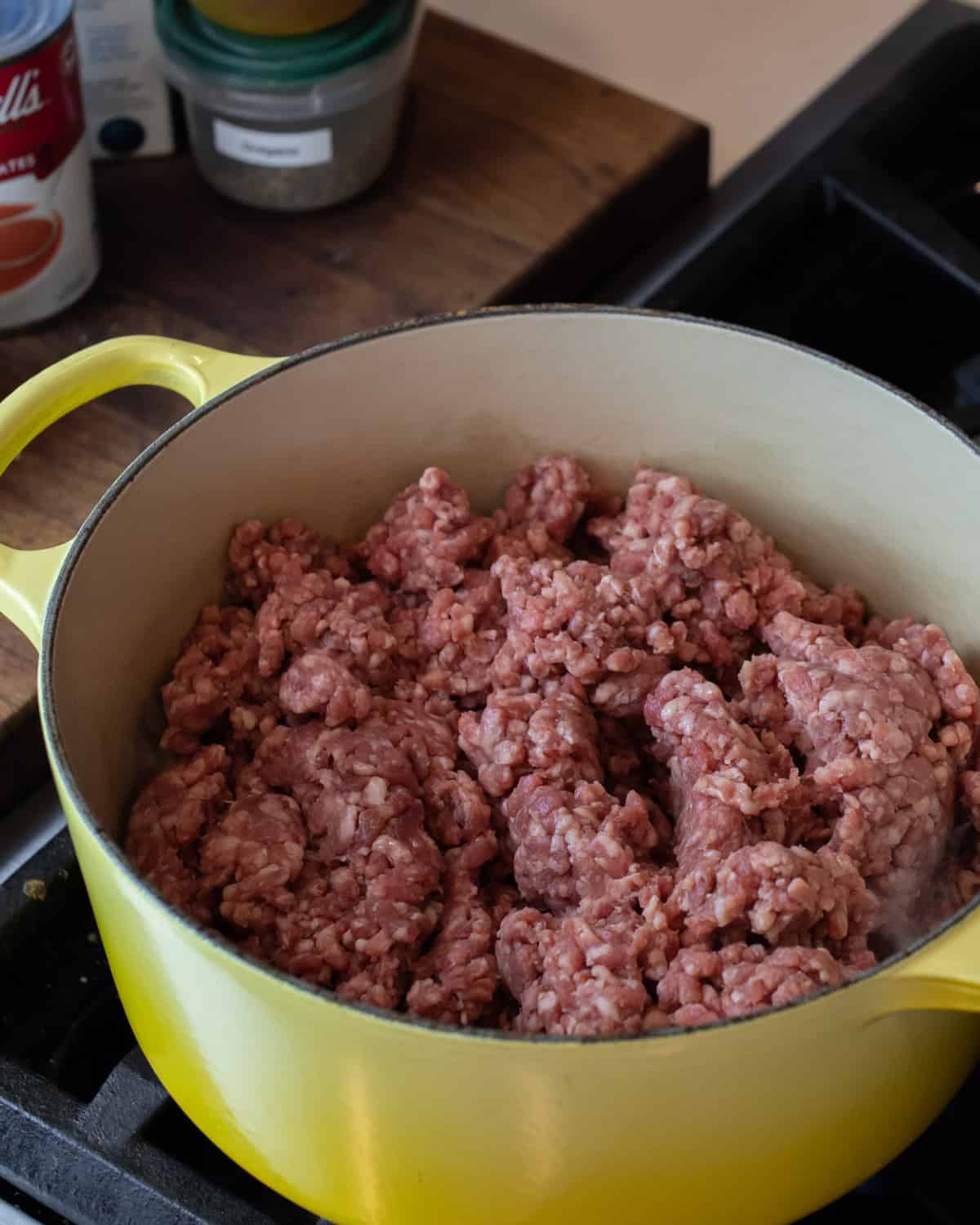 Brown The Beef
Cook the ground beef in a pot over medium heat. Stir it often with a wooden spoon or spatula to ensure the beef is well crumbled as it browns.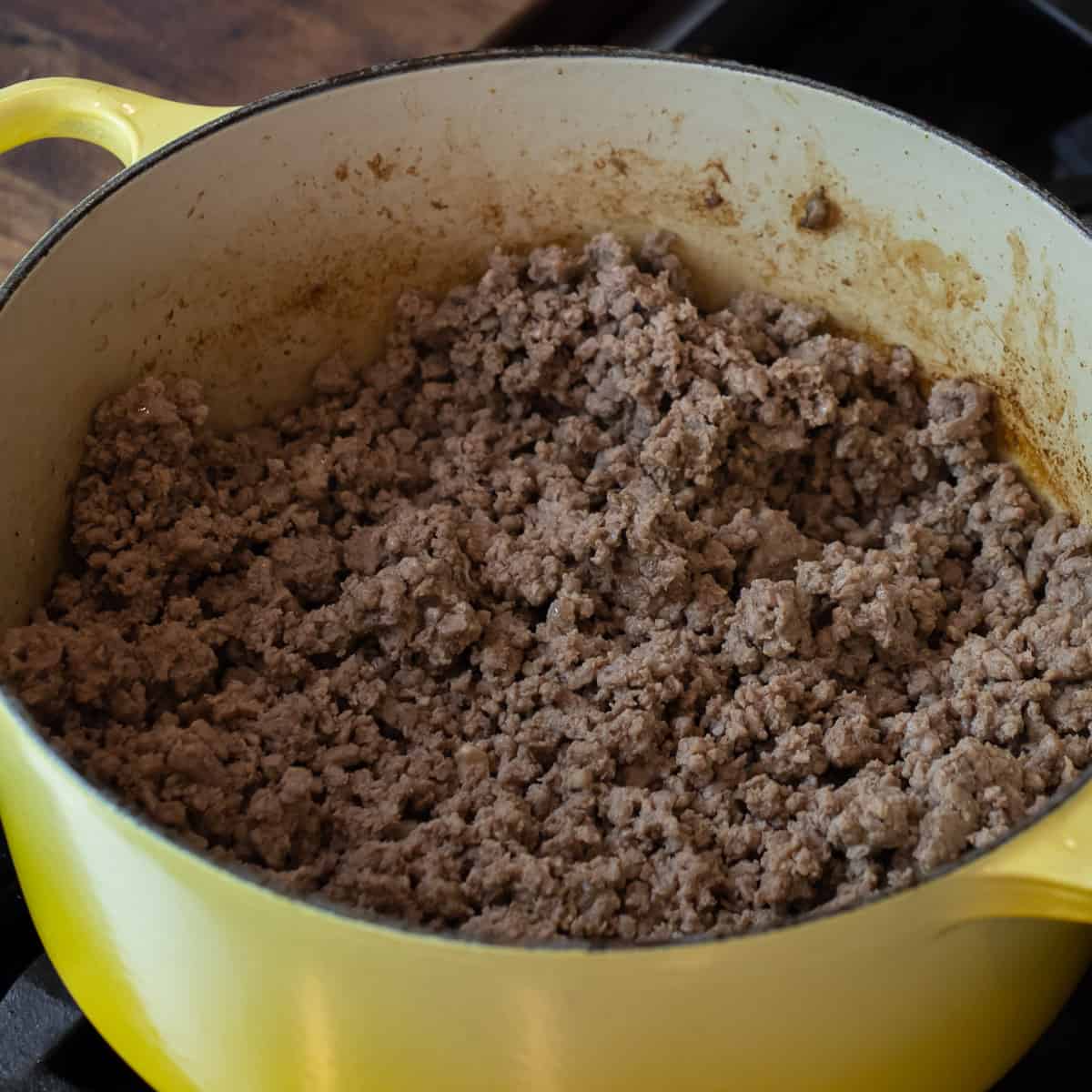 Once the ground beef is is fully cool drain all the grease out of the pot.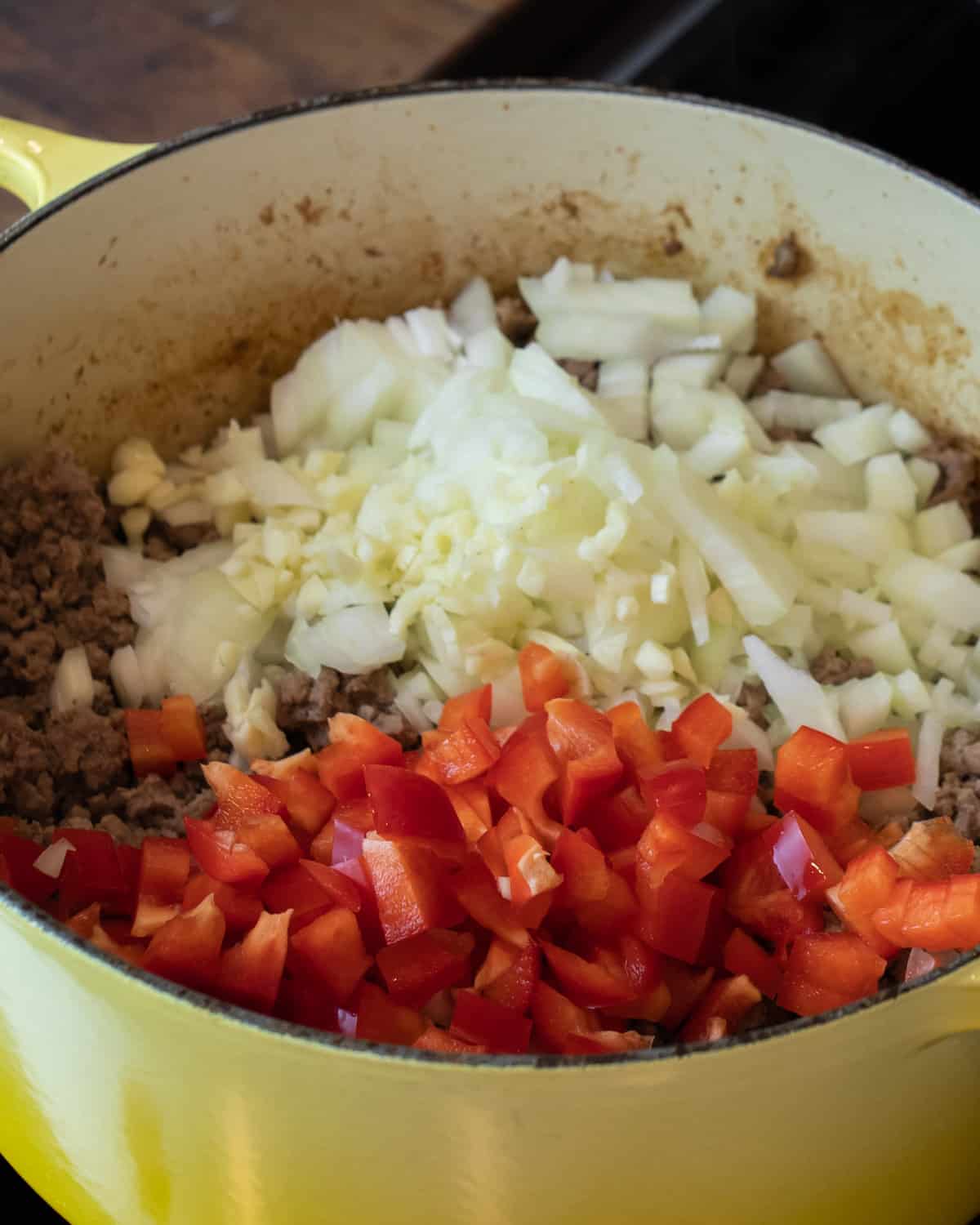 Add the diced onion, red pepper and minced garlic to the pot. Continue to cook, stirring often until the onion and pepper and mostly cooked through, about 5 minutes.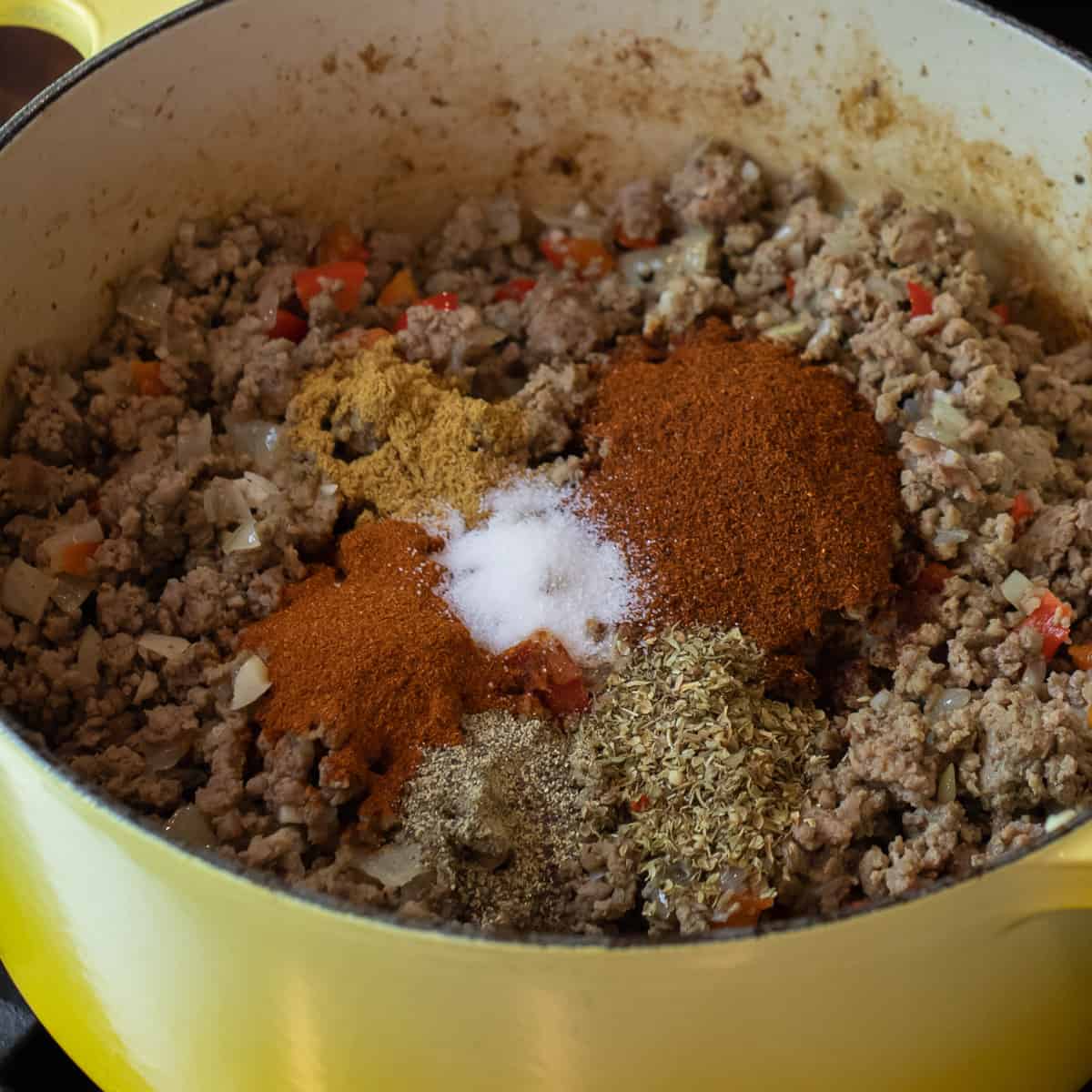 Add The Spices
Stir in the seasonings as well as the brown sugar and vinegar. Cook for a few more minutes. The spices are an important part that give the sloppy joes its special flavour. The chili powder and cumin give the sauce an earthy almost southwest flavour.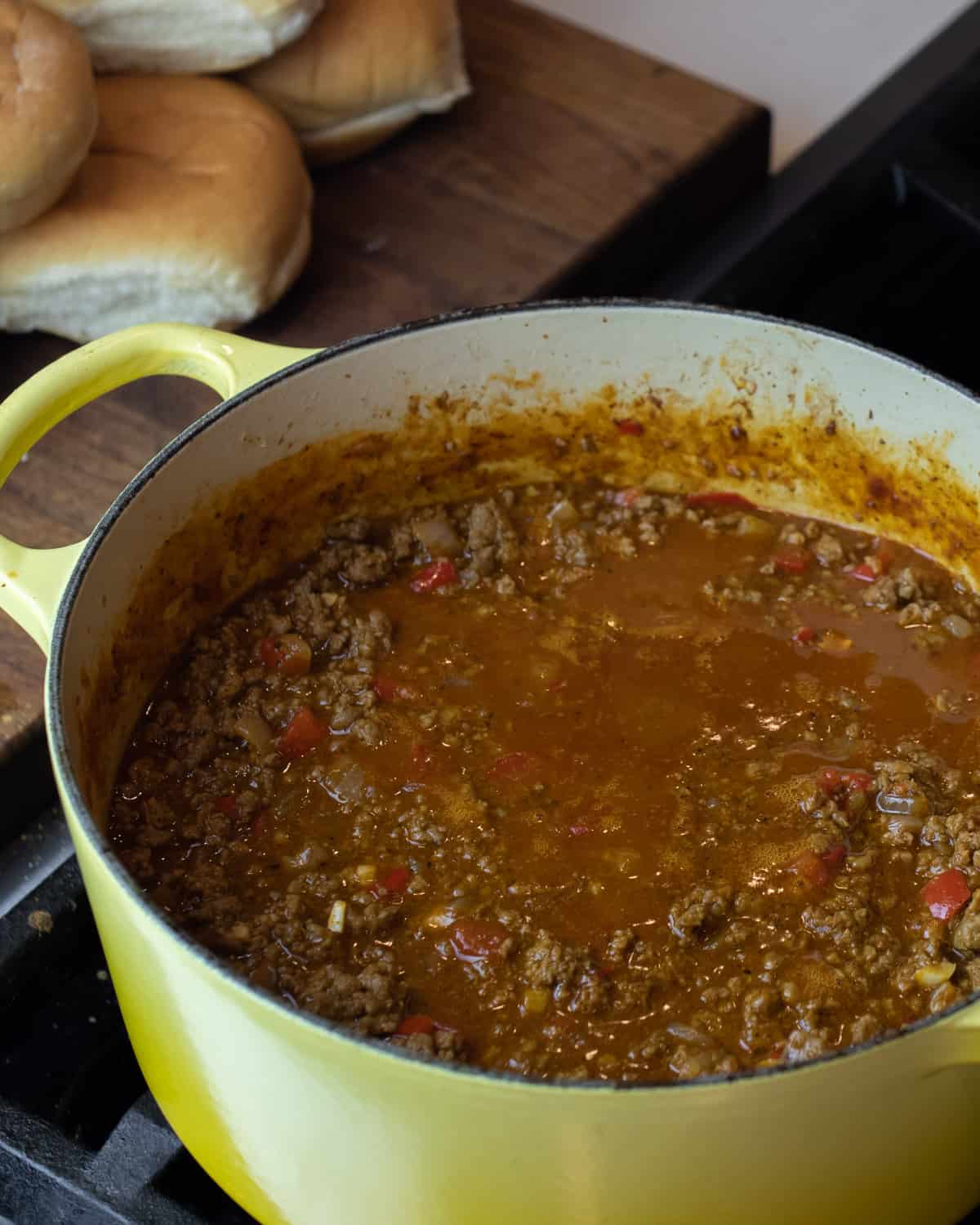 Oh The Sauce!
Stir in the condensed tomato soup and water. Reduce the heat to medium low and let the sauce simmer for about 10 minutes, or until the sauce thickens.
Expert Tip! If you want your sloppy joe sauce to have a bit of that cheeseburger flavour, then you can squirt a little bit of yellow mustard into the sauce. Just a little bit of mustard will really transform the sauce! We love mixing it up this way every once in a while.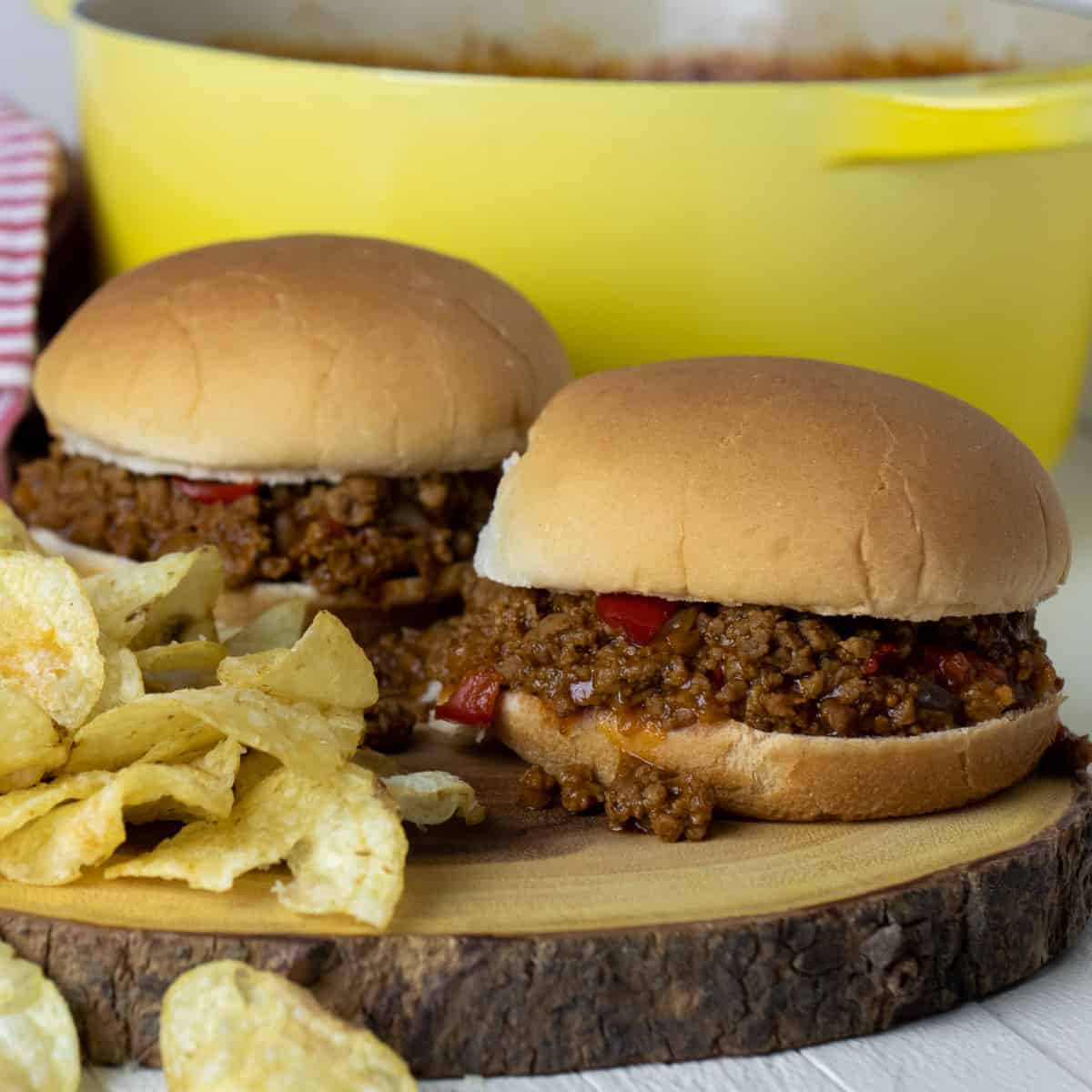 Assemble Time!
Spoon a healthy amount of the sloppy Joe meat onto the bottom half of a burger bun and place the top half on top. Time to eat! If desired, you could even sprinkle a little grated cheese on top of the meat before you place the top half of the bun.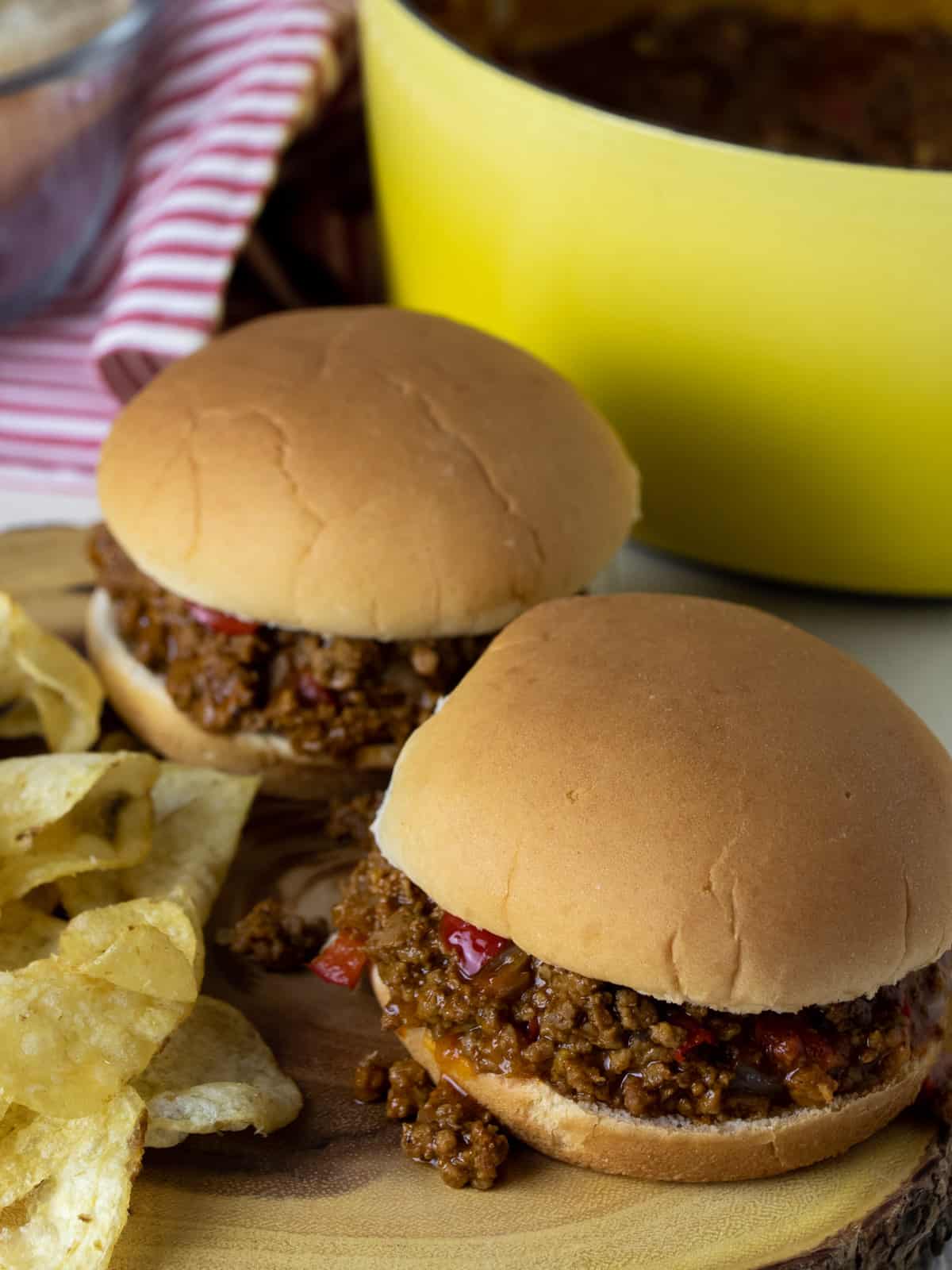 More Burger And Slider Recipes!
If you are looking for more ideas for sliders and burgers, then check out these recipes! They are great for parties, game day, BBQs, picnics and more.
Sloppy Joes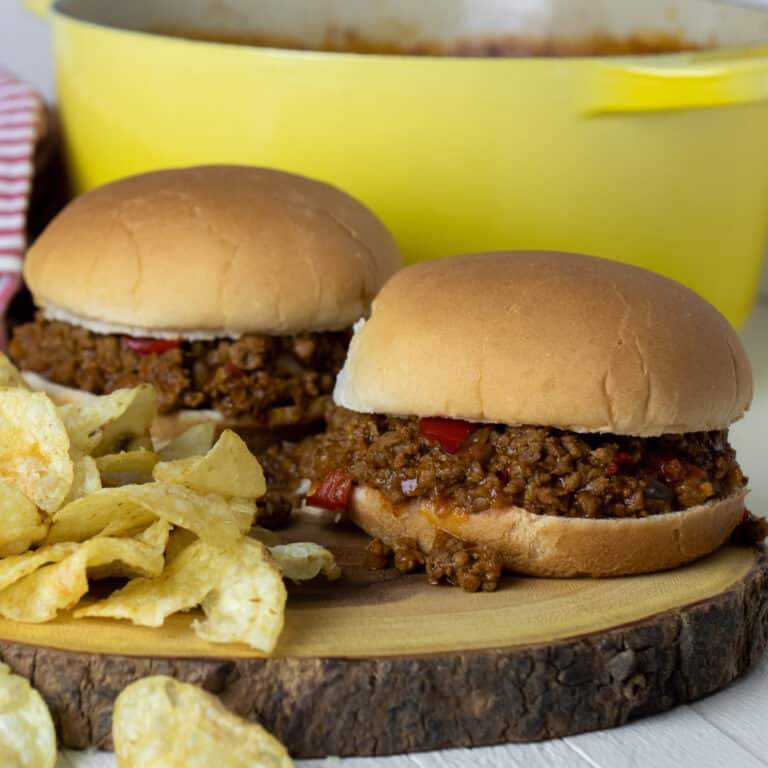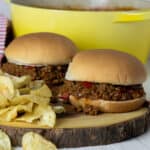 Print
Simple recipe for how to make sloppy joes from scratch. Made with ground beef, onion, red bell pepper, condensed soup, brown sugar and spices.
Servings: 8 sloppy joes
Ingredients
2 pounds ground beef
1 onion , chopped
1 red bell pepper , chopped
3 cloves garlic , minced
2 tsp chili powder
1 tsp paprika
1/2 tsp ground cumin
1 tsp dried oregano
1 tsp salt
1/2 tsp ground black pepper
1 tsp white vinegar
3 tbsp brown sugar
1 can condensed tomato soup
1 1/2 cup water
8 hamburger buns
Instructions
In a large skillet over medium-high heat, saute the ground beef for 5 minutes.

Add the onion, red bell pepper, and garlic. Sauté for 5 more minutes, or until onion is tender.

Drain the fat.

Stir in chili powder, paprika, cumin, vinegar, brown sugar, oregano, salt and pepper. Cook for a few minutes.

Mix in condensed soup and water, stirring until soup is dissolved.

Reduce heat to medium low and continue to cook for 10 minutes, or until mixture is thick and stewy.
Nutrition
Per serving:
Calories: 331kcalCarbohydrates: 35gProtein: 30gFat: 8gSaturated Fat: 3gCholesterol: 70mgSodium: 730mgFiber: 2gSugar: 12g
This recipe was originally posted in January 2012.