Grilled Corn with Chive Butter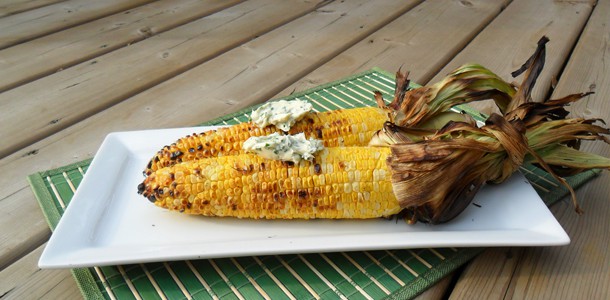 Yesterday I grilled so much corn that I decided to try a few different recipes with it. The first recipe I made was the Grilled Corn and Avocado Salad. Tomorrow I will post a recipe for Grilled Corn Soup and today I am simply putting a recipe for Grilled Corn with Chive Butter. It is amazing how grilled corn tastes so different from boiled corn. It has a earthy and rustic flavour and the chive butter goes very well with it.
Grilled Corn with Chive Butter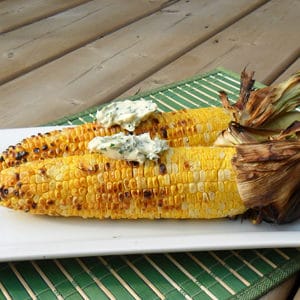 Print
Servings: 8
Ingredients
8 ears of corn
3/4 cup butter
1/4 cup fresh chives , chopped
1 tsp salt
Instructions
For the chive butter, mix butter, chives and salt until fully combined. Set aside.

Remove the husks off the corn or at least pull them back off the cob. It can look attractive to keep the husks on and you could use one husk to tie the husks back.

Place corn on a grill set to medium/high. Turn the corn a 1/4 rotation every 5-7 minutes. After the corn has been cooked on all sides remove from the grill.

Spread chive butter on the corn and enjoy!