Grilled Corn and Avocado Salad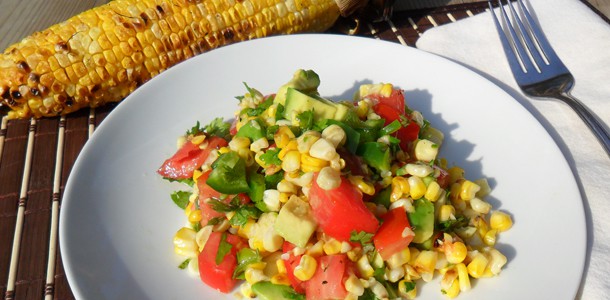 We have a little cottage in the London area. It is around 2 hours from our home in Toronto. Over the summer my wife and kids spent a lot of time there. It is a safe place for the kids to play (right across the road from our cottage is a park), they go bike riding all over and there is a pool on the grounds. They love it.
On some of my days off I would make a quick trip down and spend a couple days with them. On the way, just after I would get off the 401 highway, I would stop at a little farmers market, called Turner's Market.
The market has lots of fresh local produce as well as baked good from some local independent entrepreneurs. All of it is great. My kids particularly love some of the sweets that I pick up on the way to the cottage. Myself, I love to grab some fresh fruit and vegetables.
In particular, this summer, I cannot get enough of the local corn. I love summer corn and stuff available at Turner's Market is the best I have had in a long time. So, on the way back from the cottage this past weekend I picked up a few dozen and decided to try a few different things with it.
Below is a nice summer salad with grilled corn, avocados, tomatoes, cilantro and a hint of lime.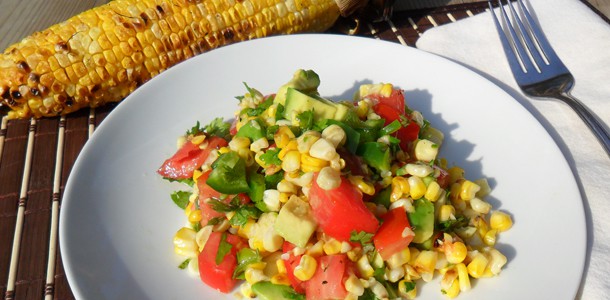 Grilled Corn and Avocado Salad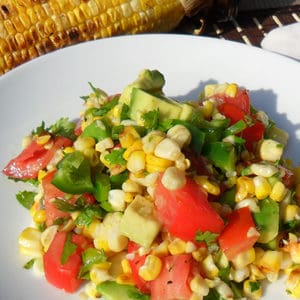 Print
A nice summer salad recipe with grilled corn, avocados, tomatoes, cilantro and a hint of lime
Servings: 6
Ingredients
6 ears of corn
2 avocado , peeled, pitted and cubed
2 tomatoes , diced
1 bunch green onions , sliced
2 jalapenos , seeded and minced (omit if you do not like heat)
1/2 cup chopped cilantro leaves
2 limes , juiced
1/3 cup olive oil
1 tsp lime zest
1 tsp white sugar
1/2 tsp salt
Instructions
Remove the husks off the corn. With a paper towel moistened with some oil, rub the ears of the corn to lightly coat the corn with a bit of oil.

Place corn on a grill set to medium/high. Turn the corn a 1/4 rotation every 5-7 minutes. After the corn has been cooked on all sides remove and let cool.

Cut the kernels off the cob by placing the base of the ear on a cutting board and start the knife at the top cutting the kernels off as you work your way down. It is not that hard and after a couple cobs, you will get the hang of it.

In a large bowl add the corn kernals, diced avocado, tomatoes, onions, jalapeno and cilantro. Toss gently.

In a small bowl mix together the remaining ingredients to form the salad dressing.

Pour the dressing on the salad and mix so that the salad is nicely coated.