Make Your Own Snow Cone and Slushie Syrup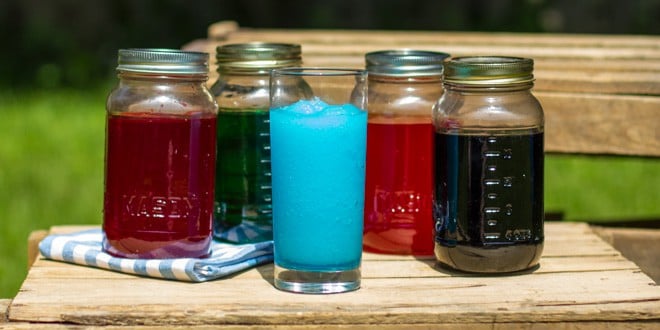 It is officially summer and time to get ready for summer parties. Canada Day is a week away and we always have a big backyard party. There are a lot of kids that attend and they always love frozen treats, and what better than slushies, snow cones or shaved ice! I like to have a lot of different flavors available for kids to choose from, because picking the flavor is almost as much fun for the kids as enjoying the ice cold treat.
You can order flavors online and even buy some at some grocery or specialty stores. I was in a store recently and saw that Jelly Belly makes flavored syrups for snow cones and slushies. They were really pricey though, especially when you consider that they are just flavoring, sugar and color. It is really simple to make your own syrup right at home.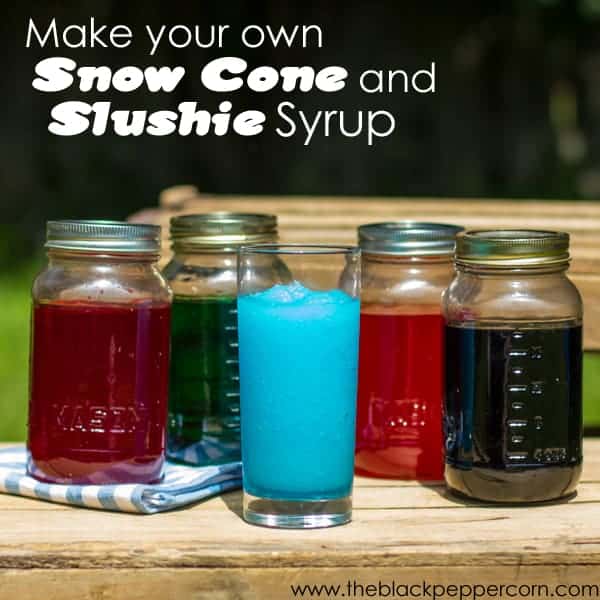 To make this syrup, all you need is 3 ingredients – Kool Aid unsweetened flavor packets, sugar and water. I made 6 different flavors within 30 minutes. I store them in mason jars, downstairs in a cool and dry place.
Make these and you can be sure that your next backyard party is sure to be a big hit!
Check out this review for a great blender, specially designed to make slushies and other frozen drinks! Nostalgia Electrics Margarita and Slush Maker Product Review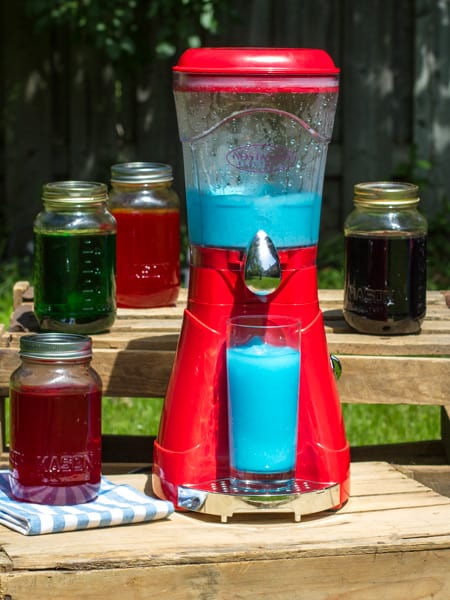 Make Your Own Snow Cone and Slushie Syrup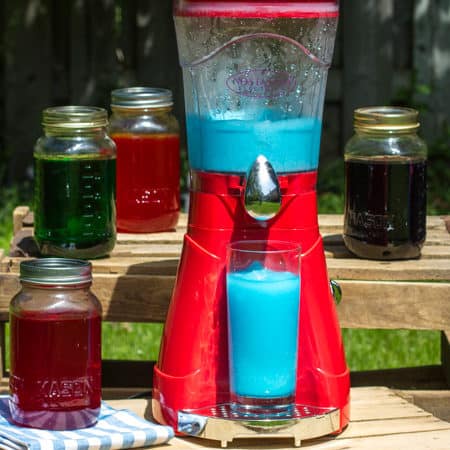 Print
Simple instructions to make slushy syrup and snow cone syrup with Kool Aid unsweetened flavor packets, sugar and water. Perfect for a frozen drink for summer!
Servings: 3 cups
Ingredients
1 1/2 cups water
1 1/2 cups sugar
2 packets of unsweetened Kool Aid flavor powder
Instructions
Bring water and sugar to a boil in a pot. Let it boil for about 3 minutes.

Remove from heat and stir in the Kool Aid packets until dissolved.

Let cool and pour on snow cones, or use to make slushies.
Notes
My Slushie Recipe In a blender, mix 1 tray of ice cubes, 1 cup syrup and 1/3 cup water. Blend until the ice is crushed and the slushie is an even consistency. Add more or less syrup to suit your taste.