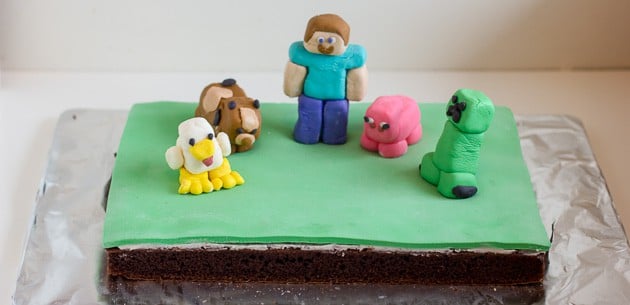 Our oldest son just turned 10. It totally amazes me that he has moved into double digits! The kids are growing up way too fast. All three of the kids have birthdays bunched together within a one month span. It is a fun and exciting season in our home. The kids anticipate what their birthday cake will look like and ever since last year I have been experimenting with fondant. Last year I made buttercream fondant and created Angry Bird Cupcake Toppers. This year I tried marshmallow fondant and was blown away with how easy it is to make!
Lately all three of the kids are hooked on Minecraft. They play it on both the Xbox and iPod. I knew that a Minecraft cake would be a big hit. Also, the shape of the characters in the game are perfect for molding into fondant figures. The cake is chocolate rectangle cake. On top of the cake I placed a sheet of green fondant to turn it into a large Minecraft grass block. I spread a thin layer of buttercream icing on the cake to make sure the sheet of fondant stuck to the cake.
For Minecraft figures, I made Steve (yeah the main character in Minecraft is named Steve – it has to be a great game then!), a creeper, chicken, pig and cow. The cake was a BIG hit both in look and in taste!