New York Giants Cake with Marshmallow Fondant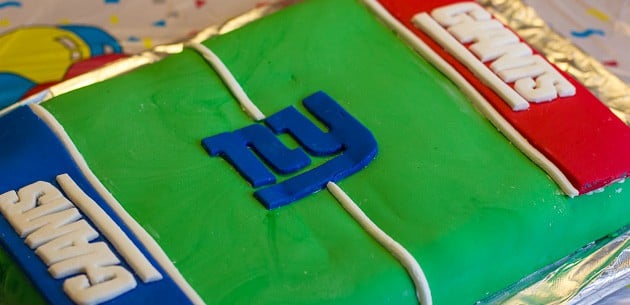 Yesterday was my middle son's birthday. He turned 8 and was eager to find out what type of cake I made for him. He is a huge New York Giants fan so I decided to make a football field. I used a box mix and made a rectangular cake. I made marshmallow fondant (recipe from Wilton found here) and colored some green, blue and red. This was only the second time I used marshmallow fondant and I was curious to see how it would work in rolling it out and making cut outs. The fondant rolled out easily and I used cut out paper stencils for the Giants logos both in the end zones and at midfield. The whole production of the cake was quicker than I anticipated. Not only that, but when my son saw the cake he was thrilled and immediately said he wanted the piece with the logo in the very middle!
The template for the Giants logos can be found here.