Pasta Farfalle in a Roasted Red Pepper Cream Sauce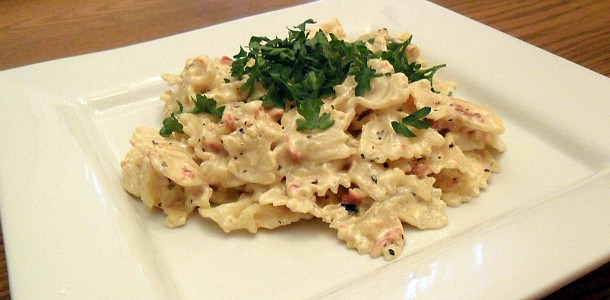 Janna's favourite restaurants are almost all Italian. Throughout our marriage we have been to many Italian restaurants, the most being East Side Mario's and Olive Garden. It is the pasta dishes that draw her and when she opens the menu she goes straight to the page with noodles. She has transferred her passion for pasta to our kids and they share their mom's feelings for it.
As the main cook at home, I try to have pasta dishes in our rotation of regular meals. Pasta is so versatile and I love mixing it up with noodle shapes, meats, sauces and cooking methods. I know that cheesy cream sauces are taboo right now due for heath reasons, but they taste sooooo good and we love them, occasionally.
This sauce was something I whipped up when I was trying to think of what to do with a bunch of leftover farfalle pasta (bowtie pasta). I looked in the fridge, saw these ingredients and a tasty dish emerged. As Janna tasted it, she said it reminded her of something from the Olive Garden. That was all the props I needed!
Pasta Farfalle in a Roasted Red Pepper Cream Sauce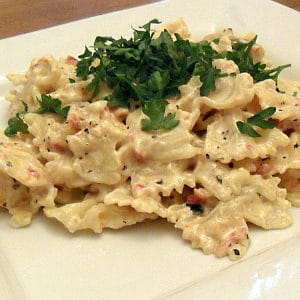 Print
Servings: 2 -3
Ingredients
1/4 cup butter
4 cloves garlic , minced
4 roasted red peppers , diced
1 tsp basil
1 tsp ground black pepper
1/2 tsp salt
1/2 brick of cream cheese
1/3 cup parmesan cheese
1 cup half and half cream
4 cups cooked farfalle pasta
fresh chopped parsley
Instructions
In a saucepan melt the butter. Add garlic, roasted red peppers and saute them for a 10 minutes.

Add the spices, cheeses and cream and cook, stirring often. The cream cheese will melt and and blend into the cream creating a smooth sauce. Let the sauce simmer, just under the boiling point, for a few minutes.

Stir in the farfalle pasta. Garnish with chopped parsley and serve.