A simple pasta dish with roasted tomatoes, prosciutto, caramelised onions and peppers. So easy to make because the oven does most of the work!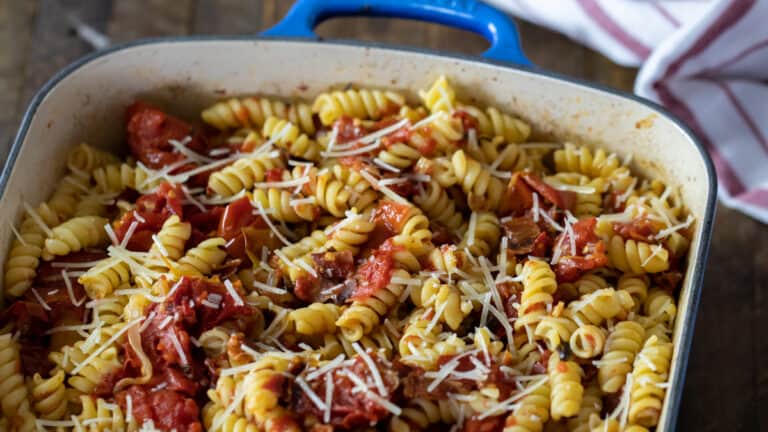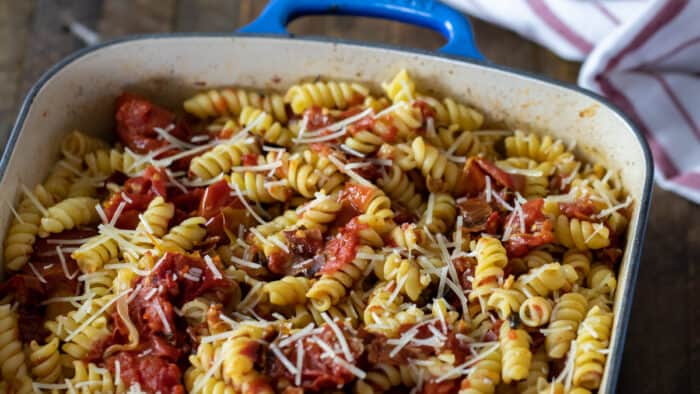 Pasta is one of our favourite types of meals to have at home, so I like to prepare different dishes with a variety of sauces and ingredients. This roasted tomato pasta with prosciutto is very easy to make, but it also has complex flavours that will rival any restaurant pasta dish.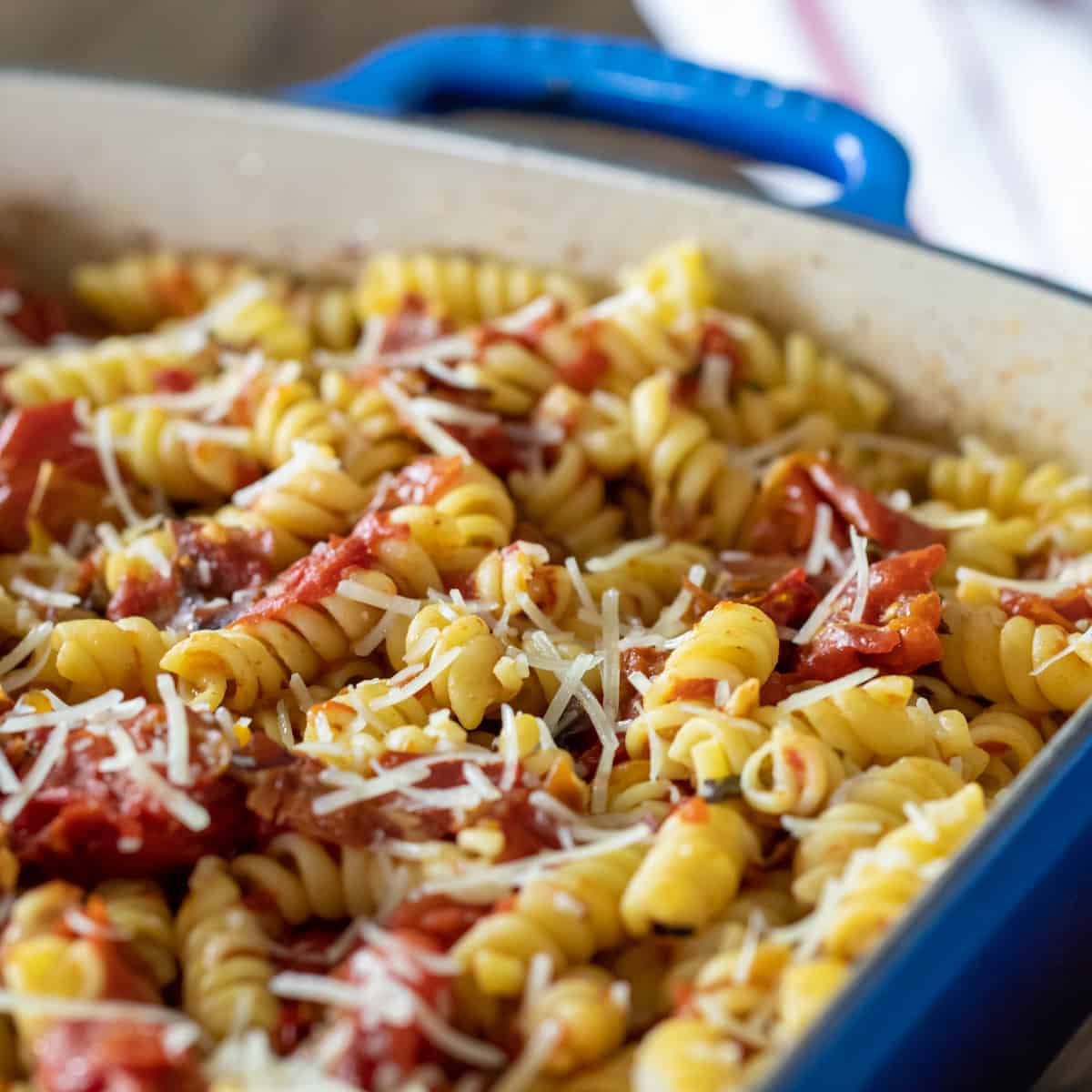 The roasted tomatoes are easily the highlight of this dish. They are easy to prepare but add so much flavour that is much richer than just simmering some tomato sauce. It almost resembles sun dried tomatoes in taste.
Along with the roasted tomatoes, each other ingredient add layer upon layer of such tasty goodness. I especially love the prosciutto and fresh oregano.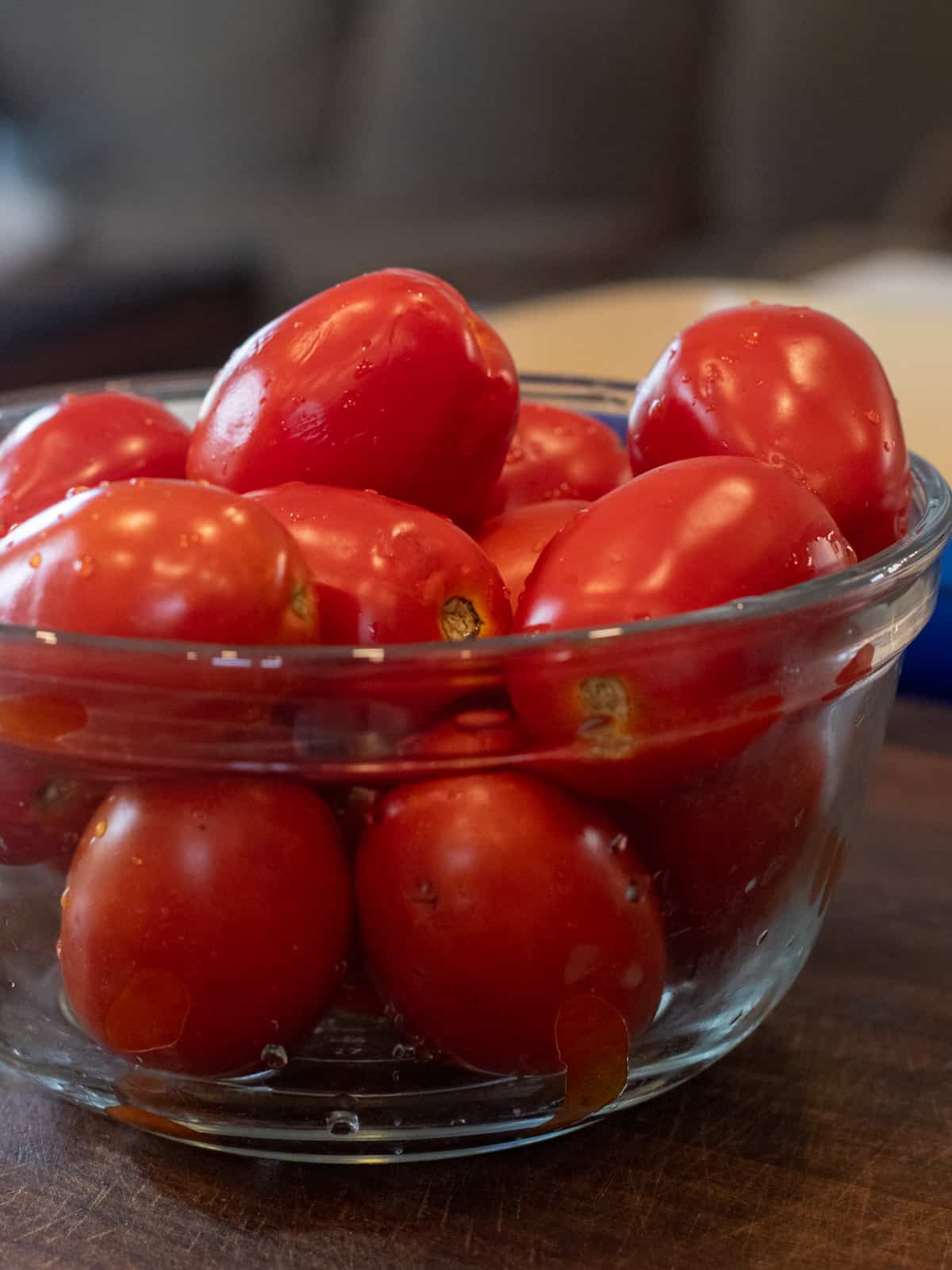 Ingredients you will Need
Plum tomatoes – There are many different kinds of tomatoes, but plum/roma tomatoes are perfect for this pasta dish.
Onion
Yellow pepper – or any colour of sweet pepper (red, orange, yellow and even green)
Prosciutto
Garlic cloves
Fresh oregano
Salt
Pepper
Pasta
Parmesan cheese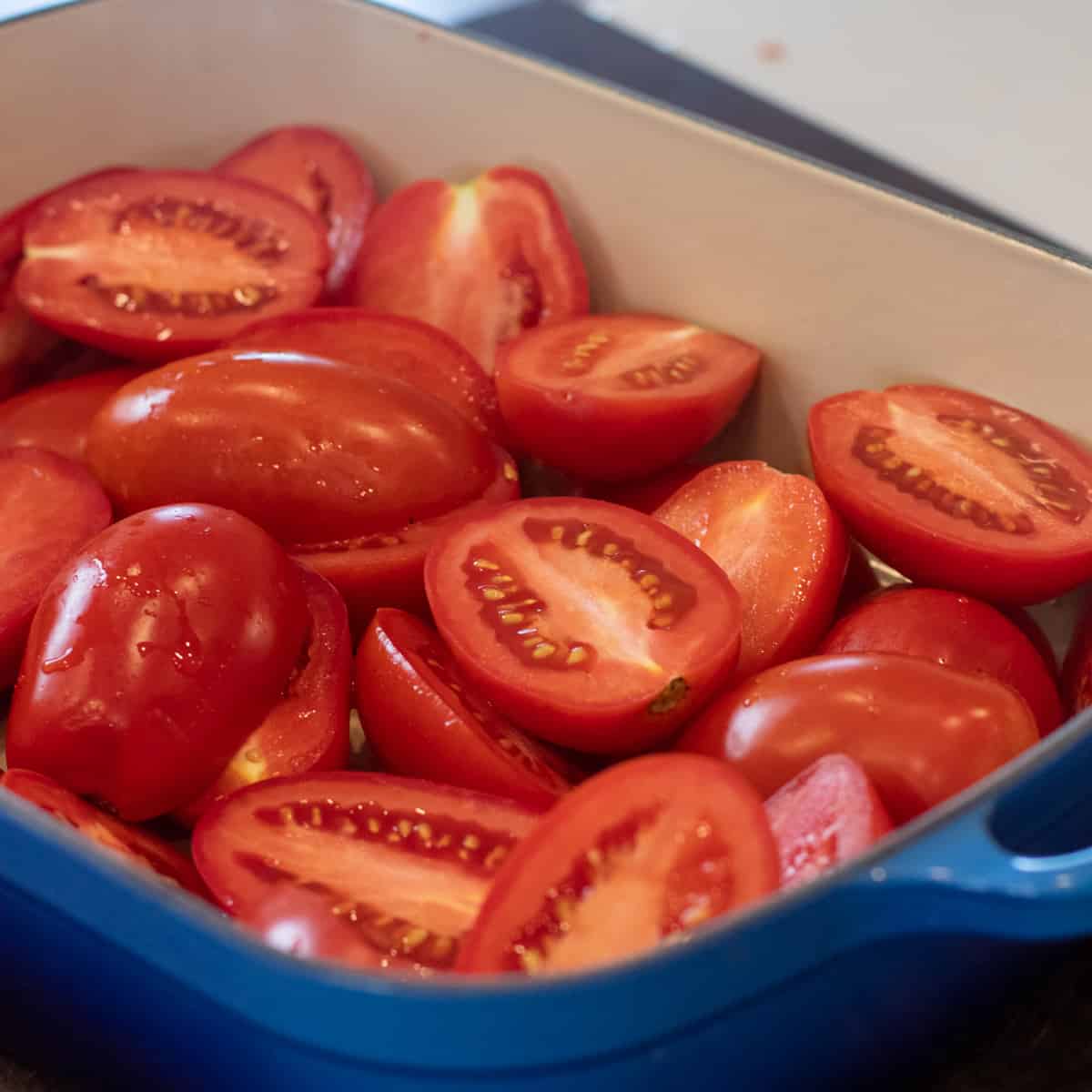 How to Roast Plum Tomatoes
Roasting tomatoes is a slower process that takes at least 90 minutes at 350F. It is not something that can be rushed, because the deep rich flavour we want in the tomatoes takes time.
Getting the tomatoes ready to be roasted is very simple. I just cut them in half lengthwise and throw them all in a large rengtangulr baking dish.
Expert Tip: It is important that the baking dish is large enough with a big surface area so the halved tomatoes are spread out. I use an enamelled cast iron dish, but using a stoneware or glass dish will also work great!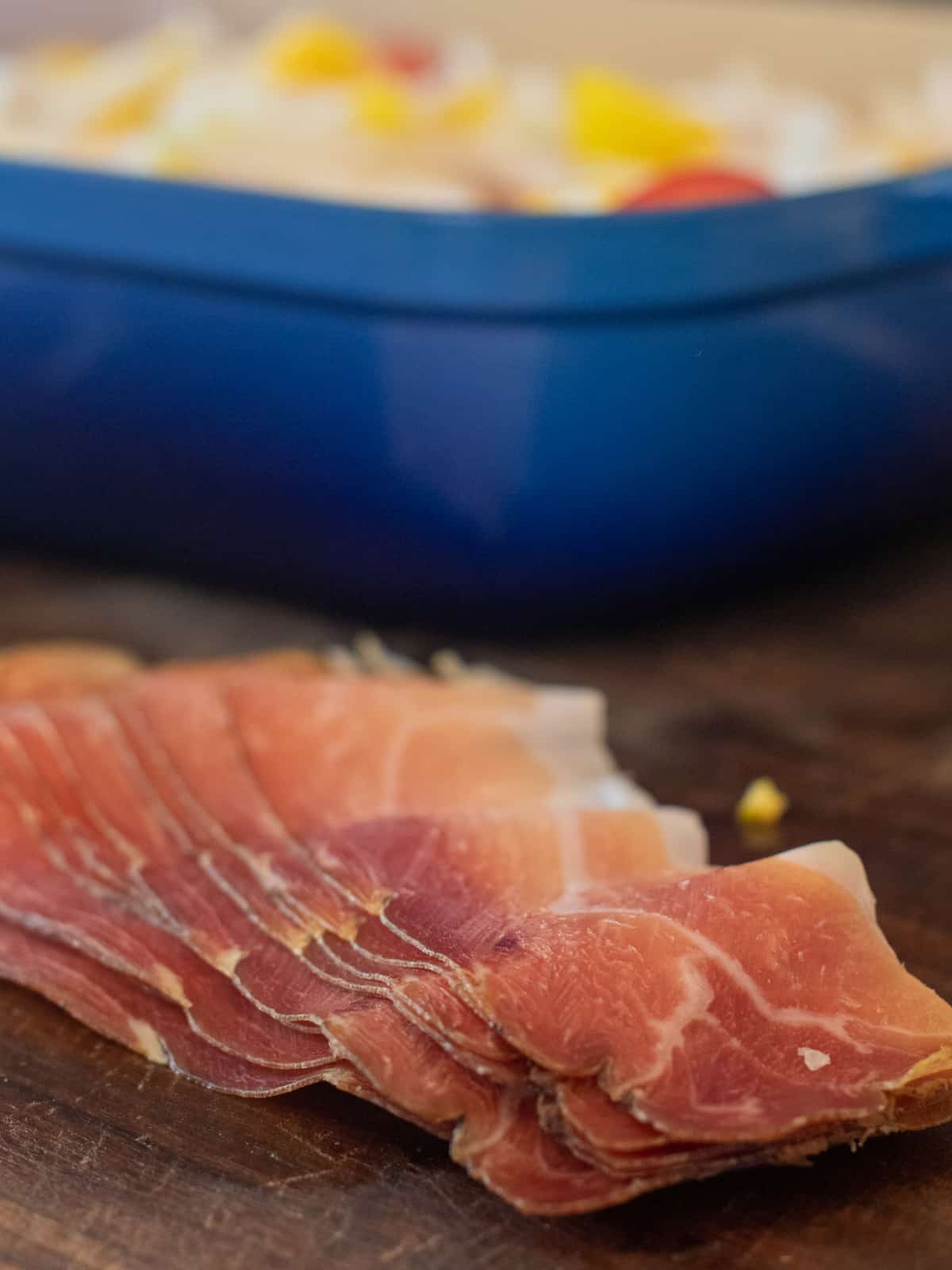 What Kind of Prosciutto?
Prosciutto is an Italian dry-cured ham that has such an amazing flavour. I love using it in so many different dishes and even just a small amount of prosciutto will add a level of complexity to any dish.
I have made this pasta dish many times and have used both regular and smoked prosciutto. Both are great in this dish, but I do prefer the smoked prosciutto. It tastes like a smoky dry ham in flavour and you will love it with the roasted tomatoes.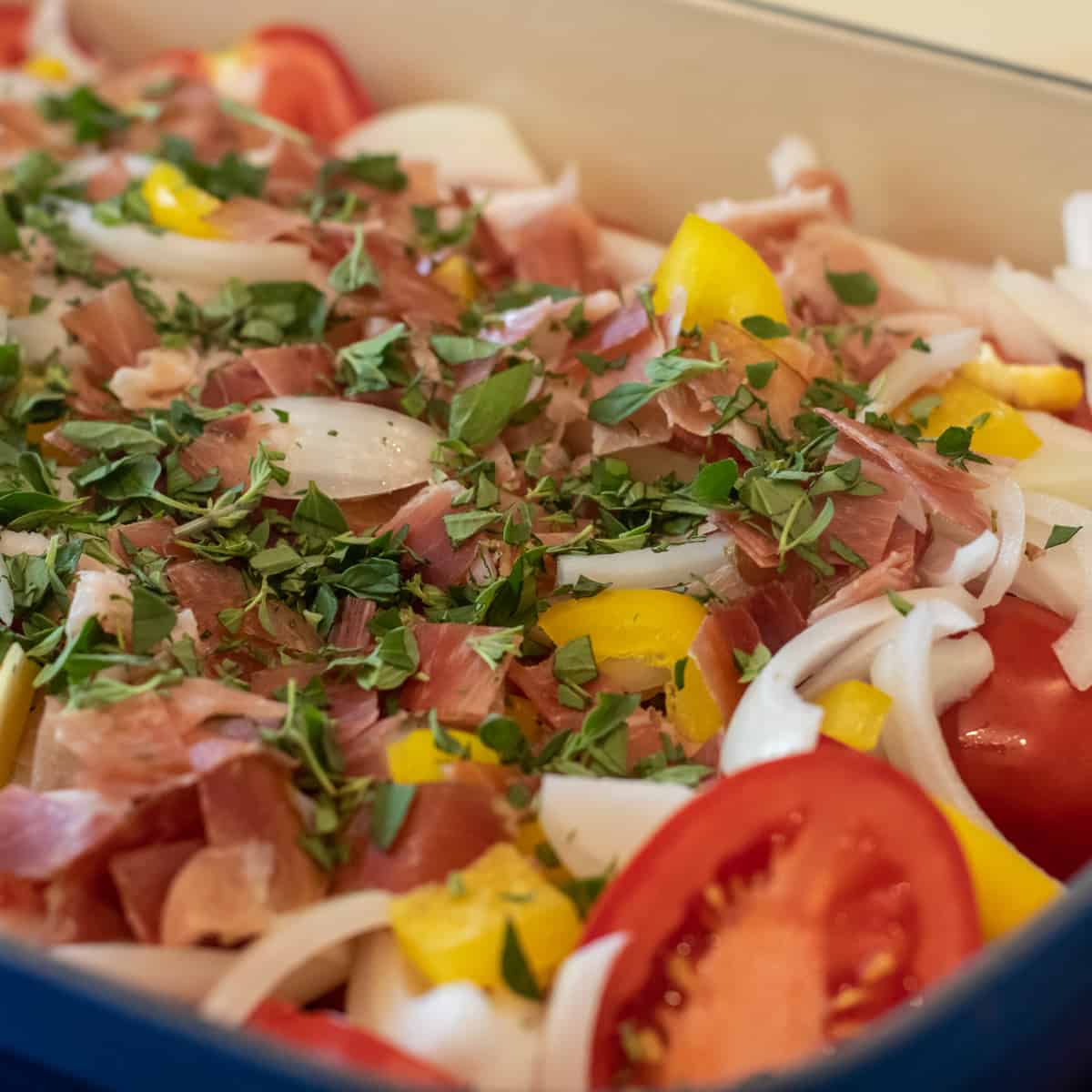 Chop up the onion, pepper and prosciutto and add them to the baking dish. I like to keep them rough and chunky in size because they will shrink during the roasting. Next, throw in the minced garlic, fresh oregano, salt and pepper as well.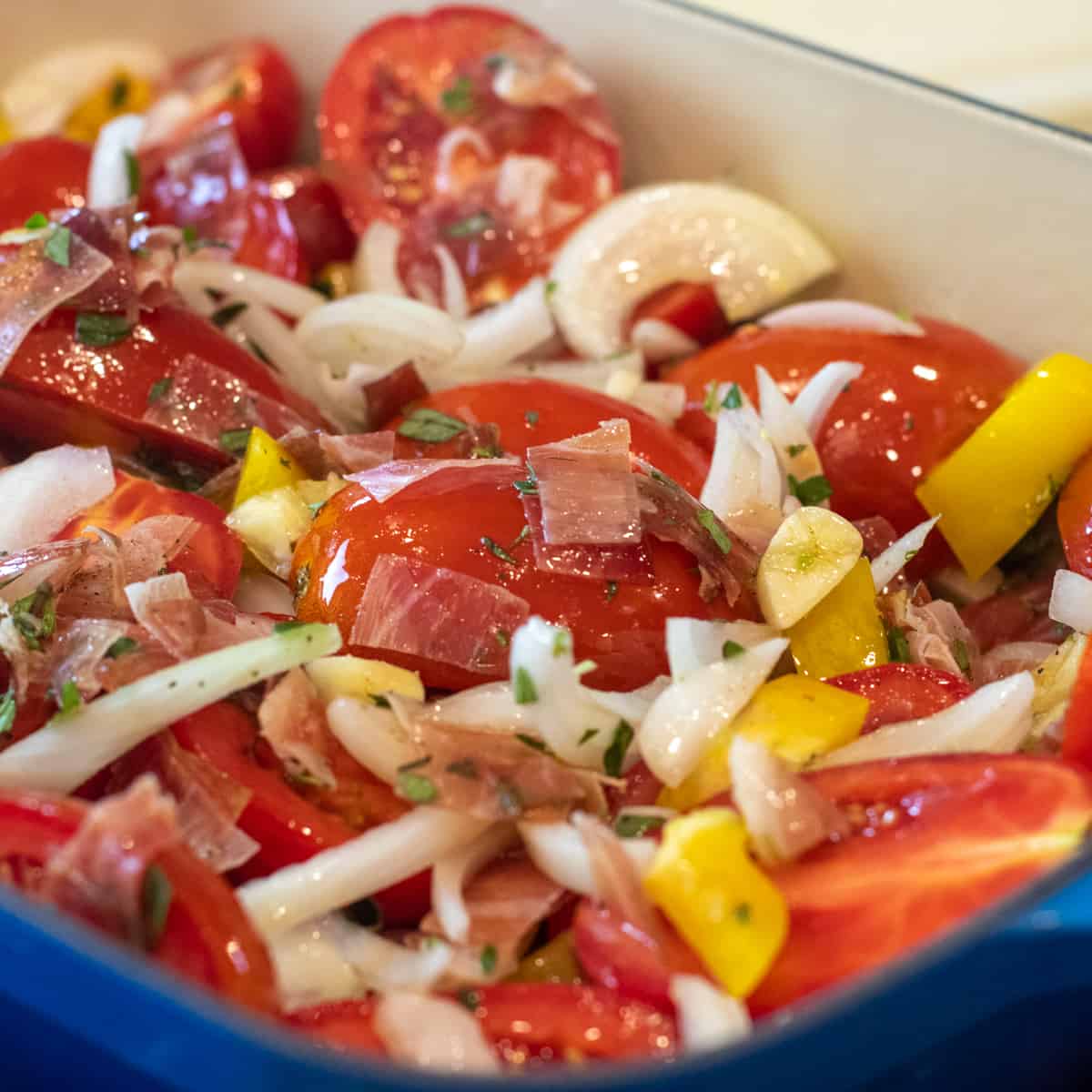 How Long to Roast Tomatoes
Before the dish is put in the oven for roasting, toss everything together with the olive oil. Once tossed, put the baking dish, uncovered, in an 350F preheated oven.
The roasting takes about 90-120 minutes. During this time, make sure to give everything a stir ever 30 minutes or so. You will notice everything shrinking after each 30 minutes, as the moisture is drawn out of the vegetables.
Expert Tip: Don't be surprised if the tomatoes begin to break apart when you stir them. This is completely normal because they get very soft during the roasting.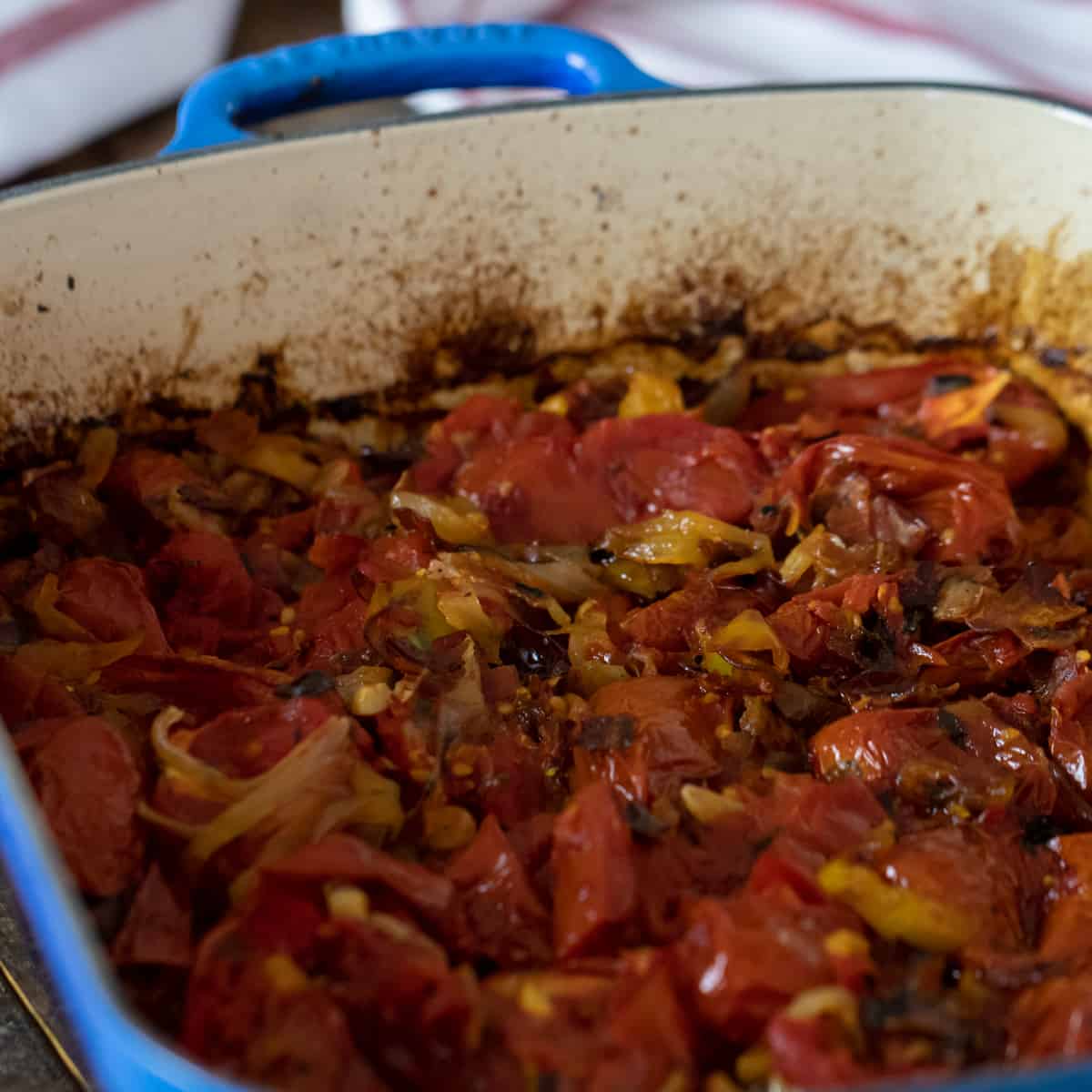 The picture above is what it looks like after 120 minutes of roasting. You can see a deep colour in the tomatoes as well as a browning and caramelising of everything. The aroma is amazing and you will want to grab a forkful to taste!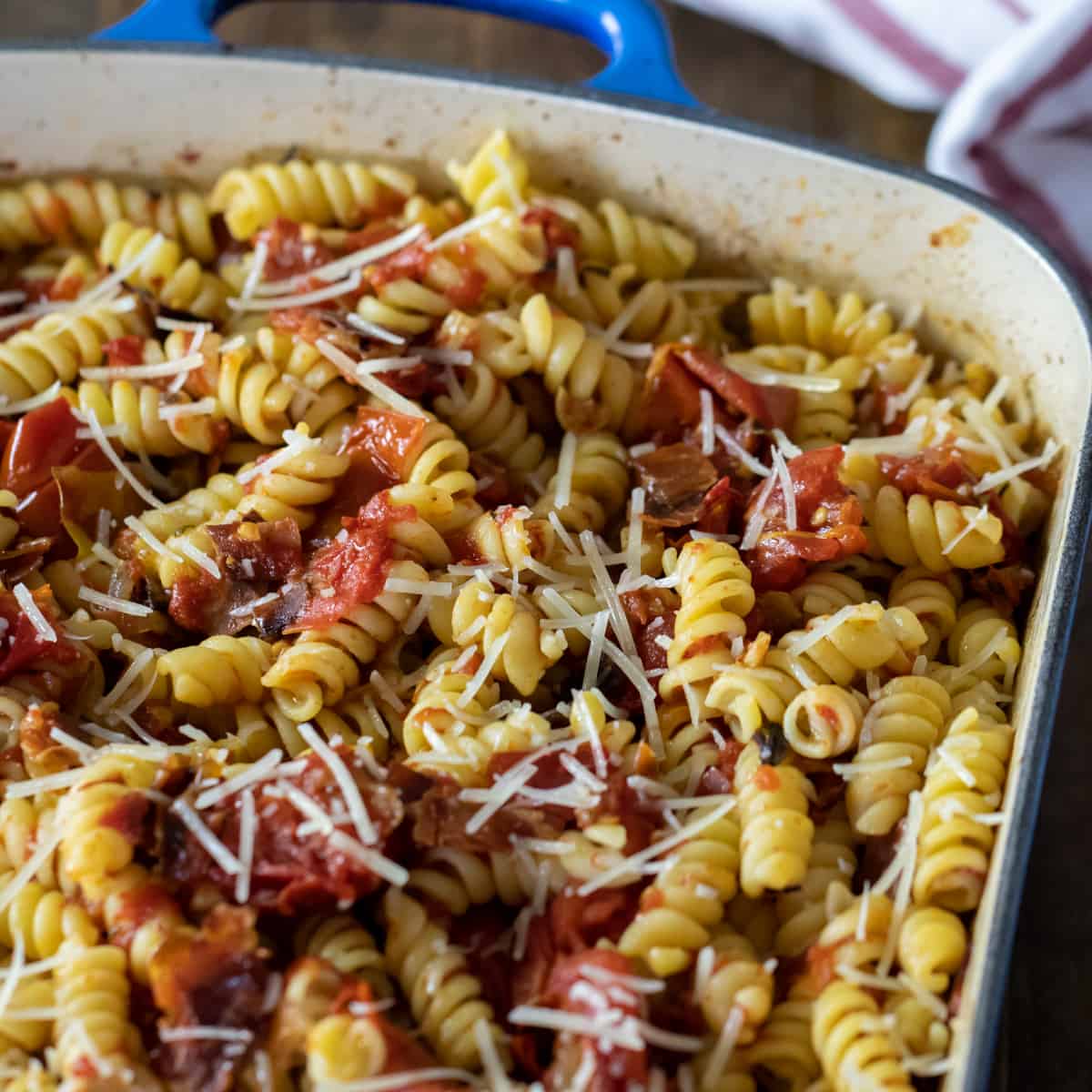 The final step of making this dish is to toss the roasted tomatoes with some cooked pasta and grated parmesan. I have used rotini, penne, rigatoni and farfalle (bowtie). They all work great so you can use whatever you prefer. Even spaghetti or fettuccini would work just fine as well.
Expert tip: I like to toss everything right in the baking dish. This is because the bottom and edges of the dish are coated in so much caramelised goodness.
Other Pasta Dishes!
If you like this roasted tomato pasta, then check out these recipes.
Roasted Tomato Pasta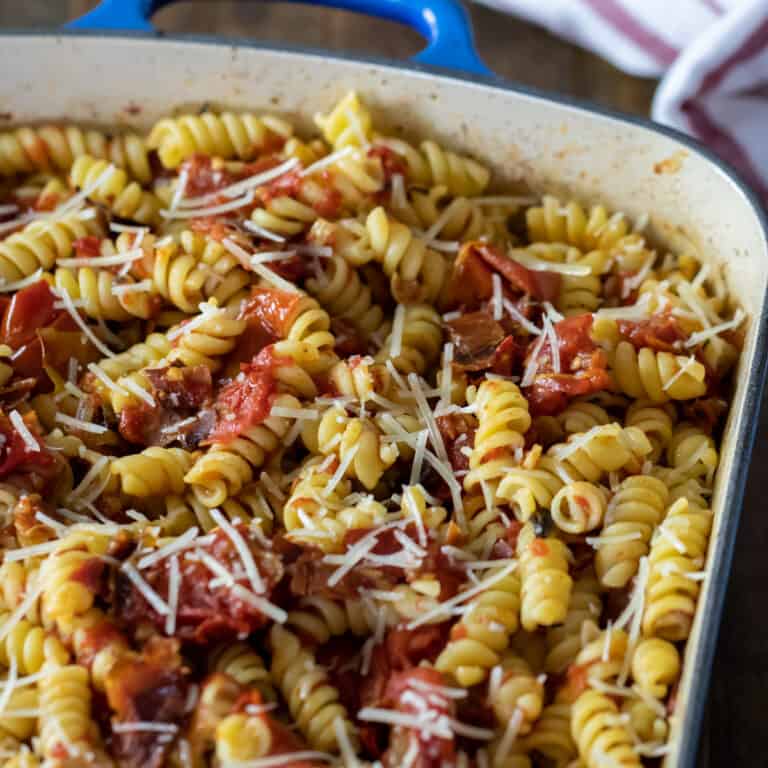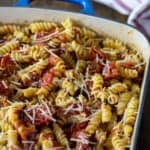 Print
An easy to make pasta dish with roasted tomatoes, prosciutto, onions, peppers and parmesan.
Servings: 6
Ingredients
16 plum tomatoes , halved
1 medium onion , peeled and roughly chopped
1 yellow pepper , cored and roughly chopped
8 cloves garlic , minced
8 slices smoked prosciutto , chopped
2 tbsp fresh oregano , minced
1 tsp salt
1/2 tsp black pepper
3 tbsp olive oil
16 oz pasta (rotini, penne, etc) , 450g package
1/3 cup grated parmesan cheese
Instructions
Preheat oven to 350F.

Toss all ingredients, except the pasta and parmesan, in a large rectangular baking dish.

Place the dish in the oven and cook, uncovered, for 90-120 minutes. Give them a stir every 30 minutes or so. The colour of the tomatoes should be a deeper red colour and they will shrivel up significantly.

Cook pasta according to directions on the package. Dump them into the large baking dish with the roasted ingredients. Toss so that the pasta is coated and roasted tomatoes and other ingredients are mixed throughout.

Sprinkle parmesan cheese on top. Serve.
Nutrition
Per serving:
Calories: 463kcalCarbohydrates: 69gProtein: 15gFat: 14gSaturated Fat: 4gCholesterol: 12mgSodium: 571mgFiber: 6gSugar: 7g