Rice Pudding with Dried Cranberries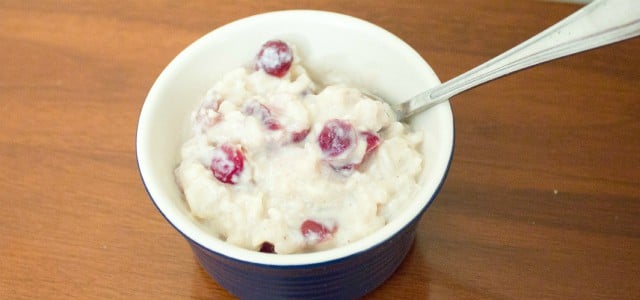 During my early teenage years I used to love watching the Cosby Show. We used to sit down, as a family, and watch the weekly adventures of the Huxtables. There were some classic episodes on that show. I loved the episode when Theo learned about the 'real world' and his family turned the entire house into a case study for him on life on his own. There were many classic episodes with Sondra and Alvin getting into arguments. Rudy was cute and she had some hilarious friends. Bud was a riot but my favourite was Peter! One episode I loved was when Cliff bought a juicer and Rudy and Peter decide to juice grapes on their own. Purple juice splattered all over the kitchen and they ran out not knowing how to stop it. Cliff buying the juicer was one example, of many on the show, portraying his weakness towards gadgets. It didn't matter if it was a kitchen gadget, a power tool or some other electronic device, Cliff would regularly come home having purchased whatever is the newest and greatest item!
I need to confess that Cliff and I share the same weakness. I love to walk through Home Depot and look at power tools. I could spend countless time looking at electronic devices at Best Buy. In Toronto there is a store called Kitchen Stuff Plus and it has endless shelves of kitchen gadgets. The store is incredible. We have so many kitchen gadgets. On our kitchen counter and the shelf downstairs there is a panini press, slow cooker, griddle, rice cooker, espresso machine, kitchen aid mixer, hand mixer, rice cooker, food processor, sausage stuffer, ice cream maker, meat grinder, pasta maker, plus more.
Some of the appliances get a lot of use and others collect dust. For example, the ice cream maker hasn't been used in ages. One small appliance that gets plenty of use is our rice cooker. I use that rice cooker every single week and I love it! It is so easy to use and it makes the perfect rice every time. We could get rid of a number of our kitchen gadgets and I wouldn't miss them all that much. But the rice cooker is one that I would replace right away. It's awesome to have.
Today's recipe is nothing fancy or original. It is a basic rice pudding recipe that uses leftover cooked rice. This time I have added dried cranberries but there are many times that we add raisins. It is great warm or cold.
Rice Pudding with Dried Cranberries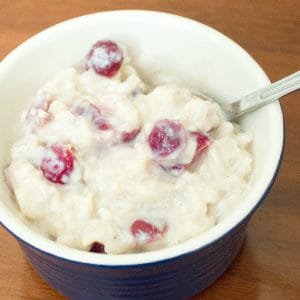 Print
Servings: 4
Ingredients
2 cups of cooked rice
2 1/2 cups milk
1/2 cup sugar
2 tsp vanilla
1 tsp cinnamon
2 eggs
1/2 cup dried cranberries
Instructions
Bring the cooked rice 2 cups of the milk and sugar to a boil. Lower heat to that it is a low boil. Do not have it at too high a heat as that could scald the milk.

Stirring often, cook for 20-25 minutes. The rice should absorb much of the milk.

In a separate bowl, beat the eggs with the remaining 1/2 cup milk. Slowly stir the egg and milk mixture into the rice pudding. Mix in the dried cranberries, vanilla and cinnamon. Cook for another 3-4 minutes, stirring regularly.

Remove from the heat and let stand 15 minutes before serving.