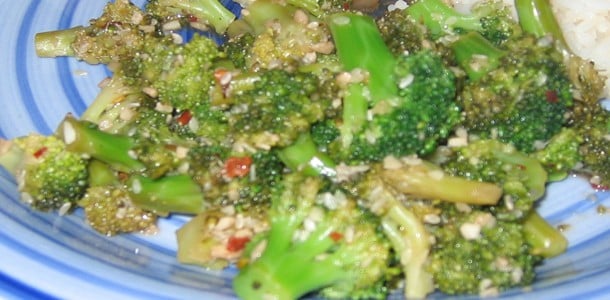 I am always looking for a unique way to cook vegetables. This is a great broccoli dish. If you omit the red pepper flakes it is more of a sesame teriyaki dish while the including them gives it the szechwan flavour.
Szechwan Broccoli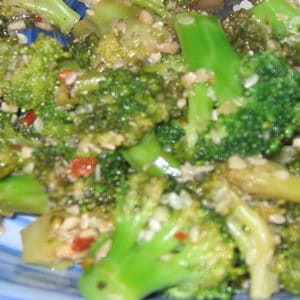 Print
Servings: 4
Ingredients
2 heads of broccoli cut up
2 tbsp olive oil
3 cloves garlic , crushed
1 tsp ginger , minced
3 tbsp soy sauce
2 tbsp rice wine vinegar (can substitute with red wine vinegar)
1 tsp sugar
1/2 to 1 tsp red pepper flakes (vary depending on what level of heat you want)
2 tbsp sesame seeds
Instructions
Steam broccoli and set aside.

In a wok or large fry pan heat oil over medium high heat.

Add garlic and ginger and cook for 2-3 minutes, stirring constantly.

Add remaining ingredients and bring to a boil. Lower to a simmer.

Add broccoli and stir to cover the broccoli in sauce.

Serve immediately.