Cheesy Leek and Broccoli Pasta Bake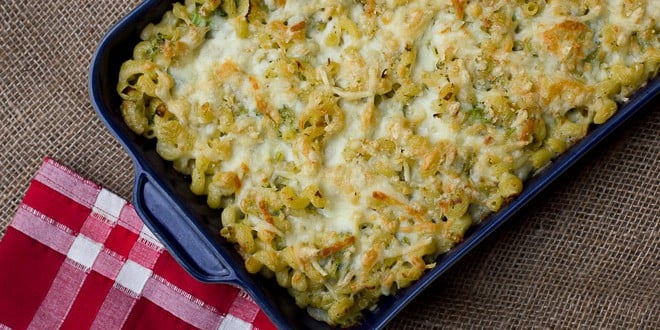 This pasta bake is a twist on my macaroni and cheese recipe. A couple of my kids are starting to fight eating vegetables and I am beginning to incorporate the veggies into a dish instead of keeping them on the side. This way, they are somewhat hidden or covered in lots of good stuff – this time, melted cheese.
My kids have always been good at eating their veggies and I am not sure what has brought about the change. Hopefully it doesn't last. So for this dish, I took my mac and cheese recipe and added sauteed leeks and broccoli.
Instead of cheddar cheese, I used a blend of Italian cheeses (mozzarella, provolone and parmesan). It turned out to be a great side dish and a bit more adult than classic mac and cheese. The kids enjoyed it and didn't mind the vegetables.
One win for dad!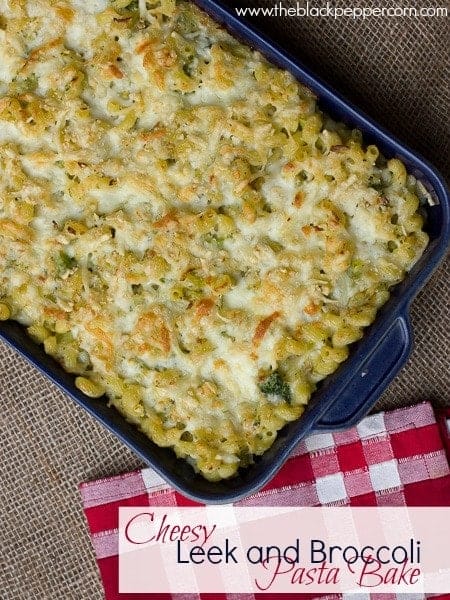 Cheesy Leek and Broccoli Pasta Bake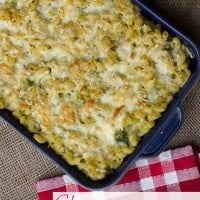 Print
This recipe twist on macaroni and cheese adds sautéed leeks and broccoli along with a blend of Italian cheeses (mozzarella, provolone, asiago, parmesan) Baked in the oven.
Servings: 8 people
Ingredients
500 g dry pasta , macaroni, scoobi doo, penne, etc.
3 tbsp butter
3 leeks , washed and sliced
2 cups broccoli , chopped
1/4 cup butter
1/4 cup flour
2 cups milk
3 cups mozzarella or Italian cheese blend , grated
1 tsp salt
1/2 tsp ground black pepper
Instructions
Cook the pasta according to packaged instructions. Drain, rinse and set aside.

Heat 3 tbsp butter in a skillet on medium heat. Add the sliced leeks and cook for a few minutes, stirring often so they do not burn. Add the broccoli and cook for a few more minutes, or until the broccoli is tender.

In a saucepan, on medium heat, melt the 1/4 cup butter. Whisk in the flour until smooth. This creates a roux. Continue to whisk it for a minute.

While whisking, slowly pour in the milk. Once smooth add 2 1/4 cups of the grated cheese and spices. Stir until smooth.

In a large bowl, mix the pasta, cheese sauce and sauteed vegetables, until all the noodles are covered in some sauce. Spread the mixture in a casserole dish.

Sprinkle remaining cheese on top..

Bake in a 350F oven for 30 minutes.
Nutrition
Per serving:
Calories: 526kcalCarbohydrates: 60gProtein: 21gFat: 23gSaturated Fat: 13gCholesterol: 66mgSodium: 686mgFiber: 3gSugar: 7g