Cheese Tortellini with Ground Turkey, Spinach and Zucchini Marinara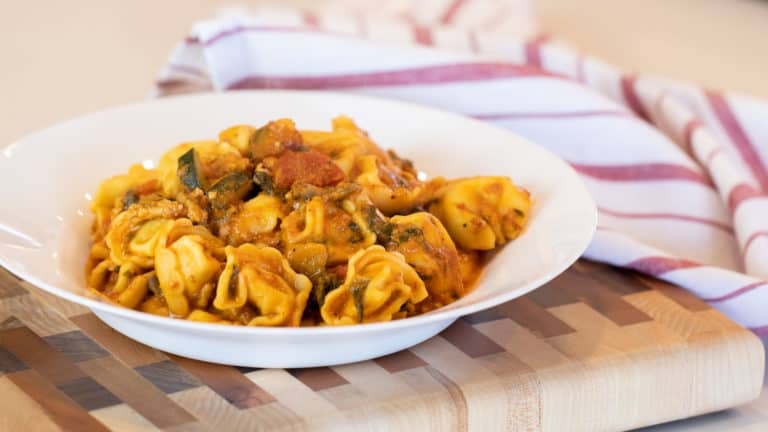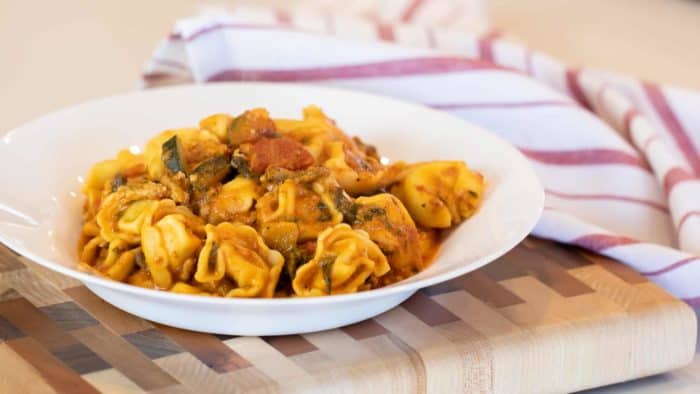 I love pasta dishes with my absolute favourites being the stuffed kinds of pasta like ravioli, tortellini and cappelletti. I also love the big types of stuffed pasta like manicotti, cannelloni and stuffed shelled.
While the pasta is great, I really love the fillings. It doesn't matter what kind of filling either. Cheese, meat, mushrooms and so much more work to make some amazing fillings.
This recipe uses a store bought cheese tortellini. These ready made stuffed pasta are really tasty and they are a great way to make a quick weeknight meal.
To go along with the tortellini, I wanted to make a marinara that is hearty with lots of stuff. For this sauce, I used ground turkey, zucchini and spinach. These came together very well for a marinara that tastes light.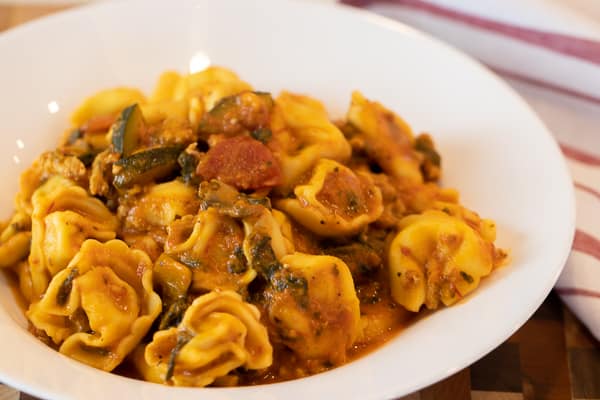 While I used ground turkey, many other meats could also be used. Ground beef, pork, chicken and even shrimp will all work in this dish.
The main vegetables in this sauce, aside from tomatoes, is zucchini and spinach. These can easily be swapped with others like mushrooms, red peppers or others.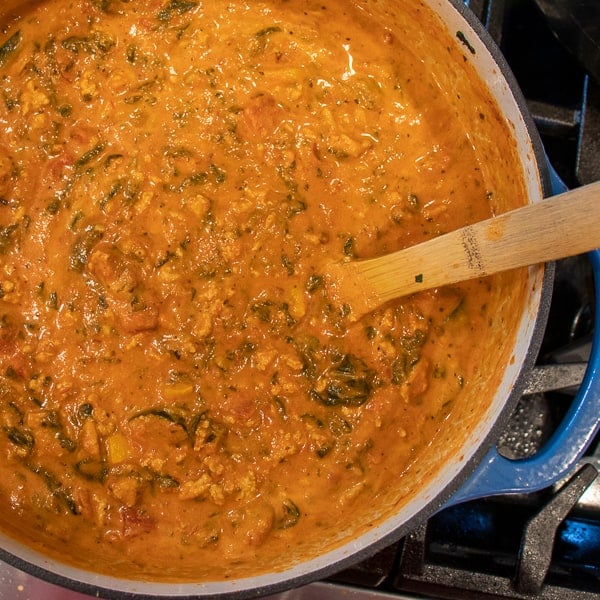 To make the marinara sauce, start off browning the ground turkey in a large saucepan. Once cooked through, add the zucchini and onion. Cook these, stirring often, until the vegetables are tender. Stir in the spinach and cook until wilted – this takes just a few minutes.
Continue cooking, adding the diced tomatoes, seasonings and later on, the cream and parmesan cheese. This marinara is meaty, full of tasty veggies and a rich creamy tomato sauce.
Now, it is ready for the tortellini!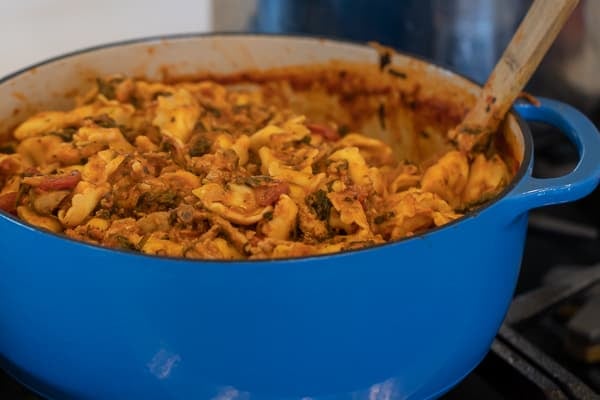 While the creamy marinara sauce is simmering, cook the cheese tortellini in boiling water. The package of tortellini should have directions for how long to cook the pasta. Basically, you want to cook the tortellini until the pasta is soft and tender.
Drain the tortellini and then mix in with marinara sauce. Make sure to gently stir in the tortellini to ensure they don't break up while being mixed.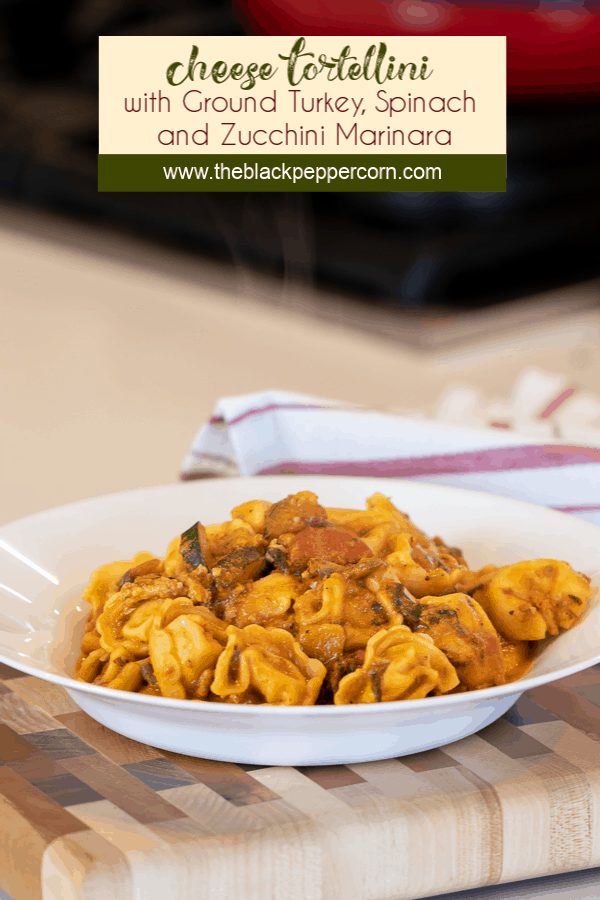 If you are looking for some other pasta dishes, then check out these recipes!
Cheese Tortellini with Ground Turkey, Spinach and Zucchini Marinara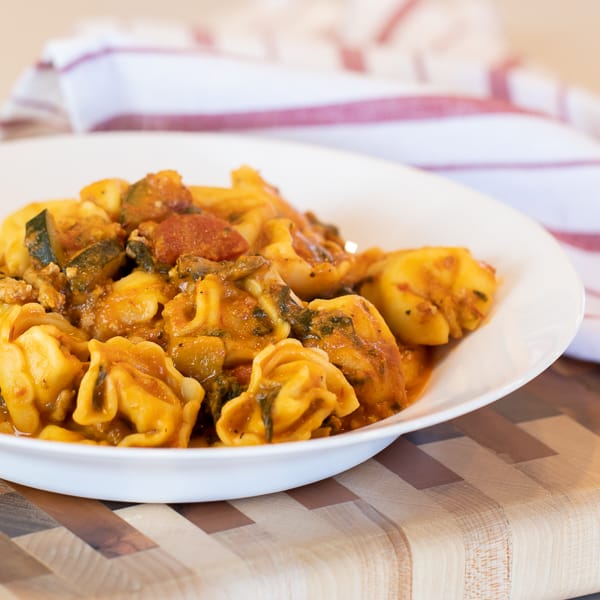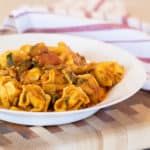 Print
Easy pasta recipe with cheese filled tortellini, ground turkey, zucchini and spinach in a creamy tomato marinara sauce.
Servings: 4 people
Ingredients
500 g refrigerated cheese tortellini two 9oz packages
2 tbsp oil
1 1/2 pounds ground turkey
2 medium zucchini roughly chopped
1 medium onion diced
1 can diced tomato 28 oz can
1/2 tsp salt
1 tsp basil
1/4 tsp black pepper
1 tsp sugar
1 cup 10% cream
1/2 cup grated parmesan
Instructions
Heat oil in a large saucepan over medium heat. Brown ground turkey, stirring often to make sure the meat doesn't stick to the bottom of the saucepan.

Add in the onion and zucchini and cook for about 8 minutes. Stir in the fresh spinach for 3 more minutes.

Mix in the can of diced tomatoes and spices. Lower heat to medium low and let simmer for 20 minutes.

Stir in the cream and parmesan cheese. Cooke for 5-7 more minutes.

Cook the cheese tortellini according to instructions on the package.

Gently stir the cooked tortellini in with the marinara mixture.

Serve.