You are probably thinking I have a slight addiction to appetizers. January has been on overload in the snack food category here at The Black Peppercorn. But you will not see me complaining because little bite size goodies like these zucchini sticks are oh so tasty!
If you have never used panko bread crumbs, I highly encourage you to give them a try. They are Japanese bread crumbs. Actually the word panko is the Japanese word for bread crumbs. They are made without the crusts and are flakier than our North American version of bread crumbs.
Deep Fried Zucchini Sticks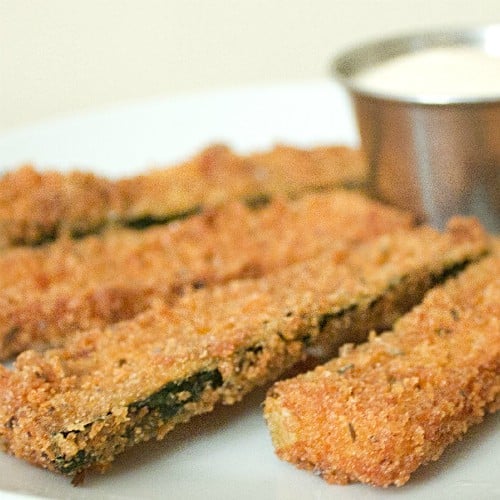 Print
These deep fried zucchini sticks are breaded with panko, parmesan cheese and oregano to create a flaky, crispy, Italian flavoured breading. Dip with ranch or marinara sauce.
Servings: 2 people
Ingredients
2 zucchini
1 cup panko bread crumbs
1/2 cup parmesan cheese
1 tsp salt
2 tsp oregano
1 cup flour
2 eggs
Instructions
Cut the ends off the zucchini. Cut in half and proceed to cut into sticks.

Set three bowls side by side. In the first bowl place the flour. In second, lightly beat the eggs. In the third bowl mix the panko, parmesan cheese, salt and oregano.

One at a time, dredge the zucchini sticks in the flour. Then dip them in the eggs. After that, place the zucchini sticks in the bread crumb mixture.

Slowly place the zucchini sticks in 375F oil. Deep fry for 2-3 minutes, turning them halfway through the cooking time. Have 5 or 6 zucchini sticks at a time in the hot oil.

Drain on a paper towel.

Serve with a dipping sauce like ranch dressing or marinara sauce.