Baked Sun Dried Tomato and Chicken Pinwheels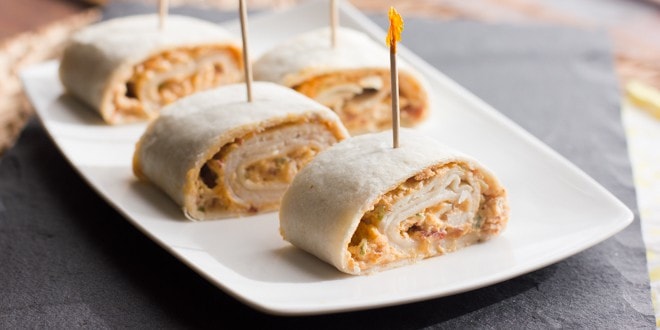 Tortilla pinwheels are a super simple snack to make and they are really tasty. They are perfect for an after school snack, evening treat or even great as party of a tail gate party menu.
These pinwheels are made with a cheese mixture made with sun-dried tomatoes and also rolled up with roasted chicken lunchmeat.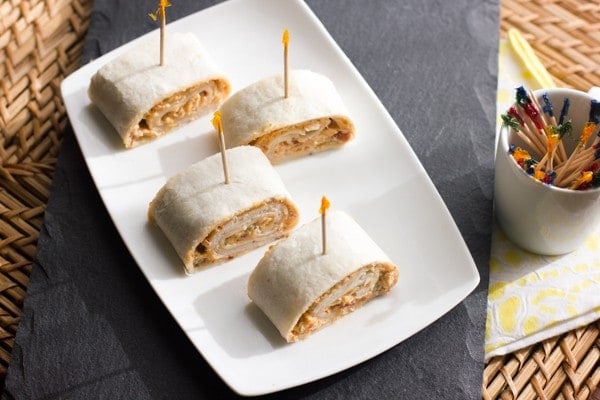 Baked Sun Dried Tomato and Chicken Pinwheels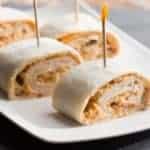 Print
Ingredients
1 cup cream cheese , softened
3/4 cup grated mozzarella cheese
3 sun-dried tomatoes in oil
1/2 tsp salt
1 tsp dried oregano
4 soft flour tortillas
8 slices roasted chicken lunchmeat
Instructions
Preheat oven to 400F

In a food processor, blend together the cream cheese, grated mozzarella, sun-dried tomatoes, salt and oregano until smooth and the sun-dried tomatoes are blended into the cheeses.

With a knife, spread the cheese mixture across each of the four soft tortillas. Place 2 slices of lunchmeat on each of the tortillas.

Roll up the tortillas and place, fold side down, on a baking sheet.

Bake pinwheels for about 15 minutes, or until the cheese is melted and the tortillas are starting to brown.

Take out of the oven and cut the pinwheels into 6 individual segments.