Chewy Chocolate Chunk Brownies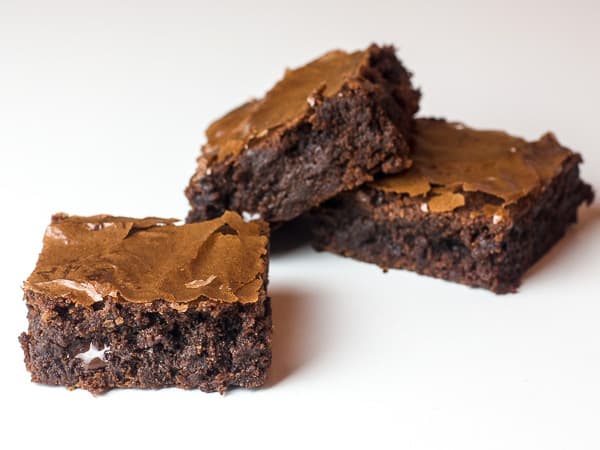 There is something special about a chewy brownie, especially one with lots of chocolate. Brownies can be a rich decadent treat.
I have been on a quest for the ultimate brownie recipe that has the chewy texture that comes from store bought box mix brownies, but also the rich decadence of a homemade recipe with lots of chocolate.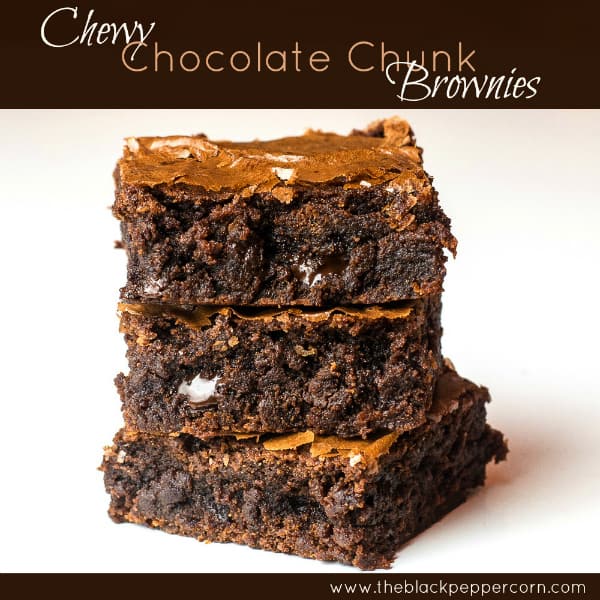 This recipe is insanely good and it even has the crackled topping, that is one of my favorite parts of a homemade brownie. I know it will be difficult to wait for it cool. But once it does, and you take your first bite, you will be completely sold and may never use another recipe again.
Yes, this is THAT delicious.
Put a scoop of vanilla ice cream on top and it just might be the perfect dessert.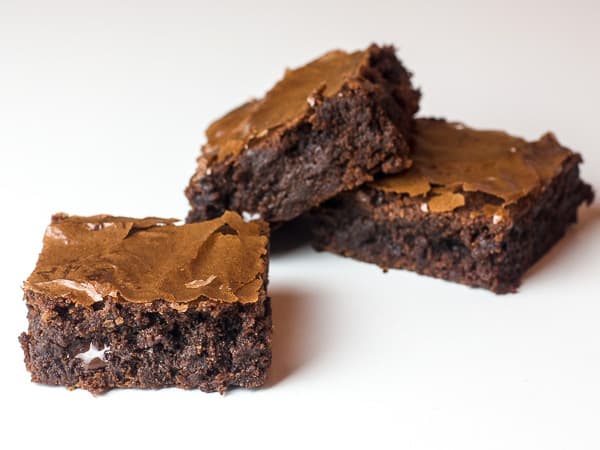 Chewy Chocolate Chunk Brownies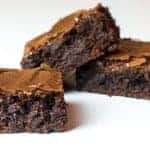 Print
These brownies have the chewy texture similar to box mix brownies, but are far more chocolately and decadent. Semi sweet chocolate, cocoa, eggs, sugar, vanilla and more.
Servings: 24
Ingredients
1/3 cup cocoa
1/2 cup boiling water
2 ounces semi sweet chocolate, cut into small pieces (or 1/3 cup semisweet chocolate chips)
1/4 cup butter or margarine, melted
1/2 cup vegetable oil
2 large eggs
2 large egg yolks
1 tbsp vanilla
2 1/2 cups sugar
1 3/4 cups all-purpose flour
1 tsp salt
6 oz semi sweet chocolate, cut into rough chunks (or 1 cup semisweet chocolate chips)
1 cup walnut or pecan pieces , optional
Instructions
Preheat oven to 350F.

Spray a 9x13 inch cake/brownie pan with non stick cooking spray or grease with butter or shortening..

Whisk together the cocoa and boiling water in a large bowl until smooth and the cocoa is dissolved.

Stir in the 2 ounces of semi sweet chocolate pieces until melted.

Whisk in the melted butter, oil, eggs and vanilla until smooth.

Pour in the sugar and whisk together until well mixed.

Using a rubber spatula, fold in the flour, salt, 6 ounces of semi sweet chocolate chunks and optional nuts, until fully incorporated and there are no more dry pockets of flour in the batter.

Pour batter into the prepared pan and place on the centre rack in the oven.

Bake for 35 minutes. Stick a toothpick in the middle of the brownie to test. It should come out fairly clean. If there are a few crumbled pieces stuck to the toothpick, that is fine. If it comes out wet with batter, bake for 3-5 more minutes.

Cool completely before cutting, about 2 hours.