Chicken Cilantro Quesadilla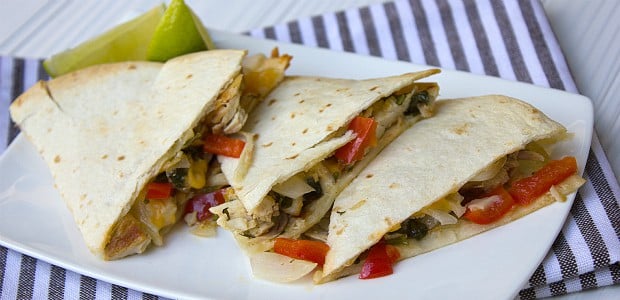 These chicken cilantro quesadillas are the perfect way to use up leftover chicken meat. We often have a package of soft tortilla shells on hand, ready to make quesadillas and this is likely the most common recipe I use.
The cilantro and lime work great with the chicken and give the quesadillas an authentic Mexican flavour. The jalapeno pepper gives some nice kick and the melted cheddar cheese is creamy and delicious.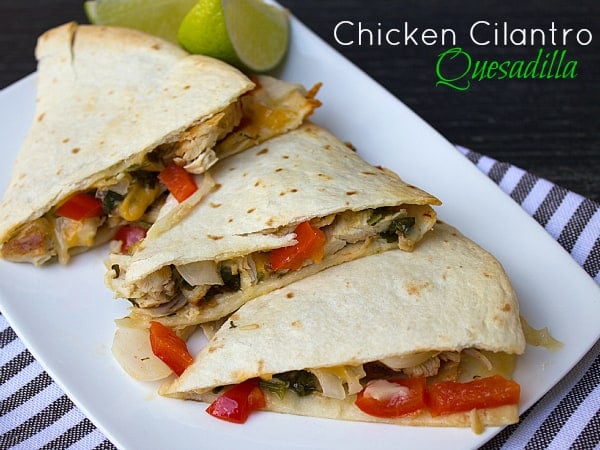 Chicken Cilantro Quesadilla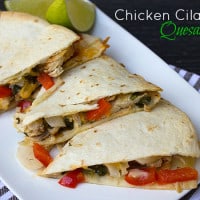 Print
Baked quesadilla recipe with chicken, cilantro, onion, pepper, lime and monterey jack cheese in a tortilla. Easy to follow recipe for a Mexican appetizer.
Servings: 4 quesadillas
Ingredients
2 cooked chicken breasts
1/4 cup fresh cilantro finely chopped
1 lime juiced
1 red pepper diced
1 sweet onion diced
1 jalapeno pepper diced (optional)
1 cup grated cheddar cheese
4 soft tortilla shells
Instructions
Thinly slice the chicken breasts and toss with the lime juice and cilantro.

Lay the 4 soft tortilla shells on a cookie sheet.

Assemble the quesadillas by placing a quarter of each remaining ingredient - chicken, red pepper, onion, jalapeno and cheese on half of each tortilla shell. Fold each tortilla shell over the toppings creating a half moon shape.

Bake in a 375F oven for about 10 minutes, or until the tortilla shell starts to brown and crisp up.
Notes
There are other methods to cook quesadillas.
Skillet - on medium high heat, place the quesadilla on the skillet and cook for a few minutes. Flip the quesadilla and cook another few minutes.
Panini Press - Set the panini press to medium high heat. Place as many quesadillas as will fit in the panini press. Close the lid and cook for about 5-7 minutes.
Grill - Set the grill to medium high heat, about 400-450F. Place the quesadillas on the grill and cook for about 4-5 minutes per side or until the peppers and onions are soft and the grill char marks are visible.