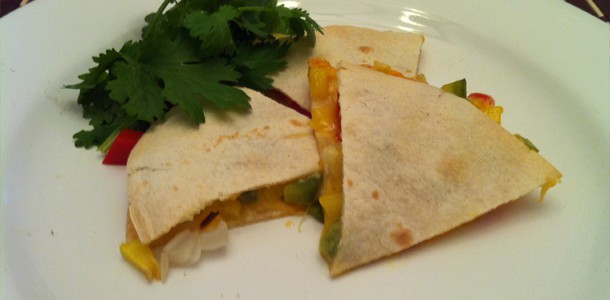 I was in the grocery store the other day and saw that the fresh Ontario peaches are arriving. I bought a basket with the thought of having them on their own (I love eating fresh local fruit!). I was craving a quesadilla and as I considered what to put in it I looked down in my cart and wondered how a peach would fare.
Peach salsa tastes great so I thought I would get a bit inventive in the kitchen and try it out. In the end it turned out great. The lime zest added a nice zing to the dish and the jalapeno was good although I would have liked it to be a bit spicier.
Here are a few other quesadilla recipes on the site:
These quesadilla are amazing as a snack or appetizer all on their own. They are also excellent as part of a full Mexican meal.
Peach Quesadilla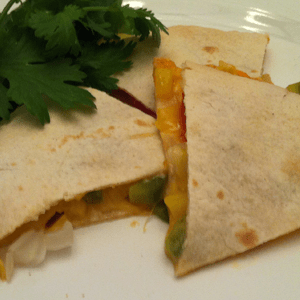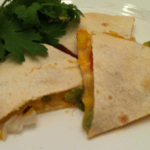 Print
This delicious quesadilla is a fresh take on a mexican classic has the sweetness of summer peaches, the spicy kick of a jalapeno and the zing of lime zest.
Servings: 4 quesadillas
Ingredients
4 soft taco shells
1 peach , peeled, pitted and diced
1/2 red onion , minced
1/2 red pepper , diced
1 jalapeno pepper , seeded and minced
1 cup grated cheese (cheddar or monterey jack)
1 tsp lime zest
Instructions
Preheat the oven for 400 degrees

Place 2 soft taco shells on a cookie sheet

Spread all the ingredients on top of the 2 shells

Put the remaining 2 shells on top of the original 2 and press down lightly to ensure that the ingredients in between the shells are flattened lightly

Bake in the oven for about 10-15 minutes or until the top shell is browned lightly.

Serve hot.