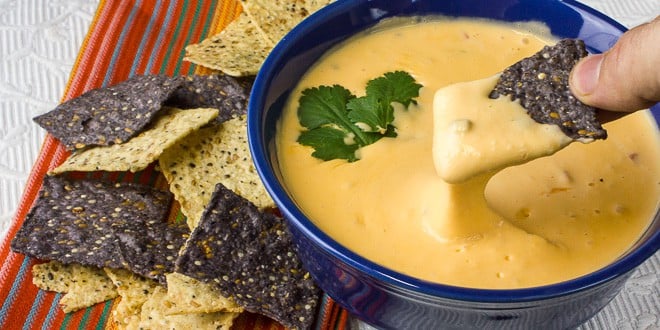 The Super Bowl is around the corner and if you are looking for a nacho cheese dip, then look no further. This chili con queso dip is easy to make and uses very few ingredients. There is one unique ingredient in this dish that help the emulsification of the cheese and beer/water to make the dip super creamy. Sodium citrate is a sodium salt that is found in citrus fruits and just a small amount makes a big difference. I never make cheese dip without it. It is also great to add when making macaroni and cheese. Sauteed jalapeno peppers, fresh chopped tomatoes and minced cilantro give this dip a bright and peppery flavor perfect with your favorite tortilla chips. I ate this dip with Way Better Snacks Tortilla Chips. These chips are packed with nutrients and lots of good because they are made with sprouted seeds, grains and beans. Love them!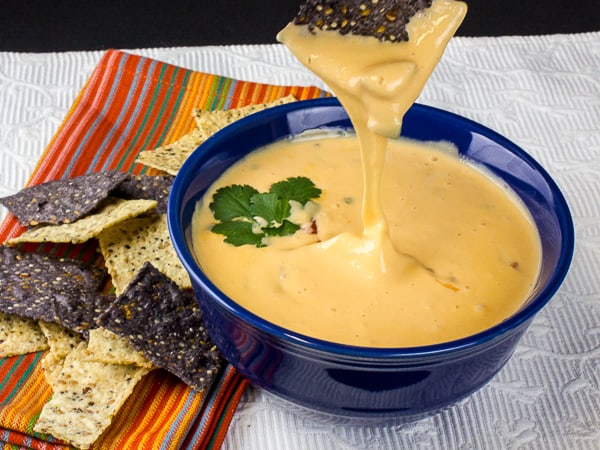 Chili Con Queso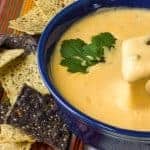 Print
Servings: 6 -8
Ingredients
1 tbsp butter
2-3 jalapeno peppers , seeded and minced
1 cup beer or water
10 grams sodium citrate
2 cups medium cheddar cheese , grated
2 cups monterey jack cheese , grated
1 tomato , diced
2 tbsp fresh cilantro , minced
Instructions
In a saucepan, melt butter and saute the minced jalapeno peppers until tender, about 4 minutes. Set aside.

In a separate pot, add water and sodium citrate. Whisk until dissolved. Heat so the water is hot, but not boiling.

Sprinkle some of the grated cheese into the hot water and use an immersion to blend the cheese into water. Continue until all the cheese is blended in. If the queso dip is still to thin in consistency, it may be necessary to add a bit more cheese (maybe up to 1 more cup). Remove from the heat.

Stir in the jalapeno peppers, tomatoes an cilantro.

Serve warm with tortilla chips.
Notes
Recipe is adapted from the Modernist Cuisine at Home cookbook