Copycat Moosetracks Ice Cream – Guest Post from Cravings of a Lunatic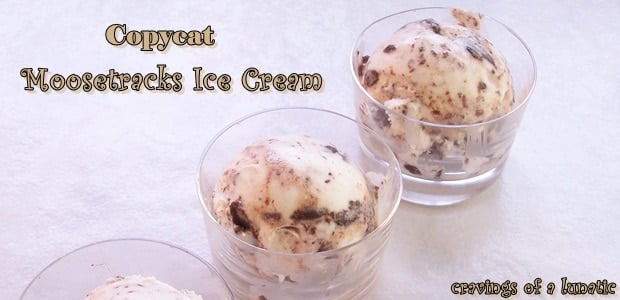 Over the next week, my family is away at our cottage. It is nice to get out of the big city of Toronto and go to a quieter spot. Hanging out at the cottage with the family is great and I am so looking forward to the next 10 days. Knowing that I was not going to be able to post for the next week I decided that I could not leave my readers empty with no new recipes all this time. So, I called on my foodie friends and they responded! Over the next week, I am happy to hand over The Black Peppercorn to some new faces. It is interesting that all the guest posters are ladies! I suppose that a feminine touch is needed around here.
I have a very special guest to start off the guest posting today! Kim Bee, from Cravings of a Lunatic, is here and I am toroughly excited to have her. Over the past year I have come to appreciate her so much. The authenticity, creativity and humour that Kim brings to us, day in and day out at her site, is refreshing and I always look forward to seeing her newest recipe.
When Kim volunteered to do a guest post, she asked what I would like her to make. If you have ever been to her site then you know that she is the queen of ice cream. I immediately asked her to make ice cream and was so excited when she said yes. Not only that, Kim asked what my favourite ice cream is. It did not take much thought for me as I absolutely LOVE Moosetracks. Chocolate ripple ice cream with mini peanut butter cups – YUM! So, let me pass things over to Kim and I need to find a way to make this ice cream – and soon.
Hi folks.
I am so pleased to be holding down the fort for Steve today. I blog at Cravings of a Lunatic where I'm known for my wild antics and crazy food. I promise to be on my best behaviour for Steve today and not do anything crazy. Well at least not publicly. When I heard Steve needed guest posters I was thrilled to offer up my services for a day. I always like to ask if there's something specific people would like. I'm one of those "takes requests" kind of gals. Steve mentioned ice cream would be fun as he was hoping to get an ice cream maker. So I had to ask what his fave ice cream is, it's what I do. Steve sent me to a link to an ice cream called Moosetracks. I had forgotten all about it but it's a Canuck classic. Never one to back down from a challenge I emailed Steve back that I would try tackling it. I knew I wanted to buy some first to make sure I was remembering the taste properly and was terrified I'd never find it here in boonieland. Oddly enough when mini-me and myself stopped in at a little ice cream shop in our hometown they actually had it. It blew my mind our little boonie town had Moosetracks. I bought us both other flavours then got a cup of Moosetracks to go. I knew I needed to sample it a few times to get the recipe right. That's where things went downhill. I figured Moosetracks is one of those "professional" type ice creams, so I thought I should crack open the custard ice cream section of my cookbooks as I never make egg based ice creams. Let me tell you something, me and custardy things don't get on well. They have it in for me. I think they know I don't like eggs so they seek this time to sabotage my recipe. Payback from eggland or something. But I wanted to try. For Steve. For Steve's Birthday. The pressure was on. Apparently so was my stove, set way too high or maybe way too low, I really couldn't tell you. Let's just say me and custardy things are not speaking right now. I'm holding a grudge. So I made the kind of ice cream I love, the egg free version. It turned out beautifully and the eggs watched quietly from the fridge. That'll teach them for not cooperating. An egg time out. The base of the ice cream is a recipe from Cuisinart. I use it often as a jump off point for my recipes. After sampling the Moosetracks, obviously for research purposes only, I knew the ripple would give me grief. It's what ripple does. It wrecks ripple havoc everywhere it goes. It's hard to get it to mix well and not turn your vanilla ice cream into chocolate. If you over mix it looks awful. So me being well, me, I decided to amp it up and use hot fudge sauce. My thought was due to it being thicker it would cut in better. It did. The warm fudge against the cold ice cream worked perfectly. I may try the evil ripple next time for a light chocolate taste running through but for my first crack at this I knew I wanted fudge sauce. I used homemade but you could just buy some. There's no homemade hot fudge sauce police coming to take you away if you cheat a little. Don't sweat the small stuff people. Yes fresh homemade ingredients are awesome but so is having a life. Okay, rant over. Next I just picked up a bag of mini Reese's cups. I just cut those up and tossed them in. Easy peasy. Again if you want to make homemade Reese's cups knock yourself out. When you get them done feel free to send me some. I'll gladly take them and appreciate all your hard work as I sit on the couch relaxing. It's the least I can do. So bottom line, the ice cream rocked, it rolled and it rippled…but in a good way. Steve I hope you try this one out. Bring your stretchy pants cuz you're going to need them. I'd consider shutting the fridge door so your eggs don't get upset with you. Just looking out for you man.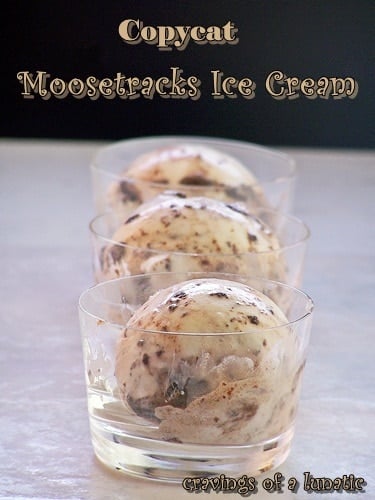 Copycat Moosetracks Ice Cream:
Ingredients:
1 cup whole milk
1 cup vanilla sugar
Pinch of vanilla salt
2 cups heavy cream
1 tablespoon vanilla extract
15 mini Reese's cups, cut into 4 pieces each
1/2 jar of hot fudge sauce, slightly warm but NOT hot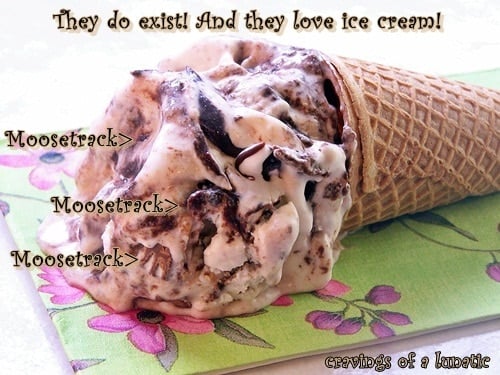 Directions:
In a stand mixer combine your whole milk, vanilla sugar, and vanilla salt. Mix well until the sugar dissolves.
Now add your heavy cream and vanilla extract. Mix until fluffy. It should resemble whipping cream.
Cover the bowl and place in fridge for a minimum of 1 hours, but with this particular recipe I'd recommend aging it overnight. It will give it a deeper vanilla taste.
Uncover and transfer liquid to your FROZEN ice cream bowl. Place bowl on machine and turn on. Let it spin for about 10 to 15 minutes.
Now add your cut up mini reese's cups and let it mix for a few minutes so they incorporate well.
Warm up your hot fudge sauce slightly, the key is you want it just a touch warm but no hot or it will melt your ice cream as you pour it in. There's two methods for adding it. If you are feeling lucky you can slowly pour it in while the ice cream maker mixes it up. Be careful not to clump and be careful not to overmix. For people new to ice cream I'd recommend you take the bowl out of the machine and cut in the fudge sauce with a knive as you pour it. Go slow, don't overmix. You want to fudge sauce to make lines in the ice cream but not become one with the ice cream.
Cover the ice cream bowl and stick it in your freezer until it hardens.
Remove and serve with a big old Moosey smile!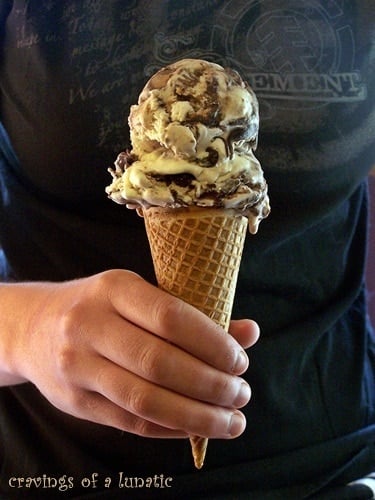 *Hints and tips*- mine overflowed a little bit. I have the 1.5 size so you are safe if you have the 2.0. If not you could just scoop out about 1/2 cup to allow room for the cups and fudge sauce. I have issues so I never remove any then laugh when it spills over the top.
Don't add the reese's cups for the aging process, you'll end up with a mess. Trust Lunie on this.
Don't add the fudge sauce during the aging process, or you'll end up with chocolate ice cream.
If you don't have vanilla sugar use regular sugar. If you want to make vanilla sugar you can find the recipe on my blog.
If you don't have vanilla salt use regular salt. If you want to make vanilla salt you find the recipe on my blog.
You can use store-bought hot fudge sauce or if you want to make homemade hot fudge sauce you can find the recipe on my blog.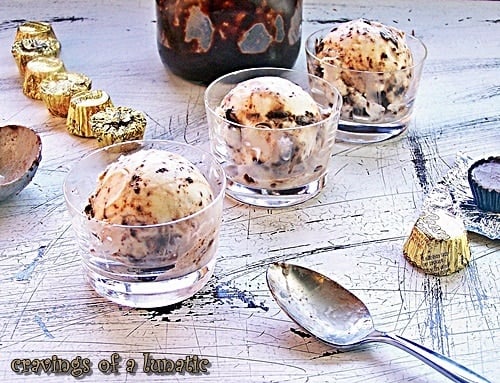 Thanks so much to Steve for allowing the Lunatic to take over for the day. I bet you were worried I'd be a spaz and do say something crazy right. I would never do that. I mean I'm totally normal on occasion. So now that we've dodge the crazy bullet let's wrap this up before I start rambling about how often I fall down or using words like fo shizzle. Now go make this ice cream while hiding it from your eggs and not getting your ripple all wrecked and creating moose havoc. See, totally normal.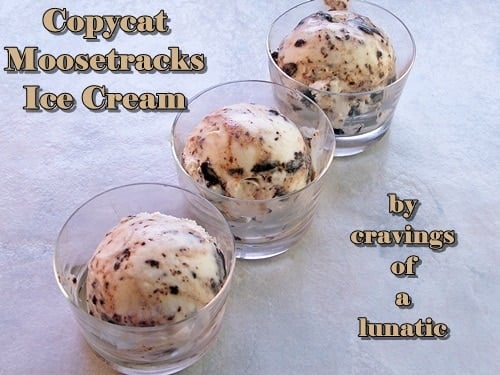 Toodles and smoochies! xx