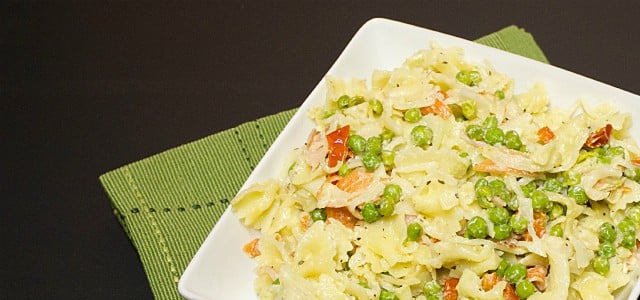 I am sure you also experience this…..some days there is just not enough time! This weekend, we had the joy of going to my mother and father's house to celebrate their 40th anniversary! We had a number of family and friends over. We put together a nice spread of food (posts of some dishes to come this week) and had a wonderful chance to talk and reminisce. It was great to see everyone. I was also excited because it was my first chance to see my new niece! She was beautiful.
Before we left, the day was full of laundry, packing, and preparing some of the items we had to my parents place. On top of that, it is about a 3 1/2 hour drive from our place in Toronto to where they live in Belle River. The plan was to have dinner quickly at home before we hit the road for a night drive.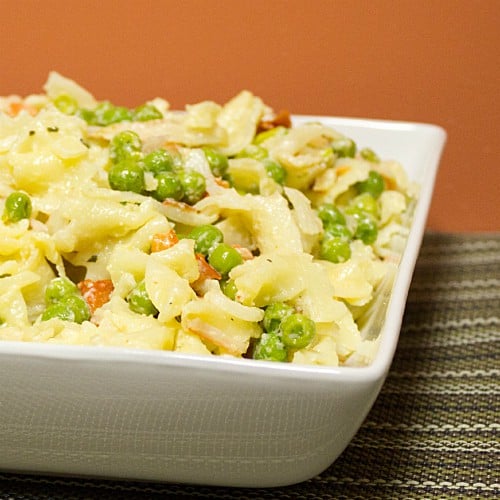 There was not a lot of time to make dinner so I went for a quick 'go to' pasta dish. This uses imitation crab which, even though it is not the real stuff, I like because it is great in pasta or salad and it is reasonably priced. Also, you can keep a 'brick' of it in the freezer for those days when you need a quick meal. This cream sauce in this pasta is velvety smooth and the peas are a great compliment to the crab meat.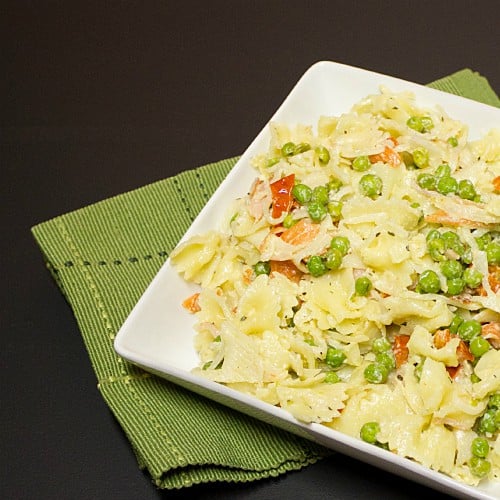 Crab Alfredo Pasta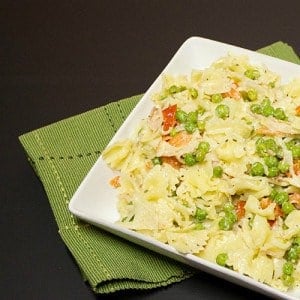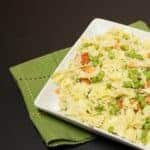 Print
A velvety smooth cream sauce with imitation crab and peas. The alfredo sauce is made with cream cheese, parmesan and cream. A delicious recipe that is cheap, quick and easy!
Servings: 4
Ingredients
1/4 cup butter
3 cloves garlic , minced
1 onion , diced
1 red pepper , diced
1 cup imitation crab meat in medium size chunks
1 tsp basil
1 tsp ground black pepper
1/2 tsp salt
1/2 brick of cream cheese
1/3 cup parmesan cheese
1 cup half and half cream
1 cup frozen peas
5-6 cups of cooked pasta
Instructions
In a saucepan melt the butter then add garlic, onion and peppers and saute them for 10 minutes.

Add the crab meat and spices. Cook another 5 minutes

Stir in the cheeses and cream. The cream cheese will melt and and blend into the cream creating a smooth sauce.

Add the frozen peas and let the sauce simmer, just under the boiling point, for 5 more minutes.

Stir in the cooked pasta and serve