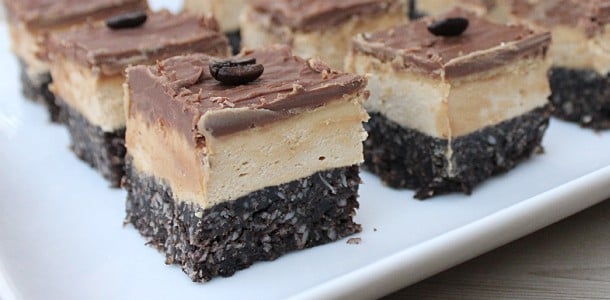 This is the final post in the 24 Days of Christmas Baking. I find it hard to believe that it is all done. Through this I have made many foodie friends out here in the blogosphere. I have received many comments from people who have already tried various recipes! All of this was a great experience for me. To top it all off, my Christmas baking is done!
With this being the last recipe in this baking marathon, I wanted it to be special. With so many of my foodie friends celebrating American Thanksgiving today, I wanted to post a dessert from my home; the great country of Canada. So, what is a dessert cookie or square that originated in Canada? The nanaimo bar!!
The nanaimo bar comes from Nanaimo, British Columbia, a small city on Vancouver Island. A lady from Nanaimo submitted the recipe of this three layered dessert for a local cookbook. It became popular in many households in the region and was even sold in some of the local restaurants and coffee shops. Tourists began to refer to these squares as Nanaimo bars as this was the only area that they could be found.
This particular nanaimo bar is infused with the flavour of coffee. The combination of chocolate and coffee flavours in this dessert work together perfectly and this Canadian confection goes perfectly with a cup of coffee! There are countless varieties of Nanaimo bars on the internet all stemming from Nanaimo's Mabel. This version that I made draws some of its inspiration from one found on the Food Network.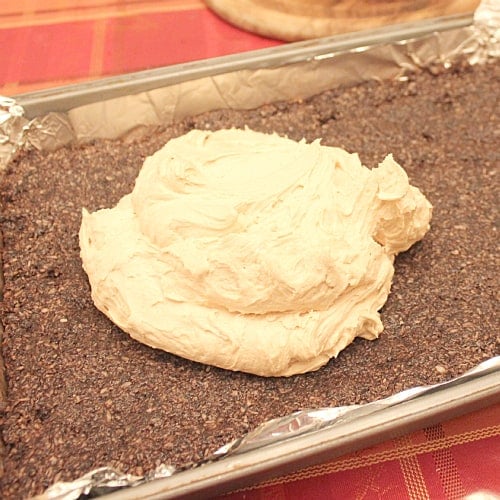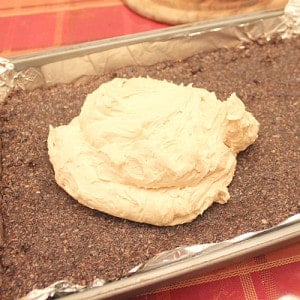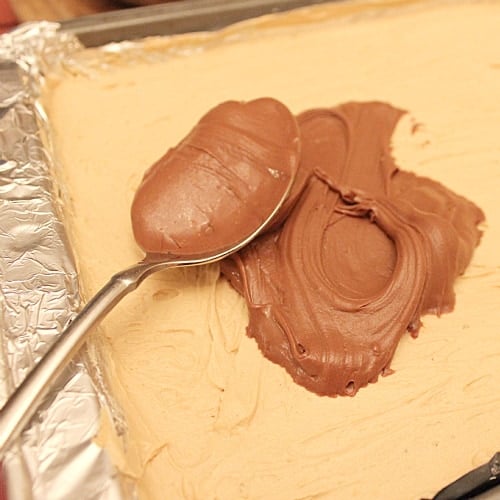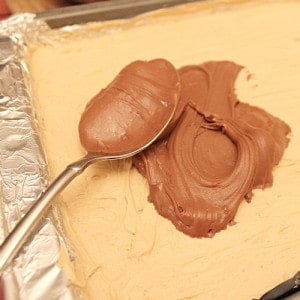 Make sure each layer is cool before spreading the next layer.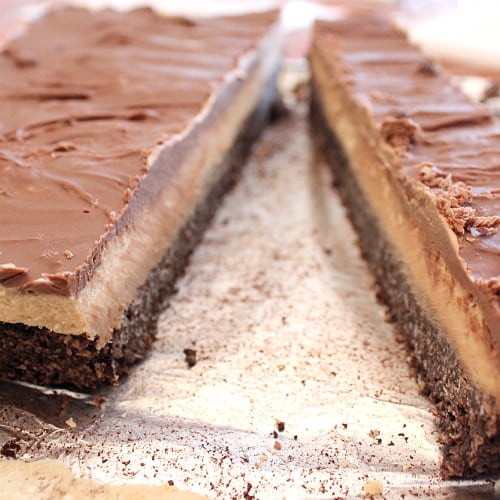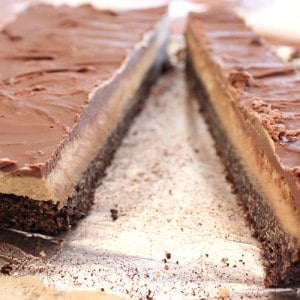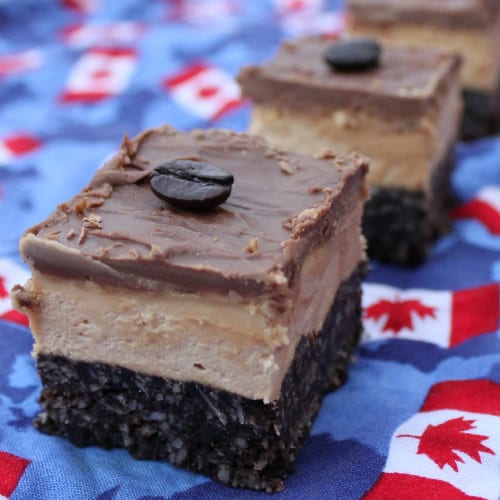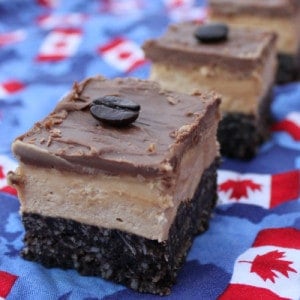 A classic Canadian sweet, the Nanaimo bar has many variations. This cappuccino version has a mild taste of coffee with the chocolate.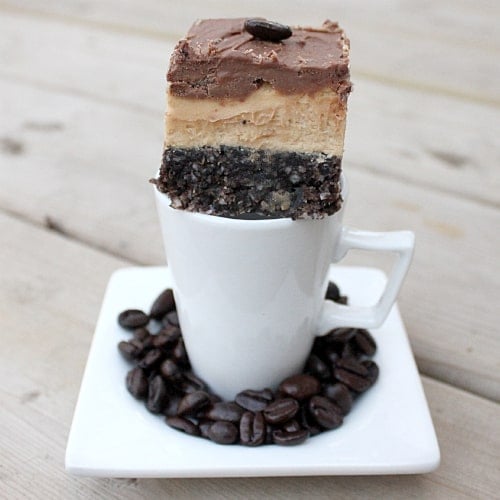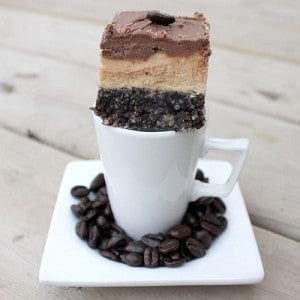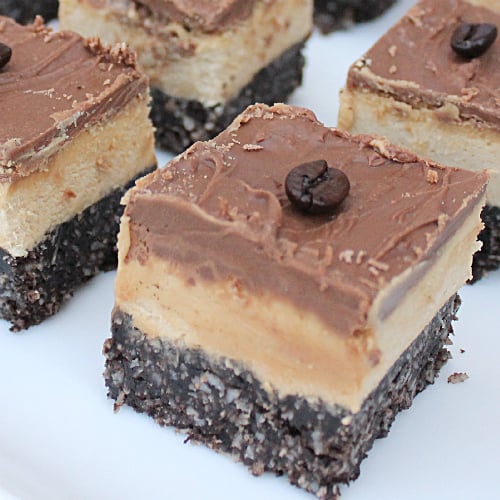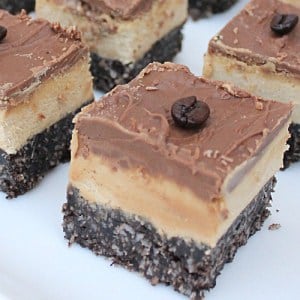 Cappuccino Nanaimo Bars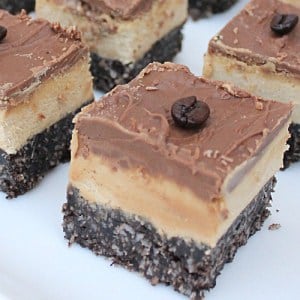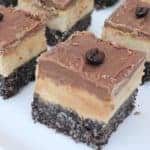 Print
Servings: 24
Ingredients
1 1/2 + 2 tbsp cup butter , softened
1/2 cup sugar
2 eggs
3 cups Oreo cookie crumbs
3 tbsp cocoa powder
4 tbsp instant coffee crystals
2 tsp water
2 cups unsweetened coconut
6 tbsp heavy cream
4 cups icing sugar
4 tbsp custard powder
2 cups milk chocolate chips
Instructions
Line a 13x9 pan with aluminum foil. Grease the bottom and sides of the pan with butter.

Melt 1 cup of butter. With an electric mixer, beat the melted butter, sugar and eggs. In a small cup or bowl, dissolve 2 tbsp of instant coffee with 1 tsp of water. Add the dissolved coffee crystals to the mixture. Beat in the cocoa powder, Oreo cookie crumbs and coconut.

Press the mixture into the pan so that it is even and flat.

Bake in a 350F oven for 15 minutes. Cool on a wire rack for 10 minutes. Chill in the fridge for at least 20 minutes.

To make the filling, beat the 1/2 cup butter with the icing sugar and custard powder. In a small cup or bowl, dissolve 2 tbsp of instant coffee with 1 tsp of water. Add the dissolved coffee crystals to the filling mixture. Beat in the cream. The filling should become creamy and smooth.

Spread the filling evenly across the base and chill for another 30 minutes.

Melt the chocolate chips with the 2 tbsp butter. Spread the chocolate accross the filling layer. Chill until set, then cut into bars using a hot dry knife.