Christmas Candy Chocolate Bark
A colourful candy bark that is perfect for Christmas. Made with both dark and white chocolate and topped with Christmas candy corn and sprinkles.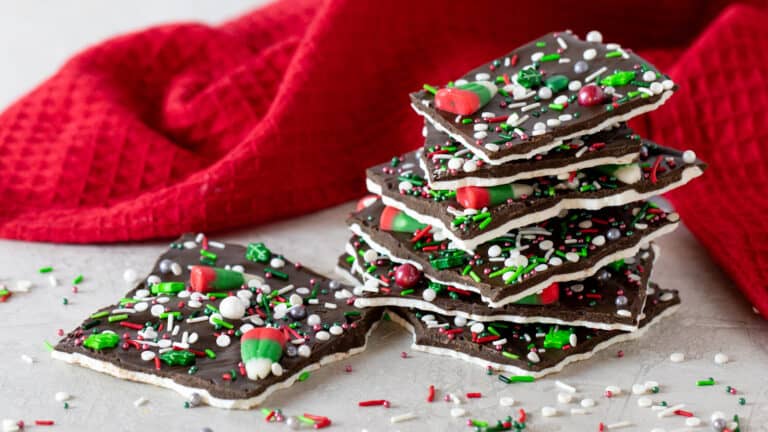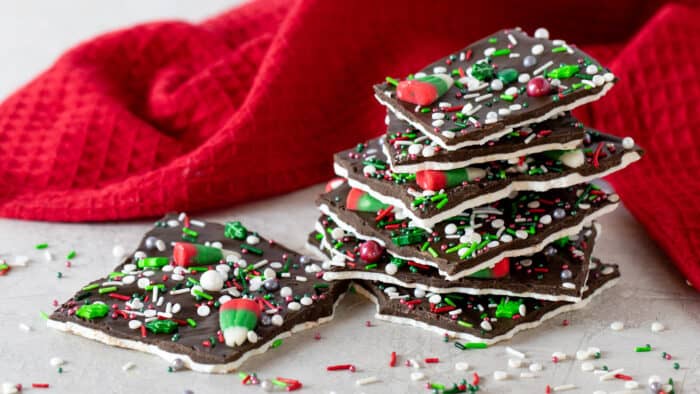 The holidays are a great time to make all kinds of different sweet treats. I love to bake a variety of cookies and squares to have available for the Christmas season. Along with the baking, I also make many different types of candy treats and this Christmas Chocolate Bark is always a hit with family and friends.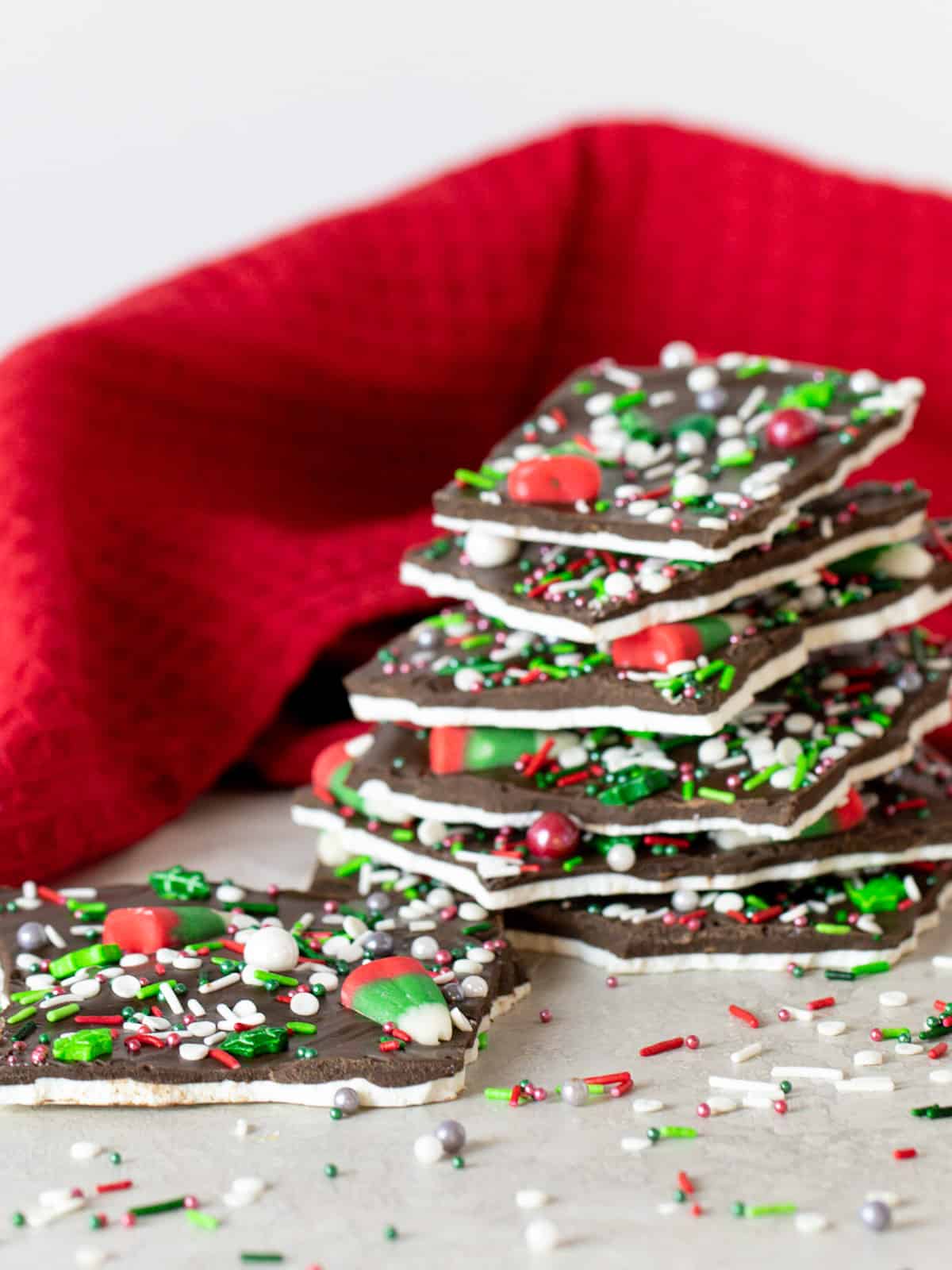 Here are some other great chocolate candy treat recipe ideas that are perfect for the Christmas holiday season.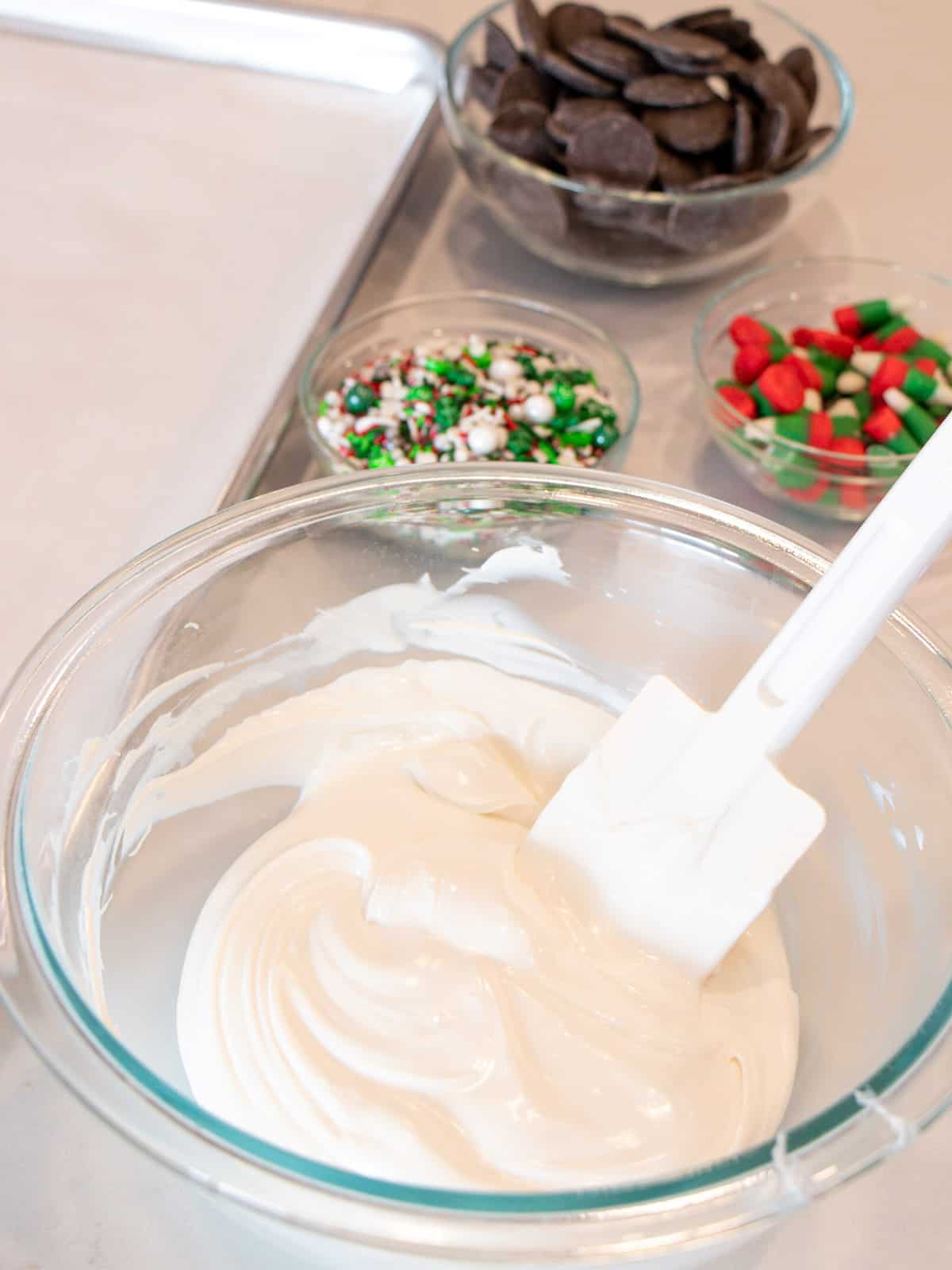 Melt the White Chocolate
I like to melt chocolate or candy melts in the microwave. It is simple and can be done in a glass microwave safe bowl. Use only 50% power so that the microwave delicately melts the chocolate at a lower heat.
This amount of white chocolate usually takes about 4 minutes at 50% power in the microwave. I like to stop it halfway through to stir it with a rubber spatula. If the chocolate is not yet fully melted after the 4 minutes, heat a little longer. Try a minute at a time, and stir with the rubber spatula, until fully melted and smooth.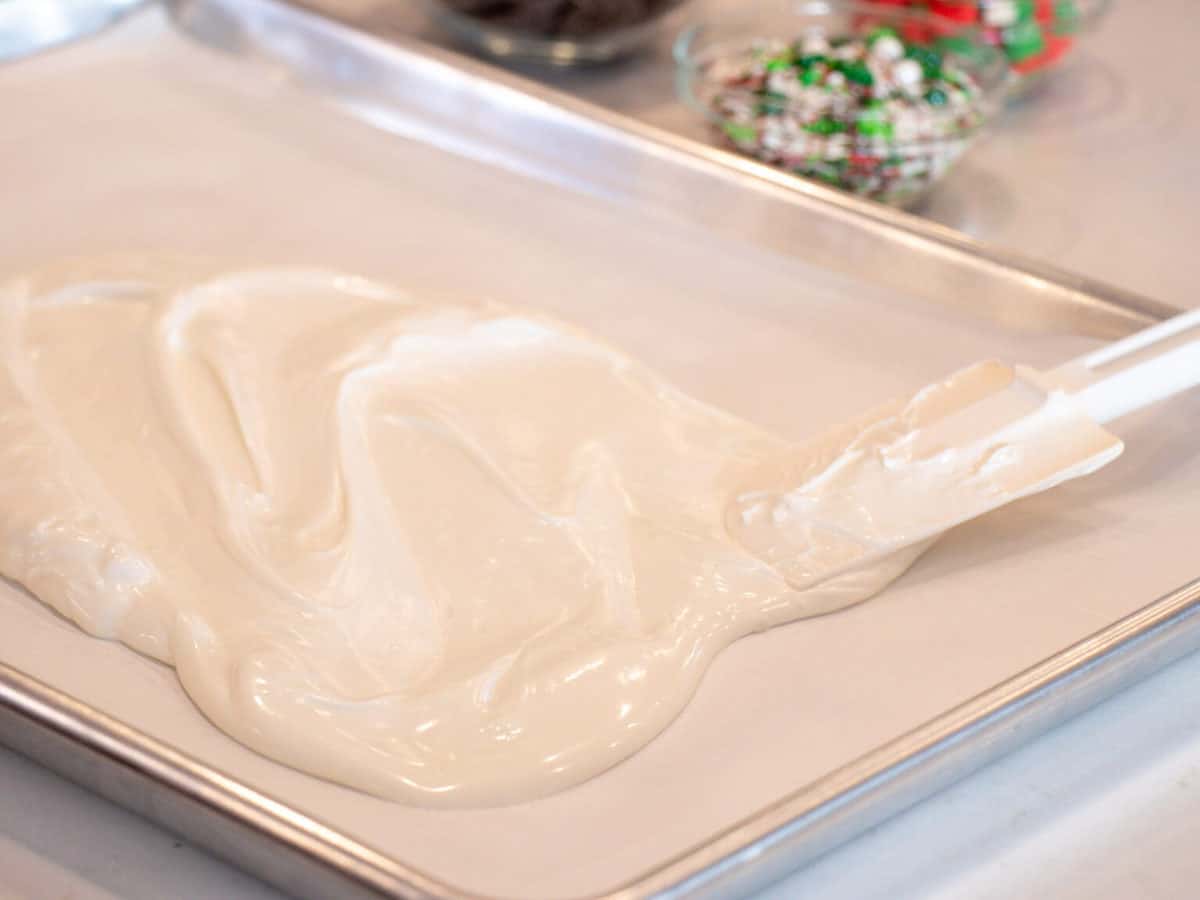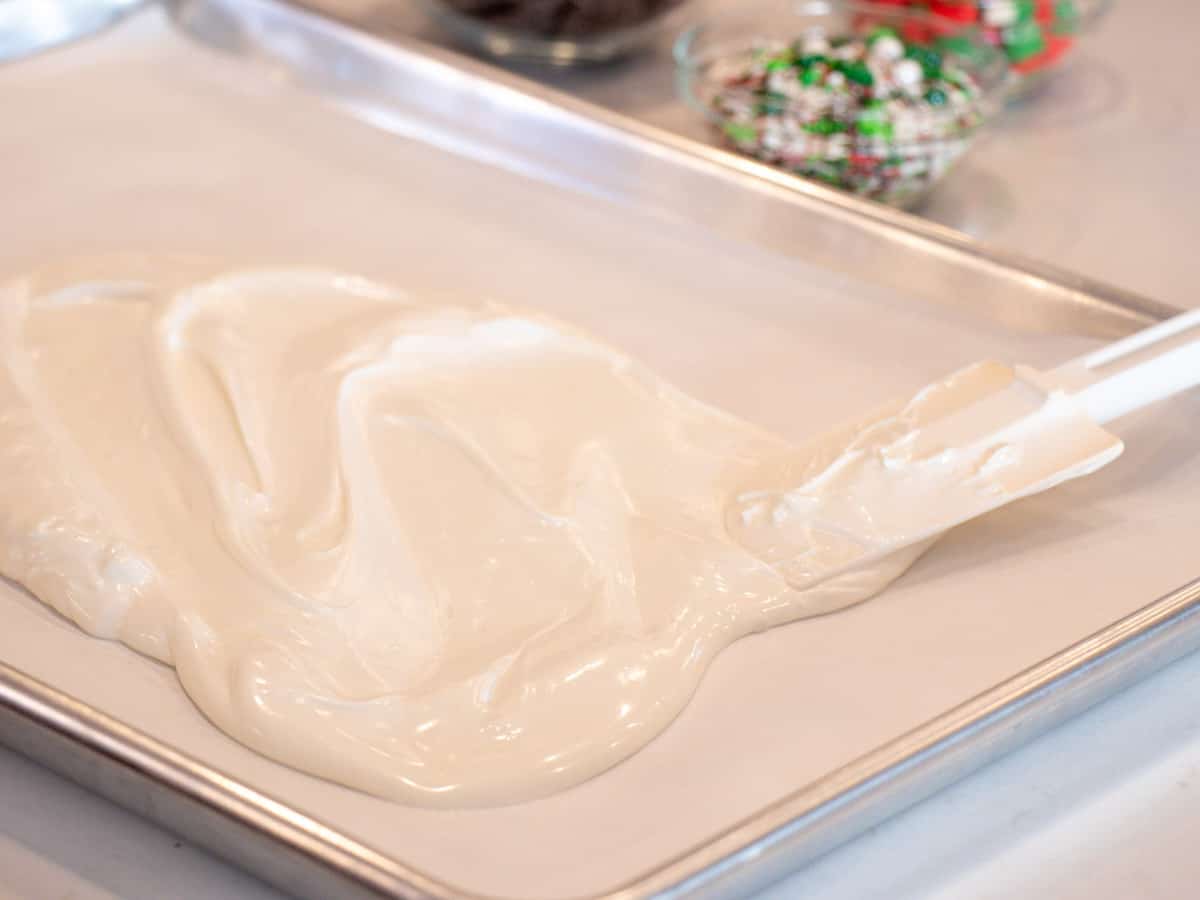 Spread on a Baking Sheet
Use the rubber spatula to evenly spread the melted white chocolate across a baking sheet that has been lined with parchment paper. Using some parchment paper is very helpful when breaking the chocolate bark, as it comes right off the paper nice and clean.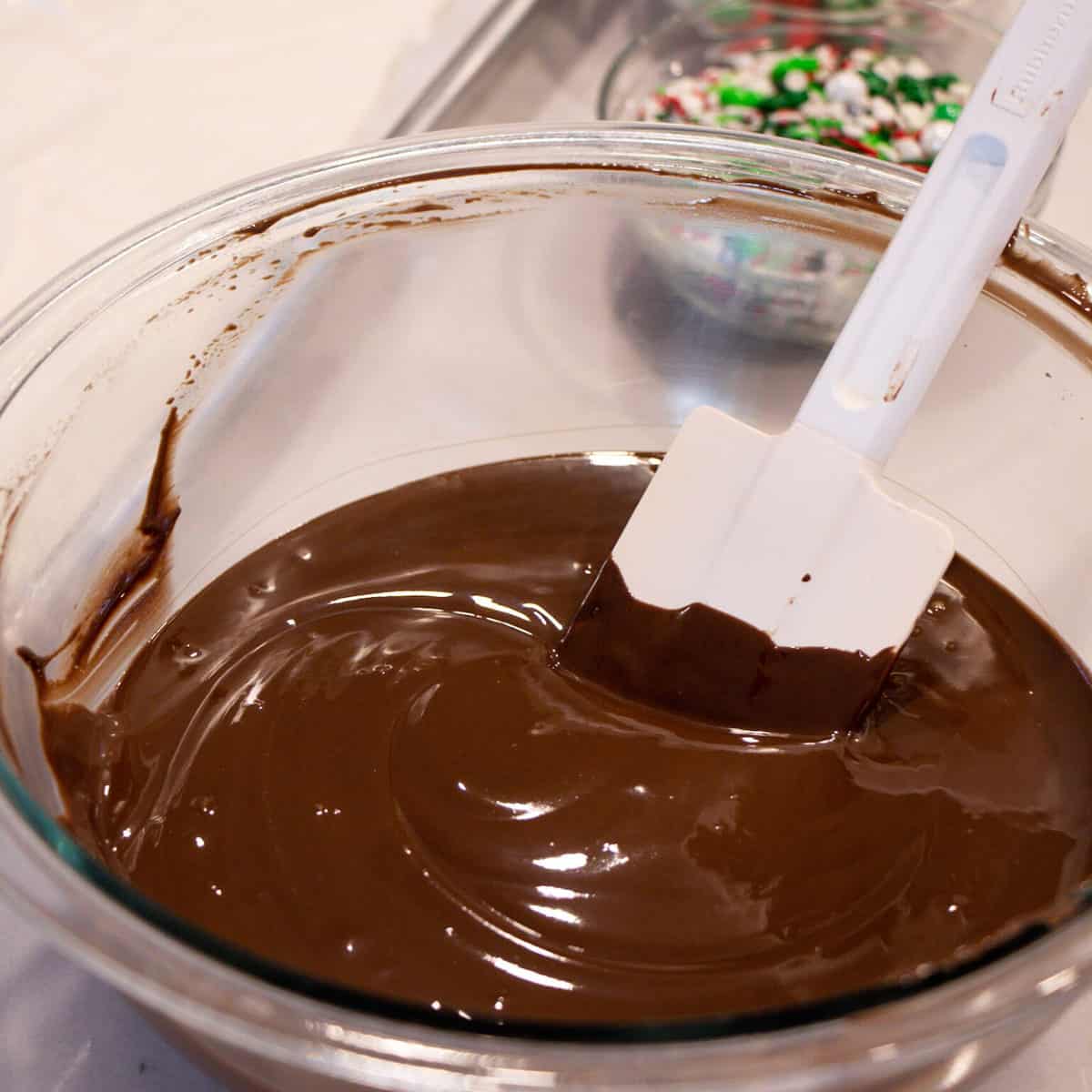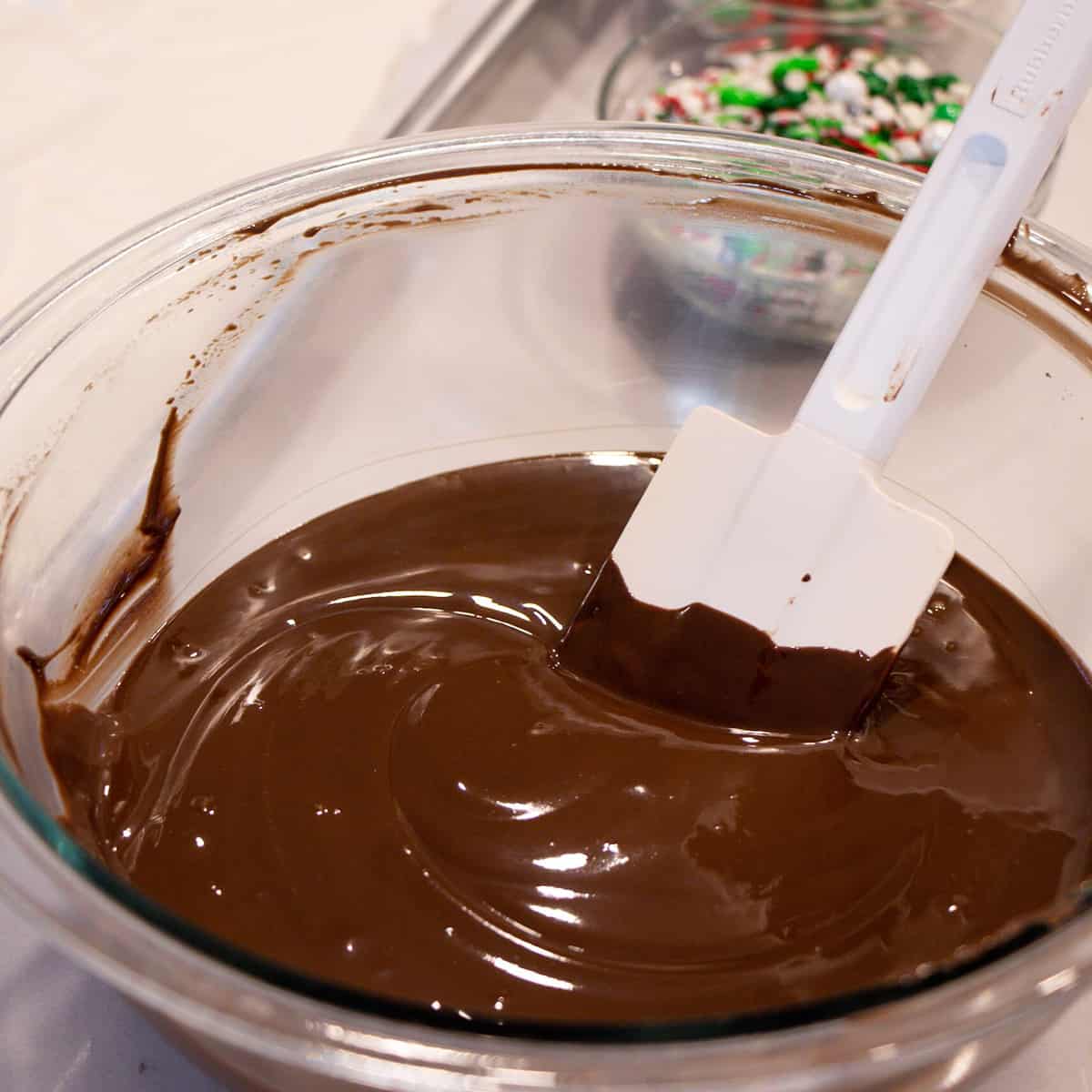 Prepare the Dark Chocolate the Same Way
Melt the dark chocolate in the microwave using the same method as used with the white chocolate. Make sure that it is smooth and fully melted.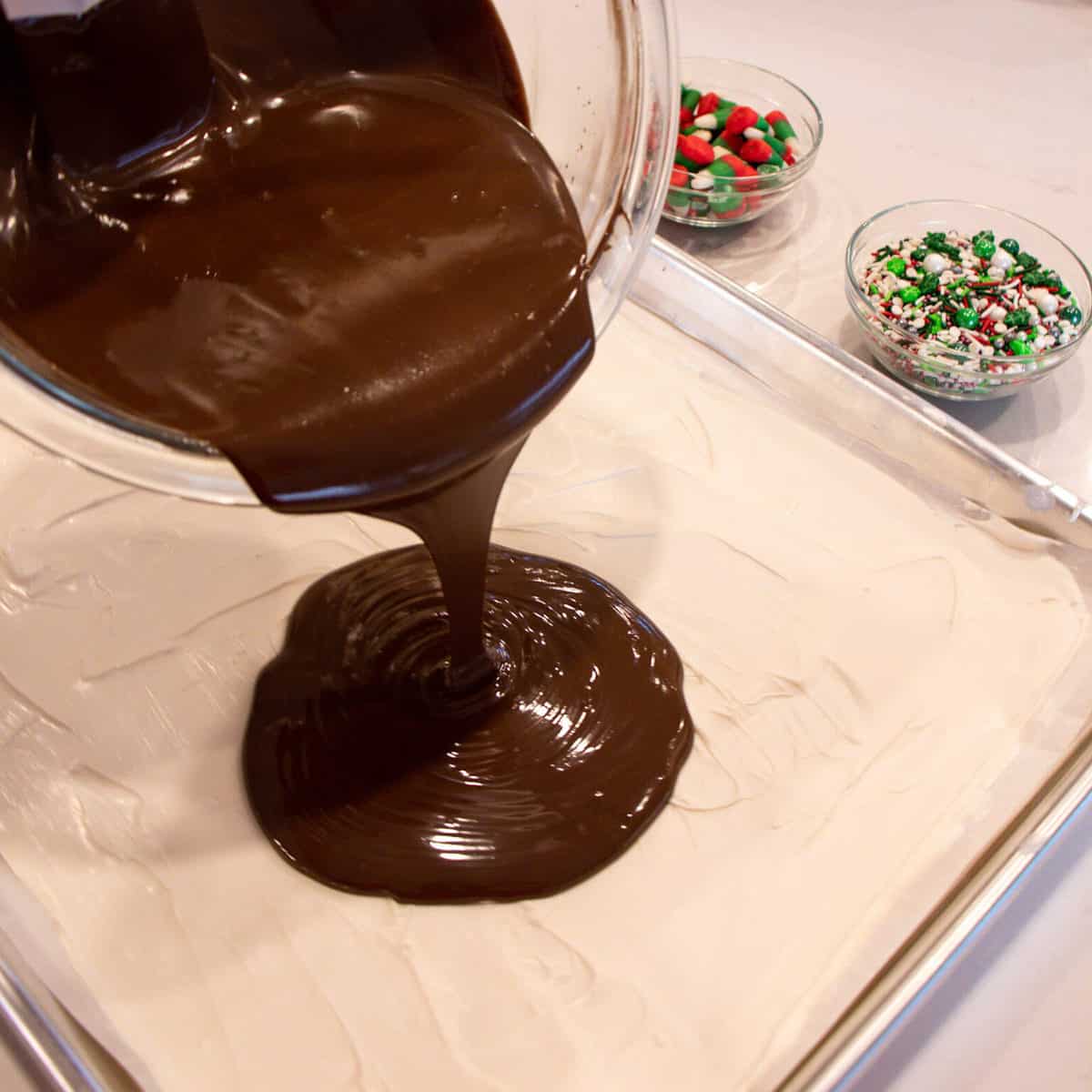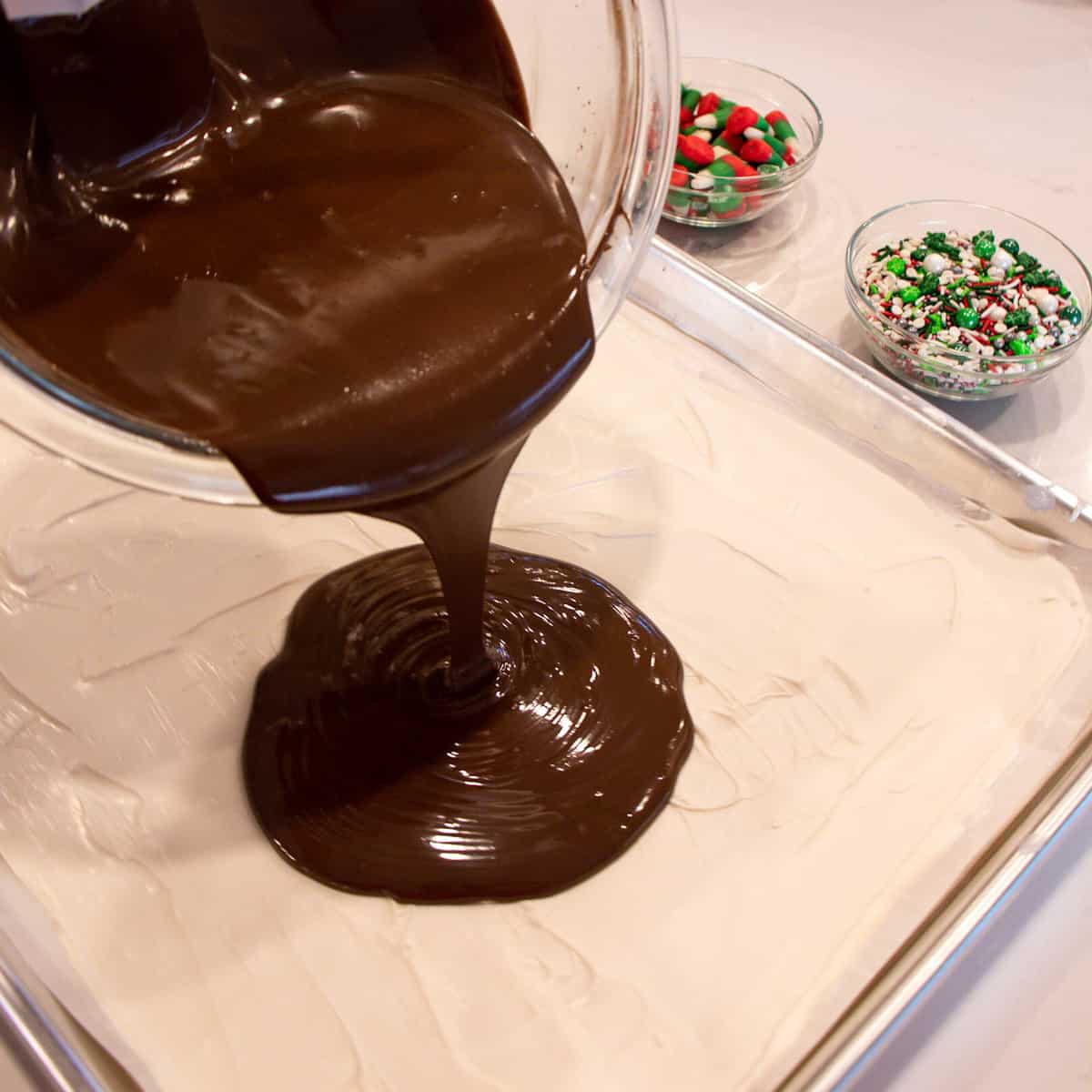 It is important that the white chocolate layer has fully hardened before pouring the dark chocolate on top. If it is still soft, they will mix together and not show two distinct layers.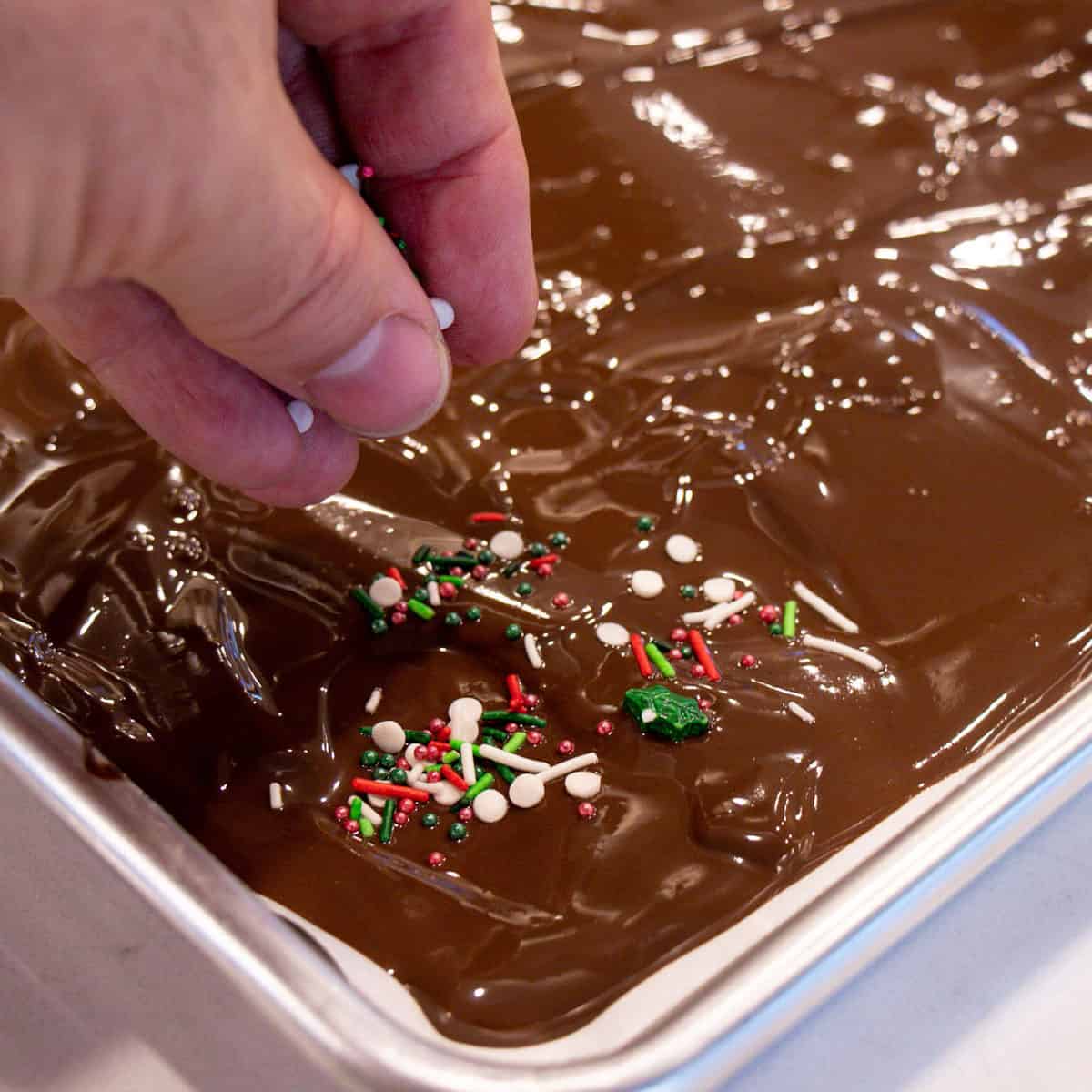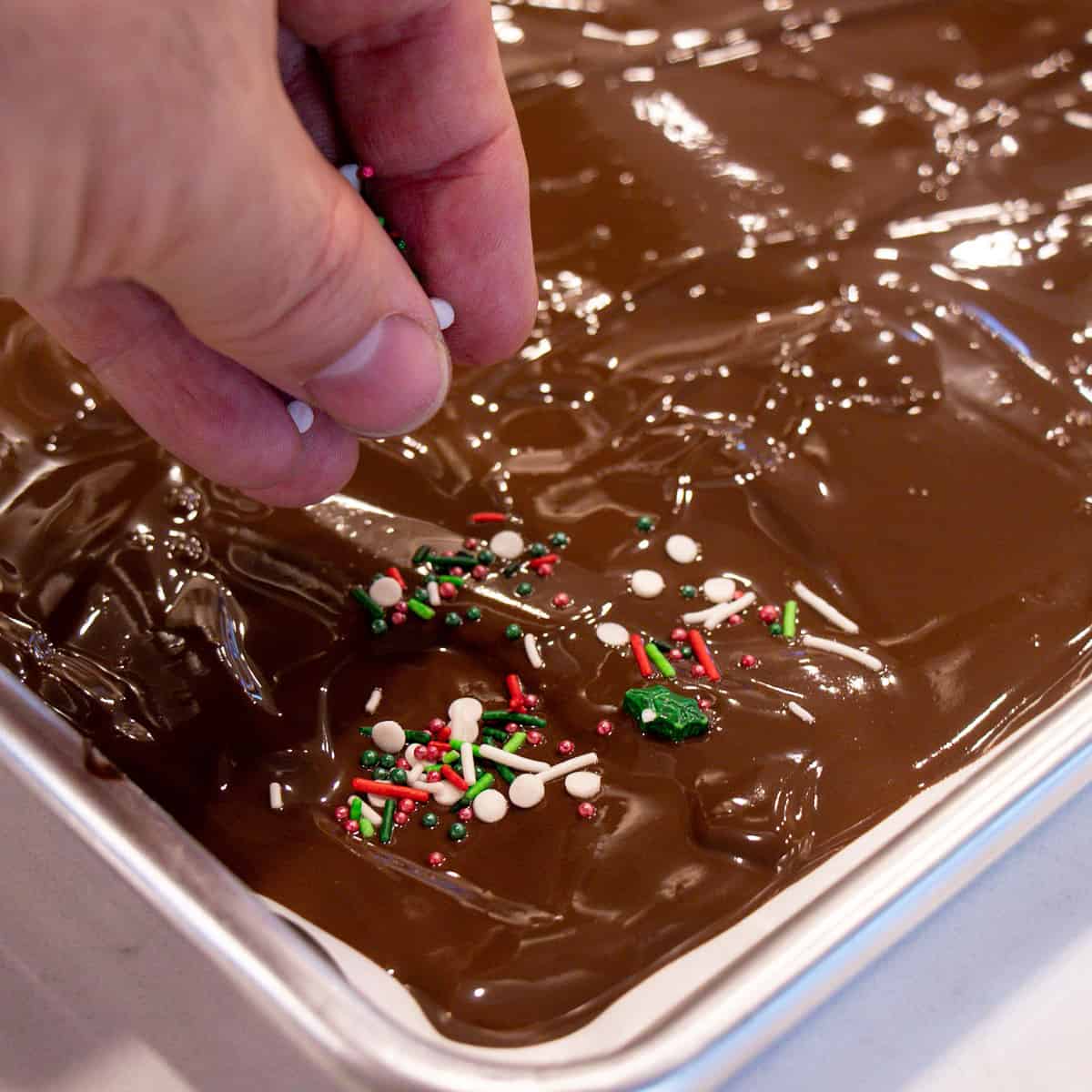 Top with Sprinkles and Reindeer Candy Corn
Evenly spread the Christmas sprinkles and candy corn all over the chocolate. Make sure that the dark chocolate is still melted so that the sprinkles will stick to the chocolate and not all fall off once it is broken into pieces of bark.
I like to use a mixture of different types of sprinkles. Having a variety of shapes that are green, red and white will really make this Christmas chocolate bark look incredible.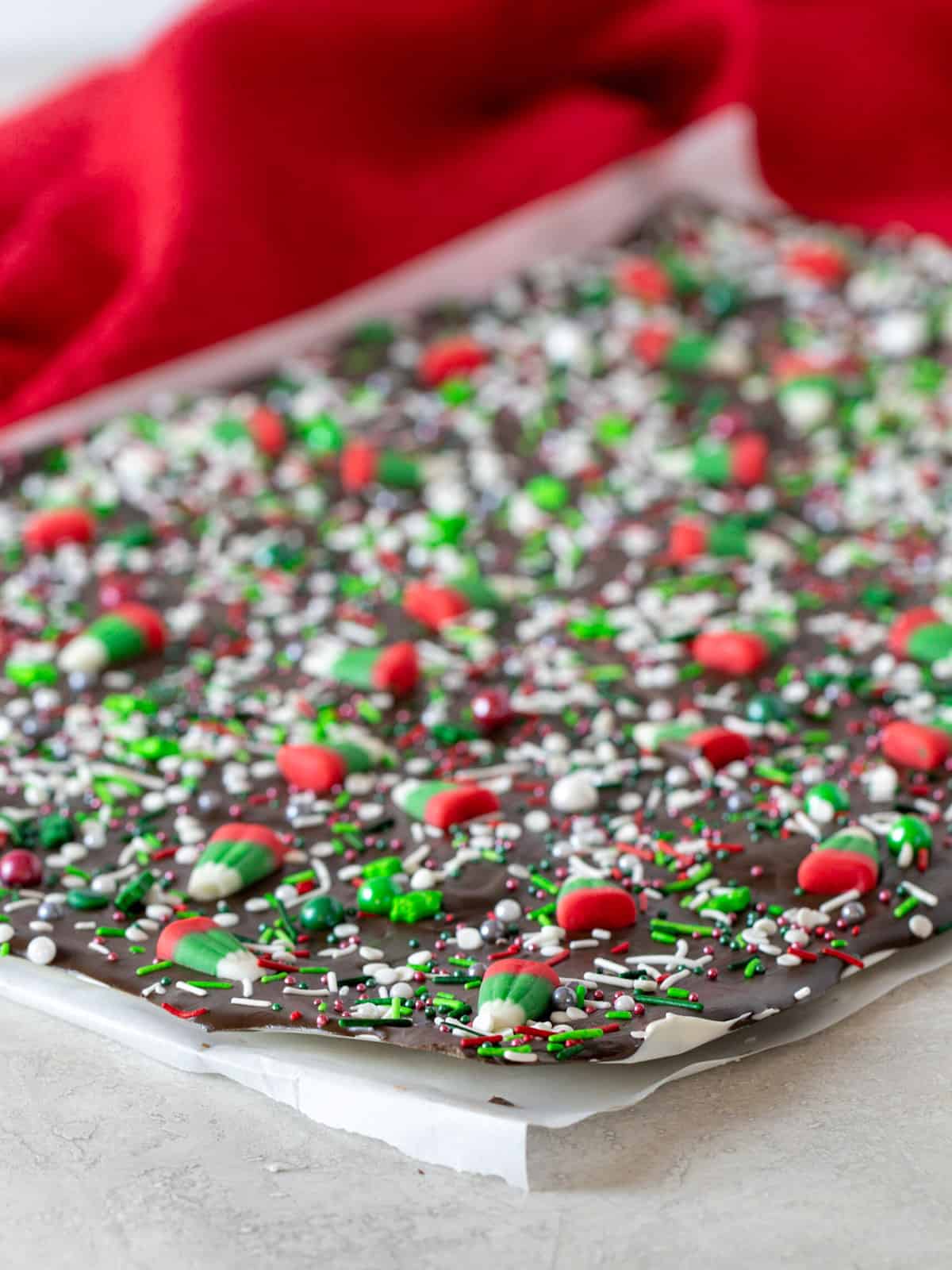 Wait for the chocolate to fully harden before breaking into chunks. Once the chocolate is solid, break them into pieces of bark. There is no need to worry about them being the same dimensions or size. Part of the charm of Christmas chocolate bark is that every piece is different.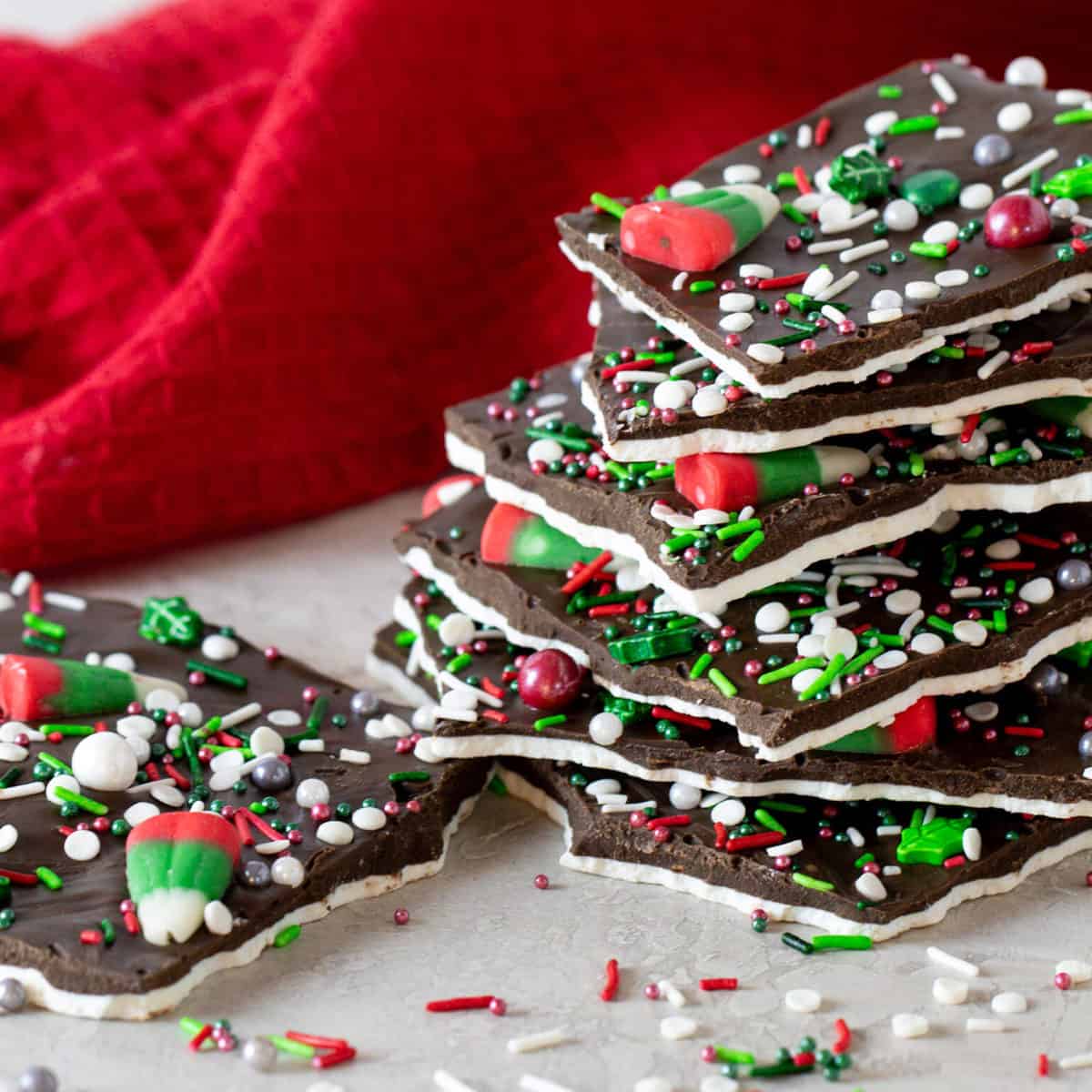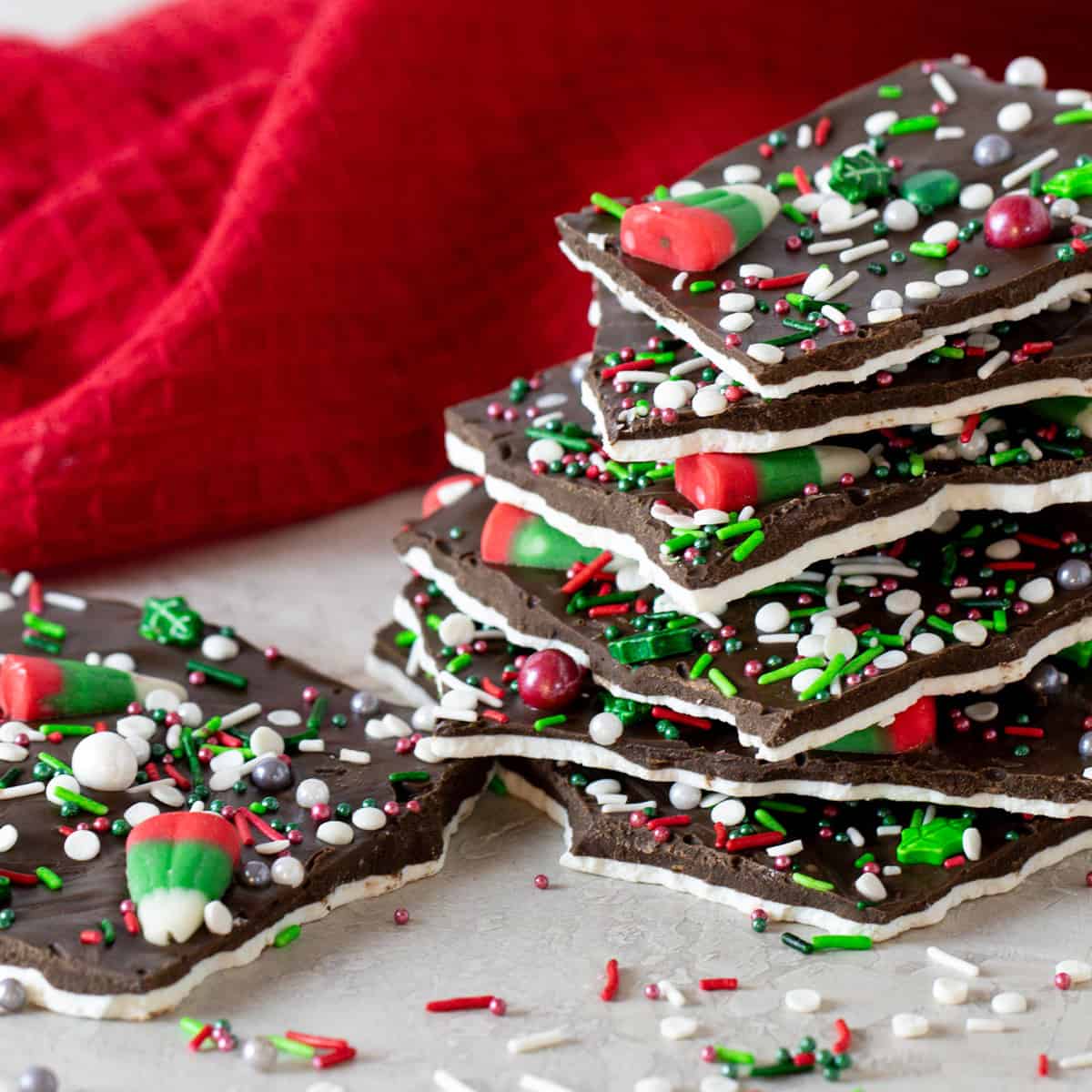 More Seasonal Chocolate Bark Ideas!
Christmas Candy Corn Chocolate Bark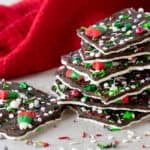 Print
Chocolate bark with a holiday Christmas theme. Sweet dessert treat made with chocolate candy melts, reindeer candy corn and sprinkles.
Servings: 20 pieces
Ingredients
2 cup white chocolate or candy melts
2 cups dark chocolate or candy melts or chips
1/2 cup reindeer candy corn
4 tbsp Christmas sprinkles
Instructions
Line a large baking sheet (17x12 or 18x13 inch) with parchment paper.

Place white candy melts in a large glass bowl. Microwave at 50% power for 4 minutes, stirring halfway through. If it is not completely melted, microwave a little longer.

Spread the melted white chocolate on the parchment paper that is on the baking sheet. Let the white chocolate harden.

Place dark chocolate melts in a large glass bowl. Microwave at 50% power for 4 minutes, stirring halfway through. If the chocolate is not completely melted, microwave a little longer.

Use a rubber spatula to spread the melted dark chocolate on top of the white chocolate.

Evenly spread the reindeer candy corn and sprinkles across the melted chocolate.

Place in the fridge to chill and harden. Break into chunks.
Nutrition
Per serving:
Calories: 193kcalCarbohydrates: 24gProtein: 2gFat: 10gSaturated Fat: 8gCholesterol: 3mgSodium: 43mgFiber: 1gSugar: 19g