Rosemary Cranberry Shortbread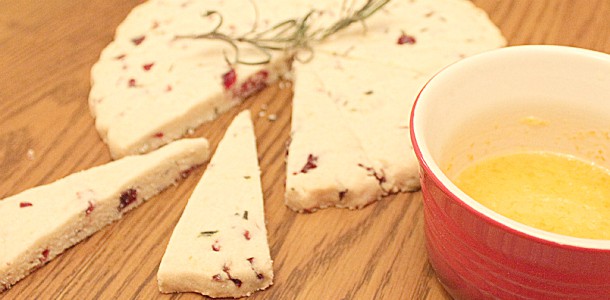 Today's post is one that may seem unusual. Last night I was looking through the 2006 Christmas Cookies magazine from Better Homes and Gardens and I came across the section on savoury cookies. I wanted to post a cookie that was different from all the others that have been posted on the 24 Days of Christmas Baking.
I found this recipe for a shortbread with rosemary and dried cranberries. It has very little sugar and once baked it is brushed with an orange glaze. I immediately knew I wanted to give this a try. As I was mixing the ingredients, Janna said to me "do I smell rosemary?" Knowing that I was baking a cookie, she was quite perplexed.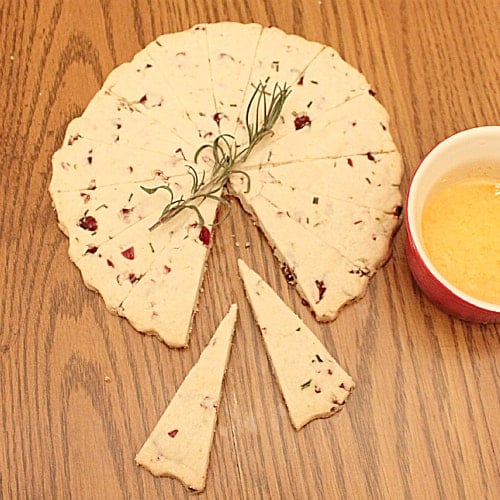 After the shortbread came out of the oven and we tried it, we acknowledged that this is not your typical dessert cookie. The magazine recommends this be an appetizer and that it goes well alongside a fruity red wine such as Pinot Noir or Shiraz. This shortbread would be great with some nice cheese. We really enjoyed it and I don't think this cookie is going to make it to Christmas!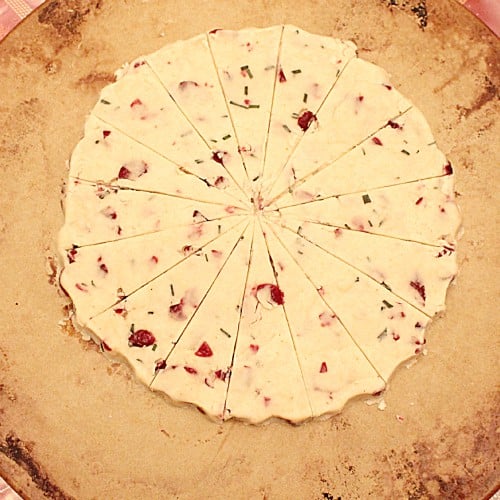 The recipe calls for baking it on a cookie sheet but I used my baking pizza stone. I find the stoneware is perfect for shortbread cookies. Since it was on the stone, I added a little extra time in the oven. Yummers! I will definitely make this savoury shortbread again!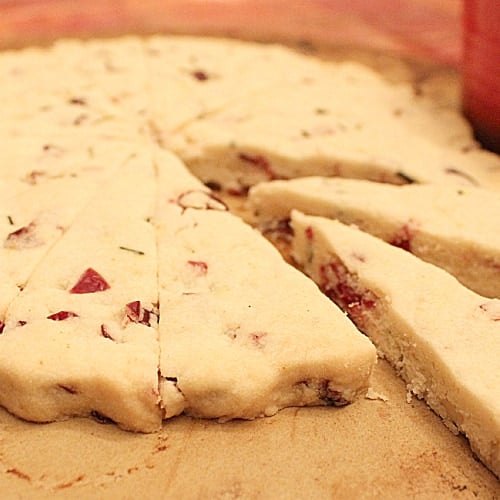 Press the dough on a cookie sheet or baking stone into an 8 inch circle. Scallop the edges and cut it into 16 wedges. Bake it for 25-30 minutes at 325F.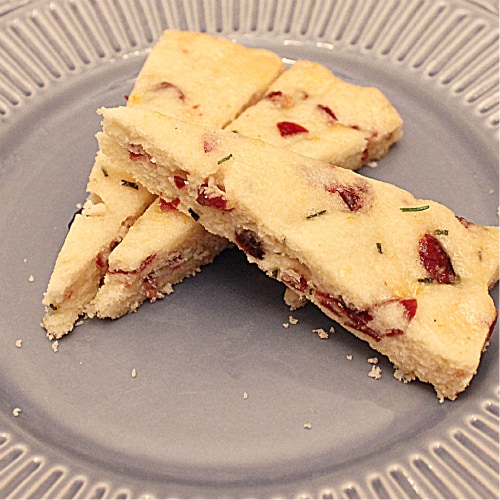 Rosemary Cranberry Shortbread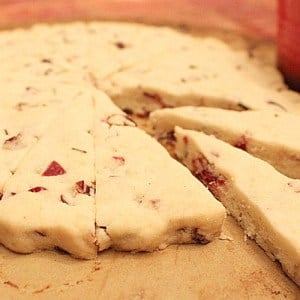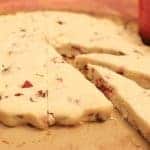 Print
A savoury shortbread recipe that is perfect as an appetizer. Rosemary, and dried cranberries are baked into the shortbread which is then brushed with an orange glaze.
Servings: 16 cookies
Ingredients
1 1/4 cup flour
3 tbsp sugar
2 tsp fresh rosemary minced
1/8 tsp cayenne pepper
1/2 cup butter
1/4 cup dried cranberries minced
1/3 cup icing sugar
2-4 tsp orange juice
Instructions
In a large bowl, mix the flour, sugar, rosemary, cranberries and cayenne. Using two knives, a fork or a pastry cutter, mix the butter into the dry ingredients. This cookie dough should be quite crumbly.

On an ungreased cookie sheet or round baking stone, press the dough together and form a circle that is about 8 inches in diameter.

Bake the shortbread in a 325F oven for 25-30 minutes. You should notice that the shortbread is just beginning to brown on the outer edges.

Cut the shortbread into the 16 wedges and let cool.

Stir together the icing sugar and orange juice to form a glaze. Brush the glaze on the shortbread.