Oven Baked BBQ Baby Back Ribs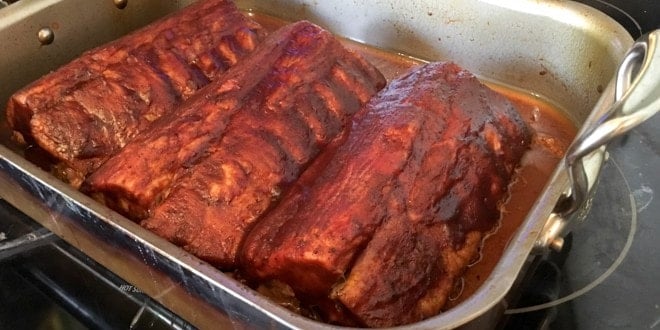 I was all prepared for this Mother's Day. I bought some really nice baby back ribs and planned to smoke them low and slow for the afternoon to make a nice meal for my wife. Problem is that it rained for the full afternoon so the smoker could not happen. Therefore, I had to go to plan B and bake the ribs in the oven. The day turned out very nice and it was a pleasant mellow afternoon with the kids hanging out with mom watching one of her favourite shows, Little House on the Prairie.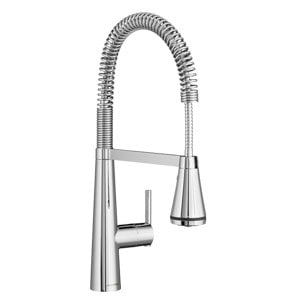 I love to cook for my family, as it is a way that I show them I love them. Cooking a big meal for Mother's Day is a way to show my wife that I appreciate her and that I think she is an awesome mom for our kids, which she is! Anytime I make a big meal, I know what is going to happen. Sure, it will taste delicious, but there is always lots to clean up. It is good to know that American Standard has some excellent Edgewater SelectFlo Kitchen Faucets that can help clean up the mess. This new line of faucets are sleek and luxurious with a 5-function SelectFlo spray head; these faucets are the ideal cooking partner, offering the best user experience.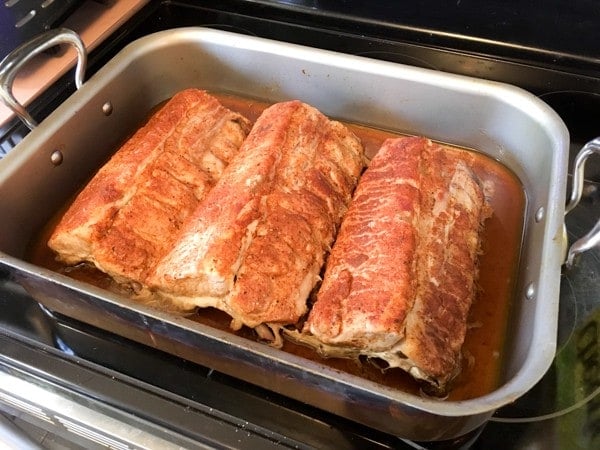 Cooking ribs in the oven is super simple. First, I line the racks up in a nice sized roaster. I rubbed both sides of the ribs with brown sugar and then coated them with the rib seasoning rub that I mixed together. I poured some apple juice and soy sauce in the bottom of the roaster and covered it in foil. I baked the ribs in a 325F oven for about 3 hours.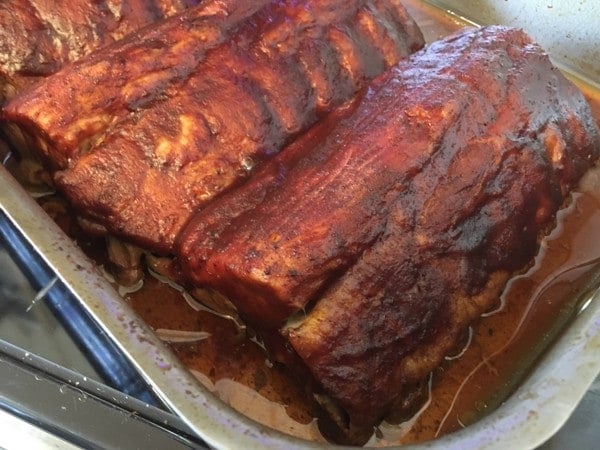 After 3 hours, the ribs are super tender. Remove the foil, brush the ribs with BBQ sauce, and put them back in the oven. I let them bake for another 45 minutes, brushing more BBQ sauce on the ribs every 15 minutes.
Oven Baked BBQ Baby Back Ribs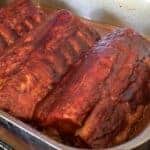 Print
This recipe is based on 1 rack of ribs, To prepare more ribs, simply multiply the ingredients for the number of racks of ribs you will be baking. I made 3 racks so multiplying all the ingredients by 3 gave me enough of
Ingredients
1 rack baby back ribs
1/4 cup brown sugar
2 tsp paprika
1 tsp garlic powder
1/2 tsp ground black pepper
1/4 tsp cayenne pepper
1/4 tsp cinnamon
1 tsp salt
2 tbsp soy sauce
apple juice (enough to fill the bottom of the roaster about 1/2 inch)
1/2 cup BBQ sauce
Instructions
Preheat oven to 325F

Place the ribs in a roasting pan and rub all over with brown sugar.

Make the rib seasoning by mixing together the paprika, garlic powder, black pepper, cayenne, cinnamon and salt. Sprinkle all over the ribs.

Pour the soy sauce and apple juice at the bottom of the roaster. There should be enough juice to measure about 1/2 inch from the bottom of the roaster.

Cover the roaster with foil and place in the oven. Bake for 3 hours.

Remove the foil and brush the ribs with BBQ sauce. Cook, uncovered, for 45 minutes, brushing more sauce every 15 minutes.

Serve and enjoy!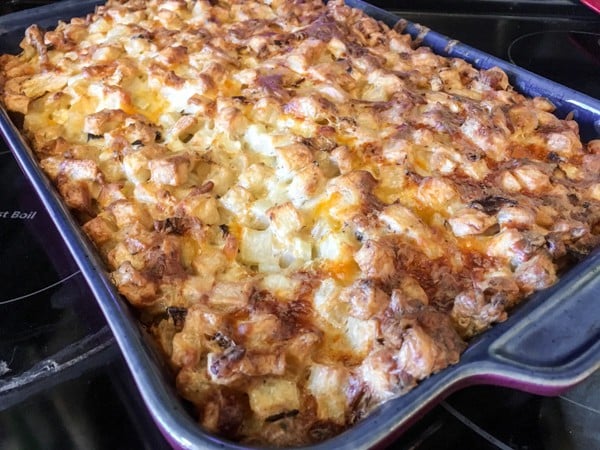 To go along with the ribs, I made some classic old school Hash Brown Casserole.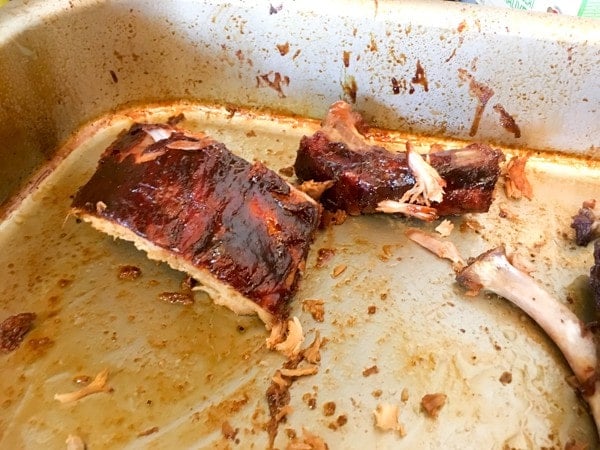 The ribs were lip smacking delicious and it turned out to be an excellent Mother's Day dinner. The problem with big meals is that there is a lot to clean up. The roaster, for example, was dirty on the bottom and up its sides.


This new faucet by American Standard is sweet because it has all sorts of settings to adjust the type of water flow. The jet stream is ideal for deep cleaning dirty pots and dishes like my roaster.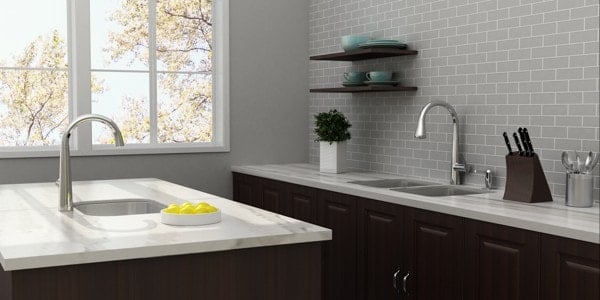 Disclaimer – This post is sponsored by American Standard. While I received compensation for this post, all the thoughts are my own.