Oven Baked Drunken Side Ribs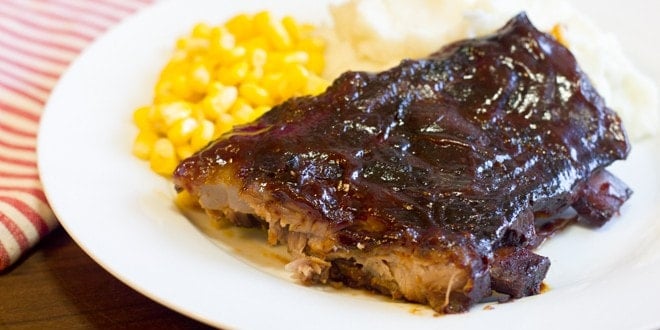 I absolutely love ribs and while I usually prepare them in my smoker or grill, there are times that I cook them in the oven. It's funny, cause each time I do make ribs in the oven, I am surprised at both how simple it is and how the ribs are super tasty. Baking ribs in the oven over a lower heat for a few hours breaks down the connective tissues and results in a super moist and tender rib.
By baking the ribs in a marinade/sauce, it helps to tenderize the meat and give a rich flavour throughout the rib. This time I added a bottle of beer to the marinade. Any type of beer would work fine, so use whatever you have in stock. Once they have baked in the oven for a few hours, brush them with some bbq sauce and place them under the broiler for 5-10 minutes. These are as tasty as any ribs I have had!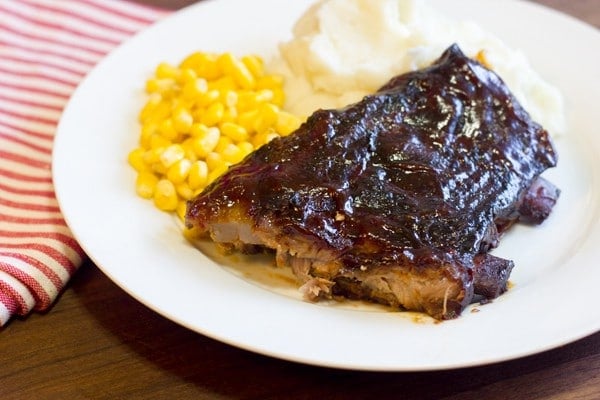 Oven Baked Drunken Side Ribs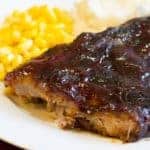 Print
Simple to make and slow roasted in a sweet beer based marinade, these ribs are super tender and very saucy! This recipe uses side ribs, but back ribs will also work great!
Servings: 4 people
Ingredients
2 racks pork side ribs
1 bottle of your favourite beer
1/4 cup soy sauce
1 tbsp Worcestershire sauce
1 cup brown sugar
1 tbsp salt
1 tbsp paprika
2 tsp ground black pepper
1/2 tsp cayenne pepper
1 tsp oregano
1 onion , peeled and thinly sliced
4 garlic cloves , crushed
3 cups bbq sauce
Instructions
Preheat the oven to 325.

In a large bowl make the marinade sauce by mixing together the beer, soy sauce, Worcestershire sauce, brown sugar, salt, paprika, black pepper, cayenne pepper, oregano, sliced onion, crushed garlic and 1 1/2 cups of the bbq sauce. Mix until brown sugar is mostly dissolved.

Peel the membrane off the back of the ribs. Cut the racks of ribs in half. Place in a large roasting pan and pour the sauce over the ribs. Place the cover on the roaster and bake in the oven for 3 hours.

Take ribs out of the oven and set oven temperature to broil/grill. Carefully move the ribs to a broiling pan (they can fall apart fairly easily). Brush the ribs with the remaining bbq sauce. Put the ribs in the oven and broil them for about 10 minutes. Enjoy!