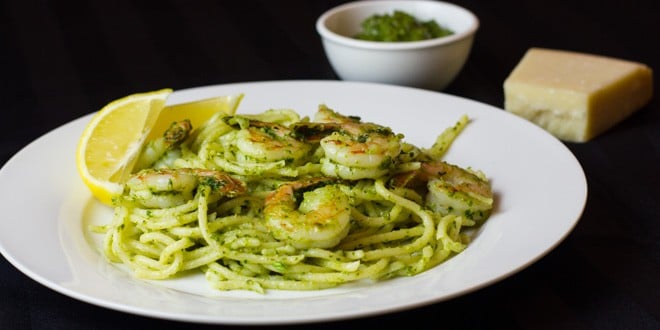 During the week, we have so many different events on the schedule both before and after dinner, that usually the dinner meal is thrown together quickly, so that we can get ready to go to dance classes, football practice, piano/drums lessons and many more things.
I love pesto as it is a great way to flavour up some pasta, awesome on pizza, great to coat meat and so much more. I either use a jar of store-bought pesto, or I make my own (recipe and instructions for making pesto can be found here – How to Make Your Own Pesto).
This recipe is super simple to make and the longest aspect of preparing this dish is boiling the pasta. The shrimp in pesto sauce is prepared and ready in mere minutes. Then toss it with the noodles and it is ready to serve.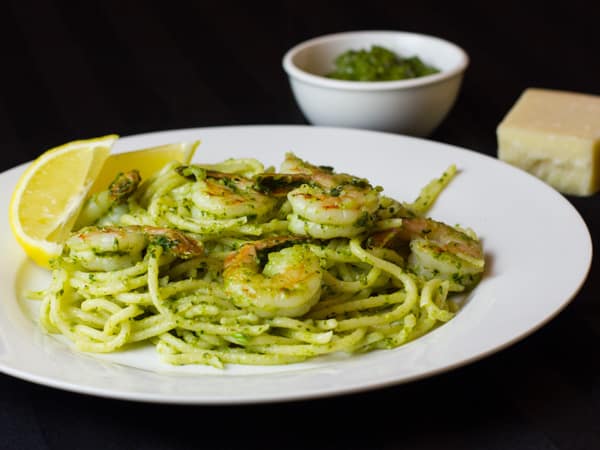 Pesto Shrimp Pasta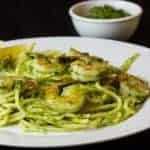 Print
Ingredients
1 pound fresh shrimp , peeled and deveined
3 tablespoons olive oil
1/2 cup pesto
1/3 cup parmesan cheese , grated
1/2 lemon , juiced
1 500 g spagetti noodles , cooked according to directions on package
Instructions
Heat frypan to medium temperature and add the oil.

Place the shrimp in the frypan and let them cook for 2-3 minutes. Flip them over and let them cook 2 minutes more.

Remove the pan from the heat and add the pesto, parmesan cheese and lemon juice.

Toss to coat all the shrimp.

Mix the pesto shrimp with the cooked pasta until coated.

Serve immediately.