Smoked Shrimp and Pesto Linguine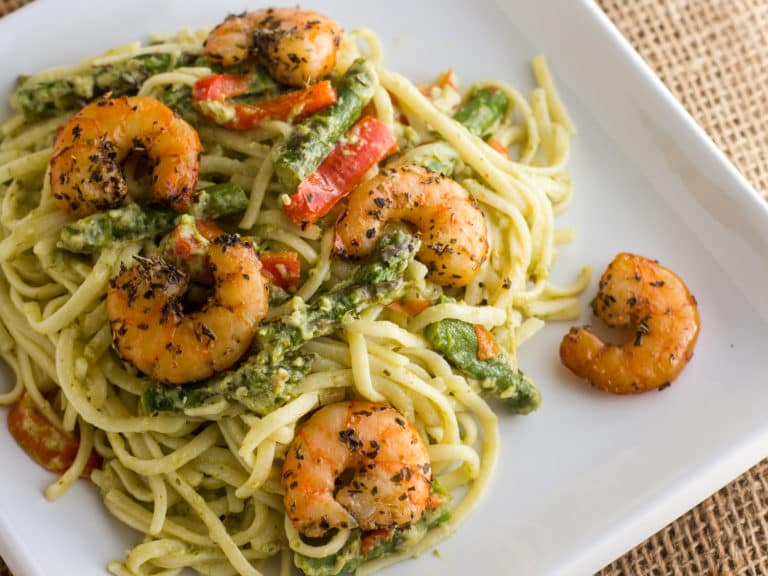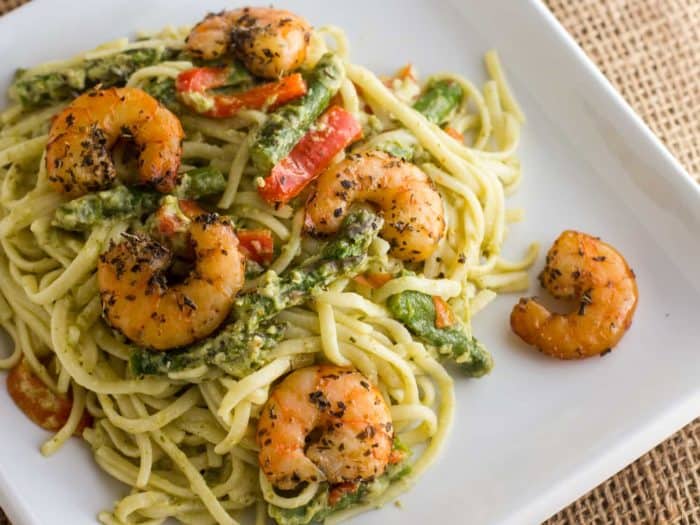 Pesto linguine is one of my favourite pasta dishes. This is one of those super quick meals to make and I tend to prepare them during the week when I do not have lots of time. Cook the pasta, sauté the vegetables and stir them in some pesto – that's it!
I usually toss some cubes of cooked chicken breast in with this pasta, but this time I decided I wanted to use shrimp. It wasn't just any shrimp though. This shrimp was smoked and it added such an excellent flavour to the pasta.
To go along with the smoked shrimp and pesto linguine I tossed in some sautéed asparagus and red peppers. This is one complete meal that you are sure to love. I have made it a bunch and enjoy it every time!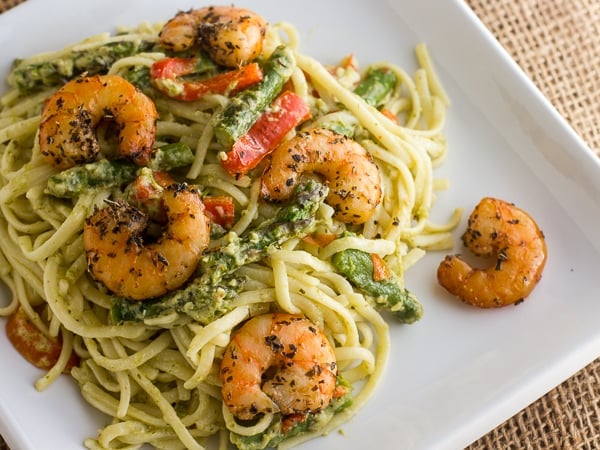 Most of the time when I use pesto, I purchase it pre-made and in a jar. Store bought pesto is perfectly fine to use and there are a few brands that I quite like.
Now, while I don't mind store bought pesto, there is no comparison to making your own at home. Homemade pesto is incredible because the fresh ingredients provide such a bright and rich flavour.
Check out my recipe post for making your own homemade pesto – How to Make Pesto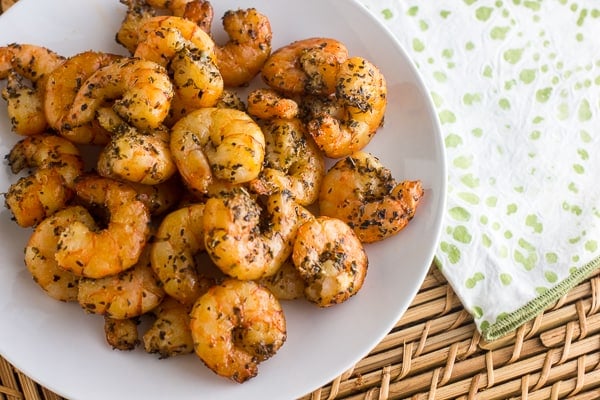 If you have never smoked shrimp before, do not worry because it is not difficult to do at all.
Here is a link to my post with full instructions for smoking shrimp – How to Smoke Shrimp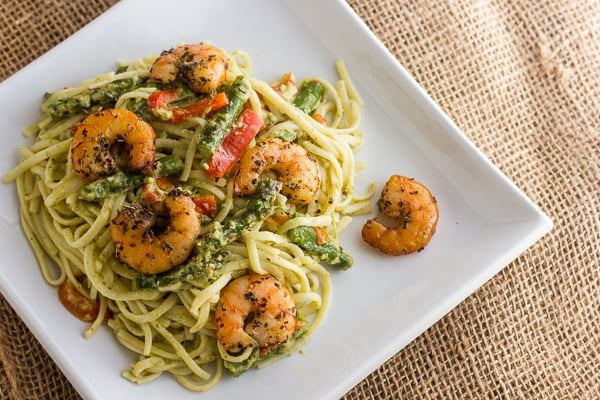 Smoked Shrimp and Pesto Linguine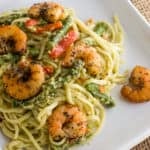 Print
Pesto linguine with smoked shrimp and sautéed asparagus and red peppers. Light and healthy pasta that is super easy to make!
Servings: 4
Ingredients
1 pound fresh shrimp peeled and deveined
3 tbsp oil divided
1 tbsp dried oregano
1 tsp garlic powder
1 tsp salt
1 red pepper cored and diced
1 bunch asparagus chopped into 4 smaller pieces
1/2 cup pesto
1/3 cup parmesan cheese grated
500 g linguini pasta cooked according to directions
Instructions
In a large bowl, toss the shrimp with 2 tbsp oil, oregano, garlic powder and salt. Place the shrimp on smoker racks.

Set the smoker to 225F using wood of choice (alder, apple and cherry are good choices).

Smoke the shrimp until they are cooked through and turn pink. This can take 30-45 minutes.

Add remaining tablespoon of oil to a skillet set to medium heat. Add red pepper and asparagus and cook, stirring often until the vegetables are cooked.

Stir in the pesto and parmesan and remove from heat.

Toss the cooked linguini pasta with the shrimp, red peppers and asparagus mixture.

Serve.