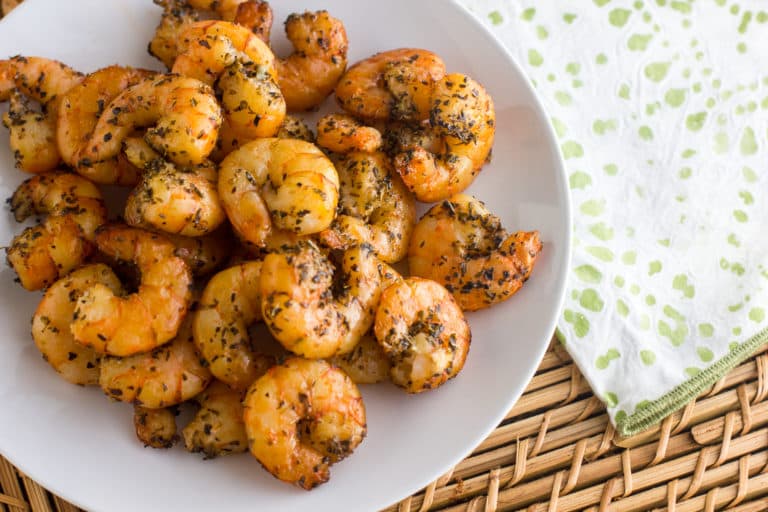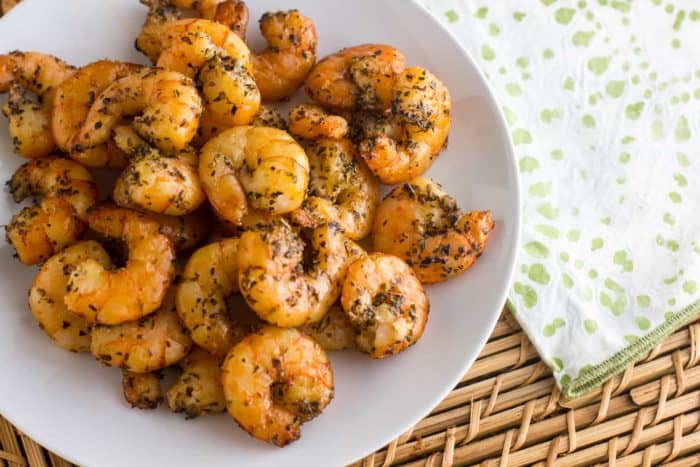 Smoked shrimp – oh yeah!
I had a smoker for a while before I ever smoked shrimp and that was my mistake. I had done ribs, chicken and salmon many times prior to smoking a tray of shrimp. But once I did smoke my first batch of shrimp, I have done it so many more times. This is a delicious way to cook shrimp and an excellent way to infuse a smokey flavour to so many different dishes that use shrimp.
Smoking shrimp is very simple to do and I find that any time I have an extra rack free in the smoker, I like to throw in a tray of shrimp for smoking.
It does not take long to smoke the shrimp, and I often use them for snacking while the other meats like ribs or chicken are still in the smoker for their longer smoke time.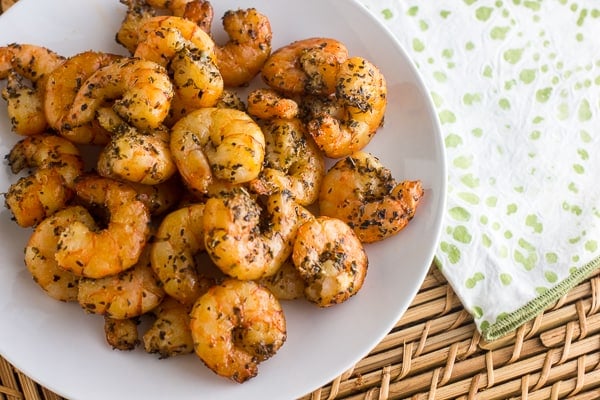 Smoking shrimp is easy and before you get started, you need to make sure that you peel the shrimp. Leaving the shell on the shrimp would limit how much of the smokey flavour is infused into the shrimp, so peeling is the best idea.
If desired, you can also devein the shrimp as well!
Once peeled, you can toss the shrimp in any marinade, seasoning or sauce prior to smoking. Below there is a recipe for an herb and garlic seasoning which gives the shrimp an excellent flavour and is perfect if adding the shrimp to a pasta dish.
I have also used cajun seasoning, chipotle seasoning and some asian marinades which all work really well for smoked shrimp.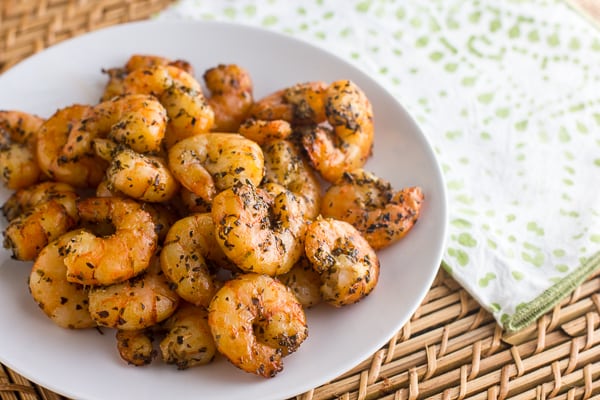 Start up the smoker and set it to a temperature of 225F.
Regarding your choice of wood to smoke, I find that milder woods are the best kind. I prefer to use alder or fruit woods for fish and they also work great for shrimp. If you want something a little stronger, you could also try hickory, pecan or maple wood.
Since shrimp are small and may fall through the smoker rack, you may need to line the rack with a sheet of aluminum foil. Poke some small holes in the foil which allows the smoke flow.
Place the shrimp on the aluminum foil and smoke until they are cooked through. I typically find that 30-45 minutes is plenty of time for the shrimp to cook through. You want to be careful not to overcook the shrimp as it can dry out and make the shrimp tough.
Once the shrimp is cooked through, they are ready to serve. These are great served hot and even tasty chilled as well!
Smoked shrimp is outstanding on its own and I have many times served smoked shrimp with a dip and they are great as an appetizer.
You can also throw some smoked shrimp in other dishes to add a nice smokey BBQ flavour. Pretty much any dish that calls for cooked shrimp is a great way to use the smoked shrimp. Here are some ideas you can try!
Add them to some pasta like in the picture above
Top a nice fresh salad with some smoked shrimp
Make some quesadillas and use smoked shrimp in the soft tortilla shells
Throw some smoked shrimp in jambalaya or other rice dishes
How to Smoke Shrimp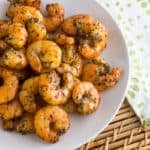 Print
Smoked shrimp is rich and delicious. Simple to make with these easy instructions. Make in an electric smoker, or pellet, big green egg or other smoker.
Servings: 4
Ingredients
1 pound fresh shrimp , peeled
2 tbsp oil
1 tbsp dried oregano
1 tbsp dried basil
1 tsp garlic powder
1 tsp salt
Instructions
In a large bowl, toss the shrimp with oil, oregano, basil, garlic powder and salt. Place the shrimp on smoker racks. You may need to line the smoker rack with aluminum foil to prevent the shrimp from falling through the rack.

Set the smoker to 225F using wood of choice (apple, alder, cherry woods are all excellent choices).

Smoke the shrimp until they turn pink. This can take 30-45 minutes.

Serve right away.
Nutrition
Per serving:
Calories: 183.4kcalCarbohydrates: 1.89gProtein: 23.62gFat: 8.64gSaturated Fat: 0.77gCholesterol: 285.76mgSodium: 1463.99mgFiber: 0.98gSugar: 0.09g