Seafood Stuffed Smoked Portobello Mushrooms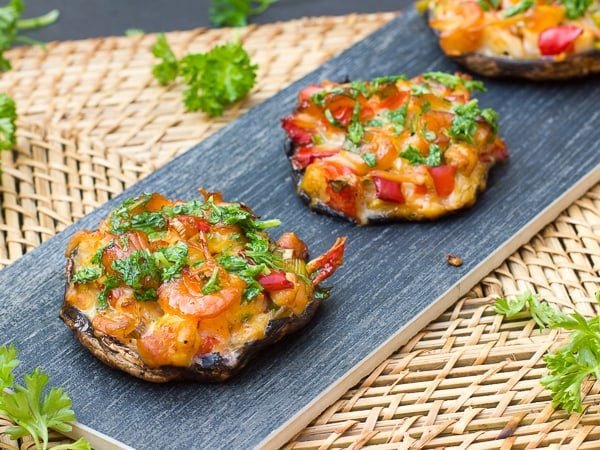 Portobello mushrooms are one of those versatile vegetables that allow you to use them in many unique ways. Rich in flavour and meaty in texture, portobellos are easily one of my favourite mushrooms.
I have used them in a number of past recipes as you can see here.
Larger than the standard mushroom, portobellos are ideal for using in place of a burger patty or a pizza crust.
For this recipe, I decided to make one seriously large and incredibly delicious stuffed mushroom cap.
And to make it even better – I smoked it!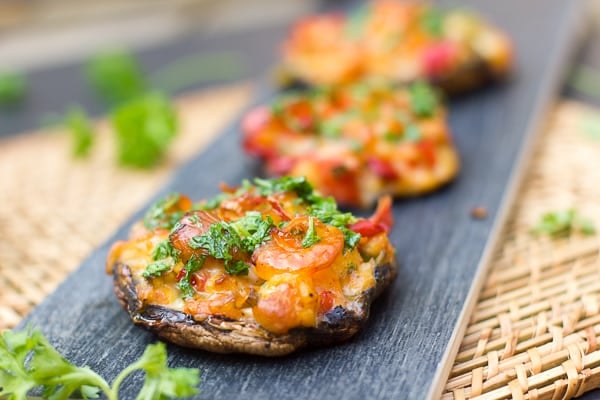 Since portobello mushrooms are larger than a button mushroom, I figured it would be able to hold a decent amount of stuffing. I wanted to use seafood in the stuffing, and figured, why not use three kinds of seafood!
Shrimp – I used smaller shrimp that was almost popcorn shrimp in size. You could use larger, but you would probably want to chop them into smaller pieces for the stuffing.
Crab – crumble up some fresh crab, canned crab or even imitation crab to add a buttery richness to the stuffing.
Scallops – my favourite seafood and an excellent addition. I used bay scallops because their small size is perfect for the stuffing.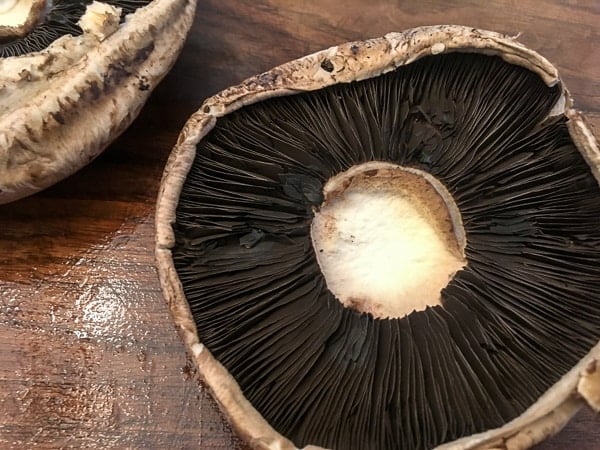 To get started you need to clean and prepare the portobello mushrooms. The first thing you need to do is snap the stem off the mushroom cap.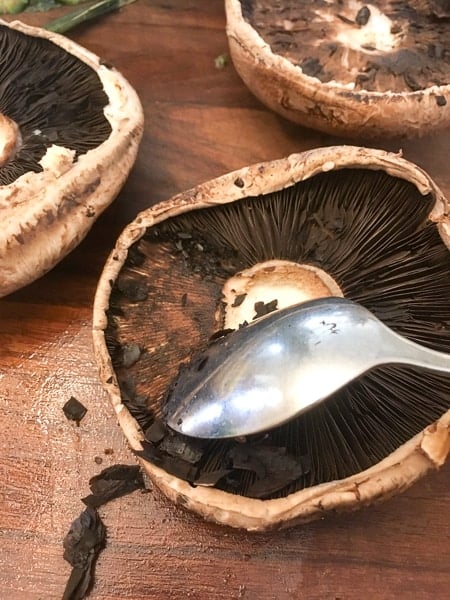 Underneath the portobello mushrooms is a thick layer of gills. While these are totally fine to eat, I prefer to remove them for these stuffed caps.
To do this, use a spoon and scrape the gills off the portobello cap.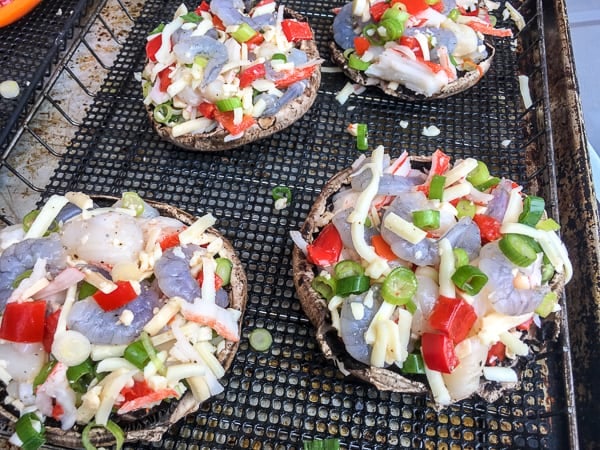 Make the stuffing according to the recipe and spoon a nice amount on top of each mushroom cap!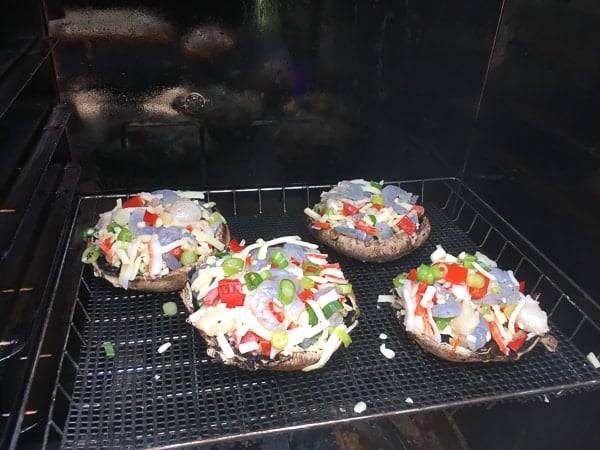 Get the smoker going and set to a temperature of 250F. For wood, I used apple, but any mild wood should be great for this recipe.
While I used an electric smoker, you could easily make these in a any other smoker, pellet grill/smoker or big green egg.
Place the stuffed mushroom caps on a smoker rack and put in the smoker.
Smoke for about 3 hours, or until the seafood in the stuffing is all cooked through. The mushrooms should be soft and tender and the stuffing turning a beautiful golden brown.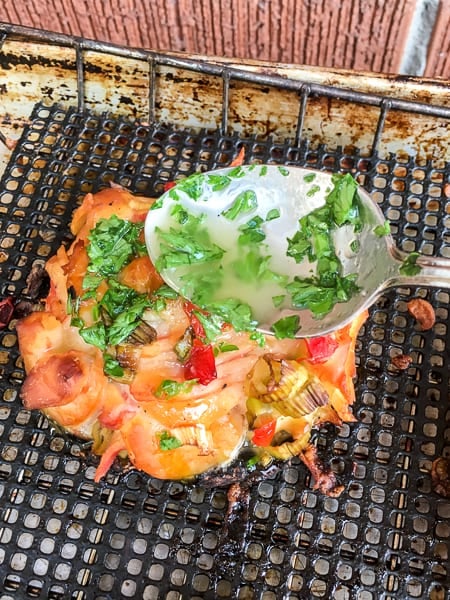 Once the mushrooms come out of the smoker, I drizzle on some melted butter mixed with minced fresh parsley. That adds a wonderful rich flavour with the bright taste of the fresh herbs.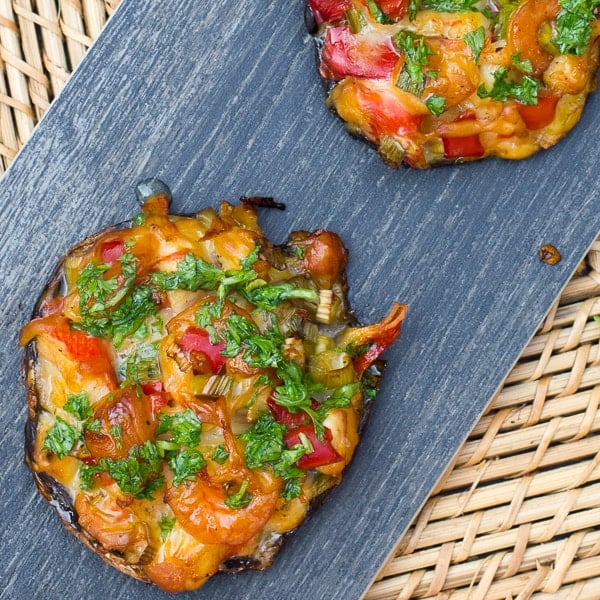 Serve these guys hot. They are much larger than a standard mushroom cap, so you will need to use a knife and fork.
These are so good – they are a meal all by themselves!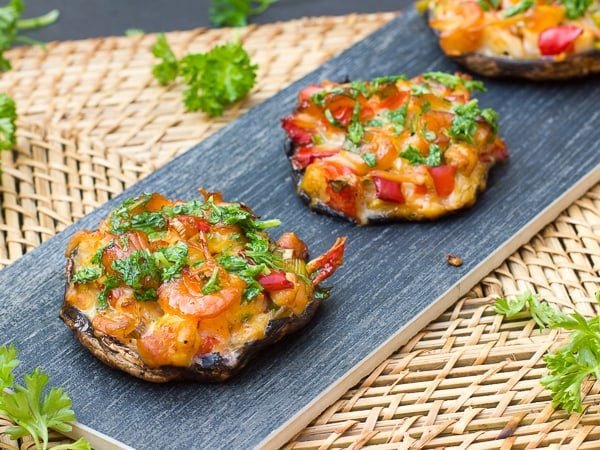 Seafood Stuffed Smoked Portobello Mushrooms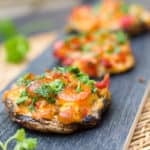 Print
Filled with crab, shrimp, scallops, cheese, green onions and more, these portobello mushrooms are smoked to perfection! Drizzled with melted butter afterwards.
Servings: 6
Ingredients
6 portobello mushrooms
3/4 cup small shrimp (salad shrimp size or a little bigger), peeled
3/4 cup bay scallops
3/4 cup crab meat, in small pieces
1/4 cup roasted red peppers , diced
4 green onions , sliced
1 cups grated gouda
1/2 tsp salt
1/2 tsp garlic powder
1/2 tsp paprika
1/4 tsp cayenne pepper
1/3 cup melted butter
2 tbsp fresh parsley , minced
Instructions
Set up smoker for 250F using wood of choice (I used apple)

Snap the stems off the portobello mushrooms and, using a spoon, scrape the gills off the underside of the mushrooms.

In a bowl, mix together the shrimp, scallops, crab, roasted red peppers, green onions, gouda, salt, garlic powder, paprika and cayenne together.

Place the portobello mushrooms on the smoker racks, top side facing down.

Spoon the seafood mixture evenly on top of the portobello mushrooms.

Place in the smoker and smoke until all the seafood is cooked, about 3 hours.

In a small bowl, mix together the melted butter and parsley. Spoon onto the smoked stuffed mushrooms.

Serve.