Portobello Mushroom Bruschetta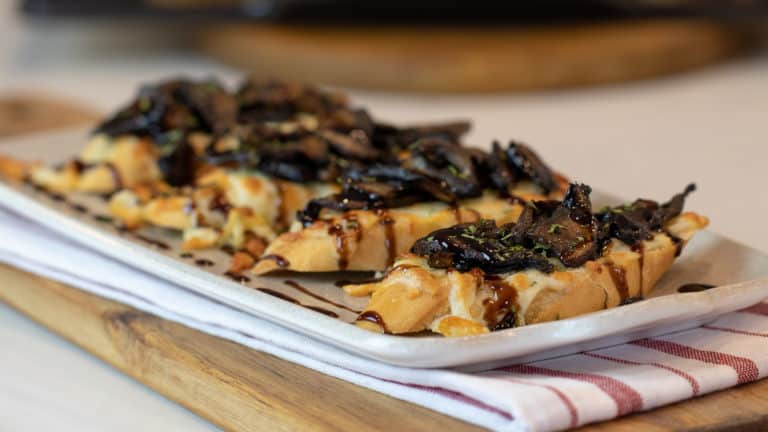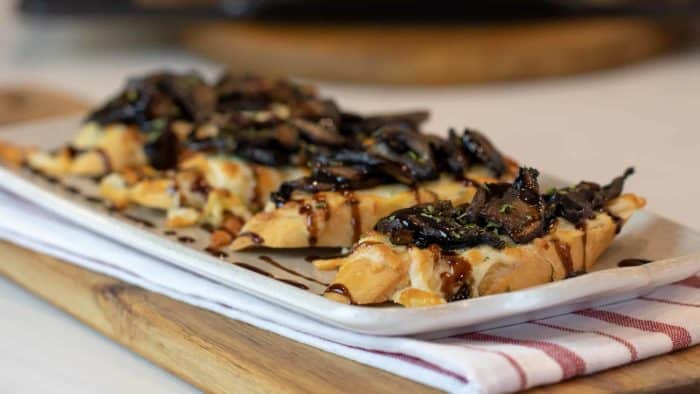 Bruschetta is easily one of my favourite appetizers. I make it all the time, especially when I am cooking Italian food. Normally, bruschetta is made with a topping of tomatoes, onion and garlic. It has a bright flavour highlighting fresh ingredients.
This bruschetta recipe is completely different, but equally delicious. If I had a signature appetizer, this might just be the one. Everything about these bite size canapés is incredible and exactly the type of food that I love. I am a big fan of bold flavours and this bruschetta, with the sautéed portobello mushrooms and balsamic glaze drizzled on top just hits the mark.
Portobello mushrooms are so flavourful and can be used many different ways. These large mushrooms can be grilled and used as a burger patty, instead of using beef. Not only that, but they can also be used like a mini pizza crust and topped with pizza sauce and other toppings.
But it is not just the sautéed mushrooms that are amazing on this bruschetta. The melted cheese. The balsamic glaze. The toasted baguette. They all come together to make an appetizer that will be remembered by anyone who tries it.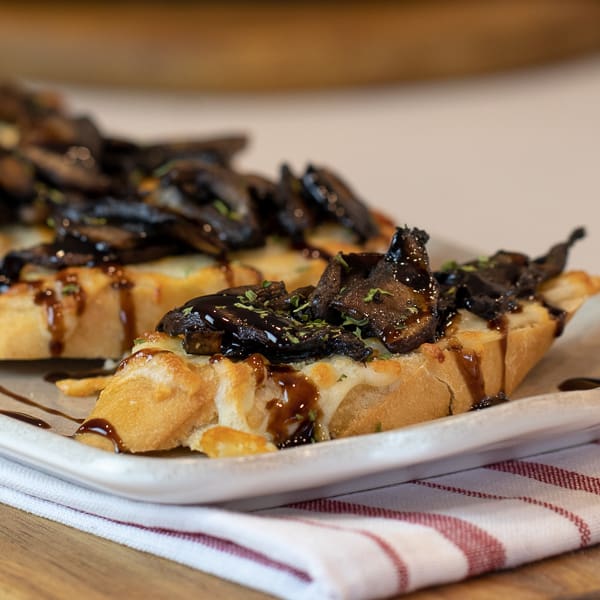 Over the years, I have made many different dishes with portobello mushrooms. They are amazing sliced and sautéed, but they are also delicious when cooked on the grill.
Here are some of my other recipes that use this amazing mushroom.
The first step to making this bruschetta is to sauté the mushrooms.
To cut the portobello mushroom, I break off the stem (or chop it near the base) and discard it. Then I cut the mushroom in half and then chop it into slices that are about 1/2 inch thick. Do not worry if the pieces end up being all different sizes. That is the charm of this dish and once they are sautéed, it will not matter.
Heat the oil in a skillet over medium heat and add the mushrooms. There is a lot of water in the mushrooms and as they cook, the water will release and go into the pan. You want to keep cooking the mushrooms. Once the water evaporates, then this is when you will start to brown and caramelize the mushrooms. This is when they get all their amazing flavour.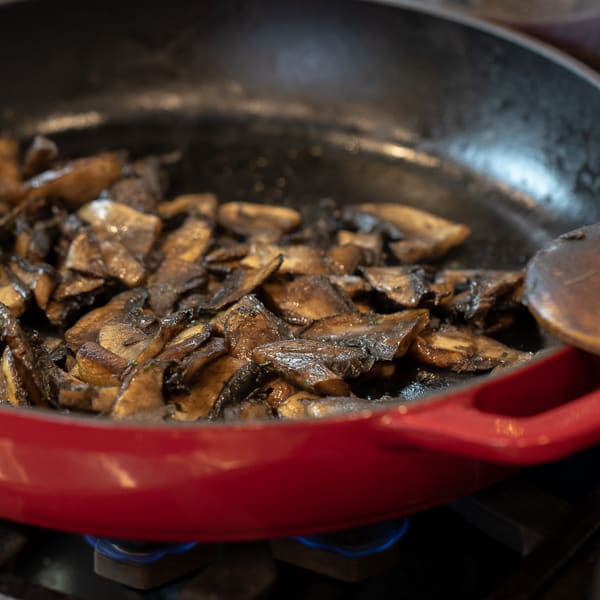 You can see what the mushrooms look like in the picture above. This is what we are looking for. They should be a deep colour and shrivelled up. They will be smaller than how they started. when they are ready, remove them from the heat and season with salt and pepper.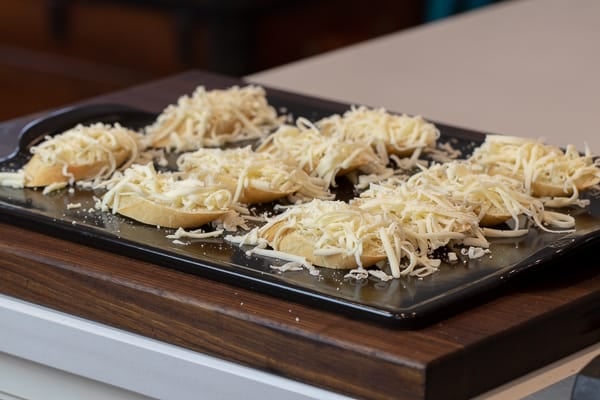 Now that the mushrooms are ready, it is time to make the base of the bruschetta. Take the French baguette and make 10 slices that are about 1 inch thick. I slice on an angle which allows me to get larger slices of the baguette.
Place the slices on a pizza stone or a baking sheet. Sprinkle with both types of cheeses. I love the combination of mozzarella and parmesan, but you could also switch it up and use other kinds of cheese like asiago, fontina or others.
Bake in a 425F oven for about 7 to 8 minutes or until the bread is toasted and the cheese melted and bubbly.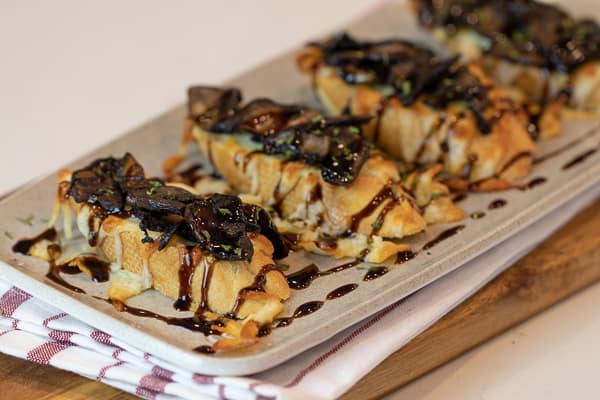 Once the baguette slices are toasted and ready, take them out of the oven. The cheese is all gooey and it is all I can do to not start eating them just like this. But, I know that once they are fully assembled, these bruschetta are going to be incredible.
To assemble, you need to take some of the sautéed mushrooms and spread them evenly on the toasted baguette slices. Finish off the bruschetta by drizzling the balsamic glaze on top a sprinkle with parsley.
These are best served warm, so once the they are all made, serve them right away. These will be a highlight for any dinner party or are the perfect choice as an appetizer for a nice dinner.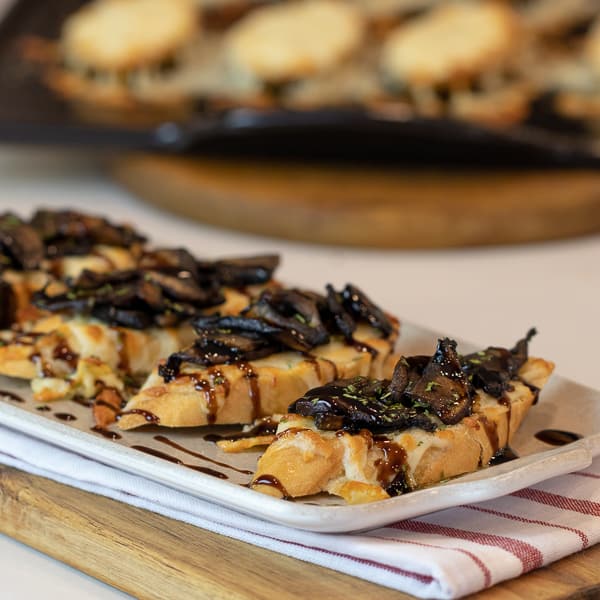 If you are interested in any other types of bruschetta, then check out these recipes!
Portobello Mushroom Bruschetta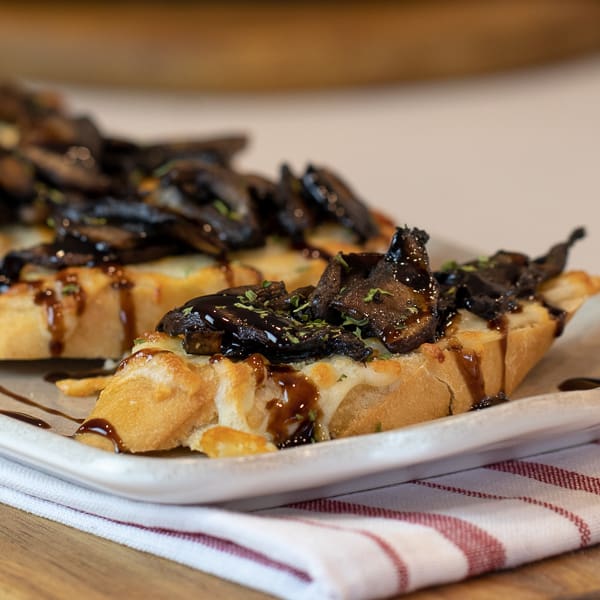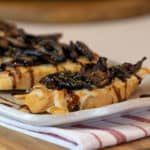 Print
This unique bruschetta has toasted baguettes with melted mozzarella and parmesan. Topped with sautéed portobello mushrooms and drizzled with balsamic glaze.
Servings: 10 bruschetta pieces
Ingredients
1 1/2 tbsp oil
4 portobello mushrooms
1 tsp salt
1/2 tsp black pepper
1 French baguette
1 1/2 cups grated mozzarella cheese
1/2 cup grated parmesan cheese
3 tbsp balsamic glaze
1 tbsp minced parsley
Instructions
Preheat oven to 425F.

Remove the stem from the portobello mushrooms and discard. Chop the mushroom into peices about 1/2 inch thick.

Heat oil in a skillet over medium heat. Saute the mushrooms, stirring often, until they soften, are cooked through and start to brown on the outside a little. Remove from the heat, season with salt and pepper and let cool slightly.

Slicing on an angle, cut 10 baguette slices that are about 1 inch thick. Place them on a baking sheet or pizza stone.

Top the baguette slices with both mozzarella and parmesan cheeses. Bake in the oven for about 7-8 minutes, or until the baguettes are toasted and the cheese bubbly.

Take the baguette slices out of the oven and assemble the bruschetta by topping each with some of the sauteed portobello mushrooms. Drizzle some balsamic glaze on top and sprinkle with parsley.

Serve warm.
Nutrition
Per serving:
Calories: 174kcalCarbohydrates: 17gProtein: 9gFat: 8gSaturated Fat: 3gCholesterol: 18mgSodium: 571mgFiber: 1gSugar: 2g