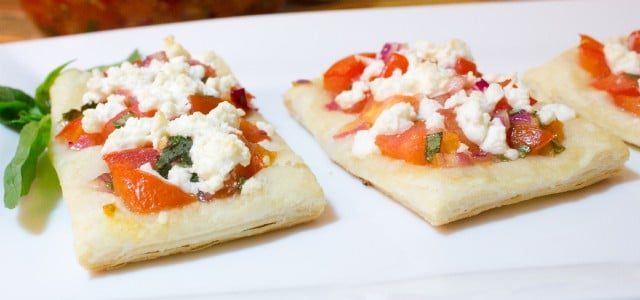 Tomorrow we get the first two games of the second round of NFL playoffs. The first game has the New Orleans Saints heading to San Fransisco to play the 49ers. The story here is that the Saints have never won a road playoff game. If they want to go further, Drew Brees is going to have to take to the air and show, once again, how potent their offense is. As great as Drew Brees is (and he is great), a key to their offense is the strong running game they have had this season. The 49ers have given up an average 77.2 rush yards a game. If they can stop the run then it will make things more difficult for the Saints.
The second game on Saturday has Tim Tebow and the Denver Broncos travelling east to face Tom Brady and the Patriots. This is a rematch to the week 15 game when New England went to Denver and smacked the Broncos around. Tebow had an incredible game last week to knock out the Steelers and he will need to do it again if Denver has any hopes of beating New England. It should be an exciting game as everyone will be looking for Tebow Time to come again.
Okay, enough about football, lets talk about food! Today's recipe is delicious and quite different from the previous spicy and saucy appetizers. These bruschetta bites are fresh, packed with flavour and on a bed of flaky pastry. Janna loves bruschetta bread and she orders it often as an appetizer at restaurants. I make it at home quite a bit as well.
I use all sorts of different bases including French bread, baguettes, flat bread and pizza crust, each one providing a different flavour and texture.
Today's base is a puff pastry which is light and airy. The fresh basil and garlic in bruschetta mixture provide a bright flavour that is balanced with the saltiness of the feta.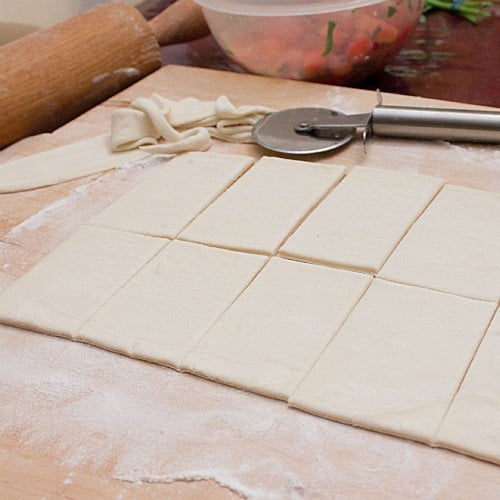 Roll out the thawed puff pastry dough on a floured surface into a 12×9 rectangle. With a pizza cutter or knife cut it into 12 evenly sized rectangles. It may be necessary to trim the edges to make the rectangles straight.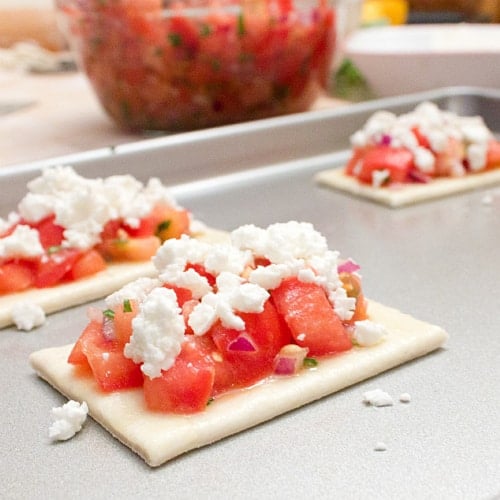 Spoon some of the bruschetta mixture on each piece of puff pastry. Top with crumbled feta.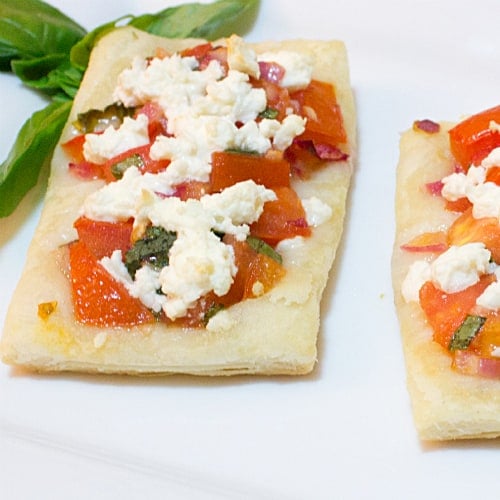 Bruschetta Bites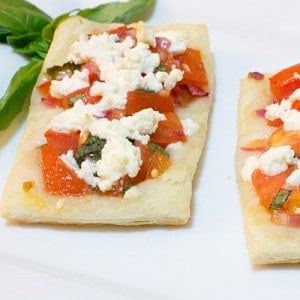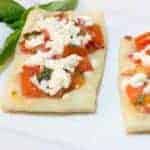 Print
This bruschetta bite recipe has a puff pastry base which is light and airy. The fresh basil and garlic in the bruschetta mixture provide a bright flavour that is balanced with the saltiness of the feta crumbled on top.
Servings: 12 bruschetta bites
Ingredients
1 package of puff pastry
4 plum tomatoes chopped
1/4 cup minced red onion
1/2 lemon juiced
2 cloves marlic minced
2 tbsp minced fresh basil
1/2 tsp salt
4 tbsp olive oil
1/2 cup crumbled feta
Instructions
In a bowl, mix together the chopped tomatoes, minced red onion, garlic, lemon juice, fresh garlic, salt and 2 tbsp of olive oil. Let the mixture marinate for 30 minutes.

If the puff pastry is frozen, thaw it according to manufactured instructions. Once thawed, roll the dough on a floured surface into a 12x9 rectangle. Trim the edges to make as perfect a rectangle as you can. Using a pizza cutter or knife, cut the dough into 12 equally sized smaller rectangles, as seen in the picture above. Brush the pastry with the remaining 2 tbsp of oil.

Place pastry on a baking sheet 2 inches apart. Spoon about 2 tablespoons of the tomato mixture on each rectangle. Top with a little crumbled feta.

Bake in a 400F oven for 12-15 minutes. The pastry will puff around the edges and begin to get a golden colour.