Golden Kiwi and Blueberry Bruschetta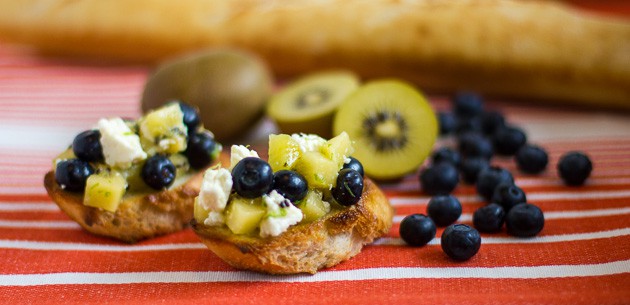 Yesterday I posted an article about golden kiwifruit which gives information about golden kiwis and compares them to the traditional tart green kind. The article is here in case you missed it. One local grocery store always has both golden kiwi and green kiwi in stock. Everyone in the family loves kiwifruit and it always gets eaten quickly. If one of the kids like any fruit or vegetable, I make sure it is on the regular list of 'to buy' produce. I love seeing my kids eat fresh produce! It is so much better than prepackaged granola bars, crackers, etc. Golden kiwifruit is less tart and far sweeter than the green kind. They still have the distinct kiwi taste though. Kiwi is great added to different recipes. They are great in a fruity salsa and here they work great as a topping for bruschetta bread.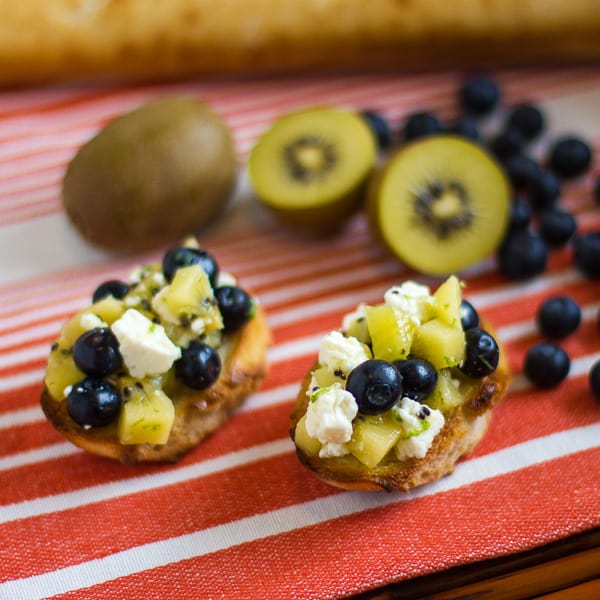 While bruschetta is typically made with a tomato mixture, there are so many possibilities. While some kinds are savory this recipe with the fruit is sweeter than others. The golden kiwi and blueberries go really well together and the feta cheese is creamy, with the perfect amount of salt to balance the zing of the lime zest. This bruschetta is really easy to make and a perfect appetizer for dinner. It is also great as a canape for a party. Either way, these will be really popular and eaten up quickly! Trust me on that.
If you cannot find golden kiwifruit, you could use the standard green kind. I would make these adjustments though:
add 1 tsp honey. Golden kiwi are far sweeter but the tartness of the green kiwi could use a bit of sweetening.
reduce or eliminate the lime juice and lime zest. Since the green kiwi is tart on its own, the lime might not be needed at all.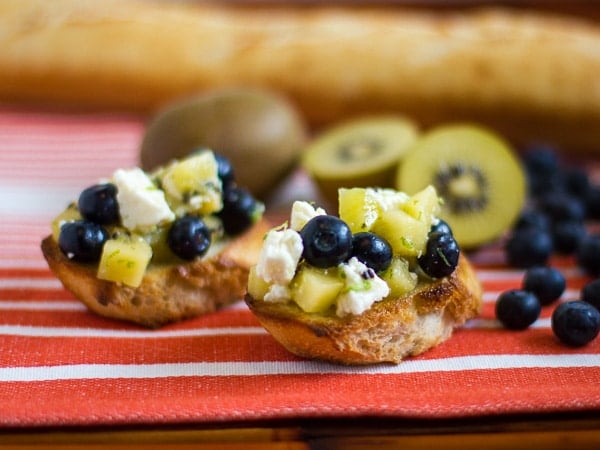 Golden Kiwi and Blueberry Bruschetta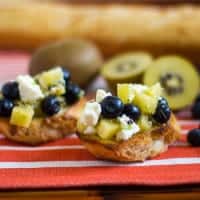 Print
A fresh and fruity appetizer that is ideal for parties and holiday dinners! Packed with flavour, this bruschetta is always a hit.
Servings: 12
Ingredients
1 French baguette
4 golden kiwis
1/2 cup fresh blueberries
1/3 cup crumbled feta
1 tsp lime juice
1/4 tsp lime zest
3 tbsp olive oil
Instructions
Preheat oven to 375F.

Peel the kiwifruit and cut them up into small chunks.

Make the bruschetta mix by combining the cut up kiwi, blueberries, feta, lime juice and lime zest.

Cut the baguette to make 1/2 inch slices. Cut 12 slices and place on a baking sheet.

Bake the baguette slices for about 5 minute or until they crisp and brown up. Remove them from the oven. Watch them so they do not get too brown.

Using a pastry brush, brush the olive oil on the tops of the sliced baguette. Spoon the bruschetta mixture on top of each toasted baguette slice.

Serve immediately.
Nutrition
Per serving:
Calories: 121kcalCarbohydrates: 16gProtein: 3gFat: 5gSaturated Fat: 1gCholesterol: 4mgSodium: 175mgFiber: 2gSugar: 4g