I do not remember when I first noticed golden kiwifruit, but I know I walked by these peculiar looking kiwis in the produce section of the grocery store for a while before giving them a try. I never bought them, until I talked to a friend who said she actually preferred them to green kiwifruit. I figured that was enough of a reason to give them a try.
Golden kiwi is a modern cultivar of kiwifruit that was developed intentionally a little less than 15 years ago. If you look at a golden kiwi and a green kiwi together up close you will immediately see that there are significant differences on the outer appearance of each. The green kiwi is known for its fuzzy skin and oval shape. Golden kiwifruit has a thinner skin that is far smoother without any of the fuzz found on the original green variety. Golden kiwifruit is typically smaller and sometimes has a pointed knobby end.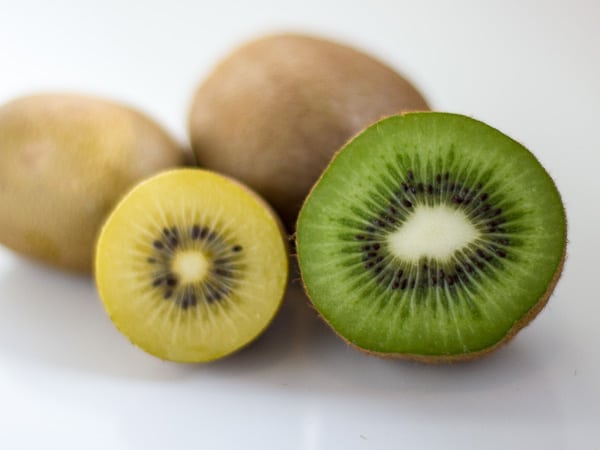 Cutting into the kiwifruit shows how the golden kiwi gets its name. The flesh is not the typical vibrant green, instead the color is golden yellow. Beyond the color, the inner fruit looks the same, with the lighter middle and little black seeds. Some other fruits and vegetables have different color varieties, but the taste the very same. Not so with the golden kiwi. While tasting a slice of golden kiwifruit, you know you are eating some kiwi, yet at the same time it is far sweeter than the tart green kind. There is almost no tartness at all, which some in my family missed, as that is part of the whole kiwifruit experience. Golden kiwi is also softer and almost mushy. Cutting golden kiwi into chunks and stirring in a fruit salad could cause it to break apart. It requires a gentler approach than the green kiwi.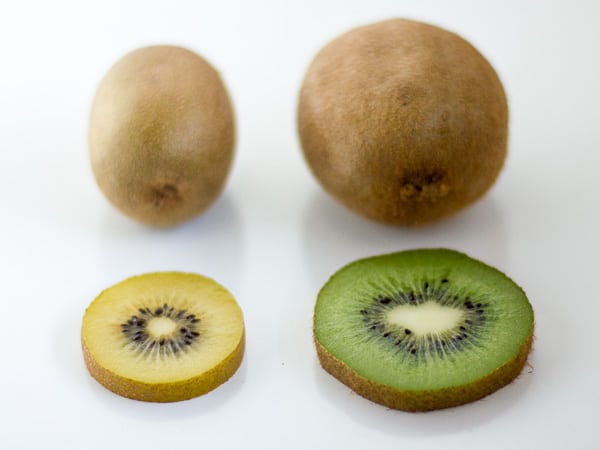 If I was to choose which variety of kiwi is my favorite, I would likely choose the original green as I do love the meatier texture and tart flavor that I have come to expect out of a kiwi. That is not to say I do not like the golden kind. I have tried a couple recipes with the golden kiwifruit and they turned out great. Depending on the recipe and inclusion of any other tart ingredients, the golden kiwifruit may be a better choice than the green. If you have a favorite recipe that includes kiwi, give the golden kind a try and see what you think. For me, if I am going to eat a kiwi on its own, while golden kiwifruit is nice and sweet, I would still prefer the green kind.
If you are looking for some recipes for kiwifruit, check out these! They are great with both regular and golden kiwi.