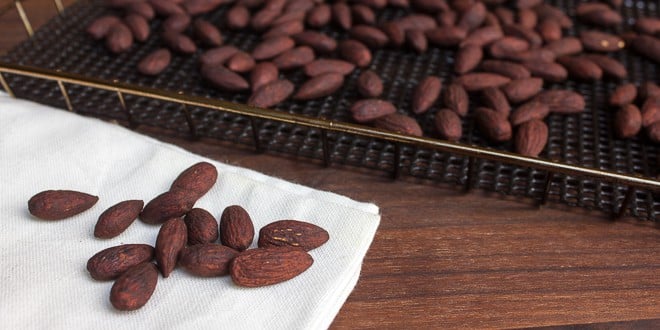 Smoked almonds are one of those addictive snacks that are dangerous to put on the table. Over the years, I have smoked all sorts of nuts and they never last long. They are great on their own, or added to salads, candy brittle or other dishes.
These taste so good and get gobbled up very quickly. Normally, I make smoked almonds for special events, gatherings and holidays. They are especially great to have alongside other snack foods during a football game, New Years Eve or any time people come to visit.
Smoking almonds add another layer to the toasted flavour of the nuts. There are many different types of wood you can use in the smoker. My preference for nuts is to use hickory wood. The smoke flavour is earthy and works very well with nuts. I have also used maple, apple and pecan. While those have all been good, I do find myself going back to the hickory wood more frequently.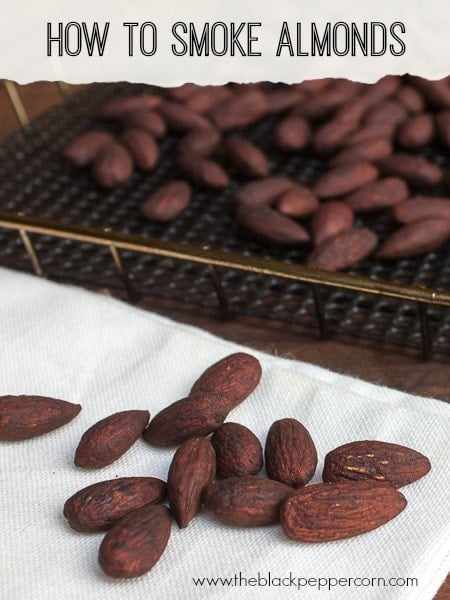 This recipe coats the raw almonds in melted butter and different spices. It is a fairly basic recipe, but one that can be adjusted to suit whatever flavour you want to try and achieve. The melted butter is necessary to provide some moisture for the spices to adhere to.
Here are a few different variations.
maple syrup and cinnamon
Worcestershire sauce and hot sauce
curry powder
garlic powder and oregano
I have smoked some pecans coated with melted butter, maple syrup and cinnamon and they are amazing topped on a fresh salad. The sweet and smoky flavour is just delicious!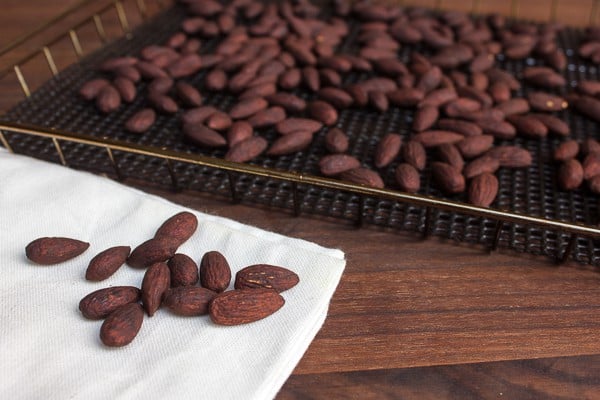 If you want to use a different nut, you can definitely substitute the almonds with pecans, peanuts or even a bunch of mixed nuts! Pecans are an excellent nut to smoke. I find myself smoking them almost as much as almonds. Try smoking pecans with pecan wood chips!
While I smoke the almonds for 2 hours at 250F, you might find that you prefer smoking a little shorter or longer based on your preference of smokiness. At 2 hours the almonds have a nice level of smoke that is not overpowered.
These almonds were smoked in my electric smoker and since most electric smokers have multiple racks, there are times when I have one or two racks free. This in an ideal time to throw on some almonds or other nuts to be smoked.
Smoked Almonds Recipe - How to Smoke Almonds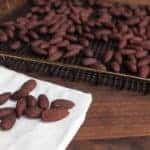 Print
How to smoke almonds could not be easier with this recipe! Raw almonds with melted butter and spices. Recipe also works for smoked peanuts or smoked pecans.
Servings: 8
Ingredients
1 pound almonds , raw
2 tbsp butter , melted
1 tbsp salt
1 tsp garlic powder
1/2 tsp cayenne pepper
Instructions
Set up smoker for 250F using wood chips of choice. I usually use hickory when smoking nuts.

Mix together the melted butter, salt, garlic powder and cayenne pepper in a medium sized bowl. Stir in the almonds ensuring they are evenly coated.

Line smoker rack with aluminum foil and spread almonds evenly across the foil.

Smoke for about 2 hours.

Let the almonds cool completely and come to room temperature before serving.
Nutrition
Per serving:
Calories: 353kcalCarbohydrates: 13gProtein: 12gFat: 31gSaturated Fat: 4gCholesterol: 8mgSodium: 898mgFiber: 7gSugar: 2g