Blueberry and Spinach Salad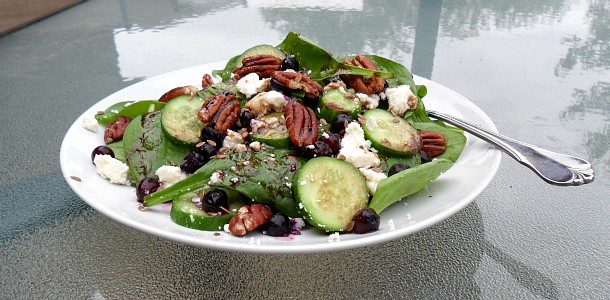 The other day we got to visit with friends of ours that are moving out of the province for the year. We have known Andrew and Michelle for a long time. Michelle and I used to work together at the same church; I had the privilege to officiate their wedding;
My son was the ring bearer for their wedding; we always get together on Halloween to take the kids trick or treating together. They are good friends who will be greatly missed when they move away. At least there is the Internet! We will most definitely keep in touch.
So, when we knew that they were coming over for one last visit before they go, we wanted to have them over for dinner. Below is the salad that we had. For people who try to have healthy eating habtis, this is a great salad with so many awesome ingredients!
Blueberry, Spinach, Feta, Pecan Salad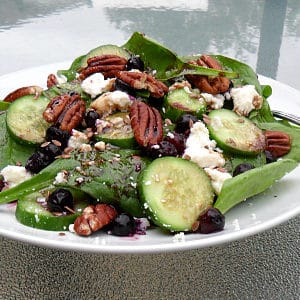 Print
A healthy salad recipe with baby spinach, blueberries, pecans, feta and flax seeds.
Servings: 4
Ingredients
6 cups baby spinach
1 1/2 cup fresh blueberries
3 baby cucumbers sliced
3/4 cup whole pecans
3/4 cup crumbled feta
3 tbsp flax seeds
1/3 cup balsamic vinegar
1/2 cup olive oil
1 cup frozen or fresh blueberries
2 tbsp honey
Instructions
To make the dressing, puree the balsamic vinegar, oil, blueberries and honey together in a blender.

To ensure that you do not put too much dressing on and all the ingredients get soggy, try building each salad on a small salad plate for each person and then drizzle the dressing on top. It looks nicer and keeps everything crisper.