This homemade chamoy sauce is great poured on fresh fruit with Mexican Tajin seasoning, covering an apple and even used in popsicles.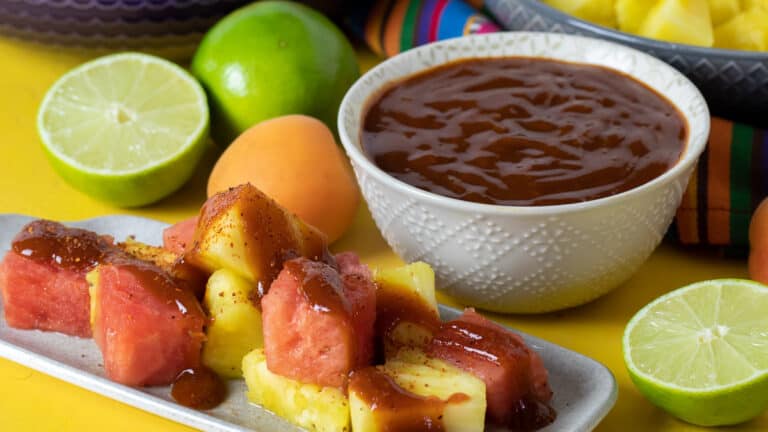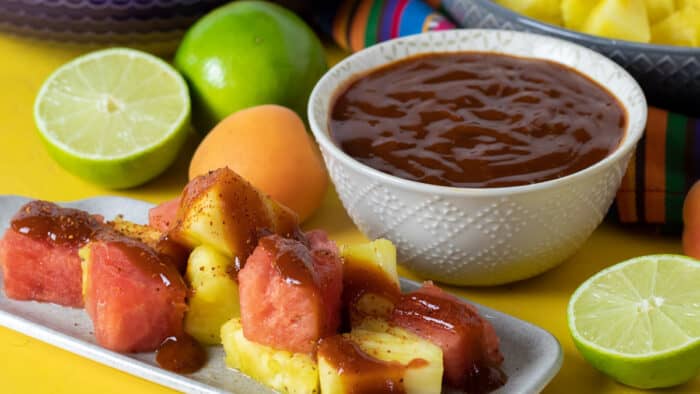 I was first introduced to chamoy a number of years ago. I was in a Mexican variety store and saw a bottle of this sauce. Not knowing what it was, I grabbed it and did some research to learn how to use the sauce. Since then, chamoy is one of my favourite sauces. I don't buy it, but love to make a homemade version.
This sauce has a complex flavour profile. It is sweet and fruity because of the apricots. But it is also quite tart from the lime. The ancho chili peppers give the sauce an smoky flavour with a light level of spice.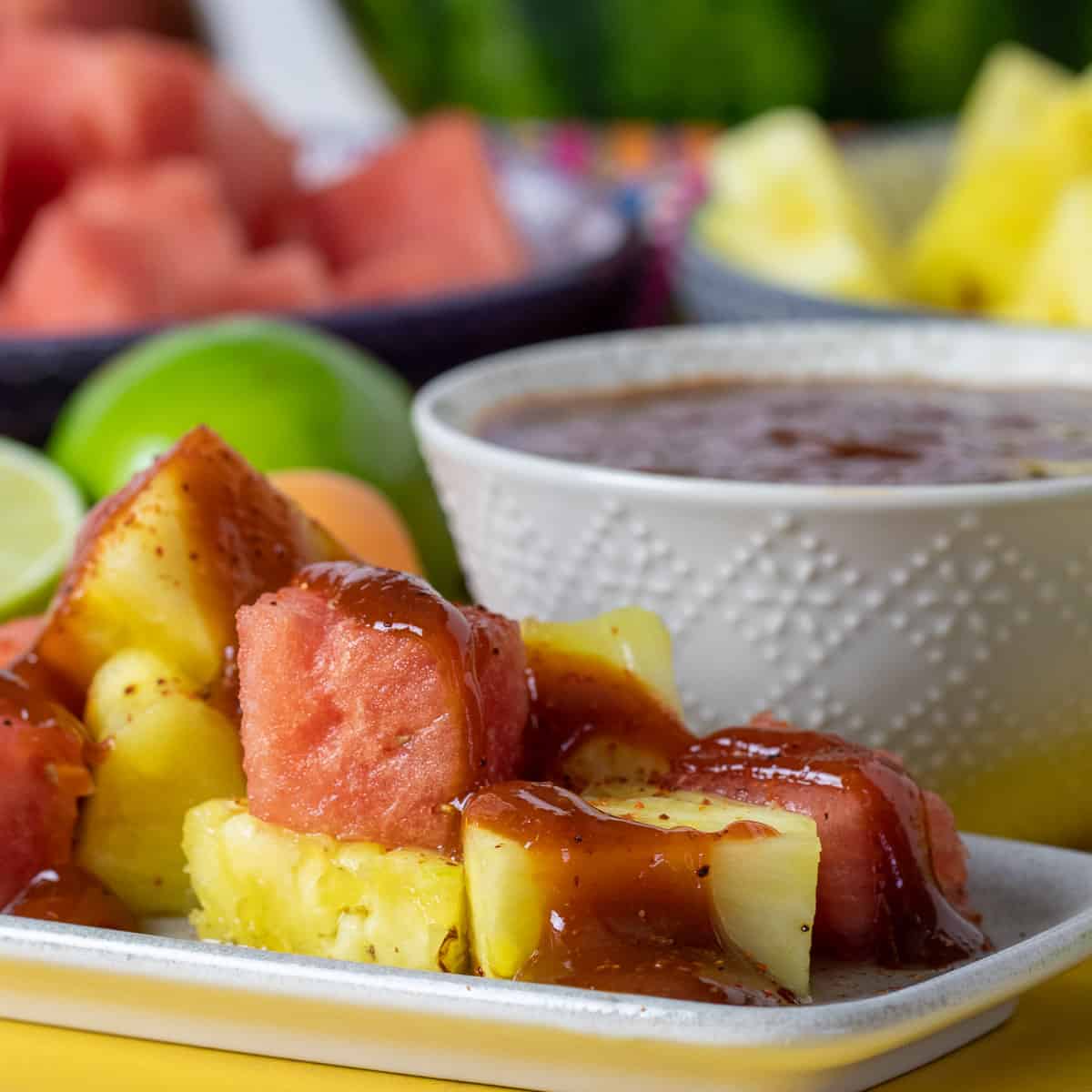 Homemade chamoy is so much better than store-bought. That is no surprise because typically anything made at home is better and this sauce is not difficult to make at all. I love it with fresh fruit like watermelon, mango, pineapple and more. Drizzle the sauce on some fruit and top it with some Tajin spice mixture. Oh my word, this is so good!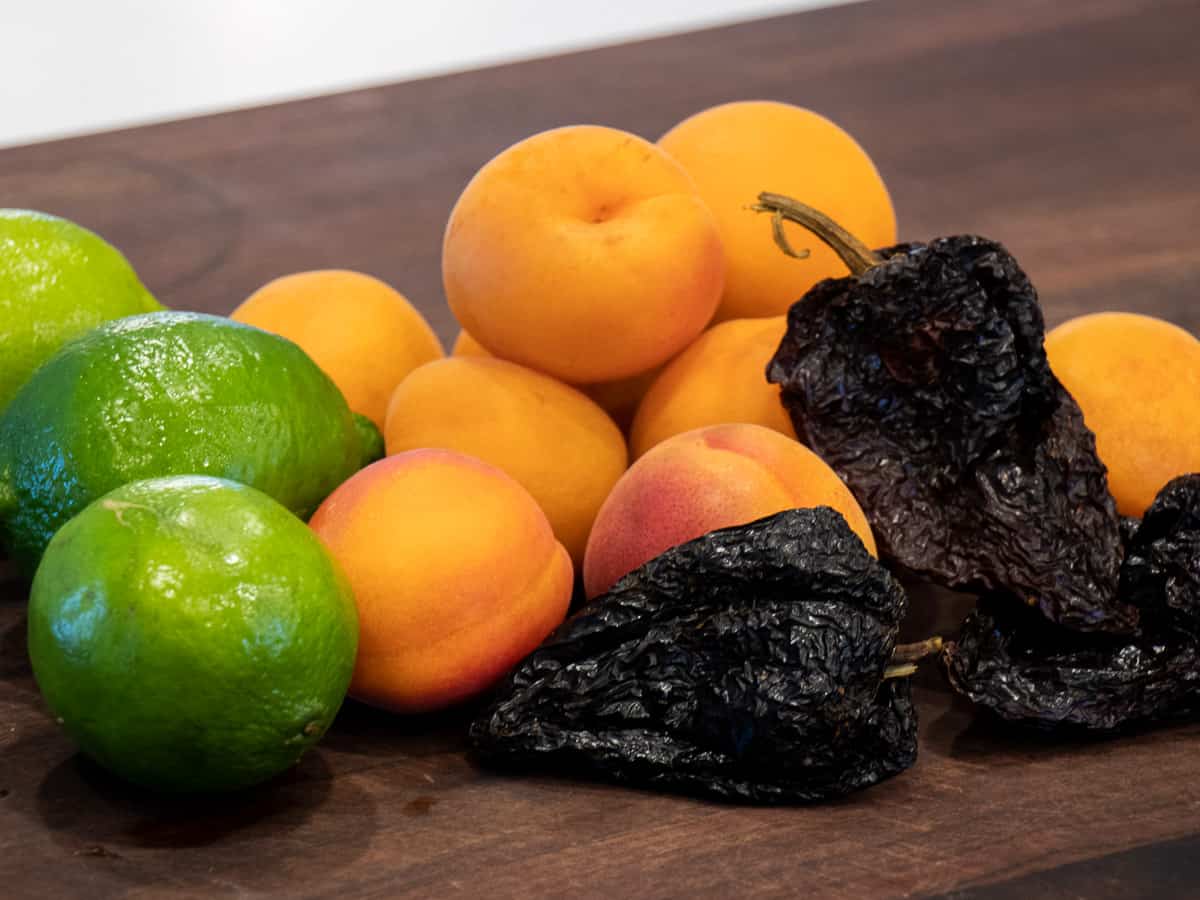 Fresh apricots make the best tasting sauce
I have made chamoy many different ways over the years, but my favourite method is by using fresh apricots. Dried apricots or jam also work, but I love the bright flavour that comes from fresh fruit.
If you cannot find fresh apricots, you could also use peaches, plums or mangos.
Dried ancho chilies give the chamoy an earthy and smoky flavour. These are low on the heat level, which we prefer in this fruit sauce. If you want it spicier, you could use morita or chipotle chilies.
I like to break the stems off the ancho chilies and open it up to shake out the seeds. Discard the stems and seeds.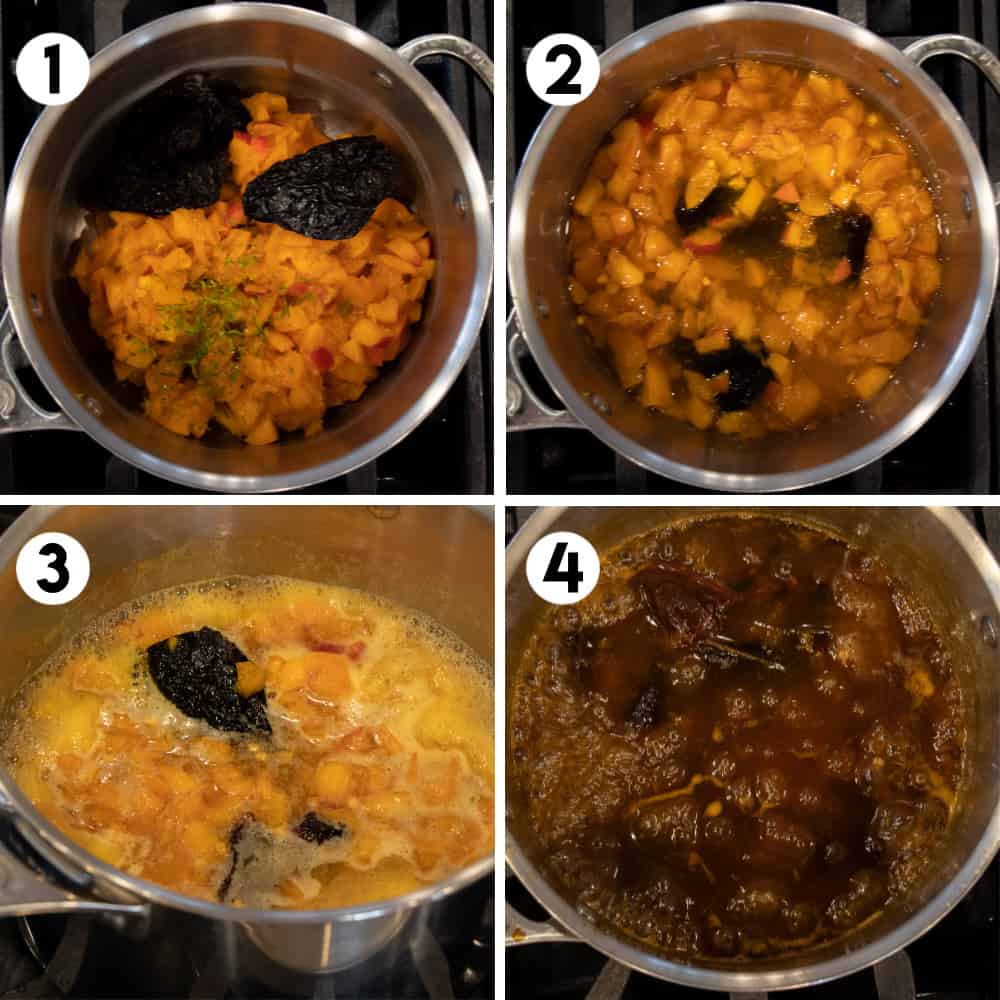 Do not rush the simmering
Place all the ingredients in a pot and bring to a boil. Once it is boiling, reduce the heat a bit.
Watch the pot as it simmers because it can really bubble up as the sauce starts to thicken. Be careful that it does not bubble over. Stir it any time it starts to bubble up. Or turn down the heat a little lower.
Let it simmer for about 45 minutes or until the liquid reduces by about two thirds. It is better for the chamoy to be a little thicker at this point, because you can always add a little water as it blends to thin it to the desired consistency.
Blend until smooth
Pour all the ingredients into a blender. I have tried a food processor, but find that it does not do as good of a job pureeing the sauce until smooth.
Turn the blender on low and slowly increase the speed until fairly high. You want the sauce to puree until very smooth with no chunks. If the chamoy seems too thick, pour in a little water as it is blending.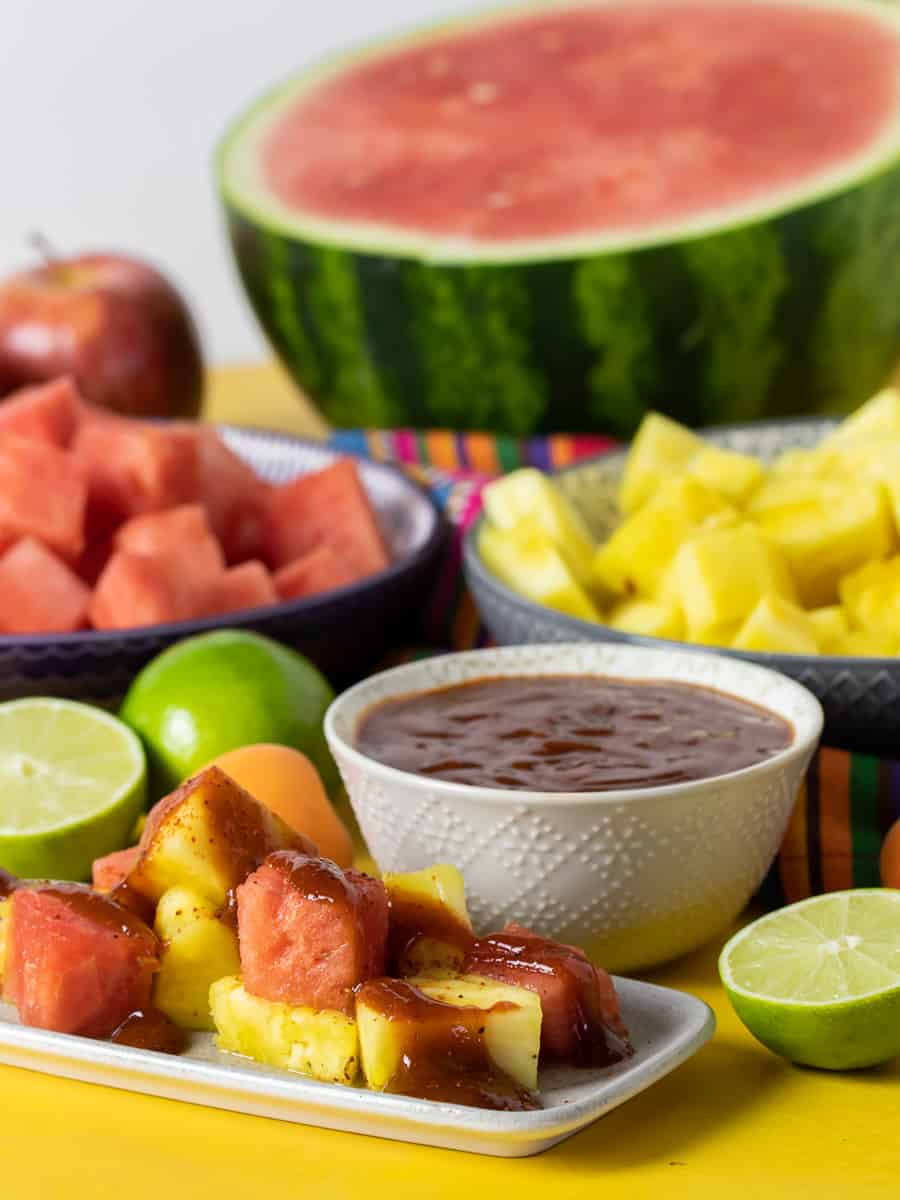 Serve the chamoy with some fresh fruit. My favourite fruit to have with chamoy is pineapple. It is so good and even better sprinkled with some Tajin seasoning and the sauce.
Other Mexican Recipes
This is a great addition to a Mexican feast. Serve this with fresh fruit as an appetizer before the meal, or as a healthy dessert after dinner. Here are some great recipes to go along with this chamoy for a delicious Mexican dinner.
Chamoy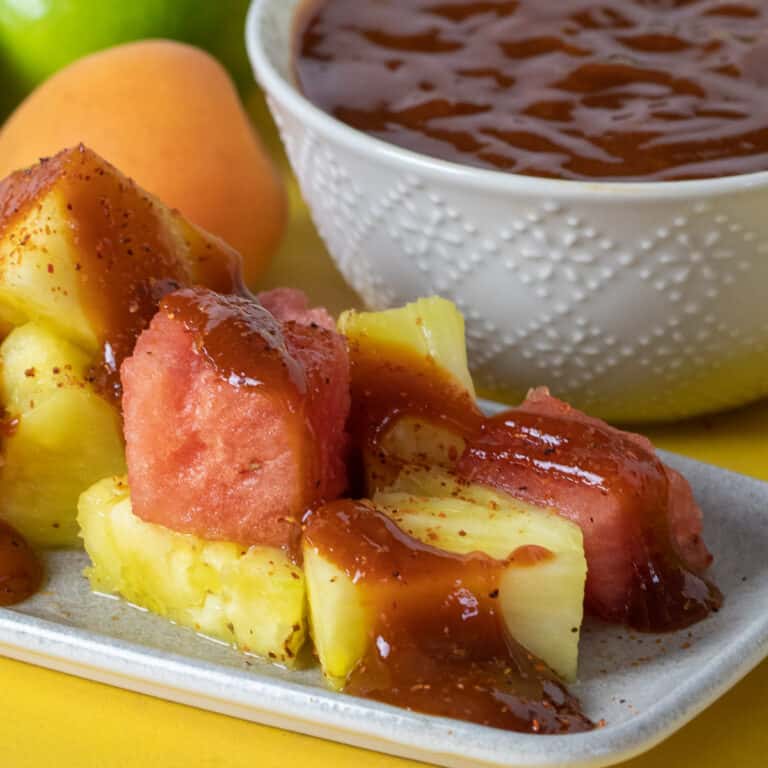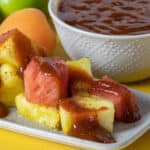 Print
How to make chamoy recipe - a classic Mexican sauce. Made with fresh apricots, limes, brown sugar and ancho chilies. Great syrup for fruit, vegetables and meat.
Servings: 8
Ingredients
3 ancho chilies
12 fresh apricots
1/3 cup lime juice
1 1/4 cup brown sugar
1/2 tsp salt
1/2 tsp lime zest
1 tbsp tamarind pulp , optional
2 cups water
Instructions
Pit the fresh apricots and dice into small chunks.

Break the stems off the ancho chilies. Open up and shake out the seeds. Discard the stems and seeds.

Place all ingredients into a pot and bring to a boil. Lower heat so that it is a light boil. Stir often as it simmers.

Let the sauce simmer for about 45 minutes or until the liquid reduces by about two thirds.

Place all the ingredients in a blender and process until very smooth. If the sauce seems to thick, add a little extra water until it reaches desired thickness.

Serve as a dip for fruit and vegetables or even as a glaze or bbq sauce for meat.
Nutrition
Per serving:
Calories: 206kcalCarbohydrates: 51gProtein: 2gFat: 1gSaturated Fat: 1gSodium: 171mgFiber: 5gSugar: 45g