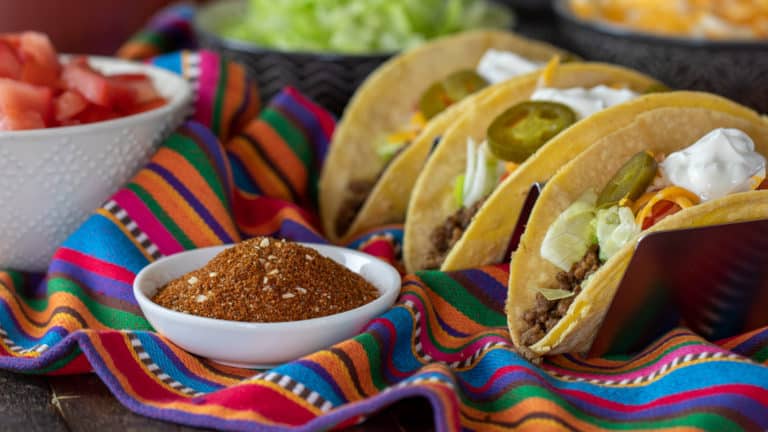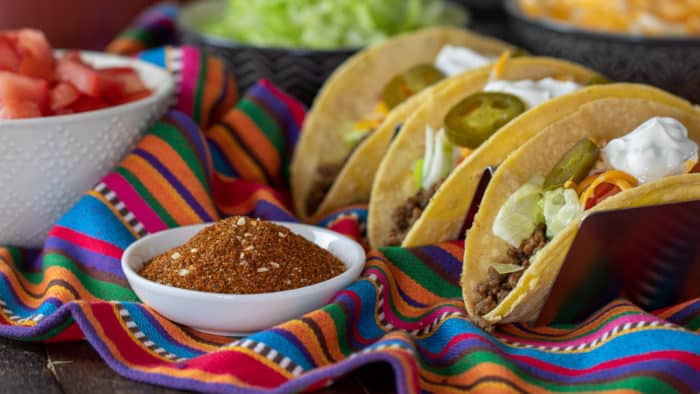 Tacos are one of most common meals in our house. It does not need to be Taco Tuesday for us to make this Mexican classic. For years I used to buy store-bought spice packs to make the taco meat. But, it is super easy to make homemade taco seasoning, and it tastes amazing.
One of my favourite parts of Taco Night is allowing everyone to make their own tacos. I set out a spread with different shells, taco meat and LOTS of toppings. People then grab a plate and make a taco exactly the way they like.
If you are having a party or get together, having a Mexican themed dinner is always a big hit as well. It is nice because you can prepare almost everything ahead of time.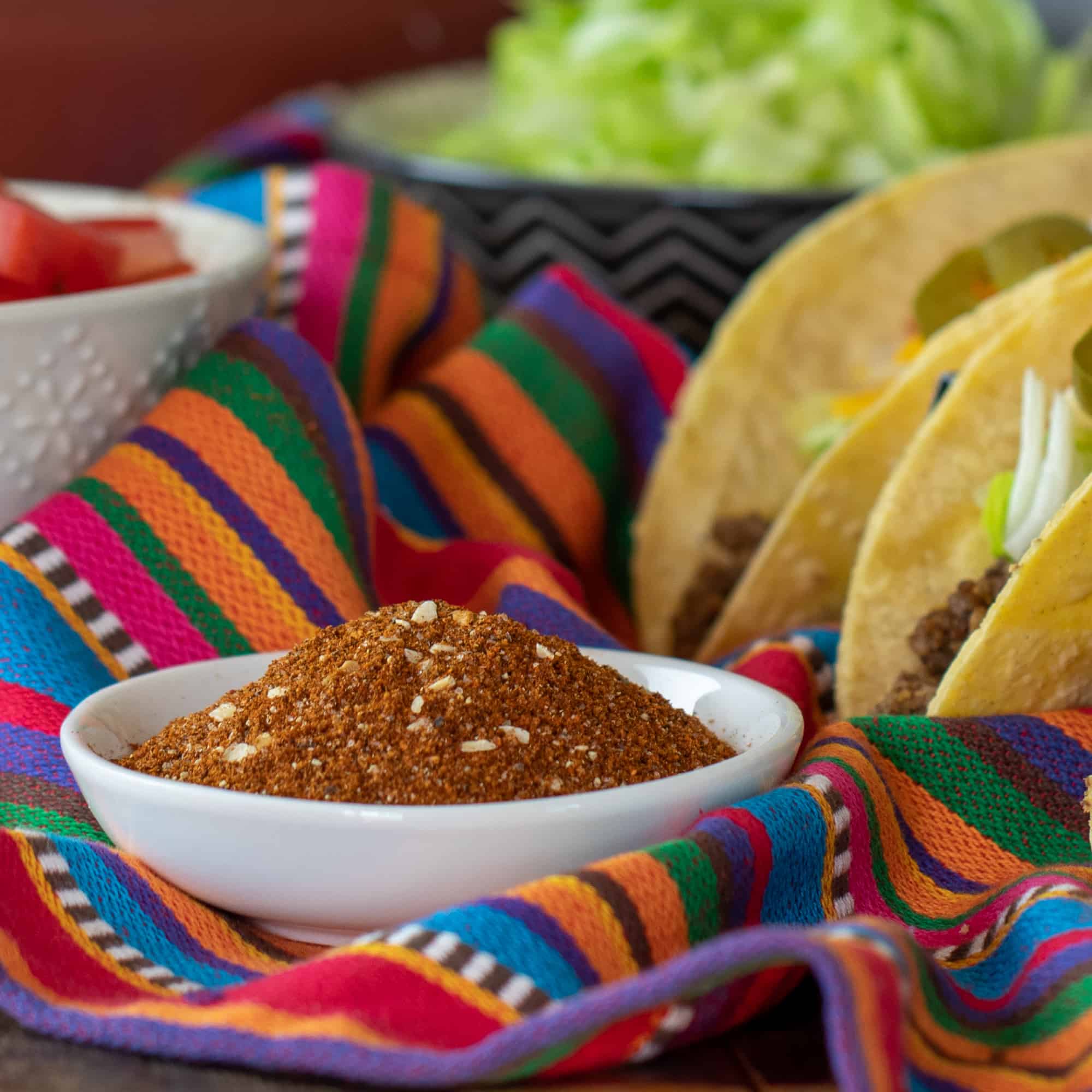 This homemade taco seasoning mix is ideal for making beef tacos. If you want to make fajitas, this seasoning will work just fine. But, I also have a specific fajita spice blend recipe which is great for chicken or steak fajitas.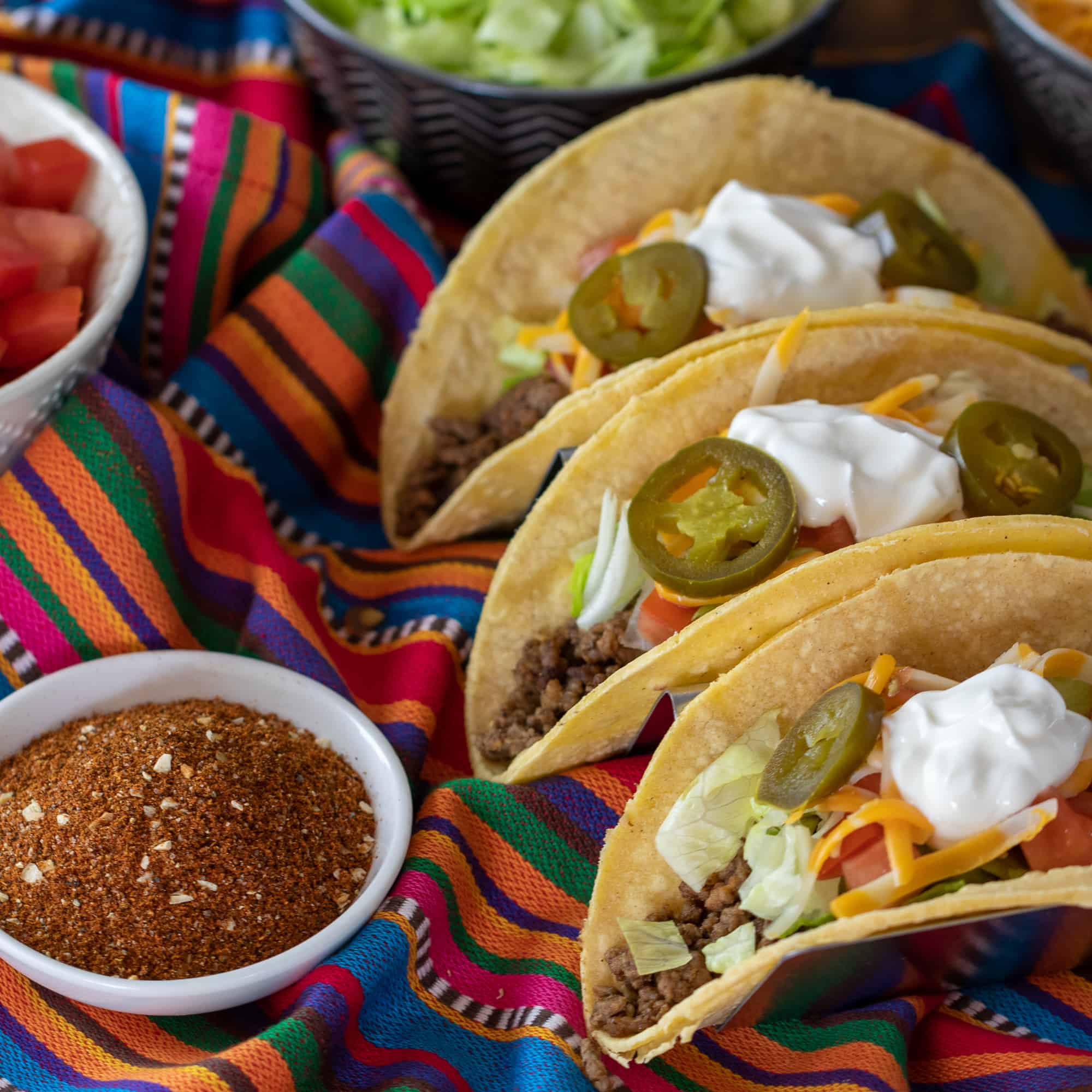 How to Make Taco Meat
If you are planning to make some beef tacos, then this taco seasoning is ideal for a taco meat recipe.
Brown 2 pounds of ground beef in a frypan or skillet over medium high heat. Use a wooden spoon to break up the meat so that it is all in little bits of similar size.
Drain the grease and lower the heat to medium low.
Stir in the seasoning mixture made from the recipe below. Continue to stir and allow the spices to mix and blend into the meat.
If you want a taco meat that resembles Taco Bell or something you can get from store-bought taco seasoning, then stir in 1 tsp corn starch and 1/3 cup water. Continue to heat and stir until it thickens as a sauce in the meat.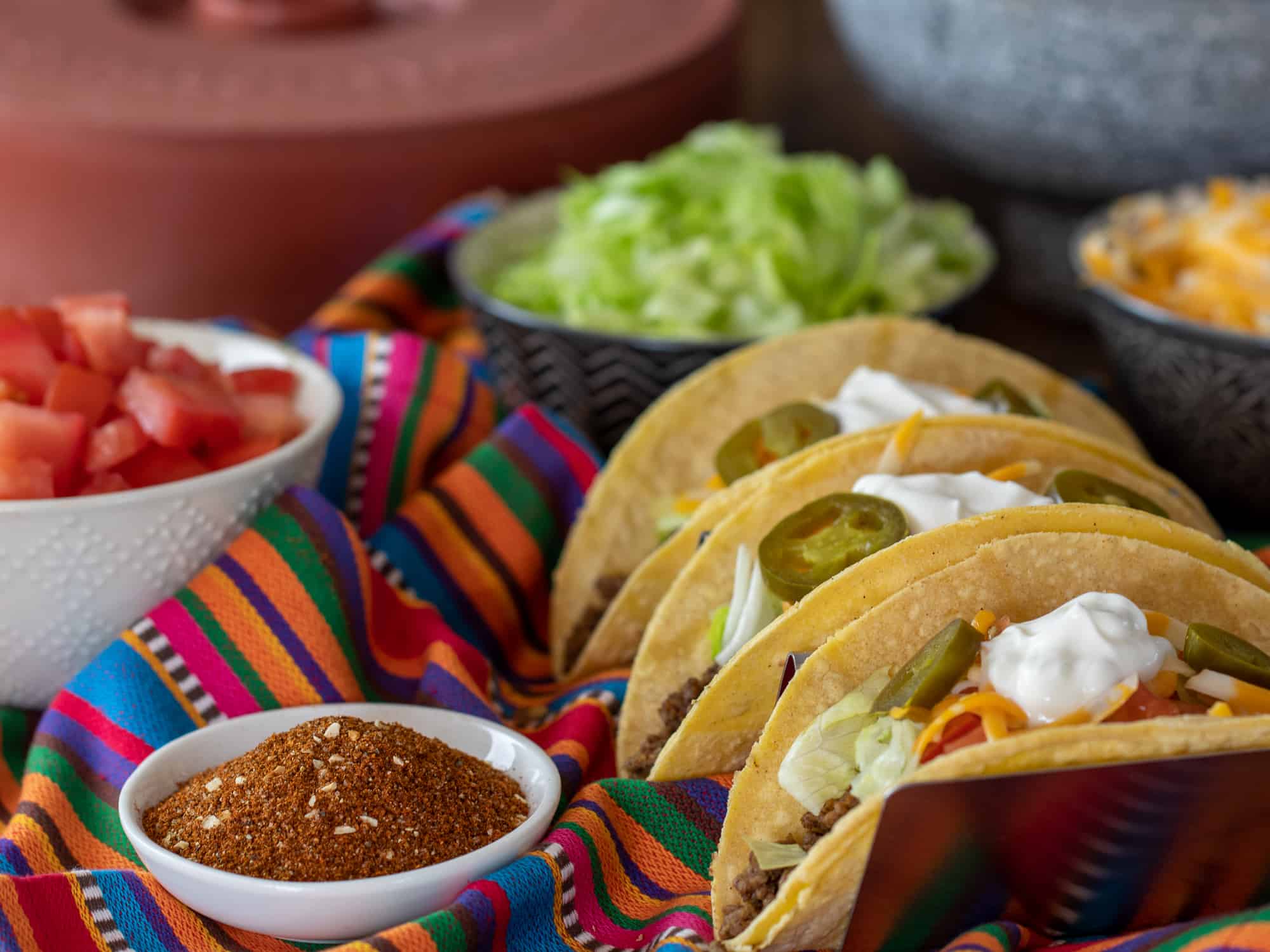 Taco Shells and Toppings
This seasoning is great for any kind of taco shell. I love the hard or soft corn shells, while my family prefers soft flour tortilla shells or bowls. All those work very well with this taco meat.
There are so many different toppings for tacos including cheese, tomatoes, lettuce, onions, salsa, sour cream, jalapeño peppers, avocados, black beans, refried beans, corn and so much more!
Tortilla chips can be used as well to make a plate of nachos with this meat and some of the toppings!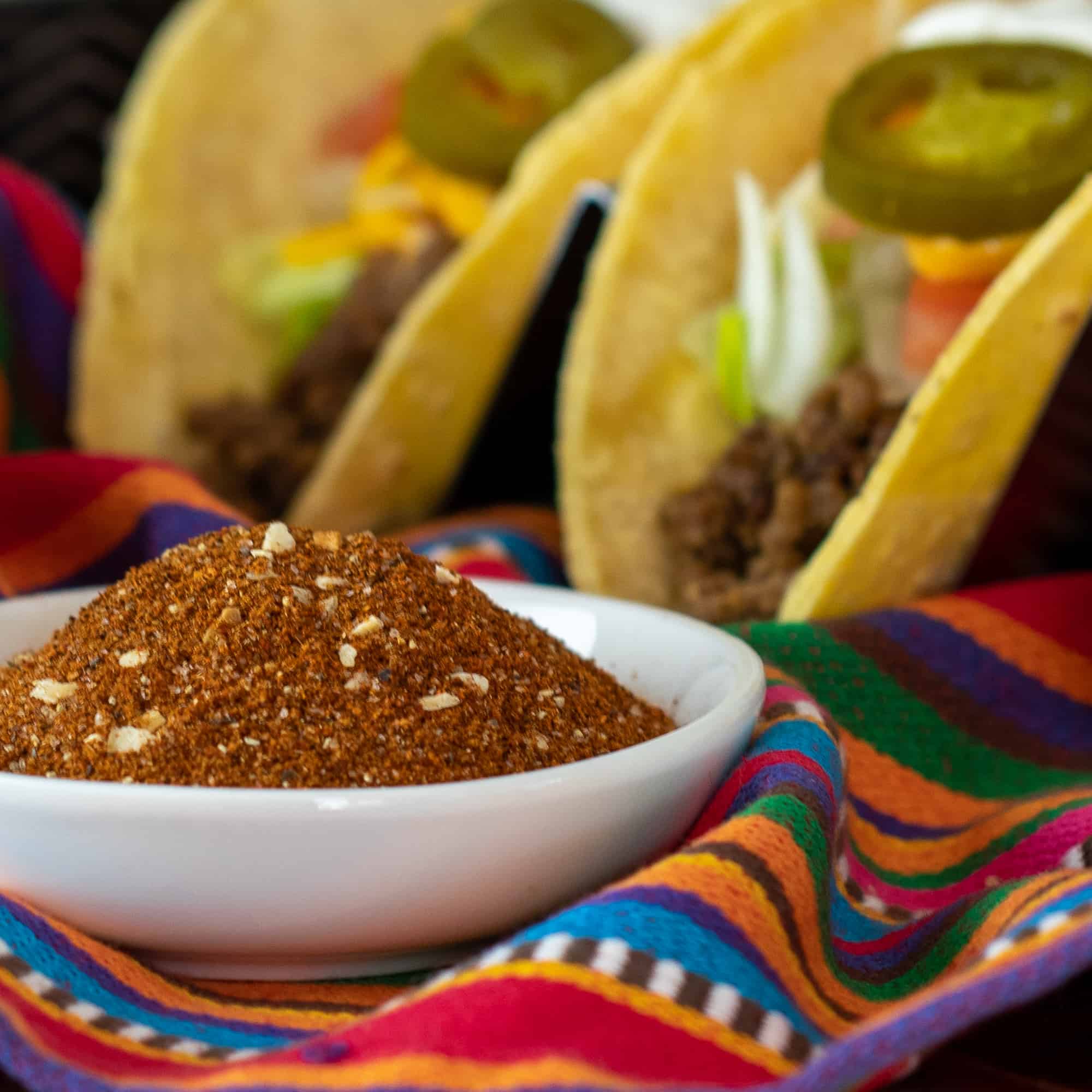 Mexican Side Dish Recipes
Here are some other recipes that are perfect to go alongside tacos. If you are planning a Mexican night for dinner, then check out some of these dishes!
Homemade Taco Seasoning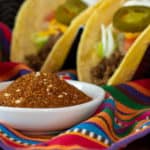 Print
How to make taco seasoning. Easy spice mix recipe for the perfect blend to make Mexican tacos or other dishes. Great for beef, chicken, pork and seafood!
Servings: 3 tbsp
Ingredients
1 tbsp chili powder
1 tsp paprika
1 tsp salt
1 tsp dry onion flakes
1/2 tsp cumin
1/2 tsp coriander
1/2 tsp garlic powder
1/2 tsp black pepper
1/4 tsp cayenne pepper
1/4 tsp cinnamon
Instructions
Mix spices together.

Cook 2 pounds of ground beef in a skillet over medium high heat.

Drain grease and stir in the seasoning mix. Heat for a few more minutes, over medium low heat, so the seasoning is able to infuse into the meat.
Notes
Note: If desired, stir in 1 tsp of corn starch with 1/3 cup water as the final step. This creates a bit of a thick sauce with the meat that resembles the taco seasoning mixes you can purchase at the supermarket.
Nutrition
Per serving:
Calories: 21kcalCarbohydrates: 4gProtein: 1gFat: 1gSaturated Fat: 1gSodium: 821mgFiber: 2gSugar: 1g