Chicken and Zucchini Curry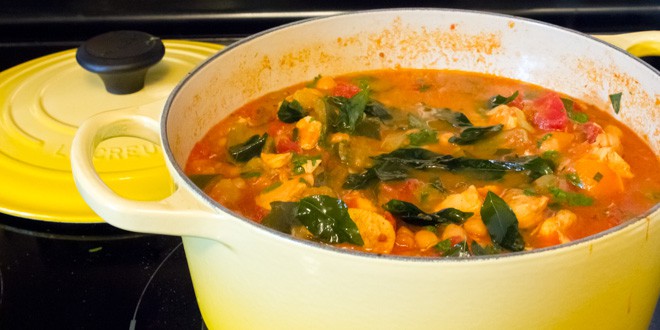 During these cold winter months, it is the perfect time for some good ol' comfort food. A big pot of simmering stew in the dutch oven brings a great smell throughout the house and is an excellent meal to have after hours of shovelling snow, which is exactly what happened this weekend.
Stew recipes for me are never the same. I tend to look in the fridge and the pantry and throw together a stew using what I have on hand. For this recipe, I used chicken as the main protein. In the fridge I found a couple zucchini and decided that this stew was going to have a curry flavour. I also added some chick peas and a can of diced tomatoes. For a curry dish, this is not spicy, but instead full of rich flavours and spices.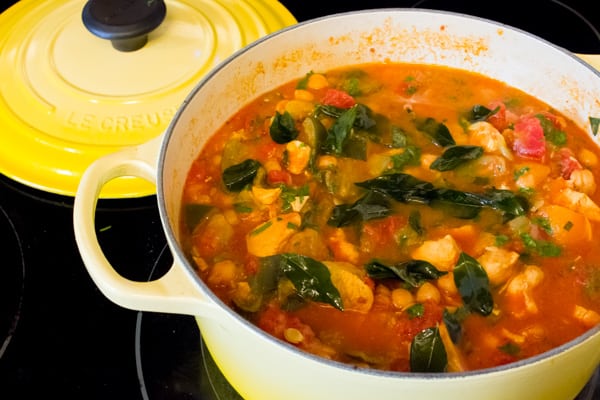 Chicken and Zucchini Curry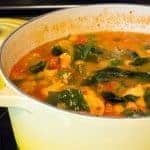 Print
Servings: 4
Ingredients
4 tbsp oil , divided
1 onion , diced
1 sweet pepper , diced
4 garlic cloves , minced
2 tbsp fresh ginger , minced
2 zucchini , chopped
1 tbsp ground cumin
1 tbsp ground coriander
2 tsp turmeric
1 tsp cinnamon
1/2 tsp ground black pepper
1 tsp salt
4 boneless skinless chicken breasts , cubed
1 28 oz can , diced tomatoes
1 can chick peas , drained
1/4 cup fresh cilantro , minced
handful of curry leaves
Instructions
Heat 2 tbsp oil in a dutch oven or pot on medium heat.

Add onion, pepper, garlic and ginger. Cook for a few minutes.

Add the zucchini and spices. Cook for another 3-4 minutes.

Stir in the chicken and cook for about 7-10 minutes, so that the chicken is looks cooked.

Stir in the diced tomatoes, chick peas and cilantro. Lower heat to a simmer and cover with lid. Cook for one hour.

In a frypan, heat oil on medium high heat. Toss in the curry leaves. They fry quickly and begin to pop. Stir the curry leaves in the oil and cook for no more than one minute. Drain on a paper towel and then stir in with the curry dish.

Serve with rice.