Crawfish and Cheddar Stuffed Jalapeno Poppers
Last weekend we celebrated my parents 40th wedding anniversary. An open house was held at their home and a bunch of friends and family came over to congratulate them on this milestone. It was a great time and I got to make some appetizers for the event. I loved the opportunity to get creative with some snack foods and I made these crawfish jalapeño poppers!
My dad loves southern cooking and everything about New Orleans. My parents honeymoon was in New Orleans 40 years ago. Actually, my wife and I also went to New Orleans for our honeymoon 15 1/2 years ago. I wanted to have some food that was a tribute to NOLA (New Orleans Louisiana) so I created these crawfish stuffed jalapeno poppers. Ever since I posted Bacon Cheddar Jalapeno Poppers, a month ago, I have been wanting to try them with a different filling. Stuffing them with crawfish did not disappoint
We live in Ontario, Canada, and crawfish are not a common part of our diet and they are quite difficult to find. My dad got these on a trip accross the bridge to Detroit and we made good use of them. They tasted amazing and the flavour of the crawfish came through and worked great with the cheese and the jalapeno pepper.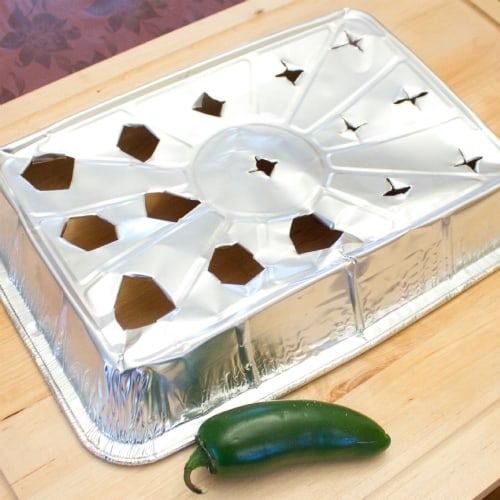 To bake the crawfish jalapeno poppers you need to create a holder for them. I used an aluminum lasagna pan by cutting cross marks in the bottom part of the pan as seen in the picture above. Fold the corners of the cut marks down to create holes large enough to hold the peppers upright while baking.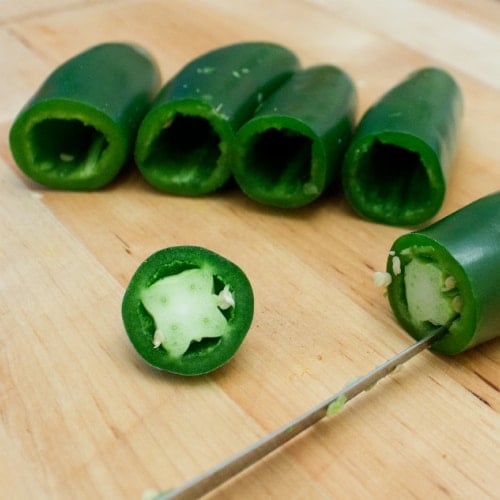 Core the jalapeños by cutting off the top and sticking a thin knife into the pepper to remove the core.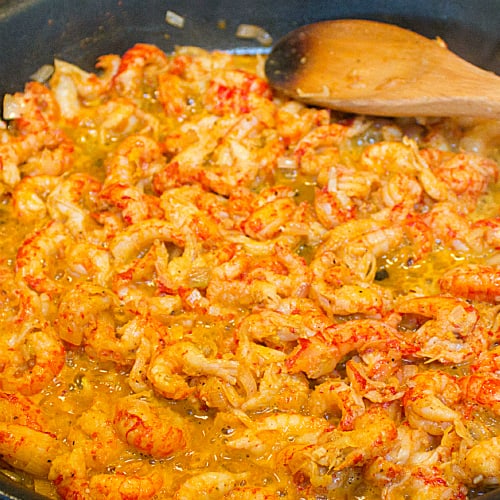 This recipe is based on a one pound brick of crawfish meat. If you are able to get it in smaller quantities, you can adjust the recipe accordingly. Cook the crawfish in a skillet with the butter, onion, garlic and seasoning. The smell will be incredible!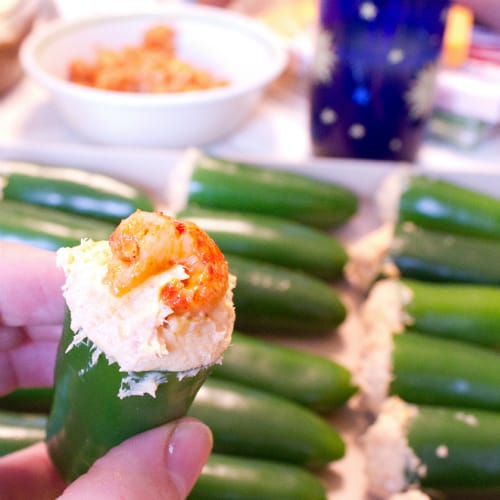 Let the crawfish mixture cool to room temperature. Take out 20 crawfish and set in a bowl for later. Mix the remaining mixture with the cheeses until well combined. Use a knife to fill each hollowed out pepper with the mixture. Then top each pepper with one crawfish.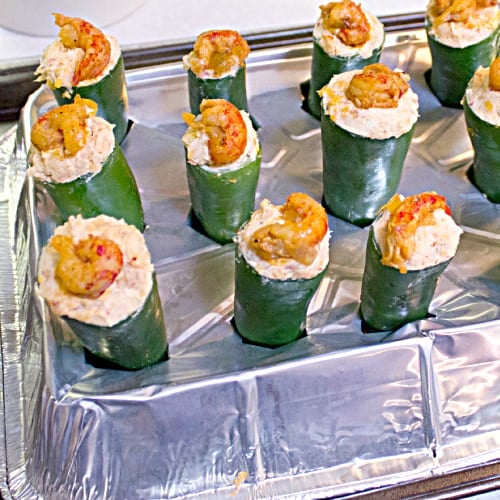 Bake these in a 350F oven for 15-20 minutes. These crawfish jalapeño poppers are best served warm!
Crawfish Jalapeno Poppers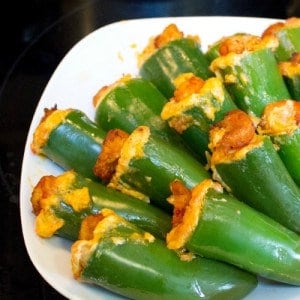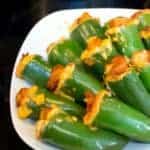 Print
Baked jalapeno poppers stuffed with crawfish tails, cheddar cheese and cream cheese. Oven baked upright using a jalapeno popper tray.
Servings: 20 poppers
Ingredients
20 jalapeno peppers
1 tbsp butter
1 pound crawfish meat
1 onion , minced
2 garlic cloves , minced
2 tsp cajun seasoning
1 1/2 cup cream cheese
1 1/2 cup cheddar cheese , grated
Instructions
Core the jalapeno peppers as shown in the above pictures.

Saute the butter, onion and garlic until the onion is tender, about 5 minutes. Add the crawfish and cajun seasoning. Cook for a few more minutes, stirring so all the crawfish are cooked. Cool completely. Remove 20 crawfish and set aside. If desired, you can chop/mince the crawfish mixture that is to be mixed with the cheese. This healps spread the crawfish throughout the cheese mixture and makes it easier to stuff the peppers.

Make the filling by mixing the cream cheese, cheddar cheese, and crawfish mixture.

Fill the peppers with the filling and top with a crawfish.

Bake in a 350F oven for 15-20 minutes.

Serve hot.