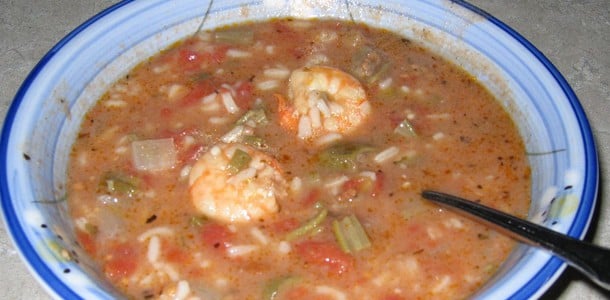 I remember my dad making gumbo when I was a kid. I have always loved it. It is a classic soup or stew from down in the southern USA. Gumbo comes from the Angolan word kingombo, meaning okra. Gumbo has various varieties, containing some or all of okra, file powder and a roux. My gumbo uses all of them. File powder is hard to find in Canada. Gumbo is usually served on rice. I make my gumbo with the rice in it and with more water, making it more of a soup than a stew.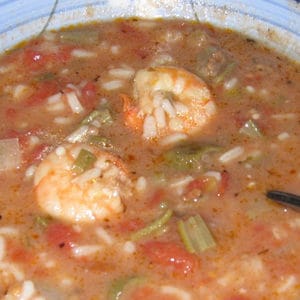 Print
Servings: 8
Ingredients
1/3 cup oil
1/3 cup flour
1 onion , diced
1 green pepper , diced
2 stalks celery , sliced
1 lb cubed , chicken, pork, sausage
2 cans diced tomatoes
2 cans sliced okra , drained
1 tbsp salt
1 tsp black pepper
1/2 tsp white pepper
1/4 tsp red pepper (or more if you like it hotter)
1 tbsp parsley
1 tbsp basil
1 tsp oregano
1/2 tsp thyme
12 cups water
1 lb peeled shrimp
3 tbsp file powder
Cooked rice
Instructions
With the oil and flour make a medium dark roux. Click here to learn how to make a roux.

Add the onion, pepper and celery and cook at a medium high heat for 5 minutes, stirring often.

Add the meat (not the shrimp yet). Cook for another 5 minutes.

Add tomatoes, okra, spices and water, and bring to a boil.

Add the shrimp. Lower to a simmer so that it has a low rolling boil.

Cook for 1 to 2 hours.

Stir in the file powder 5 minutes before serving.

Serve with a couple spoonfuls of rice in each bowl.