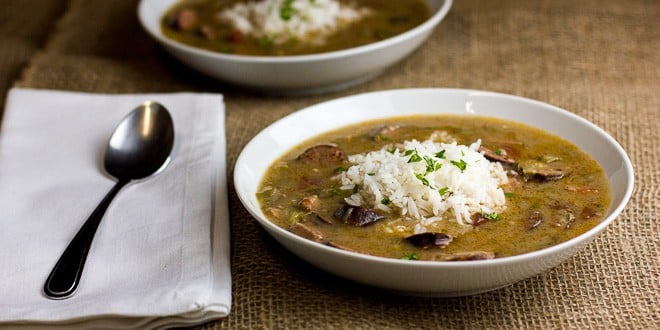 Gumbo is one of those soups that has endless possibilities and there are many variations. Even if you talk with people from Louisiana, you will differing opinions regarding what is best in gumbo. Some use a roux as a base, others thicken it with okra. Still others use filé powder to thicken the soup and give it a unique flavor. Some gumbo has sausage, others include shellfish and still others use chicken or duck. Gumbo is an amazing infusion of culinary cooking, including western African, French, Spanish and even German, and there is really is no right or wrong. It all is preference and, for me, I pretty much like all the variations. Here is my take on a smoked sausage gumbo. I also included some cubed ham (to try and be similar to the southern idea of including tasso). It is thickened with both a roux and and with the okra.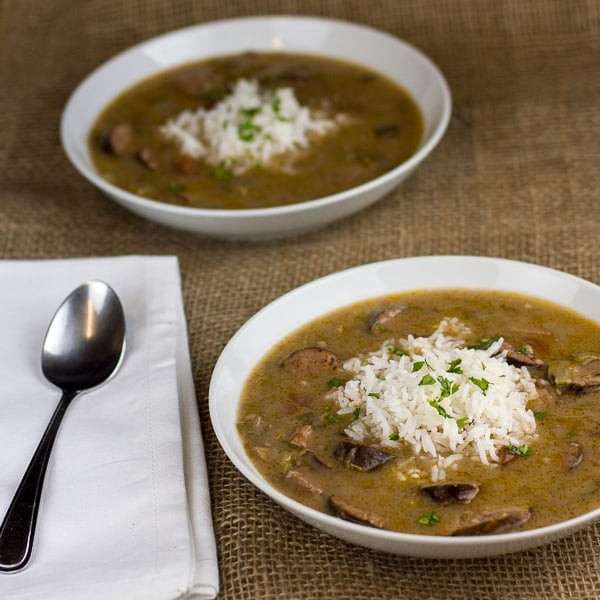 Smoked Sausage Gumbo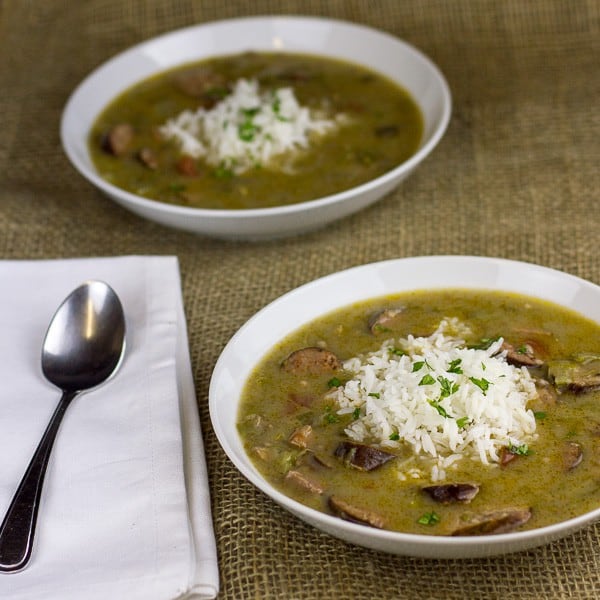 Print
Servings: 6 -8
Ingredients
3/4 cup oil
1 1/4 cup flour
1 onion , diced
1 green pepper , diced
3 celery stalks , diced
3 garlic cloves , minced
12 cups chicken broth or water
3 cups sliced okra
1 1/2 pounds smoked sausage or andouille , sliced
1 pound ham or tasso , cubed
1 tbsp salt
2 tsp ground black pepper
1/2 tsp cayenne pepper (more if you want is spicy)
1/2 tsp ground white pepper
1 tsp dried thyme
cooked rice
Instructions
With the oil and flour, make a medium dark roux. Add the oil to a pot and heat it on medium/low heat. Whisk in flour, a little at a time and cook, whisking constantly, until the roux becomes smooth and thick. Continue to cook, constantly stirring with a wooden spoon and reaching all over bottom of pan, until roux darkens to the desired color. It should be a hazelnut brown color

Add the onion, pepper and celery and cook at a medium high heat for 5 minutes, stirring often.

Add the meat, okra, spices and broth/water, and bring to a boil.

Lower to a simmer so that it has a low rolling boil.

Cook for about 2 hours.

Serve with a couple spoonfuls of rice in each bowl.