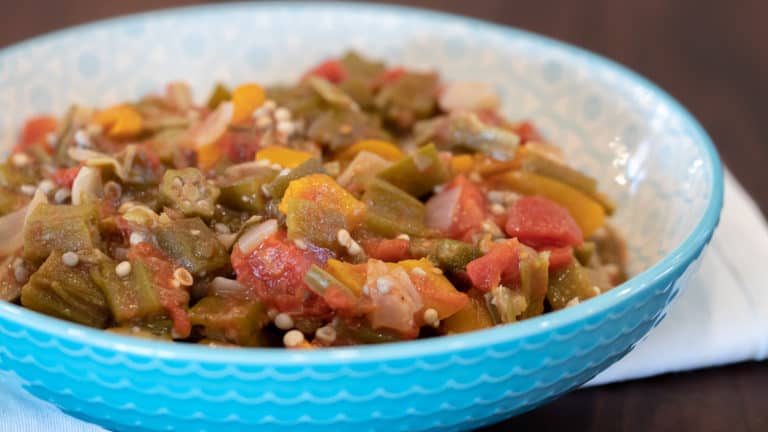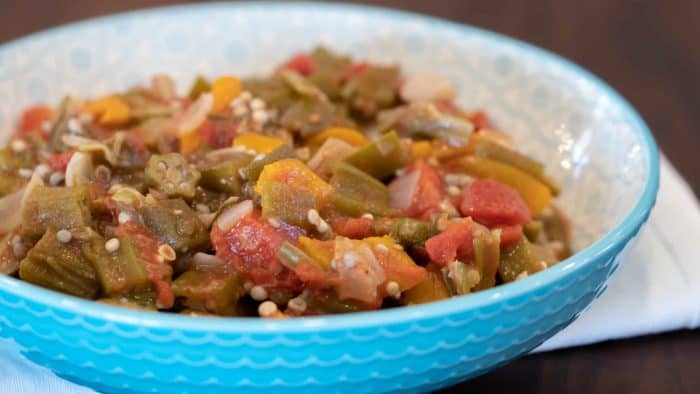 Any time that I am looking to prepare a southern Louisiana style meal, stewed okra and tomatoes is almost always on the menu. This side dish is the perfect compliment to chicken, catfish, shrimp, pork and so much more. Serve alongside some dirty rice and you will have one awesome meal!
My father greatly influenced my love for this kind of food because he is a huge fan of southern cuisine, and especially loves cooking Cajun and Creole food. As a kid, I often remember my dad making gumbo, jambalaya, shrimp creole and more. His cookbook collection included books from Paul Prudhomme, Justin Wilson and Emeril Lagasse.
Stewed okra and tomatoes was one of the dishes my dad made all the time and probably one of the first recipes he taught me how to cook. There are certain ingredients that compliment each other very well, and one of those combinations is okra and tomatoes. Slow simmered together these stewed okra and tomatoes are the perfect example of southern comfort food.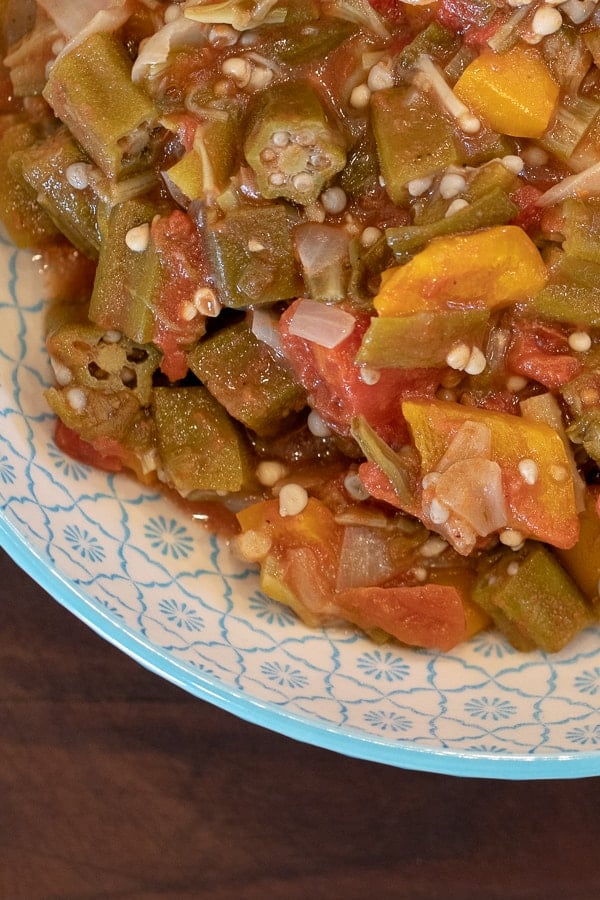 While this dish is excellent with fresh okra, I actually use frozen most of the time. I buy the bags of frozen okra that has already been sliced so some of the prep work is already done for you.
The flavour between frozen and fresh okra does not seem all that different to me. Frozen okra does break down a little more than fresh, but for this stewed okra dish, I actually prefer it this way.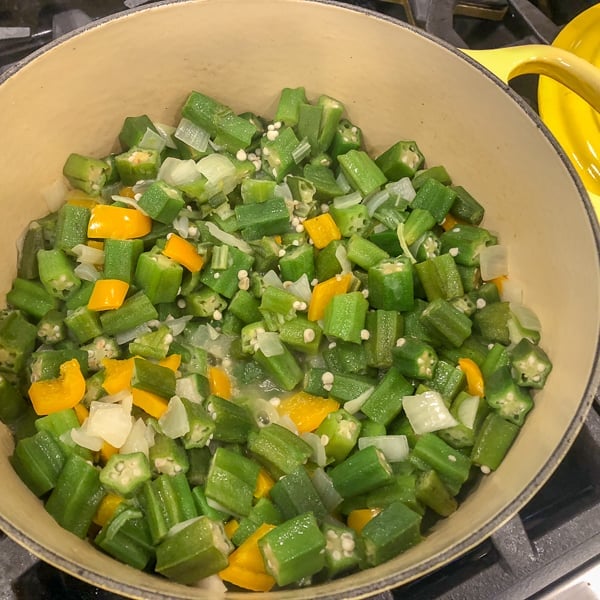 Heat the oil in a dutch oven or large saucepan over medium heat. Add in the sliced okra, onion and pepper. Let the vegetables sauté for about 7 to 8 minutes.
You will need to to stir often, and as you stir you will notice that the okra seems slimy. This is totally normal and as you cook and sauté, the slime will disappear. Just keep stirring and sautéing.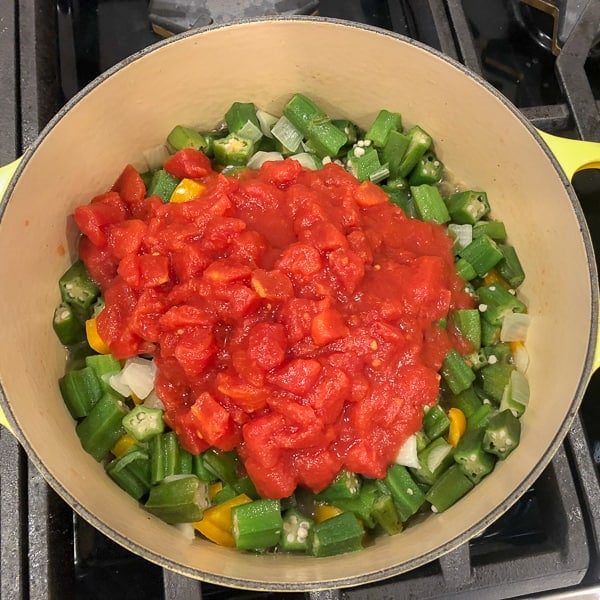 Dump in the can of diced tomatoes.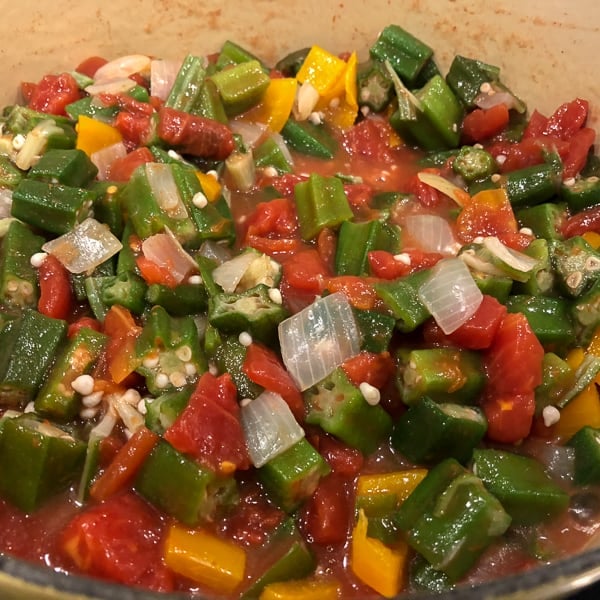 Stir in the tomatoes and seasonings. For the seasoning, I typically use my Cajun Spice Rub. I make a batch of this and keep it in a mason jar in my spice pantry. You can also use creole seasoning like Zatarain's, Slap Ya Mama or Tony Chachere's.
Lower the heat, cover with lid and let simmer for 30-45 minutes. All the flavours will blend together and this will be an awesome side dish!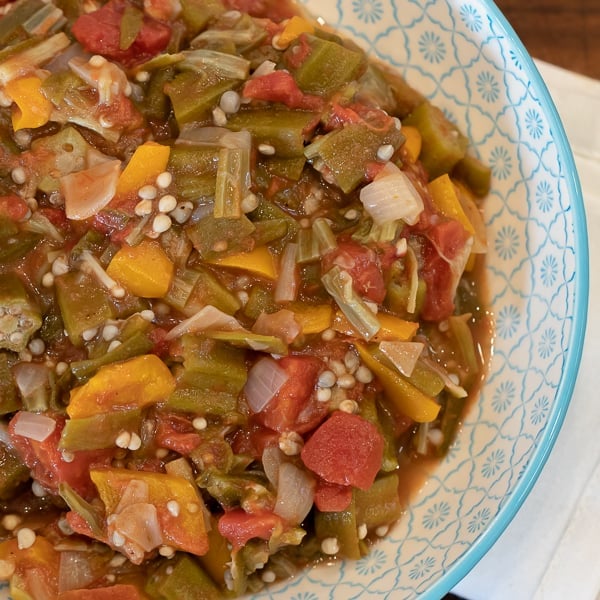 Stewed okra and tomatoes is amazing as leftovers and honestly, they might even taste better the second day! If desired, you can even make these a day ahead. That is especially helpful if you have a busy day and want to get a jump start on a some of the prep.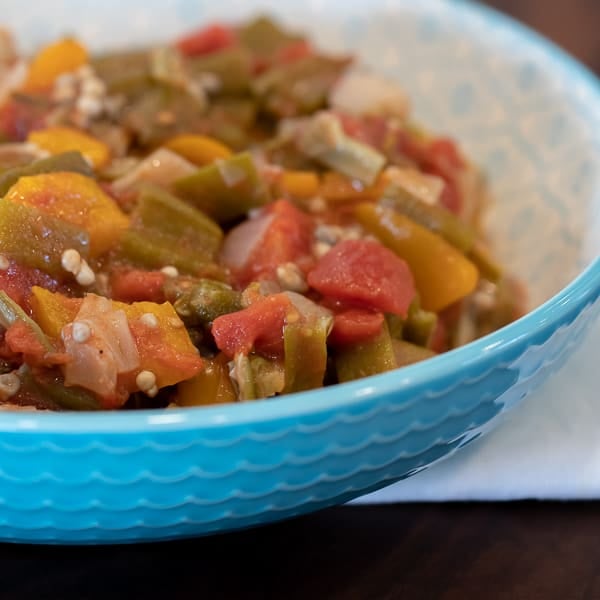 If you are looking for something that go very well alongside stewed okra then check out these recipes!
Creole Style Stewed Okra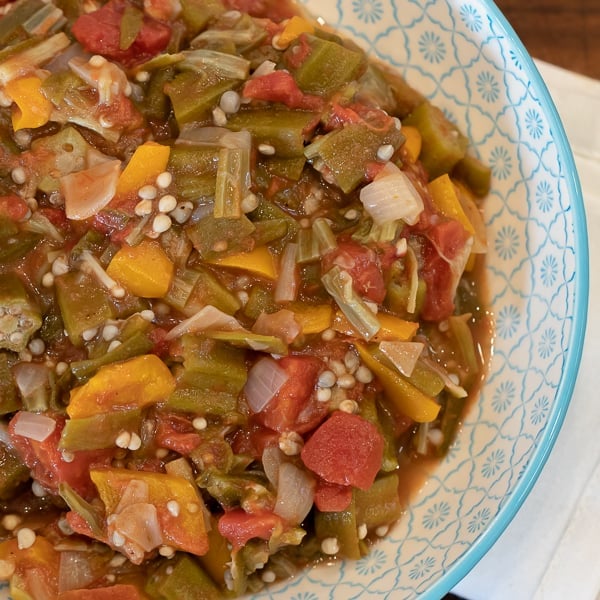 Print
Classic stewed okra and tomatoes with onions, peppers, celery and creole seasoning. A great side dish recipe for any southern or Cajun meal!
Servings: 6 people
Ingredients
2 tbsp oil
2 pounds okra , sliced
1 onion , diced finely
1 orange pepper , diced
1 can (28oz) diced tomatoes
2 tsp cajun seasoning
Instructions
Heat oil in a large sized dutch oven or saucepan.

Add the sliced okra, diced onion and pepper. Sauté over medium heat stirring often, until the onions and translucent. About 7-8 minutes.

Stir in the diced tomatoes and seasoning. Bring to a boil and lower heat to a simmer.

Cover with lid and let the okra and vegetables simmer for 30-45 minutes. Stir occasionally to ensure that it does not stick to the bottom of the dutch oven.

Serve.
Nutrition
Per serving:
Calories: 129kcalCarbohydrates: 19.82gProtein: 4.44gFat: 5.29gSaturated Fat: 0.43gSodium: 201.75mgFiber: 7.12gSugar: 7.07g