How to Cook Italian Sausages in the Oven
Italian sausages are so easy to cook in the oven and perfect for sausage on a bun with condiments. These are also great with sausage pepper penne and so much more!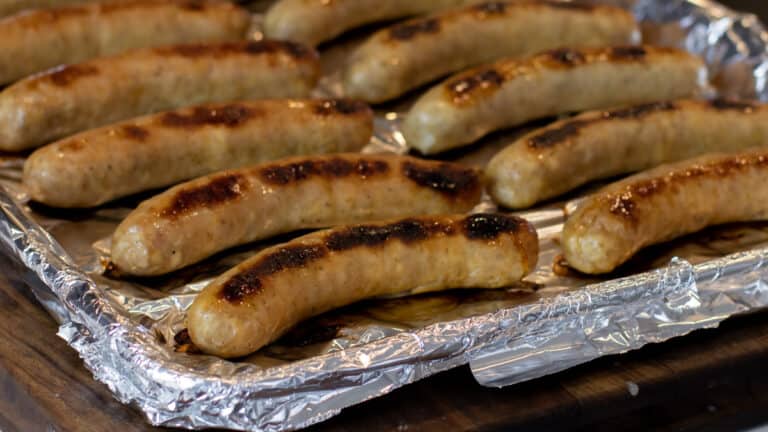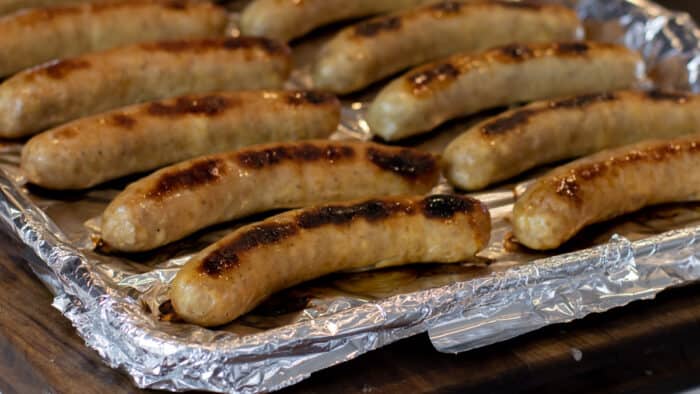 Italian sausages are so good and we love them on a bun, in soup, pasta and many more ways. Cooking them in a frying pan can be messy so I prefer to bake them. This recipe will show you exactly how to cook Italian sausages in the oven. It is easy and delicious!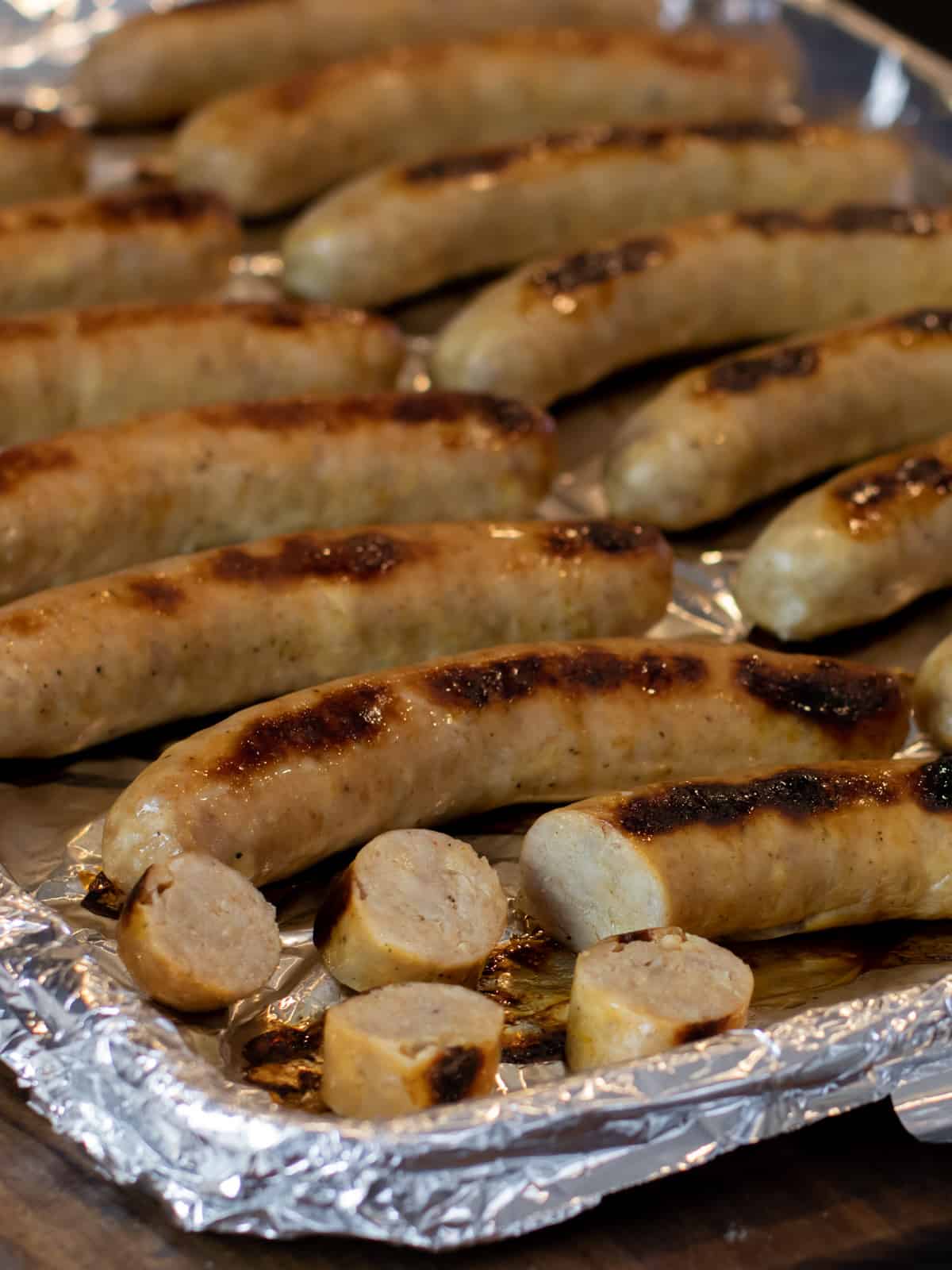 What Makes Oven Baked Italian Sausages So Great?
Easy! Easy! Easy! Stick them in the oven and let them cook. Besides flipping them halfway through the cooking time, there is nothing else you need to do.
You can cook LOTS at once. If you are frying them in a pan, you can only cook as many as can comfortably fit in the pan. Depending on the size of the baking sheet, you can usually cook far more at the same time.
Minimal cleanup. Cooking sausages in a pan can cause grease splatter and dirty up the pan. If you line a baking sheet with foil, all you need to do is throw the foil away.
Tastes the same as if they are fried. Honestly, I don't notice any difference. They taste just as good as sausages cooked in a skillet.
During the summer months, I try not to use my oven much, so I will typically grill Italian sausages or smoke Italian sausages.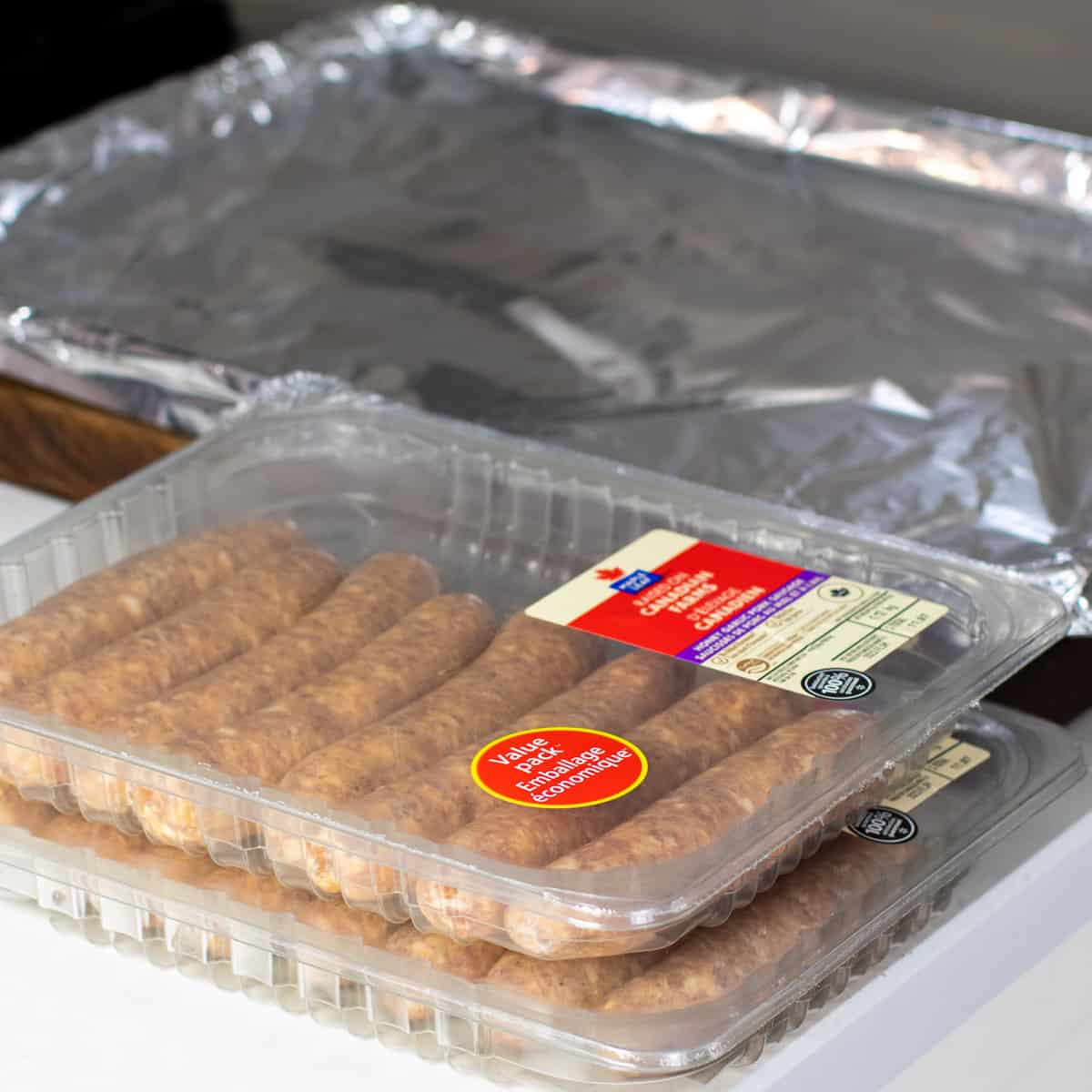 There Are Many Flavours Of Italian Sausages!
I have cooked many different flavours of Italian sausages in the oven using this method. Everything from hot, mild, honey garlic, salt and pepper and more!
I will often buy a package of a couple different flavours and they can be cooked in the oven toge4ther. Just make sure to remember where they are on the baking sheet.
Can You Cook Other Sausages This Way?
While this recipe is for Italian sausages, it should work just fine with any raw sausage. Some sausages that can also be cooked in the oven are bratwurst, Octoberfest, Mexican chorizo and more. The cooking time might vary because the size of the sausages might be different. But, as long as you cook to an internal temperature of at least 165F, then they are cooked through.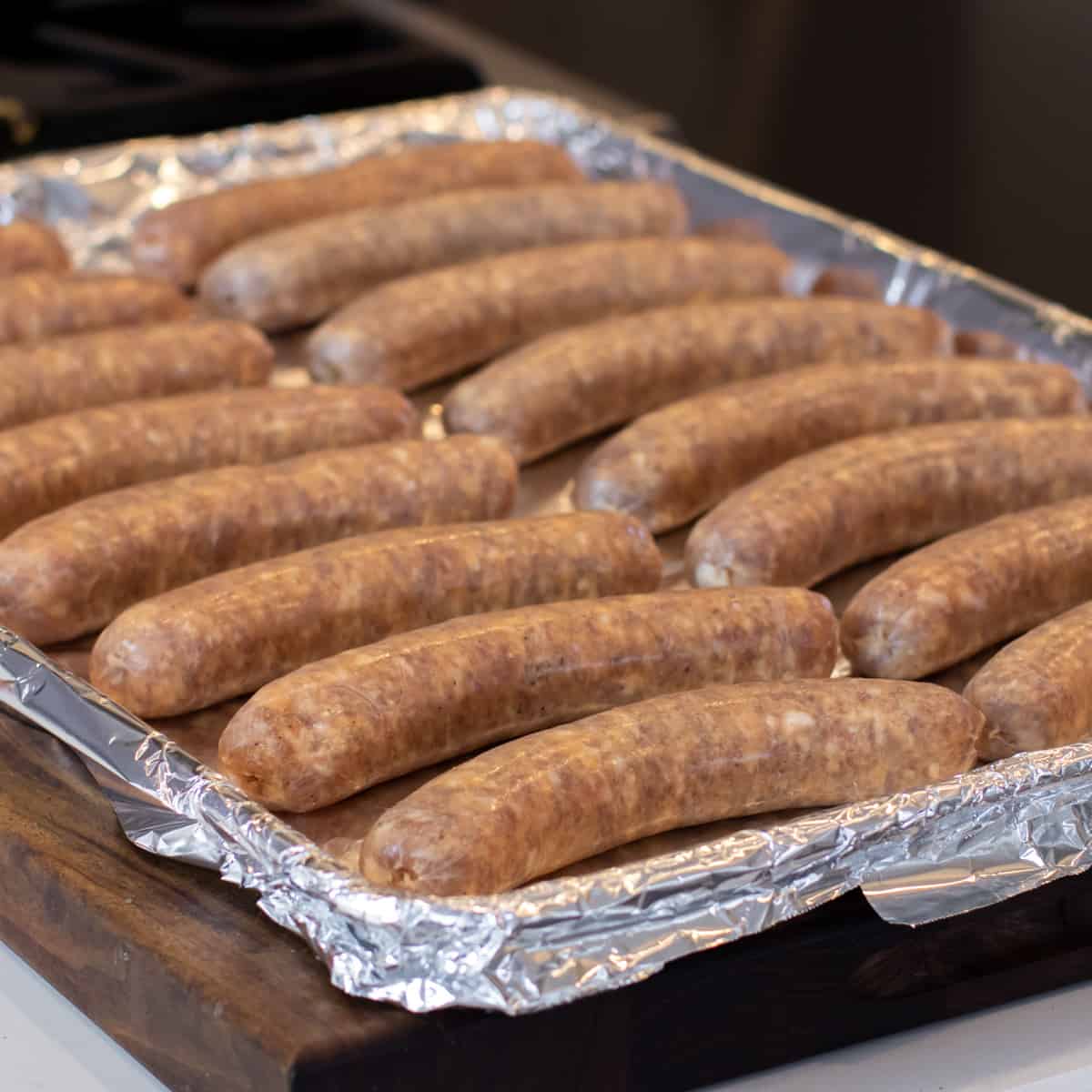 Make Sure To Line The Baking Sheet
While the sausages can be place directly on the baking sheet, I prefer to line the sheets first with some foil. Using foil is great because it makes clean up so much easier.
I have tried using parchment paper, but foil worked much better because the foil allows the sausages to brown similar to how they brown when they are pan fried. But if you prefer to use parchment paper, it will work just fine.
Space The Sausages Apart
When placing the Italian sausages on the baking sheet, ensure that the sausages are spaced apart and not touching each other. This will ensure that they are all cooked evenly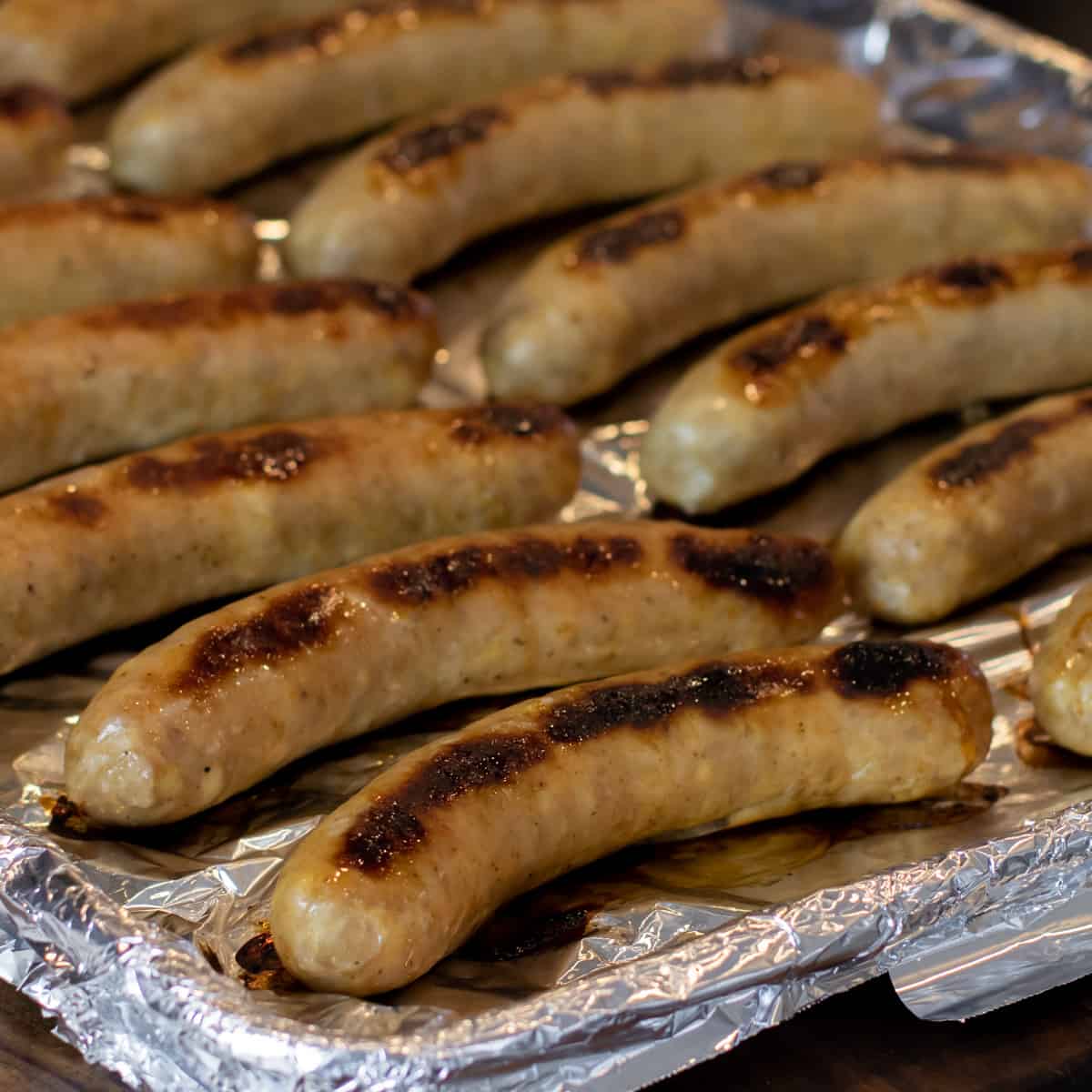 How Long To Cook Sausages
Preheat the oven to 350F. Once it comes to temperature, place the baking sheet with the Italian sausages in the oven.
It takes about 35-45 minutes to cook the sausages. I use a digital thermometer to make sure they are fully cooked. While 165F is all that's needed to know that they sausages are cooked full, I aim for a temperature of 175F, as I find that at this temp, the meat is juicy and the outside is starting to brown nicely.
Expert Tip: Make to to flip them halfway through the cooking time as this will brown the sausages on both sides and gives them a flavour similar to if they were pan fried.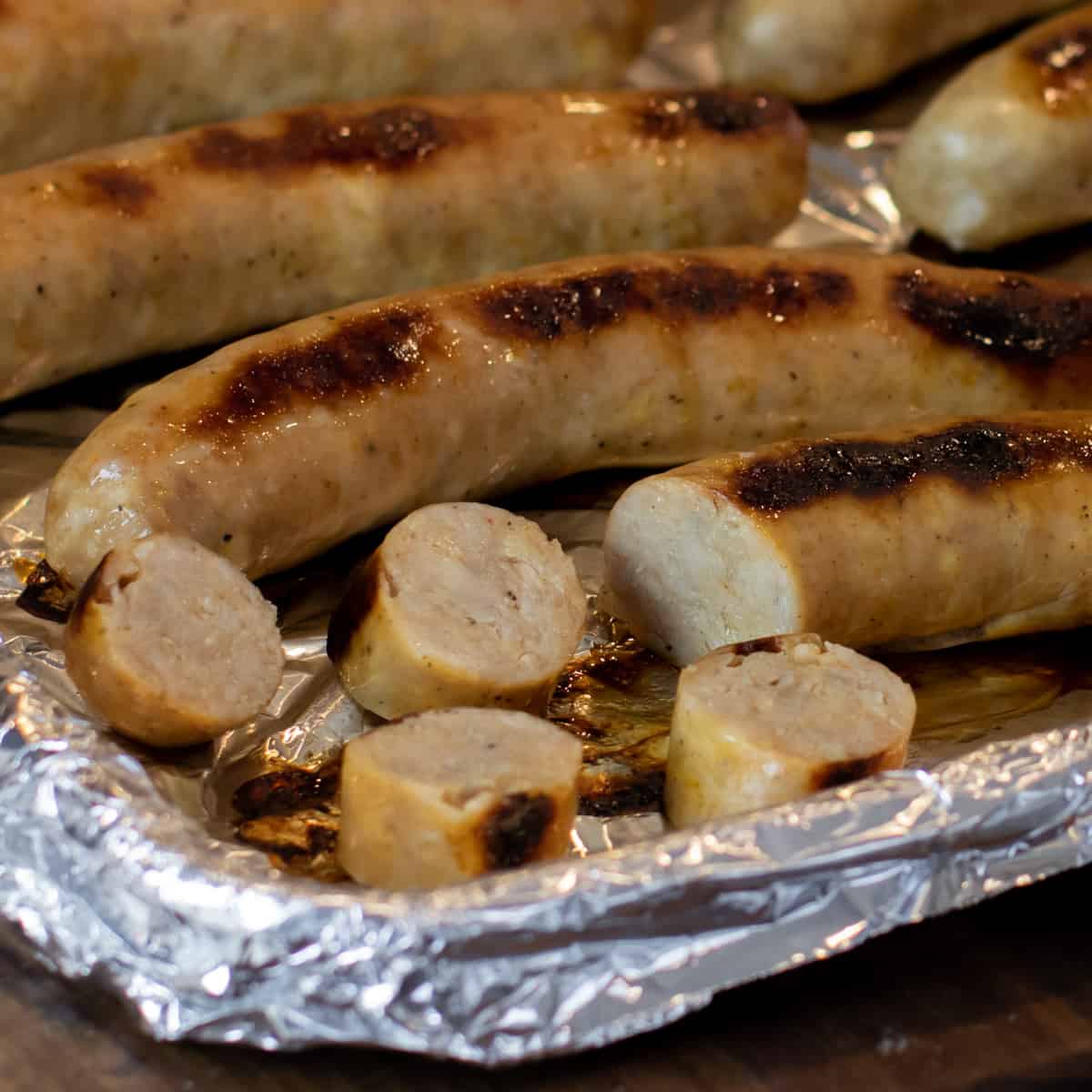 Once cooked, these sausages can be placed on a bun with toppings or just served on a plate with rice, pasta or so much more!
Recipes Made With Sausages
If you have some oven baked Italian sausages, then check out these great recipes for ways to use the sausages.
How to Cook Italian Sausages in the Oven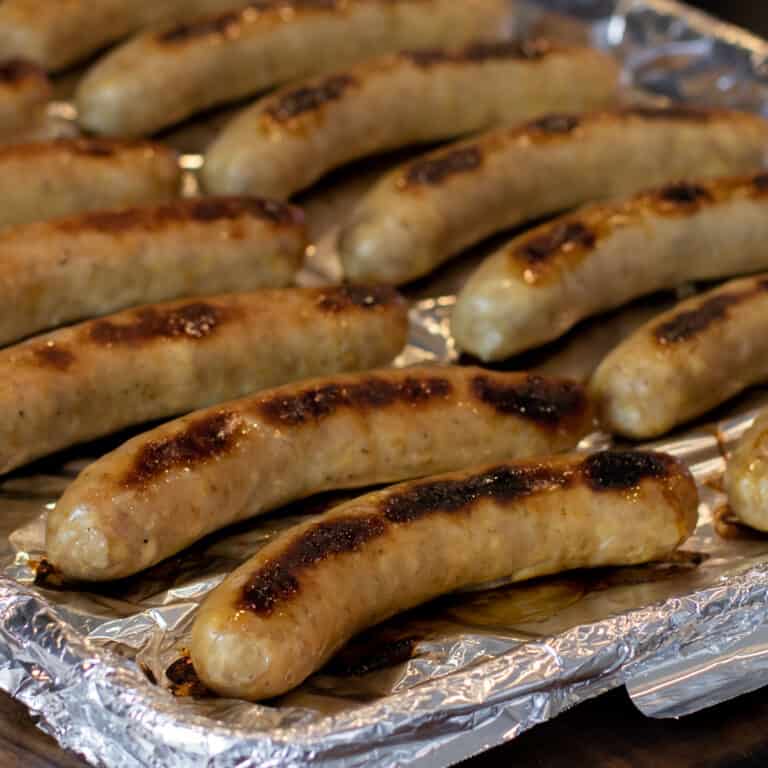 Print
Simple instructions for cooking Italian sausages in the oven. So much easier than frying in a pan!
Servings: 4
Instructions
Preheat oven to 350F.

Line a baking sheet with foil.

Place the Italian sausages on baking sheet evenly spaced apart.

Place sausages in the oven and cook for 35-45 minutes. Flip over halfway through cooking.

Final internal temperature should be at least at 165F, and preferable to be around 175F.
Nutrition
Per serving:
Calories: 392kcalCarbohydrates: 1gProtein: 16gFat: 36gSaturated Fat: 13gCholesterol: 86mgSodium: 829mg